When you risk investing your hard-earned money into a company or through a 3rd party, you rightly expect your investment to be safe. When you use an investment platform, such as Wealthsimple, you should be able to expect the same. Which begs the question, what happens to your money if the platform goes bankrupt?
If anything happens to Wealthsimple, the Canadian Investor Protection Fund, of which Wealthsimple is a member, will reimburse their clients within certain limits. Assets remain with Canadian ShareOwner Investments Inc. to be transferred into another firm. They are also protected by the IIROC.
For the sake of your peace of mind, there are several questions about Wealthsimple that need to be answered. Keep Reading to learn exactly what happens to the money of its clients if it shuts down and whether Wealthsimple is safe to use at all.
What Happens if Wealthsimple Goes out of Business?
This is a very frightening question that we all have to ask ourselves, regardless of which firm we use. Since 2021, Wealthsimple has accumulated $15 billion (CAD) in assets under their management (AUM), so you are certainly not alone in thinking about this question.
So what happens if Wealthsimple goes out of business? There are a number of failsafes in place to keep your money safe or allow it to be reimbursed.
Wealthsimple is a member of the Canadian Investor Protection Fund (CIPF), the Investment Industry Regulatory Organization of Canada (IIROC), the Canada Deposit Insurance Corporation (CDIC), and Canadian ShareOwner Investments, keeping all of their clients' affairs safe.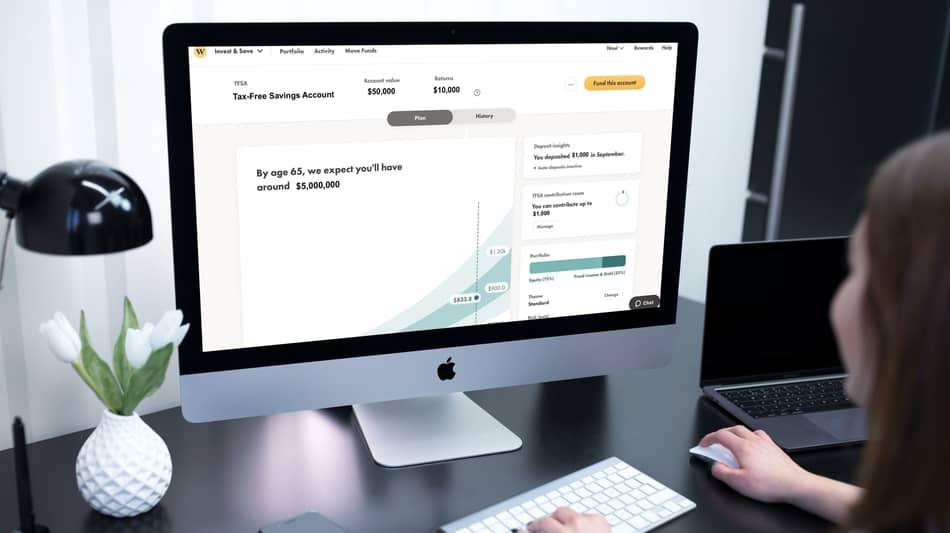 If Wealthsimple ever went bankrupt, the IIROC would ensure Wealthsimple abided by their financial compliance regulations and the CIPF and CDIC would honor the insurance of Wealthsimple's clients.
Under the protection of the CIPF, there are certain limits to be aware of with this protection. For instance, for ALL general accounts, they will compensate up to $1,000,000. This is a pretty good reassurance to another important question: is Wealthsimple legitimate?
Is Wealthsimple Legitimate?
Investing is risky by nature, but none of us need the added worry of wondering if the platform we're using is legit or not.
We discuss their legitimacy in much more detail in our article, "Is Wealthsimple a Scam?" but in essence, we can assure you that Wealthsimple is legitimate because of its recognition as a member of the the IIROC.
If you're not entirely familiar with who the IIROC is, they are responsible for protecting investors and the integrity of the investment market by overseeing ALL of Canada's  investment dealers and trading activity on both debt and equity marketplaces.
In other words, if your investment company or platform is a recognized member of the IIROC, they have been through the screening process and are considered legitimate. If you're wondering how much authority the IIROC has over this industry, we can tell you they enforce their regulations together with the Canadian Securities Administrators (CSA).
They send out a regular annual enforcement report as part of their efforts to continually protect investors. Any violations against the Universal Market Integrity Rules (UMIR) will result in proper prosecution. Provincial securities acts are referred to the CSA.
Can Wealthsimple Go Bankrupt?
It's a fair question to ask – can Wealthsimple go bankrupt?
After all, it's not immune to the same economic forces that can lead to the failure of any other business. However, there are several reasons why Wealthsimple is unlikely to go bankrupt any time soon.
First and foremost, it has a diversified portfolio of assets, so even if some investments underperform, others are likely to do well.
Secondly, Wealthsimple has a strong team of experienced professionals managing its operations. This includes its investment team, which is led by CEO Michael Katchen, who has over 10 years of experience in the financial industry. Not only that, but Wealthsimple is just a really a well-funded company too. It has raised a lot of money from investors, including Power Financial Corporation, one of the largest financial services companies in Canada.
Lastly, Wealthsimple has a large and growing base of customers. As of December 2018, it had over 85,000 customers and $2.5 billion in assets under management.
All of these factors make it unlikely that Wealthsimple will go bankrupt any time soon. However, as with any business, there is always a risk of failure. So if you're thinking about investing with Wealthsimple, make sure to do your own research and understand the risks involved – but I really don't think you have to worry about the company going bankrupt.
Is Wealthsimple Safe?
Now that we've established that Wealthsimple is a legitimate broker investment platform, does that mean it's safe to use? For our purposes, let's say "safe" means your money and your information are protected.
Starting with your information, Wealthsimple takes the security of the information of their clients very seriously. Their Privacy Policy very clearly outlines several important key points.
They only collect personal information that is relevant for the compliance of legal obligations, of industry regulations, and to improve their experience.
They don't disclose non-public personal information with any third party except to whom they are required by law, such as service providers, future merger partners, or the authorities under valid inquiries.
They have physical, technological, and administrative safeguards in place for the protection of the information of their clients.
So your information is safe, which is great, but what about your investments?
Is it safe without the threat of bankruptsy? Absolutely! The same protections that Wealthsimple has set in place in the unlikely event their business goes under are still in effect with other foreseen or unforeseen crises.
The CIPF will provide compensation that matches the value of your property up to the limits that they have set in their conditions, previously mentioned. Your "property" can be in the form of any securities, cash, or other such property.
Other Financial Geek Articles on Wealthsimple
Conclusion
We hope that this and all of our other articles have helped you to feel much more confident in using Wealthsimple. In these uncertain days, you can certainly count on your Wealthsimple to stay on top of all of your financial goals.
And for what it's worth, I've used them for 4 years now and I wouldn't invest my money in somewhere I felt was unsafe. Who would?
Geek, out.