Some links in this post are from our partners. If a purchase or signup is made through our partners, we receive compensation for the referral. 

When it comes to online stock brokerages and financial platforms, Canadians don't have as much variety as their neighbors down south. Most Canadian investors use their banks as an investment platform, but these banks often have higher trading fees and some what limited flexibility.
This is why sites like Wealthsimple have gained so much popularity in recent years as a customer-friendly alternative to the big banks.
Wealthsimple is not a bank. While it seems natural to associate an investment platform like Wealthsimple with a bank, Wealthsimple is an independently run company. While it does offer both financial and investment products, it does not have a banking charter or perform lending activities.
In fact, Wealthsimple often competes directly with the investment arms of the big Canadian banks. And while the platform does not offer any direct banking services, it does offer some products that have certainly caught on with its users.
Wealthsimple is trying to change the financial and investing market for Canadian investors, and in my opinion, for the better.
If you're new to the world of investing, but wanted to get started – Wealthsimple is the company to do it with. I've been using Wealthsimple for years and I love it.
You can start with as little as $1 and there are no sign up fees. Not only that, but Wealthsimple Invest is great for beginners for the reasons I talk about in my article here. If you wanted to jump in and get started today, you can do so here and you'll get a $25 cash bonus.
Sign-up for Wealthsimple Invest Today ($25)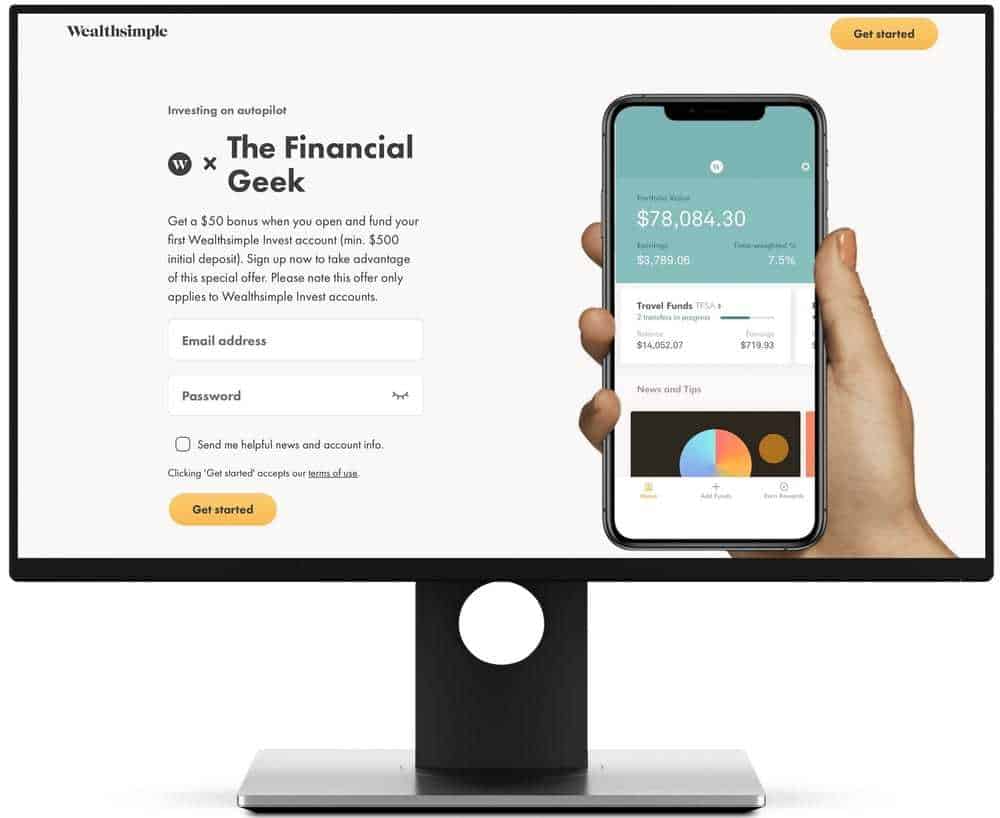 Earn a $25 Bonus with Your Sign Up
Designed for beginner investors
15 Minute Sign-Up Process
100% Free to Sign-Up
No minimum deposit required
 Great mobile experience
Can I Use Wealthsimple Like a Bank Account?
While you can't use Wealthsimple exactly like a bank, the Wealthsimple Cash product gives Canadians the ability to spend money on a prepaid Visa card which they can upload money on through the Wealthsimple Cash app. This gives users the ability to make everyday purchases using Wealthsimple.
Funny enough, this is exactly what I do. While I bank with Scotiabank, I actually use the Wealthsimple Cash app for my everyday purchases. I transfer money into the app every pay check and use those funds for my day-to-day spending.
With all that said, while it does have some similar characteristics to a traditional bank account, the standard definition of a bank account generally provides an interest rate that the bank will payout on your principle, which Wealthsimple Cash does not do. And since it does not have a banking charter, the platform cannot advertise itself as an actual bank. 
What is a Wealthsimple Cash Account?
As just mentioned, the closest thing that Wealthsimple does offer to a bank account is its Wealthsimple Cash Card, which at it's core is a prepaid Visa card..
The Wealthsimple Cash Card is similar to a debit card except it is not tied to funds in a bank account. It utilizes the Visa payment system so users can use it anywhere that accepts a Visa payment form. In essence, it's more like a Visa Debit card than a typical debit card you'd get from the bank.
Users can pre-load funds onto the card, and you can use it for everyday purchases, online purchases or even to withdraw money from an ATM. So while it functions very much like a debit card you'd get from your bank, there is not a traditional bank account tied to the card. It can only be used depending on the funds you preload it with. 
But for me personally, I love it. I've been using it for a while now, and what I really like about it is that it has all the convenience of a Visa card, but your not spending on credit! You're spending with real cash that you've already uploaded into your account.
This way I can make online purchases, get cash back and reap the convenience that credit cards offer, all without having to go into debt. Which if you've read my blog before, you know is something I try and avoid!
Is Wealthsimple Cash a Credit Card?
The Wealthsimple Cash Card uses the Visa payment network so it is accepted at any merchant that accepts Visa payments. While Visa is most commonly associated with credit cards, the company also offers debit cards and prepaid cash cards as well. The Wealthsimple Cash Card is definitely more like the latter two, specifically, a prepaid cash card. 
Are There Limitations to the Wealthsimple Cash Card?
Sure, the most obvious limitation with the Wealthsimple Cash Card is that you cannot spend more than you fund the card with. This furthers the comparison of the Wealthsimple Cash Card to a prepaid cash card, rather than a credit card or bank debit card. There are a few other limitations in place with the Wealthsimple Cash Card:
The maximum spending limit per transaction and per day is $10,000
ATM Withdrawals are capped at $500 per withdrawal and a total of $1,000 per day
But I'm not going lie, these aren't really limitations for most people. If you are spending more than $10,000 a day then I'll have what your having.
Are There Fees For Using the Wealthsimple Cash Card?
There are not many fees with the Wealthsimple Cash Card but there are a couple to note before trying to use it.
One benefit to using the Wealthsimple Cash Card is that there are no foreign exchange fees associated with the card itself. There is, however, a standard fee from Visa for purchasing a good or service in a currency other than Canadian dollars. This is a standard currency conversion fee that is unavoidable on the Visa payment network.
There is also a standard ATM Withdrawal fee for each time you use the Wealthsimple Cash Card to withdraw cash from an ATM. The fee for each withdrawal is about $3.00 CAD, so keep that in mind before using the card to take out money. This $3.00 is not charged by Wealthsimple though, it's charged by the ATM provider. 
Luckily for Canadian users, there is no annual fee to hold the Wealthsimple Cash Card like some credit cards have. This is an important point as it offers some credit card-like rewards that we will talk about next.
Are There Rewards with the Wealthsimple Cash Card?
Yes! Unlike other prepaid cash cards where there are generally no rewards for using them, the Wealthsimple Cash Card offers the following cash back benefits:
5% cash back at restaurants, drinking establishments, fast food restaurants, and convenience stores on weekends. 
This does include takeout and delivery options as well, which is handy when you want to just stay in and enjoy a meal.
Quick Note – Rewards programs and cash back percentages sometimes change, so at the time of you reading this, the specifics of these rewards could be different. See Wealthsimple's Cash page for up to date information.
Another benefit of the Wealthsimple Cash Card? Wait there's more!? Yes! You can use it to tap at any POS machines, and it is also compatible with digital wallets like Apple Pay, Google Pay, and Samsung Pay. 
Which Bank is Behind Wealthsimple?
Surprisingly, Wealthsimple is not actually owned by another bank in Canada or the United States. The company is 70% owned by a conglomerate called the Power Corporation, which also owns the Canadian insurance company Canada Life, and the investment management firms Mackenzie Financial and Putnam Investments.
Conclusion
So there you have it.
By now you know that while Wealthsimple operates in many similar ways to a bank, it is in fact not a bank and does not have a banking charter.
If you were interested in using any of Wealthsimple's products from there Invest, Trade or Cash product, I'd highly recommend it!
I personally use them all and have had nothing but a great experience with them so far. If you had any more questions about any of their products, please feel free to reach out to me.
As always, thanks for reading. I hope this article provided you with the answers you were looking for!
Geek, out.