Imagine being able to pay back friends, submit rent and collect freelance payments all from a phone app, without even having to take your wallet out.
Well believe it or not, you can do this in Canada with Wealthsimple Cash, the safety and security of which is discussed in full detail below.
Wealthsimple Cash is indeed safe and legit. The company adheres to financial industry standards such as the encryption of user data and two-factor authentication for user sign-in. Your Wealthsimple Cash funds are also eligible for protection from the CDIC and users can also remain anonymous.
This ensures that a user's personal information is not exchanged during transactions on the app. In the sections below, you'll also hear about Wealthsimple's Cash Card. This is a suitable alternative to credit cards, which come with limitations and can cause users to accumulate unwanted interest.
In addition, I've actually used Wealthsimple Cash since early 2021 and I can honestly say I've never had any type of security issue. And as a user, I've always felt like my security was a top priority for them.
Is Wealthsimple Cash Safe To Use?
Being that Wealthsimple Cash is relatively new, it's safe to assume that you are skeptical about its claims of low fees and a secure payment process. In the section below, you'll find a discussion on how well the company is doing at living up to its hype.
First, A Little Backstory
Mike Katchen, the founder of Wealthsimple, started investing after he won a stock contest at just age 12. He started making spreadsheets to track his investments in his mid-20s and shortly thereafter launched an app designed to make finances easy for millennials and gen z. 
Now Wealthsimple has more than $5 billion worth of assets (as of 2020) under management and a growing customer base of more than 175,000 investors. 
In 2021, the company rolled out WealthSimple Cash, a peer-to-peer payment app. The app can be downloaded on the iOS and Google Play app stores. 
Here's Why Peer-To-Peer Payment Apps Are Safe
Peer-to-peer payment apps, such as Wealthsimple, are perfectly safe to use, according to finance experts. Apps must adhere to industry standards.
Application Programming Interface (API) is utilized to access users' data while they are using the application.
Data is stored on servers at a secure location.
Security measures also include two-factor authentication or fingerprint ID for users to access their accounts
Also, user accounts are synced up to the contact list on your phone. So there's no need to search and sift through countless profiles, wondering if the accounts belong to the right individual.
Furthermore, I actually reached out to Wealthsimple on Instagram and asked them about what security measures they put in place for their Wealthsimple Cash product. Here is what they had to say.
Me – Hi there! I was just wondering what measures wealthsimple has in place with their Wealthsimple Cash product that makes it safe?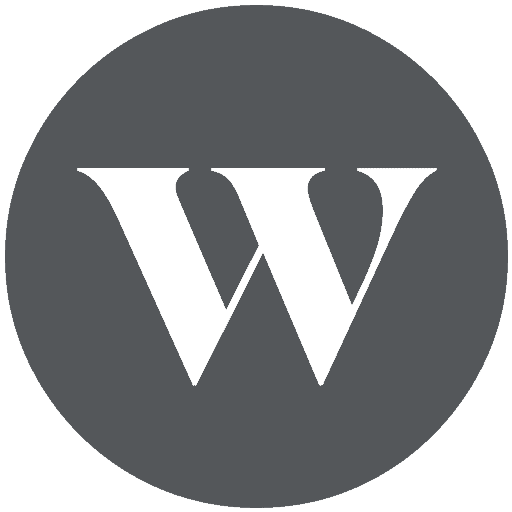 Maura (Wealthsimple Support) – We work to keep your personal information safe and secure, including through encryption and secure cloud back-ups. I'll link details below. We also secure your account with biometrics and fingerprint ID (depending on your phone). It's safe and easy—no tedious security questions as you send funds.
In the unlikely case Wealthsimple went out of business, CDIC insures eligible cash balances payable in Canada up to $100,000 per client per institution within each insured category. Protection is free and automatic with your Wealthsimple Cash account.
Finally, I'll gladly reaffirm that we do not sell any clients' data.
What If You Send Money To The Wrong Person?
Human error and hacked accounts have been the primary concerns with peer-to-peer payment apps since Venmo burst onto the scene a few years ago. Wealthsimple has taken a unique approach to ensure that this doesn't happen.
Here's how Wealthsimple keeps transactions secure:
Ability to remain anonymous: Users create their unique Dollar $ign so that personal information is not shared on the app.
Biometrics and fingerprint ID act as a barrier to entry in the unfortunate event that your phone falls into the wrong hands.
Consumer Protection: Funds are eligible for protection from the CDIC (Canada). The CDIC insures eligible cash balances up to $100,000 per client per member institution.
As you can see from the image below, I made my unique dollar $ign $noelm – so please, feel free to send me as much money as you'd like.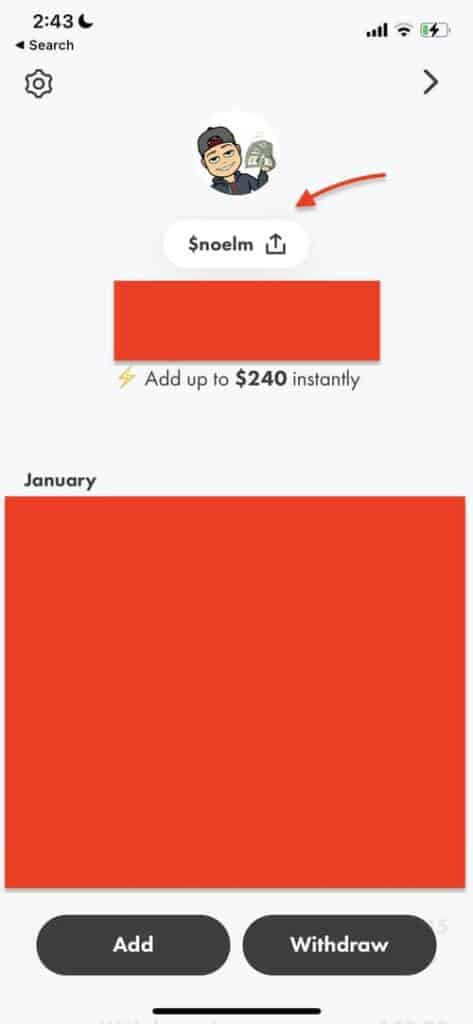 Just kidding, kind of.
Educational Resources For Newbies
Have you ever had a credit card, savings account, or investment portfolio? If so, Wealthsimple has no shortage of educational resources for those who want to learn more. The platform's informative structure has drawn praise from financing experts.
This also adds to Wealthsimple's overall credibility as a platform as it suggests the company is here for the benefit of young investors, rather than trying to make a quick buck off of them. Which I can assure you, as a long term user of all their products, Wealthsimple is not trying to make a quick buck.
All of their products and company choices, as far as I can tell, are for the long term with their clients best interests put first. 
Is Wealthsimple Cash Any Good?
Yes, Wealthsimple Cash is safe to use, but is it worth it? In the section below, you'll learn more about why Wealthsimple is worth a look, especially for those with limited available credit. 
Also, I should mention that I'm not just speaking blindly here. Like I stated earlier, I've been using Wealthsimple Cash since it's early days and use it on a daily basis. In fact, I received an email from Wealthsimple not long ago stating that I'm one of their top 500 Wealthsimple Cash clients, and therefor I get a special card!
Instant Transfers
E-transfers typically take 5 minutes to three hours to be completed. The total processing time is ultimately dependent on your bank. This is critical in the era of remote transactions, where you need to be able to send and receive payments swiftly.
Me and my poker friends actually use this feature quite often for squaring up with each other directly after the game.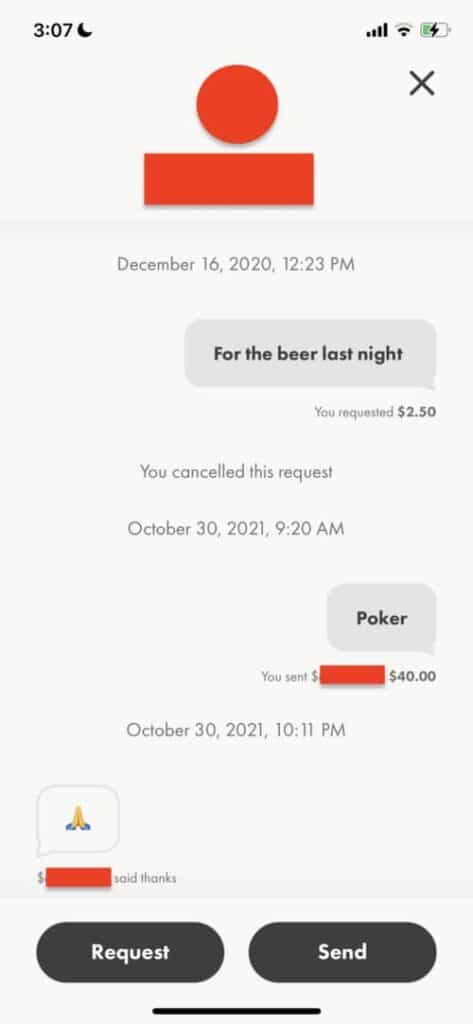 No Minimum Deposit Amount Required
You can technically open a Wealthsimple account with $0. 
No service charges are associated with using the app, whether you are sending money to others or receiving money. It's all completely free.
No monthly account maintenance fees. Yep, $0.
If you are wondering how in the heck Wealthsimple makes any money then, I'd recommend checking out my article 4 Ways Wealthsimple Makes Money (From Each Product).
Wealthsimple Cash Card vs. Credit Cards
Wealthsimple Cash Card is a prepaid Visa card that allows users to make purchases while possibly earning 1% cashback on all purchases. 
Here are the benefits of the Cash Card:
You set your budget: This is not a credit card. You can only draw funds from your Wealthsimple account.
No interest: As you can only spend what you have in your account, you'll never spend into debt and therefor will never has any interest charges.
The only associated fee is a standard ATM withdrawal fee that's applied when you make a withdrawal at an ATM.
Customers are given 7 days to dispute any purchase made with their Cash Card. Accounts are also protected with a PIN code, which can be updated with a call to the automated support line.
My article Is Wealthsimple a Bank (Quick Answer) also talks more about how users can use their Wealthsimple Cash Card and some of the benefits it offers over a standard credit card.
Final Thoughts
Wealthsimple Cash is safe and legit for a multitude of reasons. First of all, funds on the app are eligible for protection under the CDIC. Users also have the opportunity to remain anonymous, so that personal information is not shared during transactions.
You also have 7 days to dispute transactions made with the digital or physical Cash Card and can call the automated support line anytime to lock your account.
So if you are on the fence about giving Wealthsimple Cash a try, I would say go for it. Like I said, I've never had any issues with their security, and as far as I can tell online, no one else has either.
To learn more about how Wealthsimple protects its other products, check out my article Is Wealthsimple Safe? Is Wealthsimple Legit? (Here Are The Facts).
To get started with Wealthsimple Cash, start by going here.
As always, thanks for reading folks!
Geek, out.