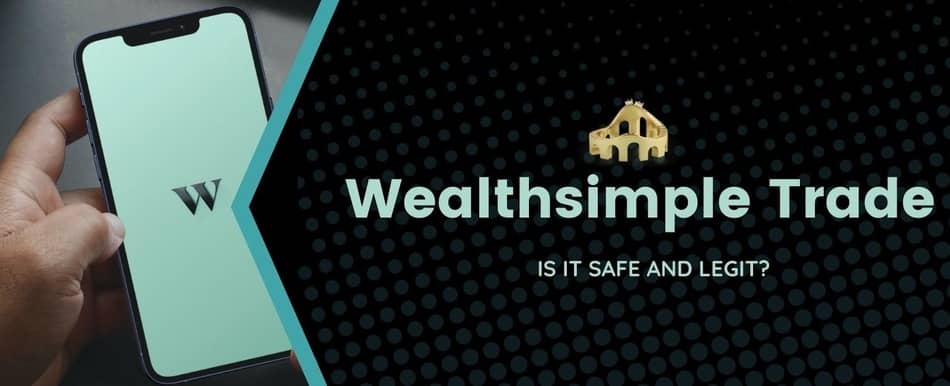 Some links in this post are from our partners. If a purchase or signup is made through our partners, we receive compensation for the referral. 
If you are new to the world of investing and are looking to open up a brokerage account in Canada, it's likely that Wealthsimple Trade has come up as a potential option for you.
As a self-directed brokerage platform that allows you to buy and sell stocks, ETFs, and other securities directly from your phone, Wealthsimple Trade is one of the leading companies in the Canadian fintech revolution that has helped transform the industry.
But is Wealthsimple Trade safe?
Wealthsimple Trade is safe. All data is fully encrypted and relies on two-factor authentication for account access. 
In addition, its brokerage partner ShareOwner, Inc. (the company that holds your money) is insured by the CIPF and regulated by the IIROC, protecting your funds in the event of fraud or even insolvency.
With that said, I use Wealthsimple Trade for all my stock and ETF purchases. I've had a great experience with them so far and as someone who was once a beginner in the world of investing, it is the perfect platform for me. If you did want to try them out, the sign-up process only takes a few minutes. (And you'll get a $50 cash bonus with your sign up).
Start Trading Stocks with Wealthsimple Trade Today ($25)
Earn a $25 Bonus with Sign – Up
No Commission Fees
 Investors Can Buy Fractional Shares
 No Minimum Balance Requirements
Beginner Friendly App and Desktop Platform
Access to the Crypto Markets
Read on to find out everything you need to know about the security and legitimacy of Wealthsimple Trade. 
Is Wealthsimple Trade Safe and Legit?
Wealthsimple Trade is safe and legit. All customer data is encrypted when it reaches the platform. This means that after your information is verified, even the platform itself does not have access to your data.
In addition, all accounts are protected by a PIN and require two-factor authentication when logins are attempted from unfamiliar devices.
While these safeguards make it extremely difficult for criminals to breach your Wealthsimple Trade account, the platform has an additional layer of security in the event that your account is compromised.
When you deposit funds into your Wealthsimple Trade account, your money is managed by ShareOwners, Inc., a partner brokerage of Wealthsimple. ShareOwners, Inc. is insured by the CIPF and regulated by the IIROC.
The CIPF (Canadian Investors Protection Fund) is an insurer that protects account holders in the event that Wealthsimple becomes insolvent. In the unlikely event that this would occur, your account would be insured for up to $1 million.
The IIROC (Investment Industry Regulatory Organization of Canada) oversees all investment and trading activity on Canada's debt and equity marketplaces. When a brokerage is regulated by the IIROC, it is a guarantee that your funds are being invested appropriately and that the company is holding up its end of the bargain in terms of delivering on the services advertised. 
A final note on safety: As I talk about in my article Is Wealthsimple a Bank? (Quick Answer), Wealthsimple is not a bank, it is a brokerage platform. And because of this, it is not given bank-level protection (CDIC). But this is completely standard for all brokerage providers. 
Your funds are not going to be as "safe" on Wealthsimple Trade in the same sense as when they are sitting in a bank account. There is always a risk/reward element to investing, and once trades are executed, it is possible to lose substantial money due to a variety of factors if you don't invest your money wisely.
However, in terms of the platform being safe from fraud or cybercrime, it is top-notch and can honestly rival any brokerage on the market. 
Can I Trust Wealthsimple Trade?
Yes, you can absolutely trust Wealthsimple Trade. Its high levels of encryption and identification verification protocols make it extremely unlikely that your account ever gets hacked. 
Furthermore, its partnership with ShareOwners, Inc. and the backing of the IIROC and CIPF should give investors the confidence that they are using a legitimate platform and will be protected in the unlikely event of company insolvency. 
Is Linking My Bank Account to Wealthsimple Trade Safe?
It is safe to link your bank account to Wealthsimple Trade. The platform uses a state of the art 256-bit SSL certificate to encrypt all data sent between your web browser and the company servers.
This means that once the platform verifies your bank account information, the data becomes encrypted and no longer visible to the company.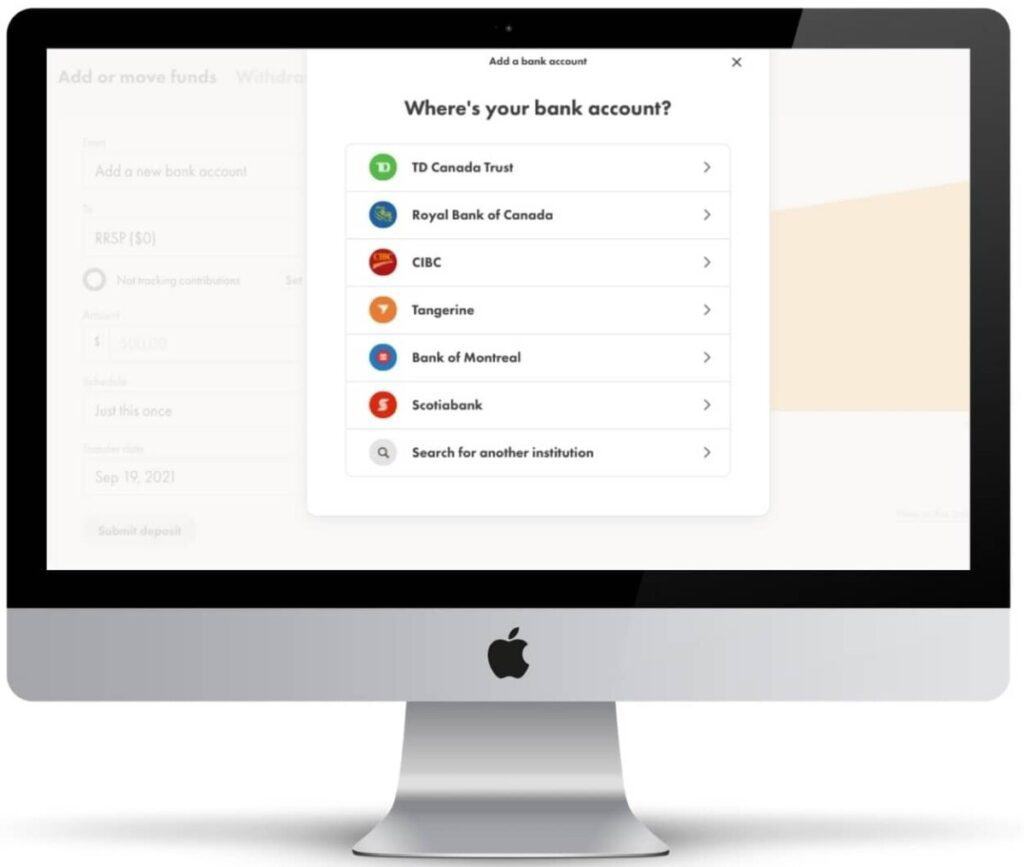 How does this help keep your bank account safe? There are several ways:
Even though you hold an account with Wealthsimple, company employees will not be able to see your bank account information.
If a hacker were to break into the Wealthsimple servers, they would not be able to see your bank account number or other pertinent information, such as password or SIN.
This high-level encryption helps create a zero-knowledge protocol, where Wealthsimple knows that your account is legitimate without ever having access to your identifiable data.
Is Wealthsimple Trade Good for Beginners?
Wealthsimple Trade is good for beginners for a variety of reasons. First, it takes away most of the barriers of entry that prevent most people from getting started on their investment journey.
For one, the sign up process is all done online and takes a matter of minutes (literally). This is very appealing to modern consumers.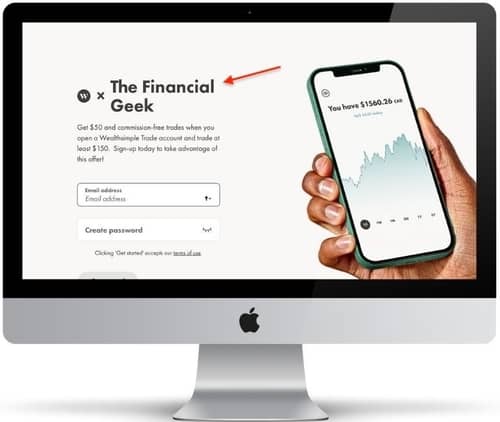 In addition, the following are some other major perks to Wealthsimple Trade for beginners:
No sign-up fees – many people beginning their investment journey are likely doing so with a modest nest egg. As such, it is best to find a platform like Wealthsimple Trade that does not take a percentage of this nest egg in the form of a sign-up fee.
No commissions – most Canadian brokerages (even self-directed platforms) charge a commission of at least $4.95 and up to $9.99 per transaction. For those beginning investors who have smaller amounts to invest, these commissions represent a sizable percentage of all funds.
Fractional shares – the price of some of the most popular stocks can be prohibitive for many beginning investors. However, by using the fractional share features on Wealthsimple Trade, investors can buy small portions of their favorite shares and enjoy proportional gains.
No Deposit or Withdrawal Fees – You never have to pay any fees when making deposits of withdrawals in or out of your Wealthsimple Trade account.
TFSA availability – a tax-free savings account (TFSA) is one of the most advisable instruments for novice investors, as it allows them to grow wealth while enjoying some tax advantages that aren't available for regular capital gains.
To read more about why Wealthsimple Trade is great for beginners, read my article here.
Is Wealthsimple Trade Safe? The Bottom Line for Beginners
Wealthsimple Trade is safe. It has top-quality encryption and identification verification to protect information. In addition, your funds are regulated by both the IIROC and insured by the CIPF, guaranteeing that you are protected in the face of fraud or insolvency.
And as I mentioned earlier, I've been using Wealthsimple Trade for a number of years now, and I really love it. My article here gives beginner investors a complete step-by-step guide on how to sign-up for Wealthsimple Trade. But if you think you are ready to take the plunge and sign-up, then get started here and earn $50 bucks for doing so!
How great is that!
And that's all for this article, folks. As always, thanks for reading and happy investing!
Geek, out.