Some links in this post are from our partners. If a purchase or signup is made through our partners, we receive compensation for the referral. 
Are you debating signing up for a Wealthsimple account? But you're wondering how the heck you'd actually make money from it?
If so, you are not alone. In the grand scheme of things, Wealthsimple is still a relatively new company and there is still some confusion around how, if someone creates an account, they'd in fact make money.
As of right now (2022), Wealthsimple has 5 products:
Wealthsimple Crypto
Wealthsimple Cash
Wealthsimple Tax
The purpose of this article is to talk about 5 different ways you can make money from Wealthsimple and from which products.
Below I'll include a table to give you a quick glance at what the rest of this article will entail.
| How to Make Money with Wealthsimple | Wealthsimple Product |
| --- | --- |
| 1. Capital Gains Income | Wealthsimple Invest, Trade & Crypto |
| 2. Dividend Income | Wealthsimple Invest & Trade |
| 3. Referral Bonuses | Wealthsimple Invest, Trade, and Cash |
| 4. Cashback Rewards | Wealthsimple Cash |
| 5. Annual Tax Rebates | Wealthsimple Tax |
1. Capital Gains Income
One way you can make money on Wealthsimple is from capital gains on any asset you buy on their platform.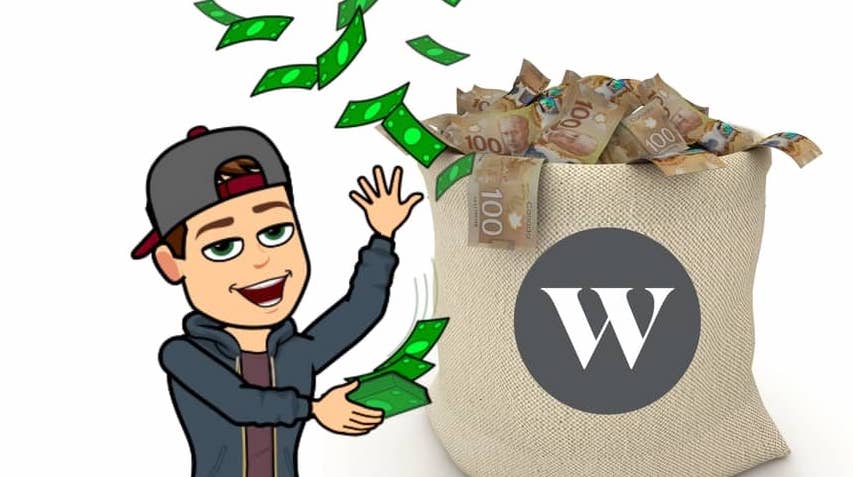 But let's back it up for a minute first, what the heck are capital gains?
Good question. In short, a capital gain is when you buy an asset at one price and then sell it later at a price higher than what you bought it at.
For example, if you bought a share of stock in Facebook for $100 and then sold it a few years later for $300, well you would technically earn $200 in whats called – capital gains income.
Pretty straight forward right?
Wealthsimple has three products that you can use to earn capital gains income with.
Wealthsimple Crypto
If you are unfamiliar with these products, allow me to give you a quick overview of each one.
Wealthsimple Invest

Wealthsimple Invest is Wealthsimple's automated investment product. Investors simply open a Wealthsimple Invest account, set their risk level and then leave the rest to Wealthsimple.
Wealthsimple then invests its customer's money into index funds based on their risk preferences.
Wealthsimple refers to their Wealthsimple Invest product as "Investing on Autopilot". Which is really what it is, Wealthsimple Invest investors (myself included) really don't have to do much, if anything at all.
For example, if you invest say $500 into a Wealthsimple Invest account, and 1 year later you check back and see you now have $1,000 in your account, well bang! You just made $500 in unrealized capital gains income.
Sign-up for Wealthsimple Invest Today ($25)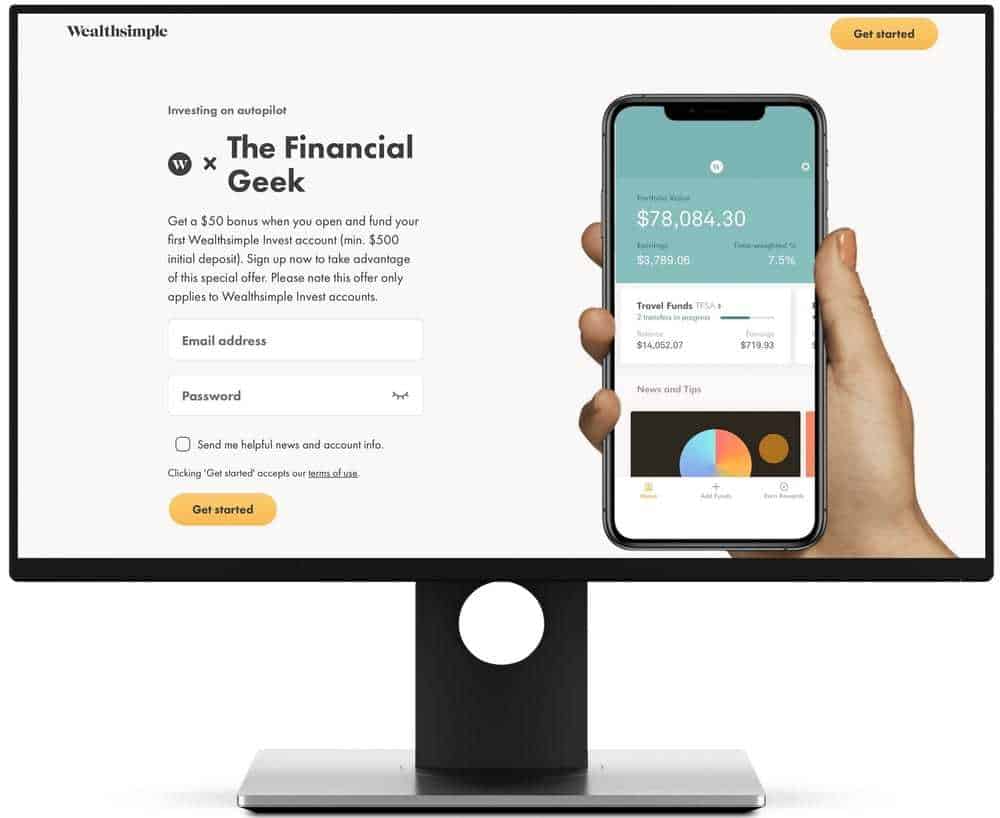 Earn a $25 Bonus with Your Sign Up
Designed for beginner investors
15 Minute Sign-Up Process
100% Free to Sign-Up
No minimum deposit required
 Great mobile experience
Wealthsimple Trade
Next we have Wealthsimple Trade. Wealthsimple Trade is another Wealthsimple platform that gives investors the ability to make money through capital gains.
Wealthsimple Trade is Wealthsimple's online brokerage platform. In other words, Wealthsimple Trade gives Canadian investors the ability to buy and sell individuals stocks and ETFs.
So going back to my earlier example, you could go on Wealthsimple Trade's platform today, buy a stock for $100 and then if that stock increased to say $300, well you could then sell that stock and earn $200 in capital gains income.
So while you can make money from capital gains on both Wealthsimple's Invest and Trade products, Wealthsimple Invest is a more hands off approach whereas Wealthsimple Trade puts you, the investor, in charge of every stock and ETF you buy and sell.
Start Trading Stocks with Wealthsimple Trade Today ($25)
Earn a $25 Bonus with Sign – Up
No Commission Fees
 Investors Can Buy Fractional Shares
 No Minimum Balance Requirements
Beginner Friendly App and Desktop Platform
Access to the Crypto Markets
Wealthsimple Crypto

Another way you can earn capital gains income through Wealthsimple is through their Wealthsimple Crypto product.
With Wealthsimple Crypto, you can buy and sell crypto currencies on the platform – simple as that.
By now, I'm sure you get the point, but if you buy $100 worth of Bitcoin or Ethereum and then sell it for $200 at a later date, ding ding ding, you've just earned $100 in capital gains income.
So as you can see from these given examples, one way you can make money from Wealthsimple is through capital gains. Whether you are investing in index funds, individual stocks, or cryptocurrency, capital gains income is a great way to generate wealth overtime.
Start Trading Crypto with Wealthsimple Crypto Today ($25)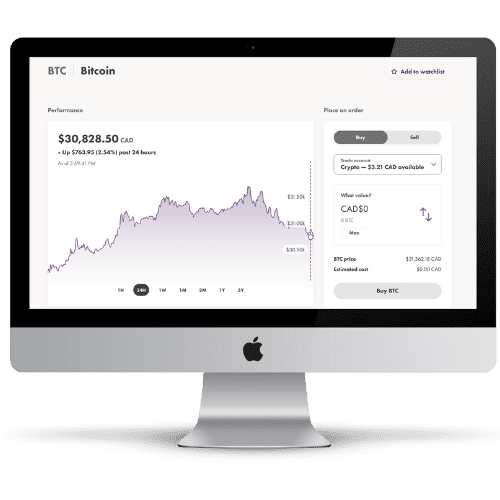 Earn a $25 Bonus with Sign – Up
Canada's first regulated crypto trading platform.
Trade Bitcoin, Ethereum, Dogecoin and 50+ coins
Send and receive crypto to external wallets
Get up to $5,000 instantly
All-in-one pricing
2. Dividend Income 
Another way you can make money from Wealthsimple is through dividends.
Dividends are distributions of profits given by corporations to its shareholders. It's kind of like a reward!
While not all companies pay dividends (because of this), if you invest in those that do, you can earn money in a very passive manner.
Wealthsimple Invest invests in index funds that generate dividends, so if you use this product, you'll earn dividend income. With that said though, Wealthsimple Invest automatically reinvests your dividends and buys back more stock with those funds. This is called a DRIP – Dividend Reinvestment Plan
With Wealthsimple Trade, in order to generate dividends you'll of course need to buy dividend paying stocks. But as mentioned earlier, not all companies pay dividends, so make sure you check before hand if you plan on buying stocks for the purpose of generating dividend income.
Related Financial Geek Article: Non-Dividend Paying Stocks | Why Do People Invest in Them?
A very quick and easy way to check if a company pays a dividend or not is to just Google "Does (company) pay a dividend?"

When you earn a dividend with Wealthsimple Trade, your income will be deposited into your account as cash. You can then choose to either withdrawal your income, leave it in your account as cash, or buy more stocks and ETFs.
Me personally, I love dividend investing and I actually use my Wealthsimple Trade account as a dividend portfolio. One of my holdings is AT&T as you can see here below. Their current dividend yield is x%.
What can I say, I love cash flow!
So there you go! Dividend income – whether it's generated from Wealthsimple Invest or Trade – is another way you can make money on Wealthsimple.
3. Cashback Rewards
A third way you can make money from Wealthsimple is through their cash back rewards program that is offered on their Wealthsimple Cash product.
Wealthsimple Cash is one of Wealthsimple's newer products and it gives Canadians the ability to quickly and easily send and receive money. Not only that, but Wealthsimple Cash also has a Cash Card. (I got my cash card a few months ago).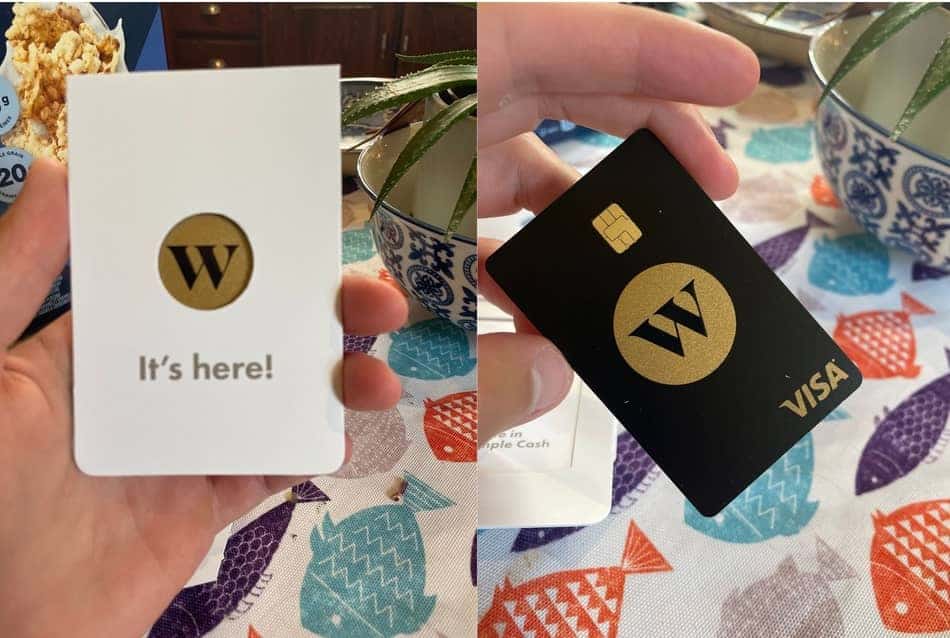 This card operates just like a prepaid Visa where card owners can upload money onto their account and then make everyday purchases on it.
I actually love this card and I use it on a daily basis. But how do I make money from it?
Well besides for when my friends have to send me money for beating them at Poker, I also get cash back on all of my purchases!
On top of their promotional rates, Wealthsimple Cash gives 1% cash back on all purchases, regardless of when it's made and what its on.
Not bad hey? Now I obvisouly don't get rich off cash back rewards, but let's face it, getting cash back for doing nothing always feels good.
4. Referral Bonuses
Another interesting way someone can make money from Wealthsimple is by referring their friends or family onto the platform.
How does this work?
It's pretty straightforward actually, every Wealthsimple user will get a unique referral link in which they can send to their friends or family. If they then sign-up, boom, you get a referral bonus!
Similar to cash back rewards, these referral bonuses will likely change over time. But currently, here are some of Wealthsimple's referral bonuses by product:
Wealthsimple Invest: If you refer someone to Wealthsimple Invest, Wealthsimple will reward you by managing up to $10,000 of your assets for free.
Typically Wealthsimple charges between .4% – .5% annual fees.
So a dollar saved is a dollar earned!
To learn more about Wealthsimple Invest's referral program, check out their help centre article here.
Wealthsimple Trade: When you refer a friend to Wealthsimple Trade, you'll actually receive the cash equivalent of one random stock.
And what's even better? The person you refer will get the cash equivalent of two stocks for signing up through your referral link!
So let's say you refer 10 friends to Wealthsimple Trade, you've just earned yourself the cash equivalent of 10 stocks!
The value of these stocks is between $5 and $4,500, with 95% of the stocks being less than $50.
Wealthsimple Cash: Wealthsimple Cash also has a pretty nice referral program where you earn real cash for referring someone onto the platform.
In fact, if you refer someone to Wealthsimple Cash using your referral link, you and your referral will both get $10 cash deposited into your accounts. Refer 10 friends, boom – $100 for you.
5. Annual Tax Rebates
And lastly, you can make money from Wealthsimple by using their Wealthsimple Tax product and claiming your tax rebates.
While I understand a tax return isn't like earning new money as it's more like reclaiming money you've overpaid in taxes, but still – it's money!
I've used Wealthsimple Tax since 2020 and I've generated anywhere from $2,000 – $6,000 in tax returns each year. Now I contribute a lot of money to my RRSP each year, so this is the main reason why.
But if you're like me and you usually get a nice tax return each year, Wealthsimple Tax is a great platform to do it on.
Not only is it easy to use, but they use a pay-what-you-want fee structure. In other words, you can literally use this Wealthsimple product for free!
I always pay $20 a year after I do my taxes for goodwill, but if you really wanted to, you don't have to pay a dime – no judgements here!
So when you think about it, by not paying a tax corporation like H&R block, you are actually making money from the Wealthsimple Tax product even if you don't account for your tax rebate. I said it before but I'll say it again, money saved is money earned!
Conclusion
And there you have it!
Those are 5 ways in which you can make money from Wealthsimple.
As a Wealthsimple user myself, I've taken advantage of each one of these Wealthsimple money making methods. Capital gains and dividend income definitely has the most earning potential of the 5 methods, but the other 3 options are nice little perks as well.
As mentioned, I use all 5 of Wealthsimple's products and I really enjoy them all.
Thanks for reading folks, as always, I hope this article provided you with the answer you were looking for.
Geek, out.