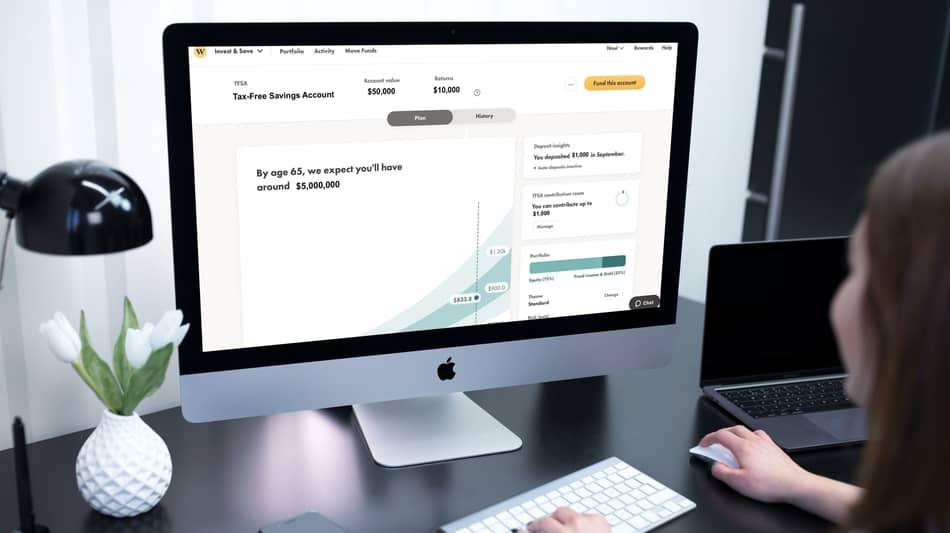 Some links in this post are from our partners. If a purchase or signup is made through our partners, we receive compensation for the referral. 
The goal of this article is to give you more information on why opening up a TFSA with Wealthsimple is a great idea and then walk you through the step-by-step instructions on exactly how to do it.
I remember back in 2016 when I first wanted to get started with investing but I had no idea how or where to start.
After a quick Google search and about 30 minutes later I had opened up my first ever TFSA with Wealthsimple and I haven't looked back since. To this day I use Wealthsimple as my TFSA issuer.
At the time of opening my account, I really didn't even understand the benefits associated with a TFSA, but I have certainly found out since.
If you're in a situation similar to what I was back in 2016, allow me to share some of these benefits with you. If after that you want to get started and open a TFSA of your own with Wealthsimple, follow along with my step-by-step guide and let's do it together.
Start by going to the sign-up page here. (You'll also get a $25 cash bonus for signing up)
Important Note: Wealthsimple Invest is Wealthsimple's automated investment product which is a much more hands off style of investing, which some people love. However, if you're someone who wants to manage your entire portfolio yourself, by buying and selling individual stocks and ETFs, then you'll want to setup an account with Wealthsimple's online brokerage product, Wealthsimple Trade.
9 Reasons Why You Should Open Up a TFSA with Wealthsimple Invest
| Benefits | Why It's Good For You |
| --- | --- |
| 1. Tax-Free investment income | You don't pay taxes on any income you generate from your TFSA |
| 2. No account minimum | You can start investing with as little as $1 |
| 3. Setting up an account is easy | The entire sign-up process is done online and takes about 30 minutes |
| 4. Easy withdrawal process | Withdrawals are completely free with Wealthsimple plus you won't pay taxes on any income earned |
| 5. Wealthsimple is designed for beginner investors | Even if you've never used an investment platform before, you'll be able to easily understand and use Wealthsimple |
| 6. Wealthsimple invests your money for you | You just set your risk level (1-10) and let Wealthsimple take care of the rest |
| 7. Low management fees (.5%) | You'll keep more of your investment income |
| 8. Wealthsimple is mobile friendly | With Wealthsimple's modernly designed smartphone app, you'll be able to manage your entire portfolio easily from your phone |
| 9. Creating a Wealthsimple account is completely free | You keep more of your money |
"Can't say enough good things about Wealthsimple. Exceptional service combined with investment products that are ideal for the vast majority of people. Wish they'd been around when I was younger and beginning to save."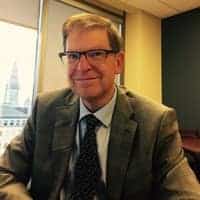 ---
Open a TFSA with Wealthsimple Invest Today ($25)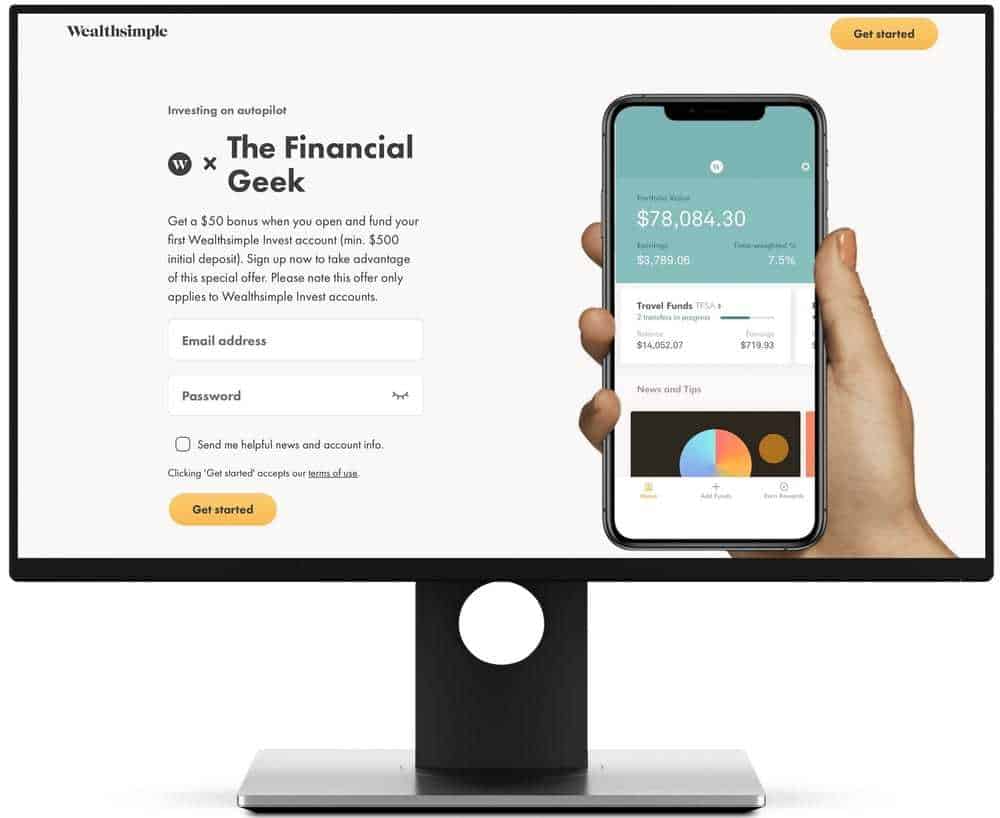 Earn a $25 Bonus with Sign – Up
 Tax-Free investment income
No account minimum
100% free to sign-up
Wealthsimple is designed for beginner investors
 Wealthsimple invests your money for you
How To Open Up a TFSA With Wealthsimple | 4 Step Guide
[Total Estimated Time of Completion – 30 Minutes]
Okay, now it's time to open up your first TFSA. Follow along and we can go through this process together.
If you haven't already, start by going to the Wealthsimple sign-up page here.
Now that you're on the sign-up page, you should see the same thing as what is being showing here below.
From there you'll want to fill in an email address that you wish to have connected with your investment account and then put in a password that you'll remember.
Once you do that click "Get started" and then you'll be brought to this page here below.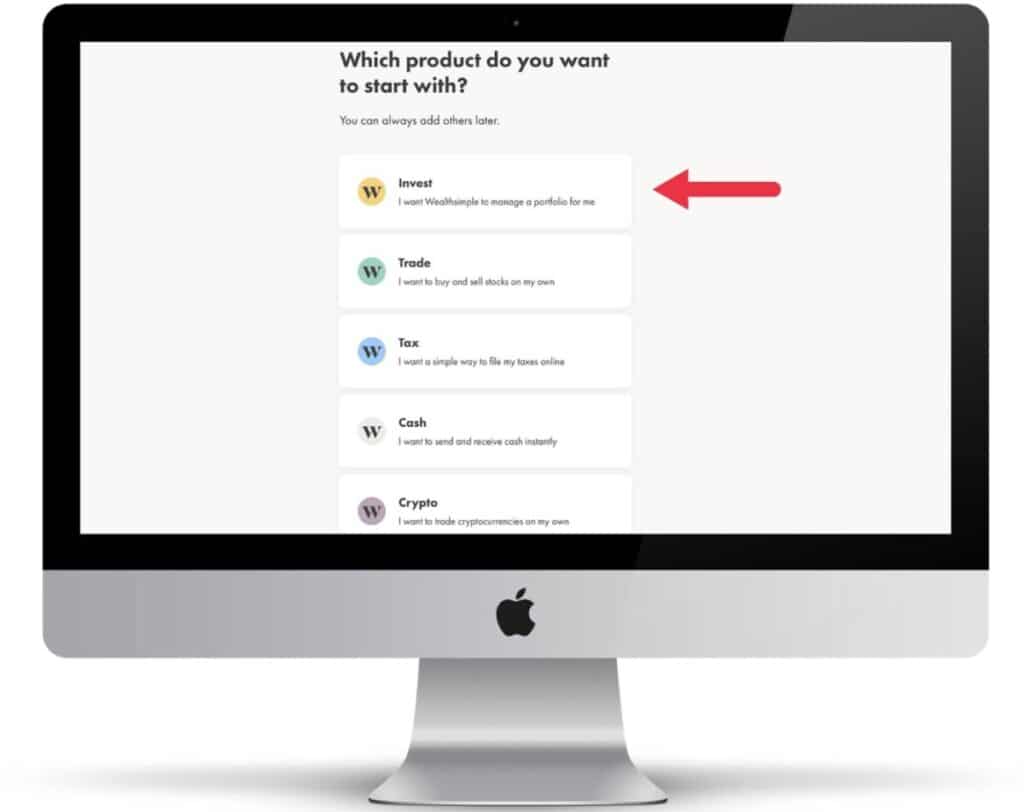 All you need to do here is click "Invest" and you'll officially be on your way to step one of the process. Pretty easy so far, hey?
Step 1 – Add Your Personal Details
[Estimated Time of Completion for Step #1 – 10 Minutes]
Okay let's get started with step one. When you get to this page here below, click "Get started".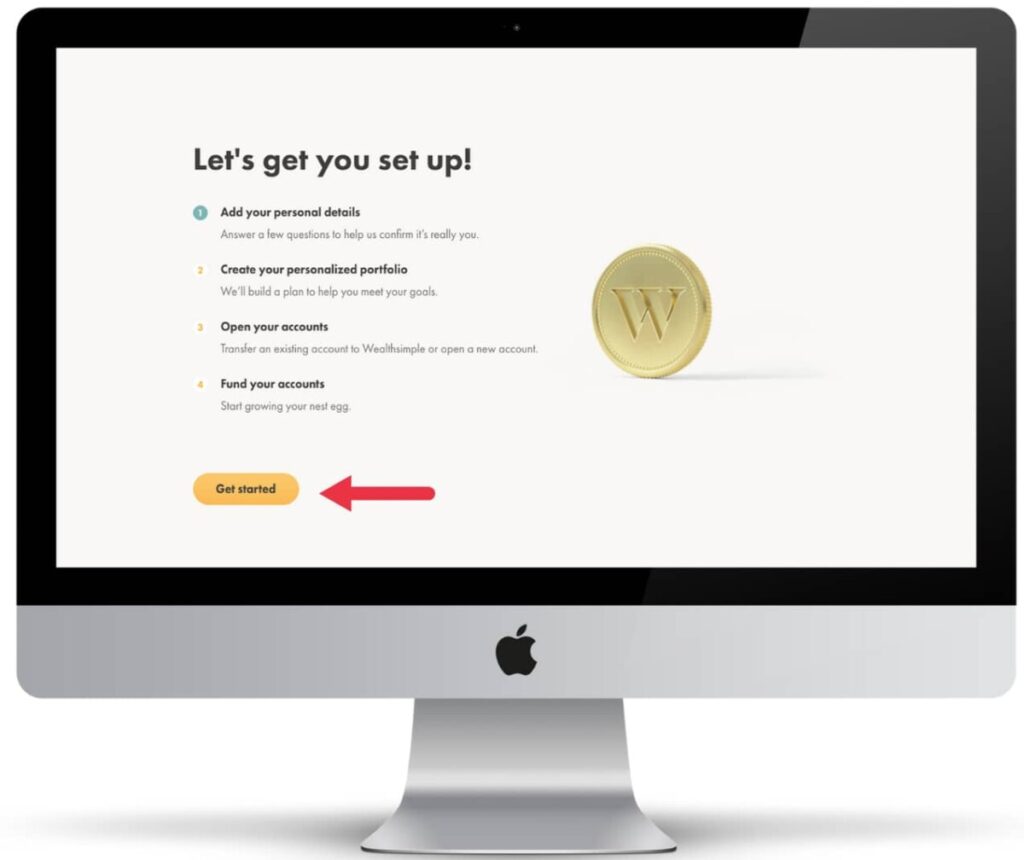 Once you click get started, you will be asked 16 questions in regards to your personal details.
List of Personal Detail's You'll Be Asked
1. First Name
2. Last Name
3. Date of Birth
4. Phone Number
5. Citizenship
6. Gender (Can select "Rather Not Say")
7. Residential Address
8. Mailing Address
9. Employment Status
10. Current Workplace
11. What Type of Company Is it
12. Role at Your Company
13. Social Insurance Number
14. Do These Statements Apply To You Section
15. How Did You Hear About us?
16. Confirm Details
While it's always a little nerve wracking giving out personal details like your Social Insurance number (SIN), rest assured all your information is safe and secure with Wealthsimple. Wealthsimple is known for using state of the art security measures when handling the financial information of their 1.5 million clients.
Once you get through these personal detail questions, you'll move onto step two.
Step 2 – Create Your Personalized Your Portfolio
[Estimated Time of Completion for Step #2 – 10 Minutes]
Step two starts off with this page here. So first things first, click "Continue".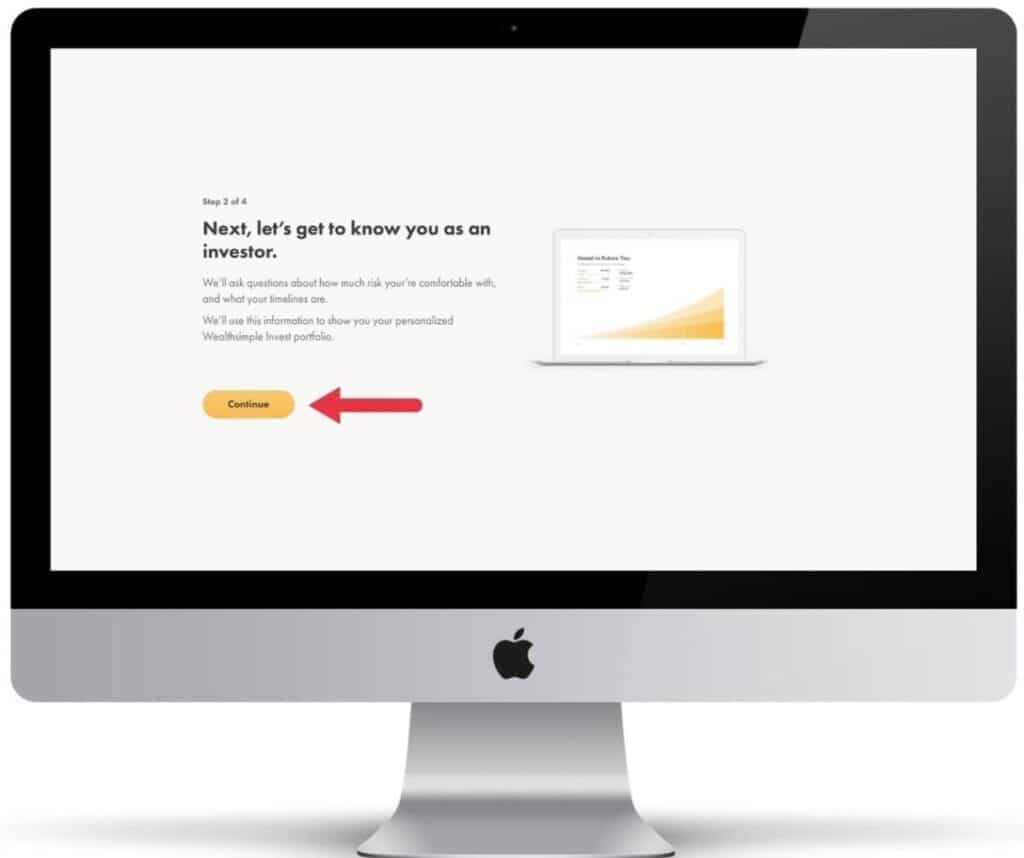 In step two you'll give information to Wealthsimple about what type of risk you are willing to invest with, along with information about your current and desired financial situation.
It's important to note that these questions don't require any long form answers. They either come in the form of multiple choice or fill in a number format as shown in an example here below.
The ten questions you will be asked are as followed:
Question's You'll Be Asked to Personalize Your Portfolio
1. Are you thinking about retirement?
2. What's the main reason for investing?
3. When would you like to retire?
4. What will your household income be this year?
5. How much money do you have saved?
6. What's the value of property and other assets you own?
7. What's the value of your debts?
8. How much do you know about investing?
9. Do you have an idea of much risk you're willing to take?
10. Choose a theme for your first account
For question number ten, "Choose a theme for your first account", you'll be asked to choose between Socially Responsible, Classic and Halal.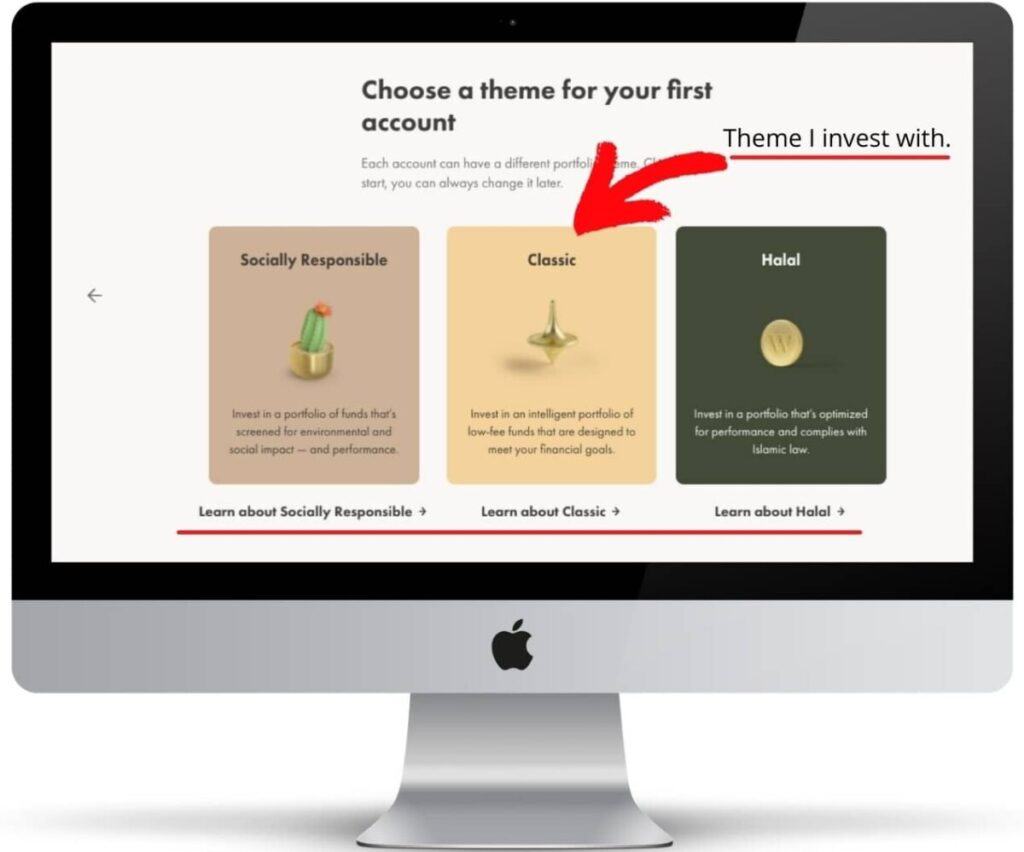 I chose Classic for my portfolio, but obviously the theme you decide to go with is up to you. To learn more about each theme, click the learn about button below each section.
Once you're done with these ten questions you'll be recommended with a portfolio type based on the information you gave.
As you can see from the image above, Wealthsimple recommended I go with the Balance Classic Portfolio. The three main portfolio types Wealthsimple offers are Conservative, Balanced and Growth.
If you are satisfied with the portfolio type Wealthsimple recommends to you, click "Start with this portfolio". You should also know that you aren't locked into these portfolios. Once your account is setup you can easily change your portfolio type (risk levels).
After this you'll move into step three! This is where you'll actually open your TFSA.
Exciting times ahead!
Step 3 – Open Your Wealthsimple Account
[Estimated Time of Completion for Step #3 – 5 Minutes]
You'll know you've officially made it to step three when you see the screen shown below.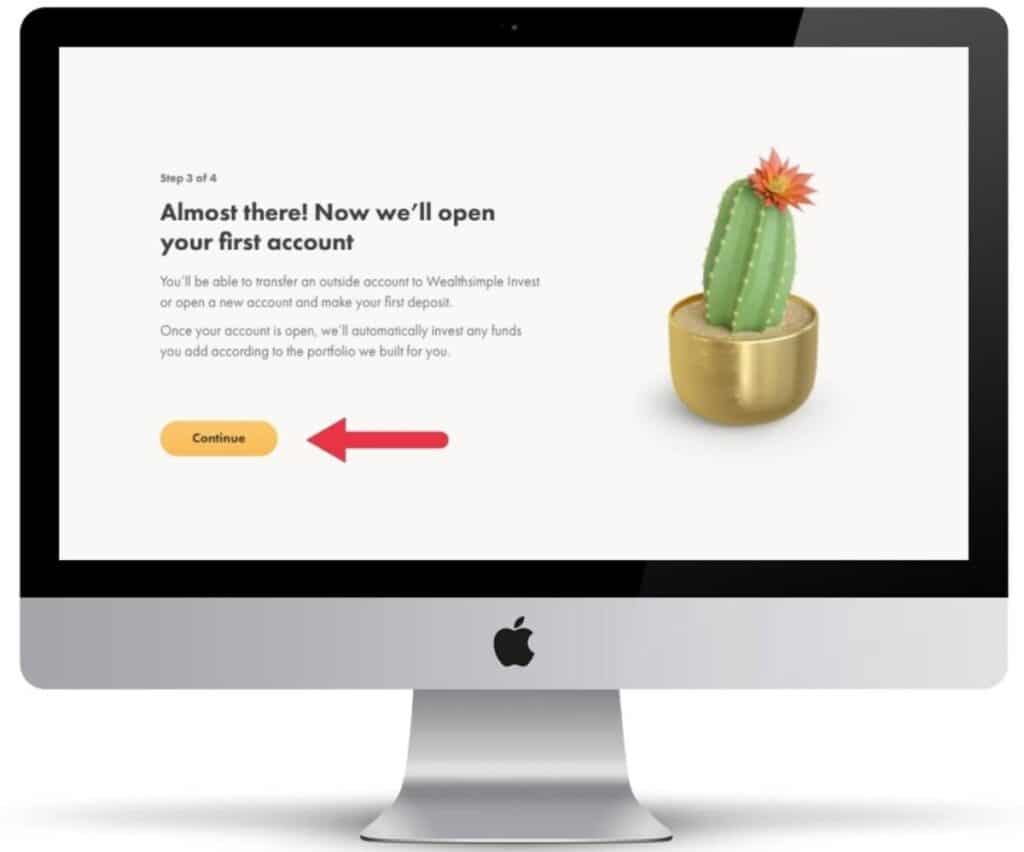 So click "Continue" and let's open up your TFSA. You're almost there!
Once you click continue you'll be brought to this page here.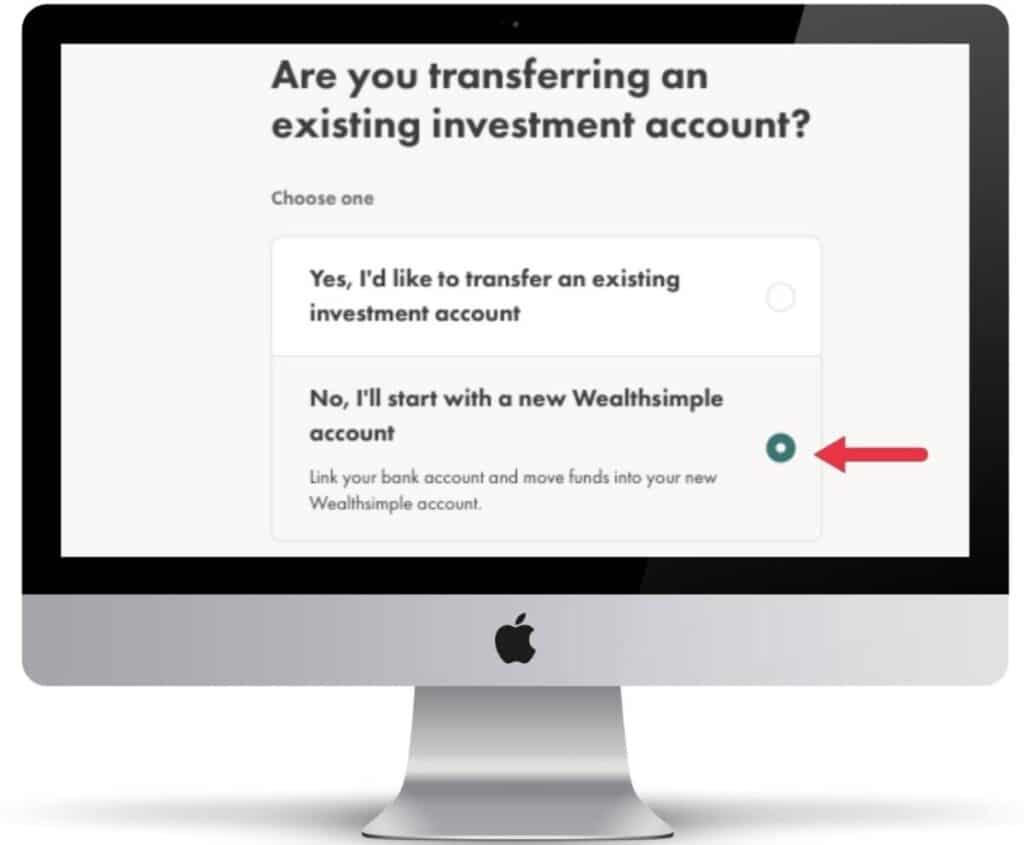 So if this is your first time ever opening a TFSA, select "No Ill start with a new Wealthsimple account".
If you are transferring a TFSA over from another financial institution, select "Yes, I'd like to transfer an existing investment account"
Next you'll be asked what type of account you wish to open. So of course here you'll select "TFSA".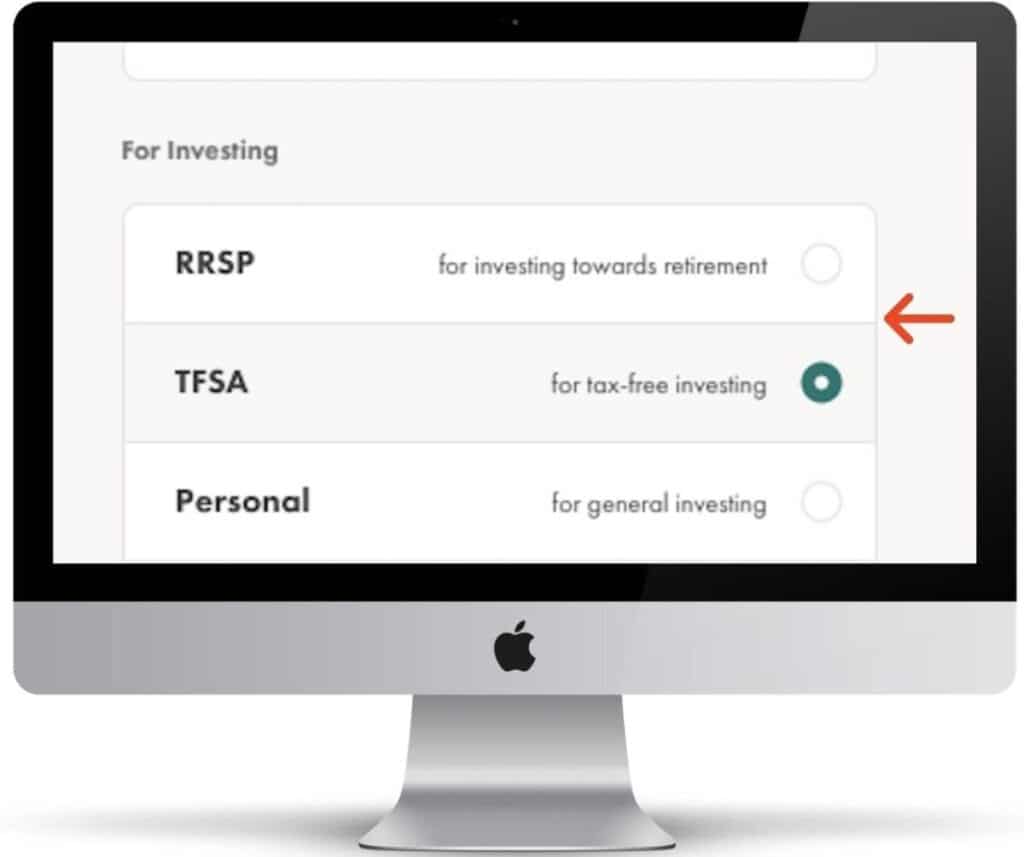 After this you'll be asked about your existing goals with your TFSA. If you aren't sure, don't worry about it, just select something and move on. None of this information is carved in stone. As mentioned earlier, it can all be easily updated later.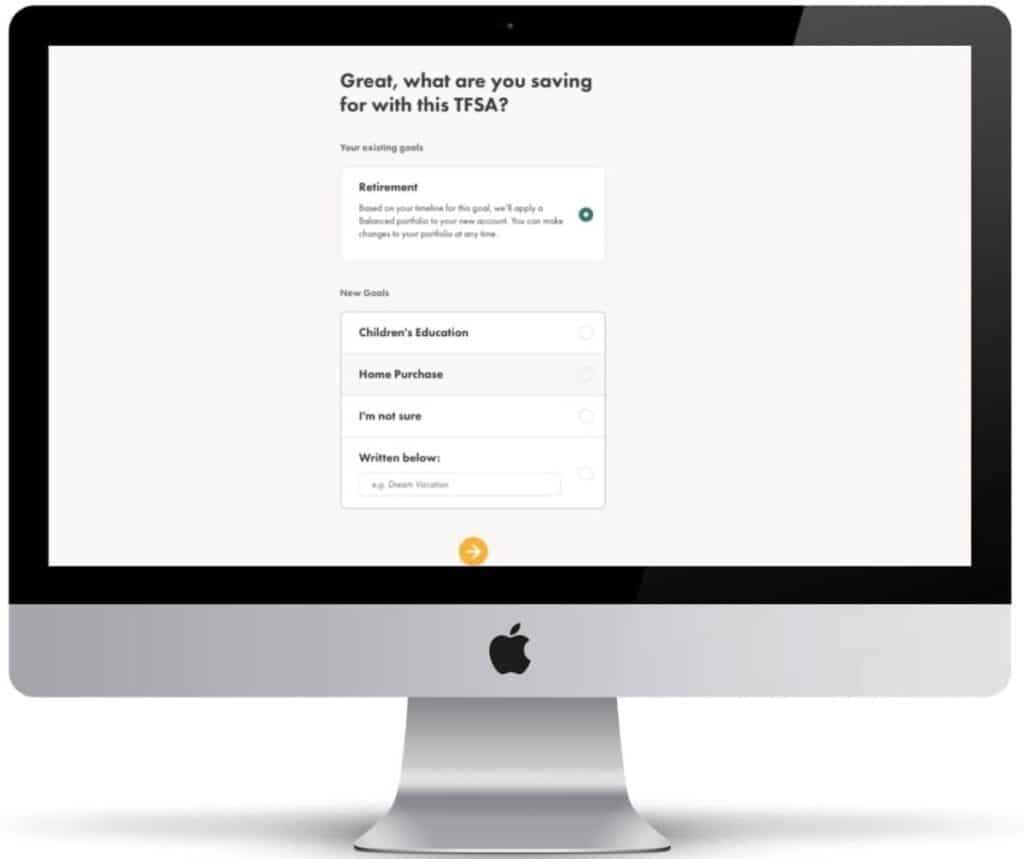 So select something that makes sense for you and then click the orange arrow button. After that you'll have to accept some terms and conditions until you are brought to this screen.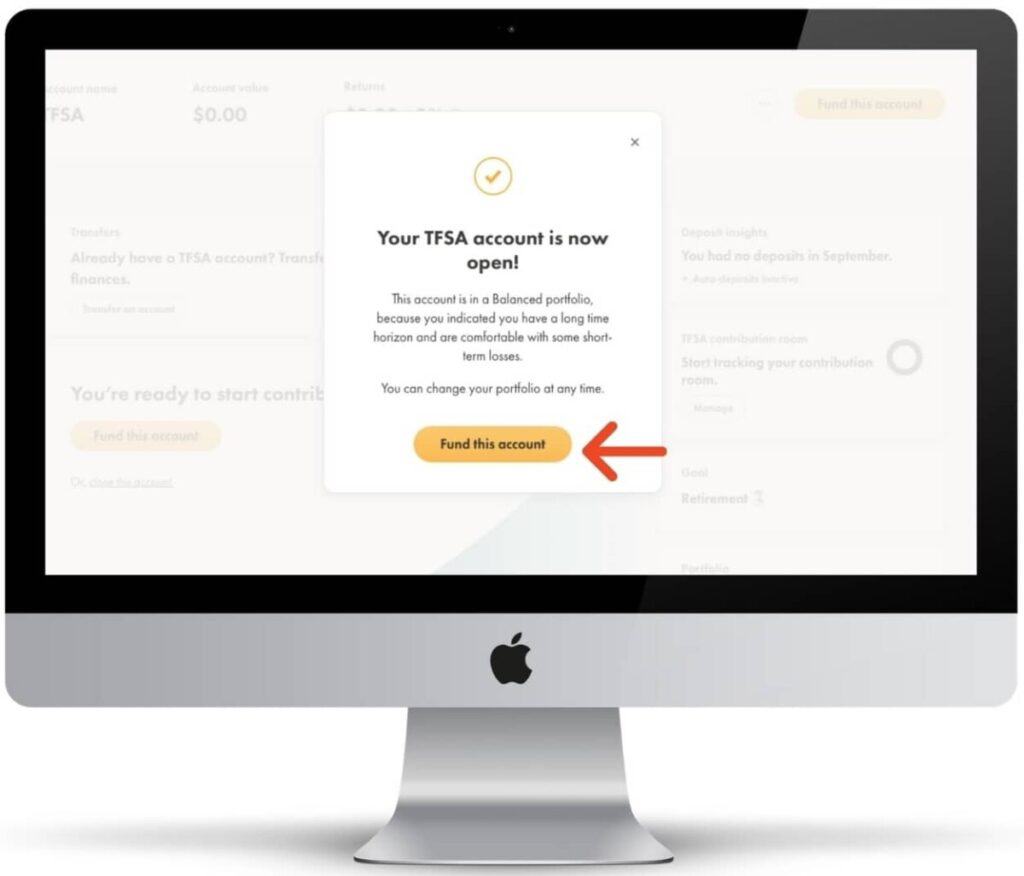 From here, click "Fund this account" and then you'll move into the fourth and final step.
Step 4 – Fund Your Wealthsimple Account
[Estimated Time of Completion for Step #4 – 5 Minutes]
Okay step four! You are almost there!
In step four you'll connect your new Wealthsimple account to your bank account and then fund your account.
So once you see this page below, click "Continue".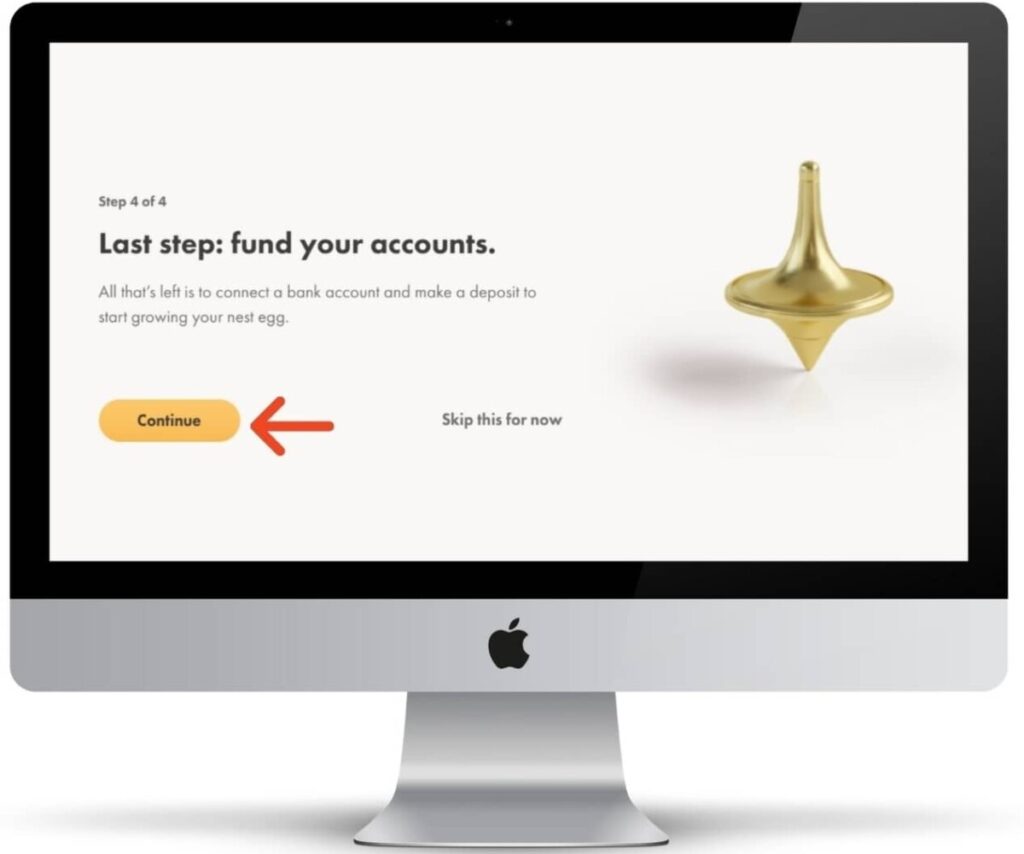 From here you'll be brought to the dashboard of your new investment account. Click "Make your first deposit".
Once you click Make your first deposit you'll need to connect your bank account.
In short, Wealthsimple can connect to chequing accounts from all major financial institutions in Canada.
Make sure you have your online banking sign-in information available as you'll need that to connect your account. This process only takes a minute or two. You'll see these two screens below while Wealthsimple and your bank account are connecting and then when it's finally successfully connected.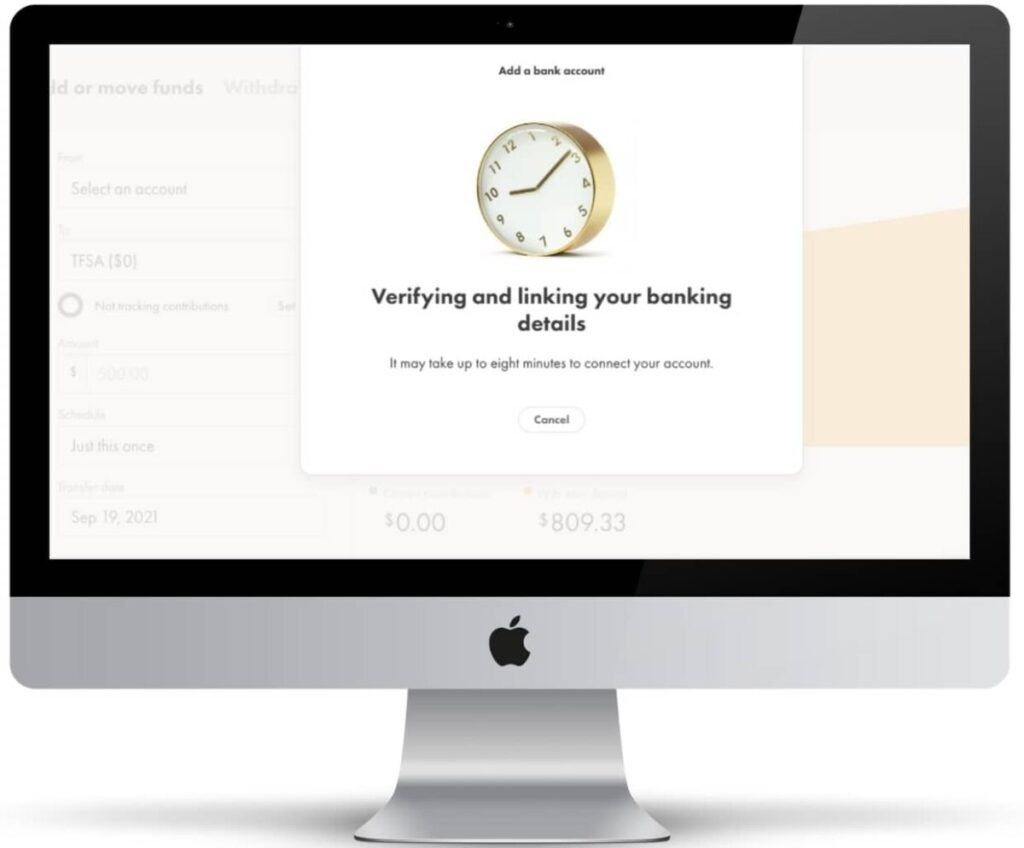 So finally you'll want to click "Got it" which will then bring you to your final page.  
On the screen below, the bank account you just added will be showing in the "From" section and your new TFSA account will be showing in the "To" section.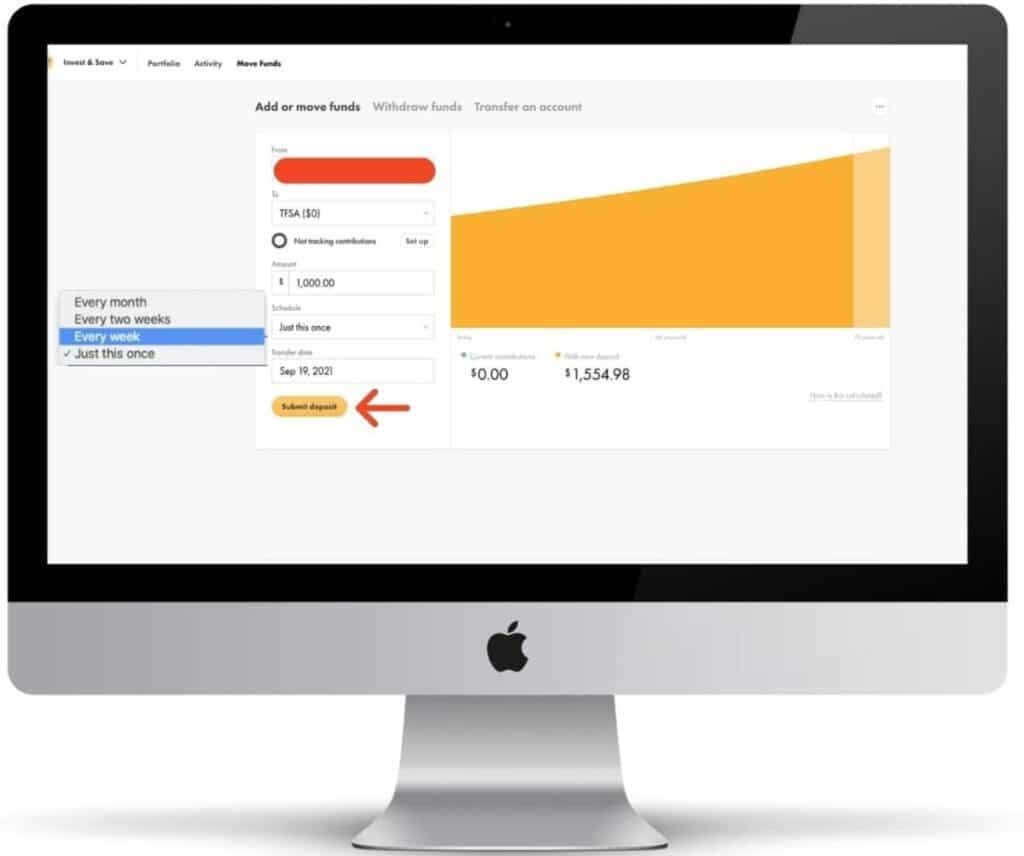 So here is what you'll want to do:
Put in the amount you want to deposit in the "Amount" section.
Schedule the deposit for (A)Just this once (B)Every week (C)Every two weeks (D)Every month.
Select the date you want to make your deposit.
Finally click "Submit deposit" and you are done! It usually take 3-5 business days for deposits to go through.
Congratulations, if you've followed these steps, you have successfully setup and funded a TFSA with Wealthsimple.
---
$50 Cash Bonus with Sign-Up
Now you know how to sign-up for a TFSA with Wealthsimple Invest. If you haven't already done so, get started with your TFSA today and get a $50 cash bonus for doing so.
---
I hope you've found this resource helpful! If you have any other questions about the process of setting up your TFSA with Wealthsimple, feel free to email me at noel@thefinancialgeek.com
Geek, out.