Some links in this post are from our partners. If a purchase or signup is made through our partners, we receive compensation for the referral. 
Okay, let me guess. You've started to hear a little bit about Wealthsimple lately and you're wondering if it's time to transfer your existing TFSA (likely with a bank) into Wealthsimple's auto investing platform – Wealthsimple Invest.
If you're in this situation, but you're not sure if you should pull the trigger and transfer your funds to Wealthsimple, let me try and persuade you. 
I've personally been using Wealthsimple since 2016. In fact, I transferred my TFSA, which was with Scotiabank at the time, into a Wealthsimple TFSA and I haven't looked back since.
But why you might ask? Why should you transfer your TFSA to Wealthsimple? Allow me to explain
7 Benefits of Transferring Your TFSA to Wealthsimple
1. Quick and Easy Transfer Process
2. Wealthsimple will Reimburse Your Transfer Costs
3. Wealthsimple Contacts Your Current TFSA Provider
4. Low Management Fees
5. Amazing Customer Support
6. Setting Your Investment Risk Level is Simple
7. No Account Minimums
Quick Note #1: In this article we talk about the Wealthsimple Invest product. This is Wealthsimple's automated investment platform. If you're into actively managing your portfolio, you'll instead want to transfer your funds into a Wealthsimple Trade account. To learn more about Wealthsimple Trade and the benefits of using it, check out my article here.
1. Quick and Easy Transfer Process
First and foremost, once you open your Wealthsimple account, making the transfer from your current TFSA to a Wealthsimple TFSA is a very quick and easy process.
First you have to initiate the transfer on their website or app. But even before this step, you'll need to create a Wealthsimple account.
If you want to go through my step-by-step tutorial on how to do so, you can check out my how-to article here, if you'd rather just start the sign up process now, sign-up here and get a $25 cash bonus for doing so.
Once you open an account and initiate the transfer, all you have to do is answer a couple simple questions and then Wealthsimple will handle the rest.
If you already have a Wealthsimple account open then great, this process will literally take you about 5 minutes, but will get into this a little more later.
With all that said, it's important to note that the funds itself usually take around 14 – 28 days to go through, but the work you actually have to do only takes a matter on minutes.
Not bad, hey?
Transfer a TFSA to Wealthsimple Invest Today ($25)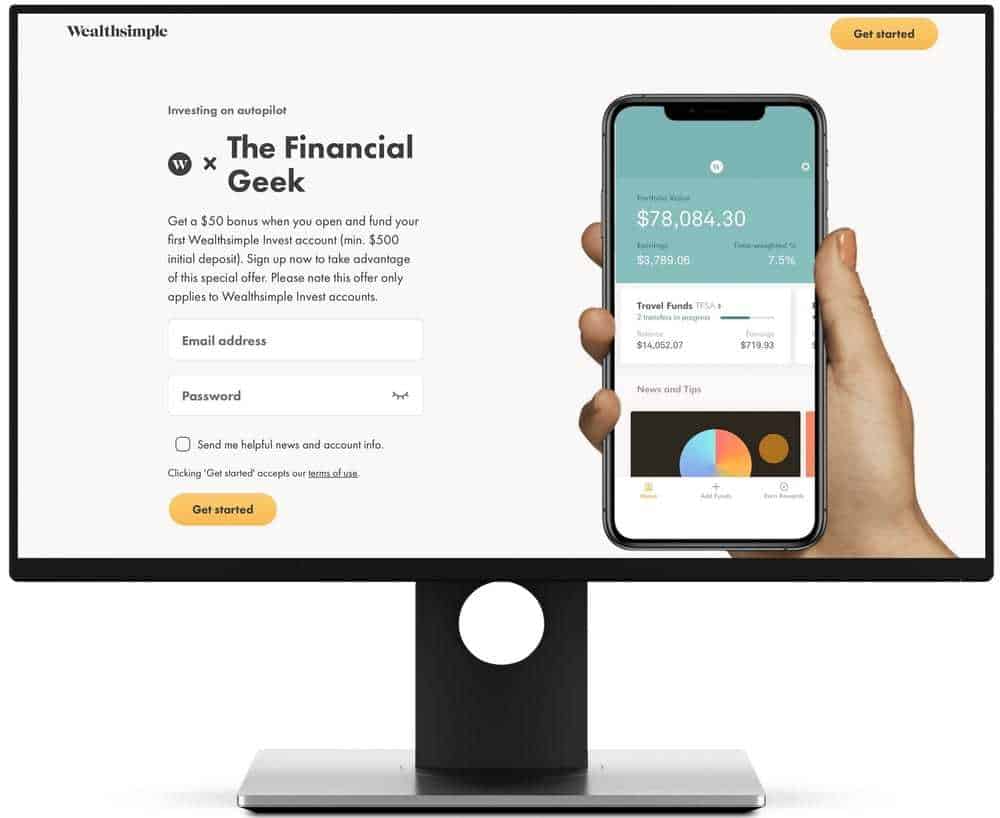 Earn a $25 Bonus with Sign – Up
 Tax-Free investment income
No account minimum
Transfer fees are covered by Wealthsimple
Wealthsimple is designed for beginner investors
 Wealthsimple invests your money for you
2. Wealthsimple will Reimburse Your Transfer Costs
Secondly, it is completely free to transfer your TFSA to Wealthsimple.
In other words, there is no upfront cost to you for transferring your current TFSA into a Wealthsimple TFSA.
Not only that though, but if your current TFSA issuer charges you a transfer fee, well Wealthsimple will actually reimburse you for these costs – making it a completely free transfer.
With that said, these fees usually cost around $50-$150, but in order to be reimbursed by Wealthsimple for these charges, you'll need to make an initial transfer deposit of $5,000.
3. Wealthsimple Contacts Your Current TFSA Provider
As I mentioned earlier, the process of transferring your TFSA to Wealthsimple is very seamless. Not only will Wealthsimple reimburse your transfer costs, but they will actually get in contact with your current TFSA issuer (financial institution) to make sure the funds are getting transferred as requested.
Now when I did this, I did get a call from my bank asking me if I really wanted to follow through on this, which I did, so potentially be prepared for that.
Banks, or any type of financial institution, never like seeing their dollars leave and go to another competitor, but hey, that's the nature of the game.
Quick Note #2: The next four benefits of transferring your TFSA to Wealthsimple that I discuss in this article will speak more about Wealthsimple's benefits as a whole, but if you'd rather a full comprehensive overview on why Wealthsimple is good for beginners, check out my article here.
Start Your TFSA Transfer Today
4. Low Management Fees
Another reason why you should sincerely consider transferring your TFSA to Wealthsimple is due to Wealthsimple's low management fees.
Wealthsimple charges clients a .5% management fee, which is extremely low. Most banks and financial advisors charge anywhere from 1% to even as high as 3% sometimes. And while you might not think these small percentages matter, they do. They really do.
In fact, if you pay 1% and your friend pays .5%, you are paying 100% more than your friend! That is so unnecessary. Not to mention, financial advisors don't have a strong record of outperforming index funds (which are used by Wealthsimple).
To learn more about the importance of fees and index funds, check out this quick 3-minute Youtube video by Tony Robbins.
5. Amazing Customer Support
The next reason why you should transfer your TFSA to Wealthsimple is because of the amazing customer support that they offer. As I mention here in my recommendation post, even though Wealthsimple Invest operates its investment strategies through computers and algorithms, its customer support is ran by real people.
Happy and helpful people I might add!
I've reached out to Wealthsimple a number of times, and whether it was for my own personal financial information or to fact check something for this blog, their response time and overall quality of support has been excellent. As you can see from the example below.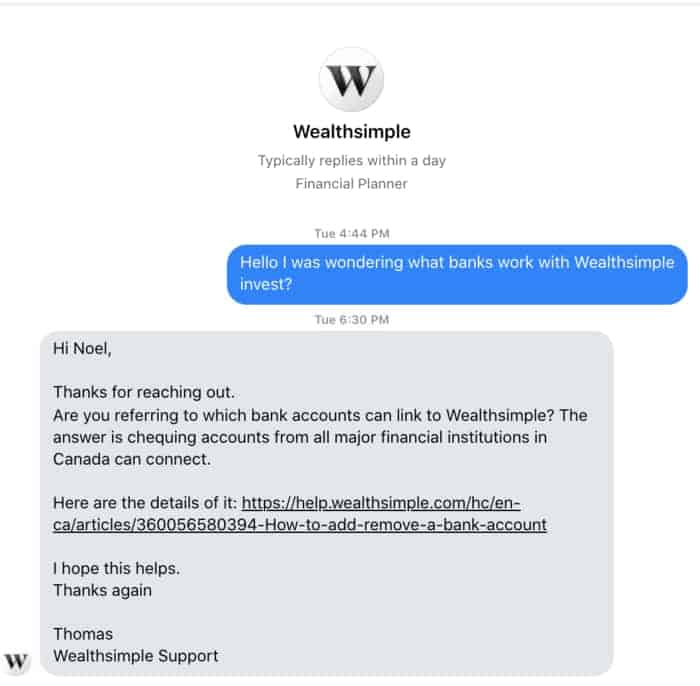 And while you might be thinking, it should be a given that companies have great customer support in today's world. And while you're right in that it should be a given, it simply isn't.
6. Setting Your Investment Risk Level is Simple
Another good reason for why you should consider transferring your current TFSA to Wealthsimple is because you'll be able to set and adjust your investment risk levels much more easily.
It's as simple as sliding a dial.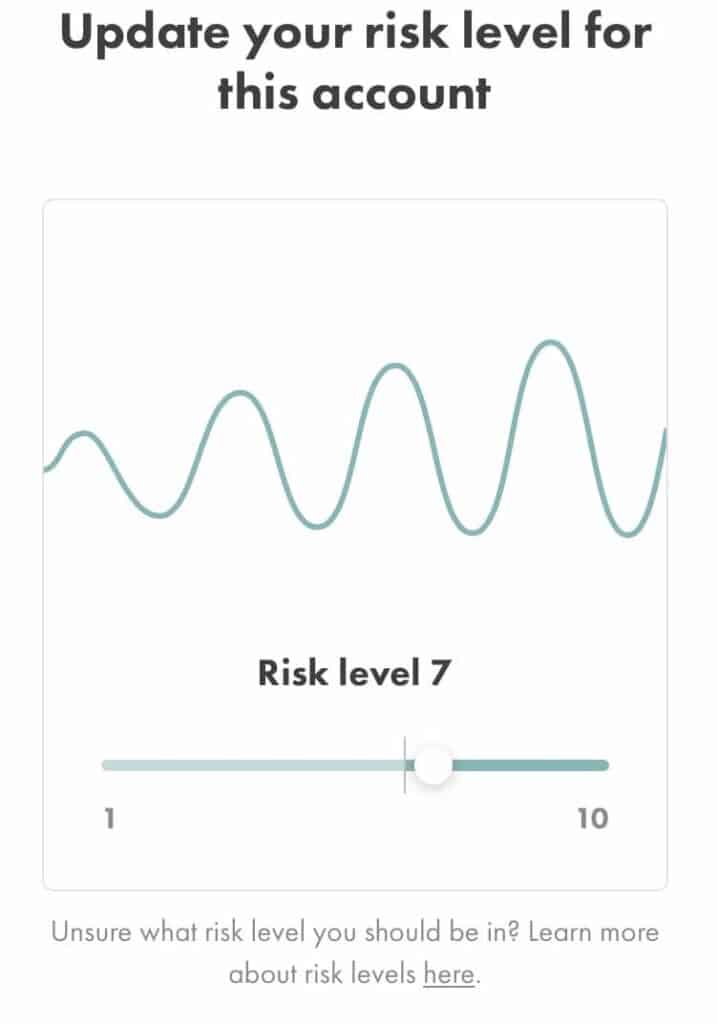 When you first sign up you'll be asked some questions about your risk preferences that will then help Wealthsimple recommend a portfolio for you, but if you ever want to change your risk levels, all you have to do is toggle the dial one way or the other.
With traditional financial institutions, adjusting your risk level usually includes some sort of appointment with your financial advisor, maybe some email correspondence, a phone call here and there, blah blah blah. Not with Wealthsimple though, you log in, set your risk level, log out and move on with your day.
7. No Account Minimums
And the last advantage that I'll discuss to try and convince you to transfer your TFSA over to Wealthsimple is that there is no account minimum requirements. In other words, you could quite literally start investing with $1 and that's completely okay.
So if you were like me starting out and you only have a few hundred dollars to invest in your TFSA (or less), that's quite alright, you won't get hit with any low balance fees, no annual charges and certainly no inactivity fees.
Pretty great, right?
Now to be fair and transparent, I should mention that Wealthsimple will only cover your transfer costs if you transfer a minimum of $5,000. Just something to keep in mind!
The Bottom Line
And that's that! For the 7 reasons discussed above, I think Wealthsimple is a great choice if you are looking at transferring your TFSA to another financial institution.
As mentioned earlier in the article, before any transfers can take place, you'll first need to open up a Wealthsimple account. In this article here, I outline the benefits of doing that, along with the step-by-step guide on how-to do so.
If you've already decided this is the right decision for you, then get started now and earn $25 for doing so.
If you had any other questions about Wealthsimple or TFSAs, please feel free to reach out to me at noel@thefinancialgeek.com.
Start Your Wealthsimple TFSA Transfer Today
---
How to Transfer Your TFSA to Wealthsimple
Method 1 – Transfer Funds from your Current TFSA
So the first way you can move funds from your current TFSA issuer into your Wealthsimple account is to go through the traditional transfer method that is outlined in the image below.
And as mentioned earlier, from the time you make the transfer request to the time that the request goes through, it usually takes around 14 to 28 days.
So this method is find and dandy, and is one that I've taken advantage of before, but the process I outline in method 2 might be an even easier one with a quicker turn around time and even less hassle.
Method 2 – Withdraw Funds from Current TFSA and Deposit into Wealthsimple TFSA
So I want to start off by saying this option might not be a viable one for you, it really depends on how much money you already have invested in your TFSA in the current year.
Depending on what your TFSA contribution room is, one way of transferring funds from your current TFSA to a Wealthsimple TFSA is simply by withdrawing the funds from your current TFSA into your bank account and then depositing those funds from your bank account into your Wealthsimple TFSA.
As you can see with this method, it's not really a "transfer" per se, but it still gets the job done.
And unlike an RRSP, there are no tax implications for withdrawing money from your TFSA, so no harm is done here.
But you still have to be careful. How come?
Because as you may or may not know, there is only a certain amount you can contribute to your TFSA each year. So by going this route, you are actually making a new TFSA contribution, which you should only do if you have the contribution room available.
For example, if you have $20,000 in TFSA contribution room available and you have $2,000 in your current TFSA. Well withdrawing $2,000 from your current TFSA and depositing it into your Wealthsimple TFSA is not going to cause any problems.
You are still well within your contribution limits. No harm, no foul.
But let's say you have $10,000 invested in your current TFSA and your current contribution room is $5,000. Well by withdrawing and then re-depositing your funds, you're going over-contribute by $5,000 and you'll get a tax penalty for doing so.
To learn about the tax implications of over contributing to your TFSA, check out my article How to Know If You Over-Contributed to Your TFSA.
If you are unsure on how to check your TFSA limit as of today, check out my article here or watch my Youtube video below.
So this method may be a little more unconventional you might say, but it's still a very valid option.
Just be careful though! While over contributing to your TFSA isn't a huge deal in the grand scheme of life, it's definitely going to be a hassle and something you'll want to avoid.
And lastly, I definitely wouldn't recommend this method if you were transferring an RRSP as the tax implications for this are going to be much worse.
Thanks for reading folks! Whatever you end up deciding to do, I hope this article provided you with some value.
Geek, out