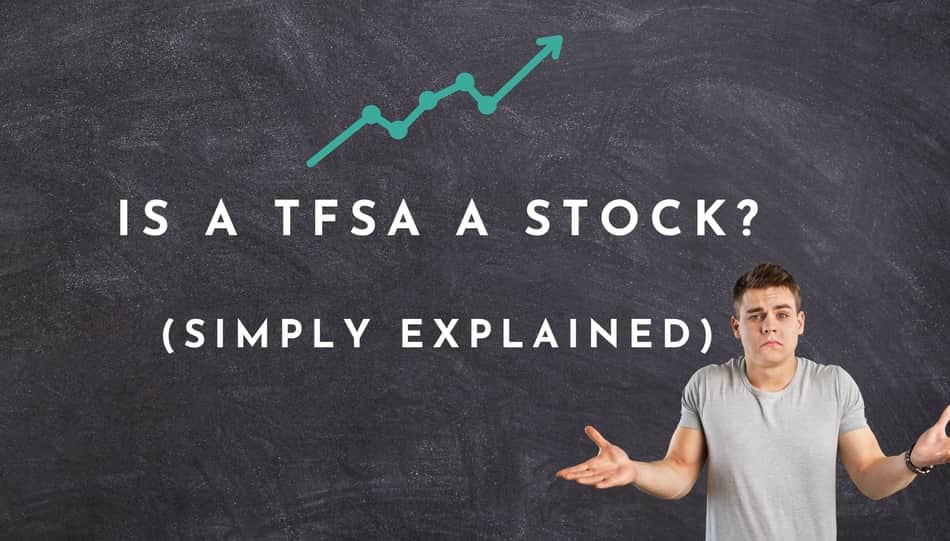 Why do the "experts" of personal finance make it so hard for us normal people to understand it?
I remember when I first started learning about the personal finance industry here in Canada I found it so difficult and confusing. But once I realized what was what, I found out how simple everything really was. 
But no one did a good job of explaining it!
One of the complications for me was the TFSA (Tax-Free Savings Account). All I knew was that I should have one, but what exactly were they?
Was it a stock? A bank account? A tax-break? I couldn't get a straight answer! 
The purpose of this article is to help you avoid any more frustration and simply explain the relationship between TFSAs and stocks.
In short, a TFSA is not a stock. TFSAs are special types of investment accounts that are registered by the CRA that give Canadians tax breaks when investing. A stock on the other hand is a type of investment that you can make within your TFSA.
Earn $25 when you open a TFSA with Wealthsimple Trade Today
Open a TFSA Today with Wealthsimple Trade ($25 Bonus)
Earn a $25 Bonus with Sign – Up
No Commission Fees
 Investors Can Buy Fractional Shares
 No Minimum Balance Requirements
Beginner Friendly App and Desktop Platform
Tax-Free investment income
I've mentioned this in previous articles as well, but think of a TFSA as like a bucket and a stock is like an item that you'd put in your bucket.
Does that make sense? If not, I'll try and break down this relationship more in the next section by giving an example.
I'll also go into detail on some more commonly asked questions amongst Canadians on the relationship between TFSAs and stocks.
Related Financial Geek Article: TFSA Advantages & Disadvantages (6 of Each)
TFSAs vs Stocks | What's the Difference?
As mentioned earlier and to make things crystal clear, TFSAs are not stocks, and stocks are not TFSAs. 

For example, let's say Sarah wanted to invest in her TFSA. Well first she would have to open an account.
Once she opened her TFSA, she would then presumably invest in it. And one of the investment types she can invest within her TFSA is in fact stocks. 
Sarah decides, as a big social media fan, that she'll invest in some Facebook and Twitter stock. Sarah buys 10 shares (stocks) in each company.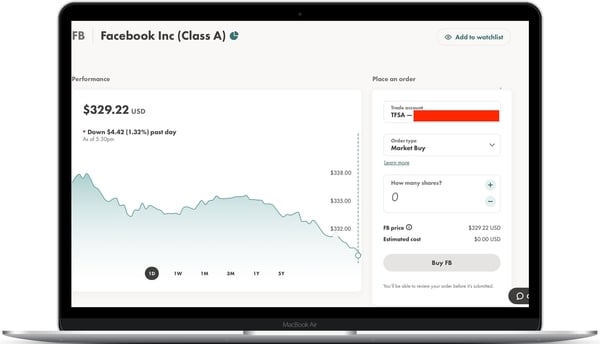 As you can tell here in this situation, Sarah isn't investing in a "TFSA stock". What she is doing is investing in stocks within her TFSA.
There is really no such thing as a TFSA stock, what people like Sarah do is buy stocks within their TFSA. 
So the main difference between a TFSA and a stock is that a TFSA is a special type of investment account whereas a stock is an investment type that people can purchase within their TFSA.
I hope this makes sense now? If not, send me an email at noel@thefinancialgeek.com and I'll help try and further explain it for you.
Now the next section is going to address some more commonly asked questions from Canadians who want to know more about the connection between Tax-Free Savings Accounts (TFSAs) and stocks.
Before I do though, if you want to learn more about how to invest in stocks through your TFSA check out my article How to Invest in Stocks Through a TFSA. In this article I talk about two platforms I use: Questrade and Wealthsimple Trade and how exactly to get setup to buy stocks.
4 Commonly Asked Questions About TFSAs and Stocks
1. Can I Invest in Stocks in a TFSA?
You can certainly invest in stocks through your TFSA. Stocks are considered eligible investments by the CRA which allows Canadians to invest in them within their TFSA.
The screen grab below is directly from the CRA website, as you can see, securities (fancy word for stocks) listed on a designated stock exchange are on the list as a "permitted investment".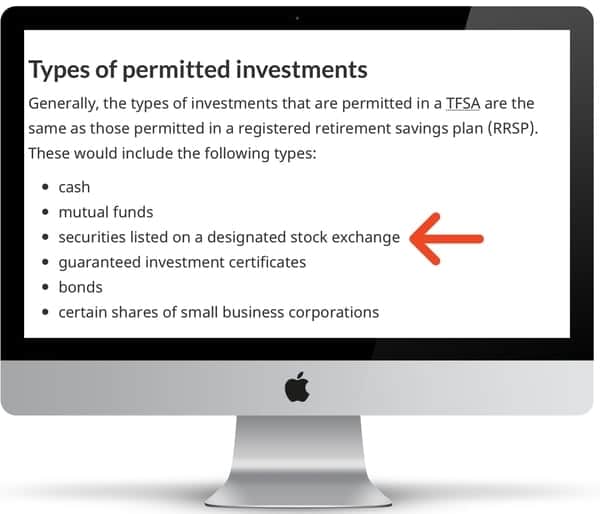 Learn more about what the CRA qualifies as eligible TFSA investments.
2. What Stocks are Eligible for Your TFSA?
Stocks that are listed on a designated stock exchange are considered permitted investments by the CRA.
With that said, I would advise against day-trading or buying penny stocks in your TFSA.
Related Financial Geek Articles: 
3. Are Stocks Good Investments to Make in My TFSA?
Stocks can be great investments for you to make in your TFSA, but it really depends on what type of return you want to generate along with the risk you are willing to accept while investing. For example, if you are someone who doesn't want to invest with much risk, then investing in stocks through your TFSA might not be your best option.
With that said though, not all stocks are created equal in terms of risk levels.
Investing in an established company like AT&T or Microsoft is going to be a lot less risky than investing in a startup company with little track record of success. 
So I know that's a boring answer, and maybe not what you wanted to hear. But for me, stocks are a great investment for my TFSA. I invest in stocks that pay me dividends and for the most part appreciate in value. 
What more could I want? There is always a risk associated with investing, but it's not hard to find stocks to invest in that don't carry a massive amount of risk.
4. Can I Buy US Stocks in My TFSA?
Canadians can buy US stocks within their TFSA. However, it's important to note that any dividends generated within a TFSA from an US stock will be subject to a 15% withholding tax.
In other words, if you as a Canadian invest in AT&T and generate $100 in dividends in one year, well you'll only receive $85 of that as AT&T is an American company. You don't have to do anything though, this amount will already be withheld from your account. But just something to make note of when making your investments. 
To learn more about this US withholding tax, read my article TFSA Dividends | Are They Taxable? 
Conclusion
There you have it! If you are still confused or flustered, just remember, a TFSA is not a stock.
A TFSA is an CRA registered investment account that Canadians can invest in stocks within.
TFSA = Bucket
Stock = Item in the bucket
Thanks for reading folks! 
Geek, out.
Want to Start Trading Stocks? Try Wealthsimple Trade Today
Earn a $25 Bonus with Sign – Up
No Commission Fees
 Investors Can Buy Fractional Shares
 No Minimum Balance Requirements
Beginner Friendly App and Desktop Platform
Access to the Crypto Markets