Some links in this post are from our partners. If a purchase or signup is made through our partners, we receive compensation for the referral. 
Okay, so you've finally decided to start your own blog. If you were like me before I started my first blog, you've likely pondered with this idea for quite some time.
If so, then you are in the right place.
Today's the day you get things started. This post is going to walk you through the steps of how to start your very own blog.
We are going to go through the setup process step-by-step, so by the end of this post you should have your blog setup and running.
In total, this setup process will take around 30-40 minutes and if you follow my instructions step-by-step you should have no issues.
So first off, starting a blog is very inexpensive.
I use, and recommend other bloggers to use, Bluehost as their web hosting service as it will only cost you around $100 (if not less) for the entire year. Plus, you will get a free domain name with your sign-up. But will get more into all that shortly.
In this step-by-step guide on how to start a blog, I am going to walk you through the 3-steps I take every time I start a blog.
So let's get started.
Looking To Start Your Own Website or Blog?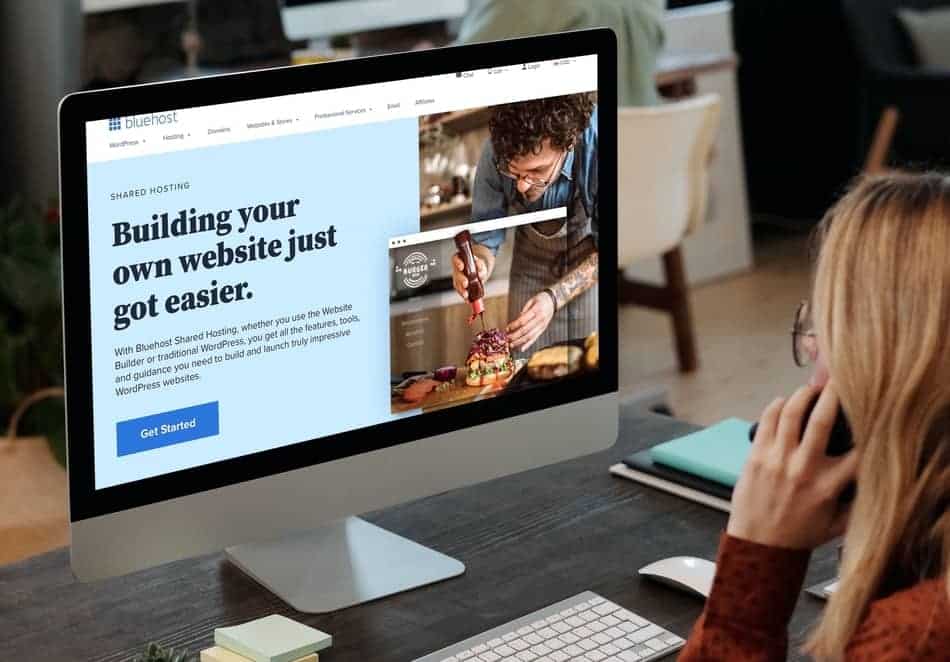 Try Bluehost Today (Less than 5$/Month)
70% Off with Sign up Through the Financial Geek
1-Click WordPress Install
Free Domain Name with Sign Up
300+ Design Templates
24/7 Expert Support
---
How to Start a Blog | Step by Step Guide (2021)
Step 1 – Sign-up for a Bluehost Account. (Here)
Step 2 – Setup Your WordPress Account
Step 3 – Install and Activate a Theme for Your Blog
Step 1 – Sign-up for a Bluehost Account
Okay, first things first. Sign-up for a Bluehost account.
Bluehost, founded in 2003, is one of the leading web hosting companies in the world and is a very popular hosting provider for both beginner and experienced bloggers.
Once you get to the Bluehost homepage, go to "Hosting" on the banner and then click "Shared Hosting" as shown below.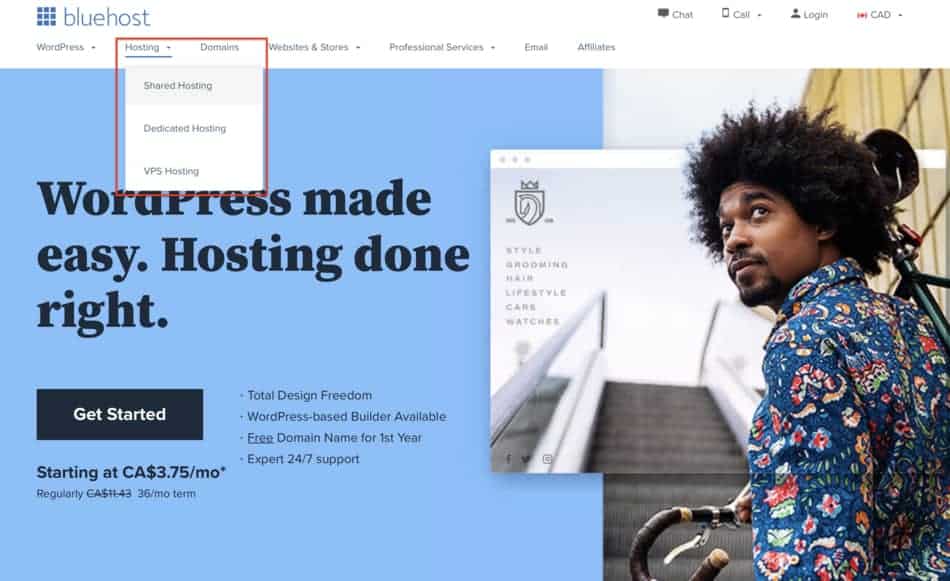 Once you click Shared Hosting, you'll be brought to a new page. Scroll down on that page until you see the pricing plans as seen here below.
At this point all you'll need is the Basic plan. If you need to upgrade at a later point, that's easy enough to do. But starting out, you'll really only need this Basic plan. So click "Select" and keep going.
Next you'll be brought to this page here below.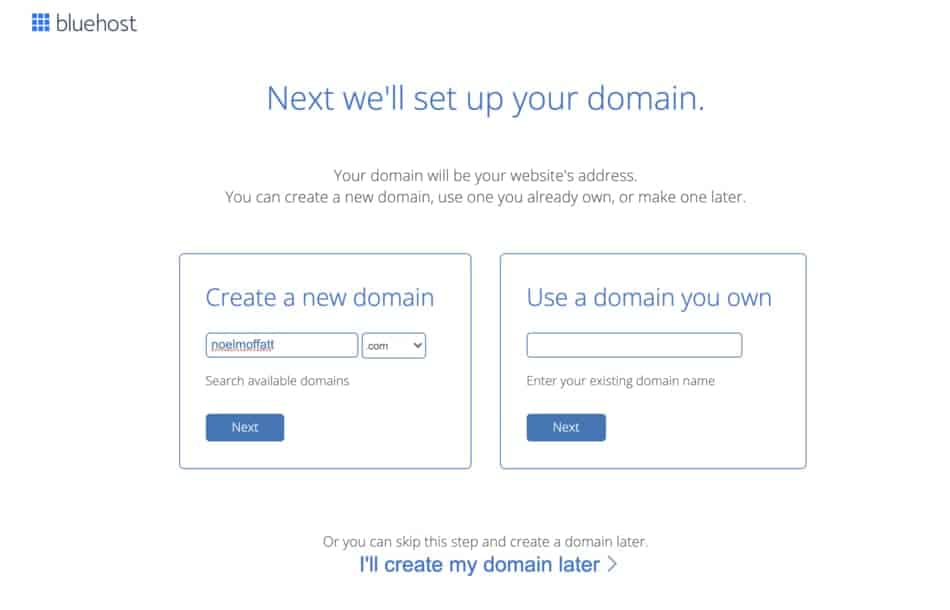 Here is where you'll pick your domain name. A domain name is the website address. For example, nike.com is the domain name for Nike. The domain name for The Financial Geek blog is thefinancialgeek.com
Now you might have to get creative with your domain name as a lot of common words and terms will already be taken. To search domain name availabilities, use this domain name search tool.
Once you find an available domain name, insert it in the "Create a new domain" box as shown above. For the purpose of this training tutorial, I am going to use my own name as my domain name.
Important Note – Only use the domain name search tool I linked to for searching for domain name availability. Don't purchase the domain name on that site (name.com) as Bluehost will give you a free domain for a year.
Okay, so after you've come up with an available domain for your blog, click "Next" You'll then be brought to this screen shown here below.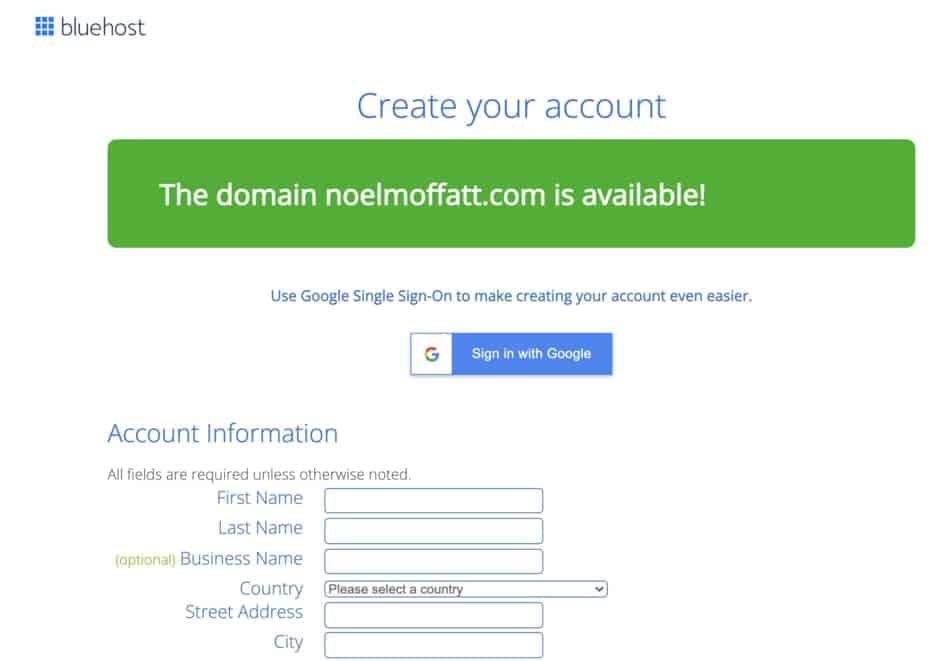 At this point you'll be asked to fill out some pretty standard personal information. So that'll be easy enough to fill in. But the next part after this (which is on the same page) is what I want to provide you with some clear instructions on.
In terms of your account plan, the choice is all yours really. When I first started my blog I paid the extra $3 a month and got the 12 month plan, but after the first year I renewed with the 36 month plan as I was really satisfied with everything and knew I'd be using Bluehost for the foreseeable future.
Important Note: These prices are in CDN so USD prices will be even cheaper.
So again, this is up to you.

Once you see "Package Extras", you'll be given a lot of different add-on options you can select from. You don't need any of them except for "Domain Privacy + Protection" as I have highlighted here below.
So make sure this one is selected and nothing else.
After that, when you continue to scroll down you'll be required to fill in your payment details. Once you do this, click the green "Submit" button.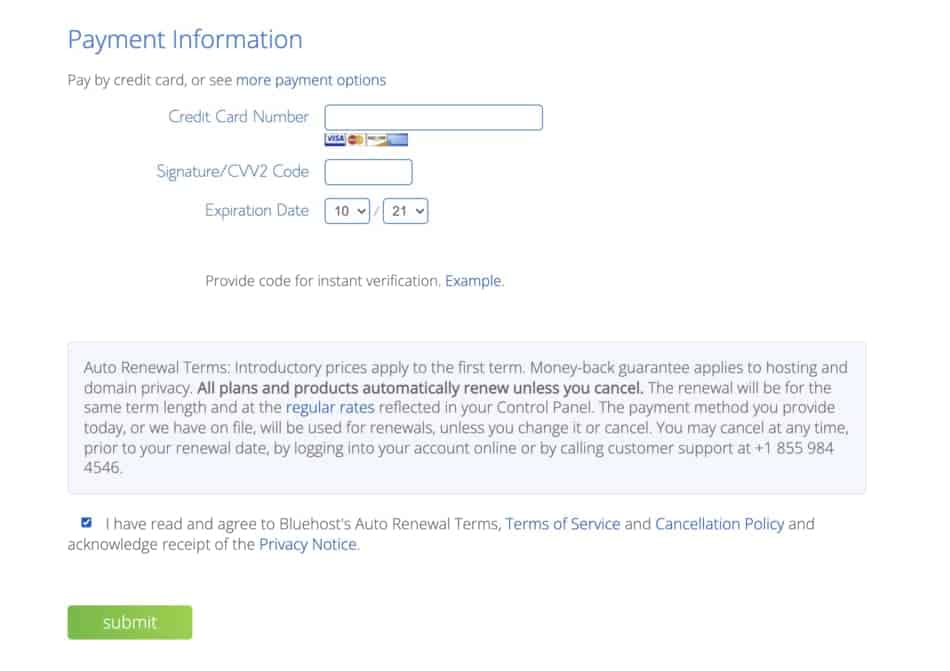 After you click submit here, you'll be brought to this success page as shown below.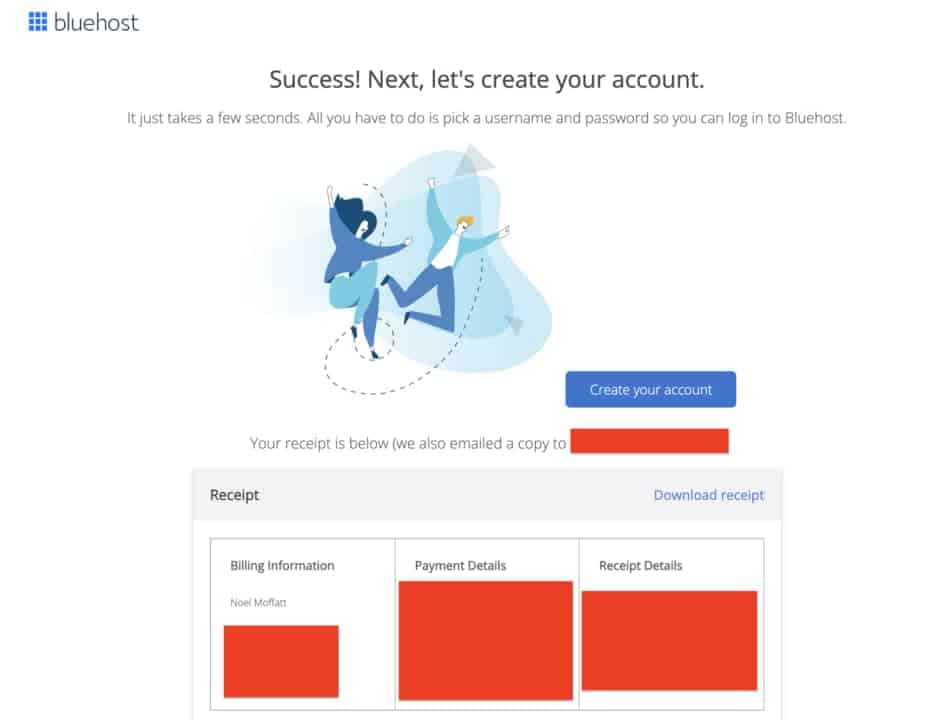 At this stage, click the blue "Create your account" button. You are almost there!
After clicking Create your account, you'll need to set a password for your new account. So do that, and please write this down somewhere! You don't want to forget this.
Once you set your password, agree to the privacy policy and terms of service and then click "Create Account." After you do that you should be prompted with a screen that says "Your account is ready to go. Now you can log in!".
Once you're at this screen click "go to login" which will then bring you to your Bluehost login page as shown below. Your domain name should be showing in the username field but you can also use your email that you signed up with.
At this point, you'll fill in your email (or domain) and password and then click "Log in".
Once you click log in you'll be brought to the page as shown below. It'll say "It's the beginning of your adventure". All you do here is click "Create your website".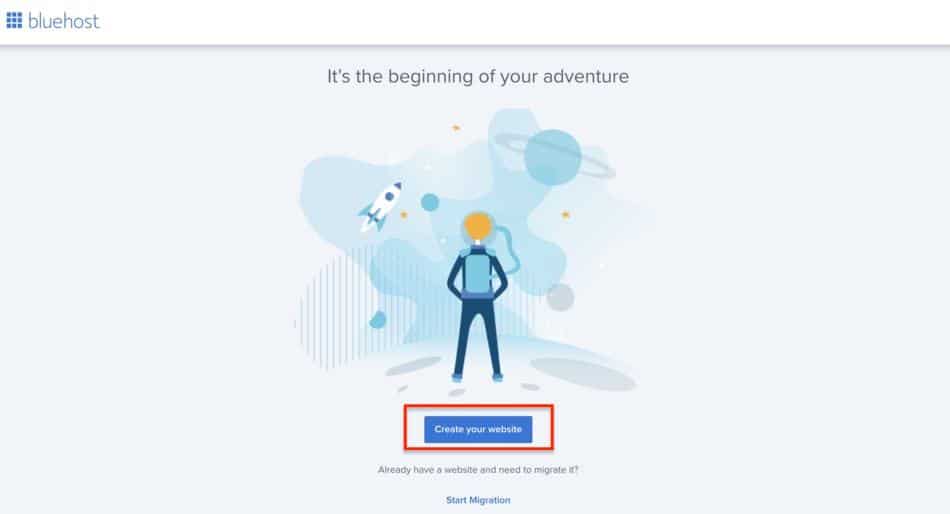 After that, you'll be asked a series of three questions.
How Much Help Do You Want?
What Kind of Site Are You Creating?
Are You Comfortable with Creating Website?
For all three of these pages and questions, just click "Skip this step". From my experience, you don't need to answer these questions, and if anything, it could confuse you more.
After these three questions you'll be brought to this page here.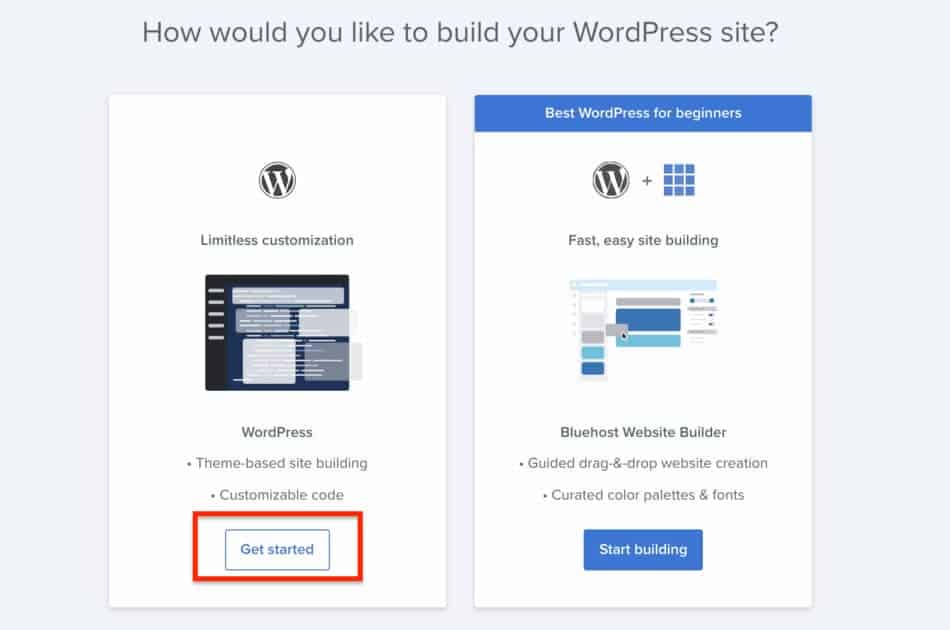 Even though you may be a beginner, click "Get Started" as opposed to Start building.
Now you'll be brought to a page that asks you about your goals, you can skip this step as well.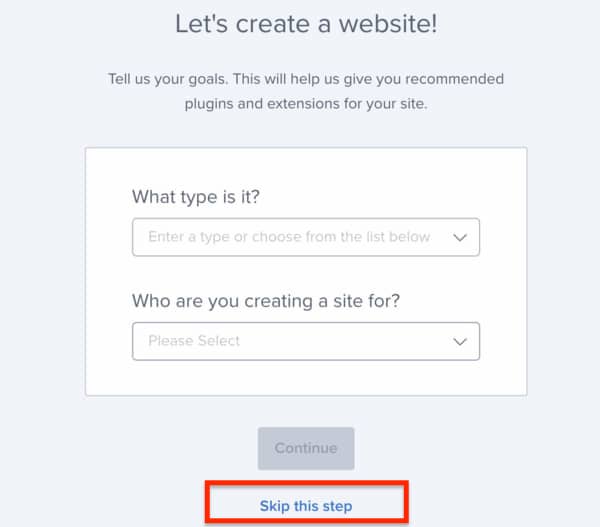 Next you'll be brought to the page shown below. Feel free to fill in the name of your blog and a tagline if you had one in mind. If you don't have this thought of yet, no worries, you can always fill it in later. But if you do, I usually fill it out now.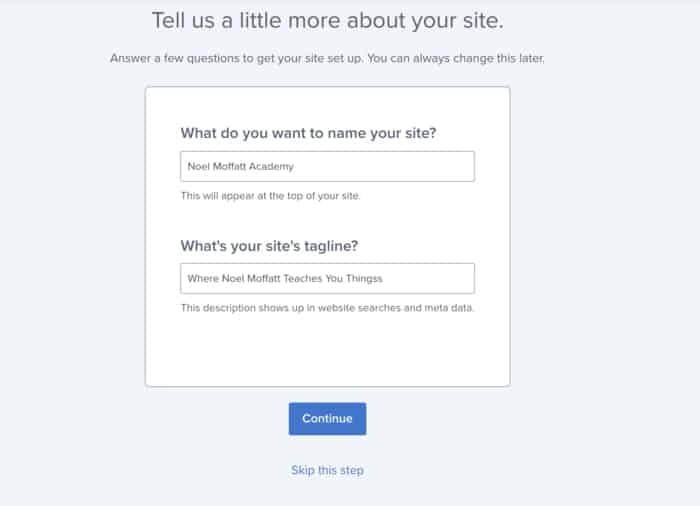 Then finally click "Continue" (or skip this step) and you'll be brought to this page shown below where you'll be asked to pick a theme.
And what we're actually going to do here is also skip this step for now. We will install a theme shortly, but for now you can click "Skip this step".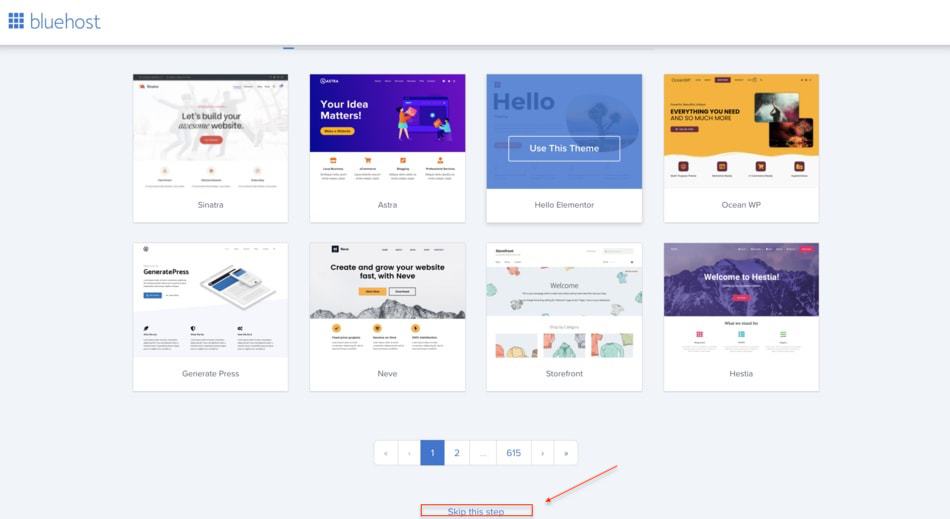 You are getting close now!
After clicking skip this step you'll be brought back to your Bluehost homepage where you should see Login to WordPress in the top right corner as demonstrated below.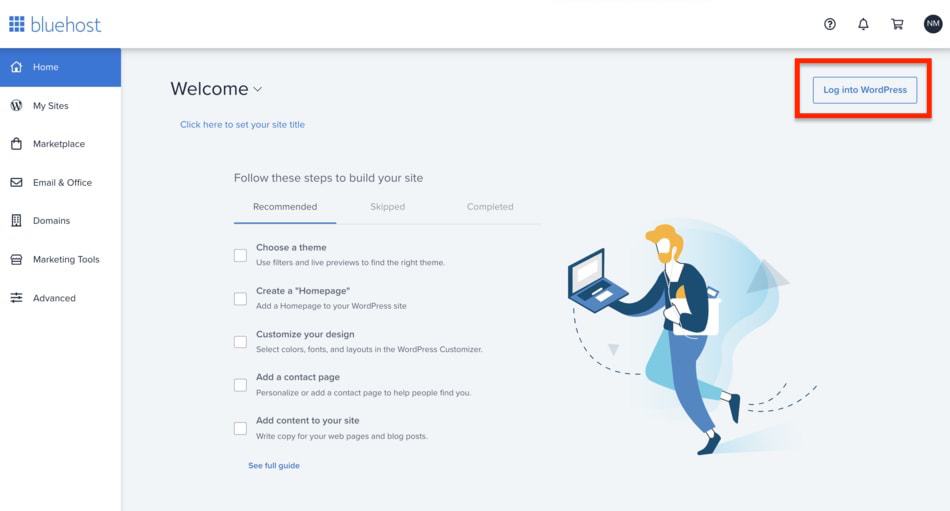 Click "Log into WordPress".
Step 2 – Setup Your WordPress Account
At this point you'll be brought to the backend of your WordPress account. It should look something like you see here below.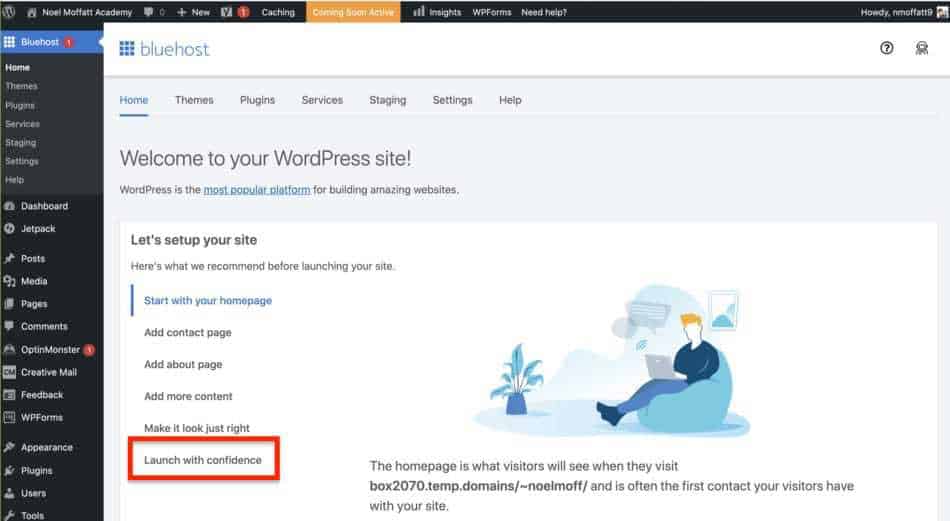 What you'll want to do now is click "Launch with confidence" and then click "Launch your site"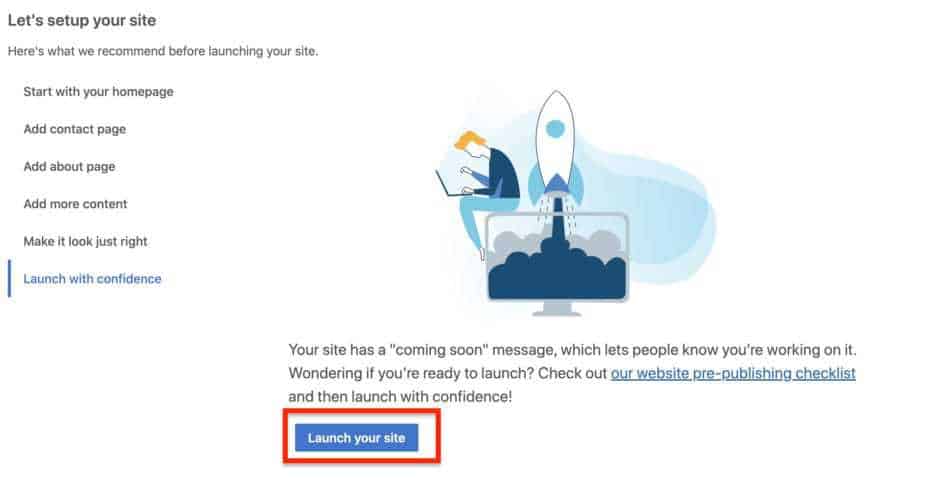 After doing this, you'll want to verify your domain in order to activate it. So go to your email account that you setup your Bluehost account with and you should see an email that states WHOIS Verification for [Domain Name]. Action Required.
Click into that email and then click the green "Verify Your Email" button to activate your domain.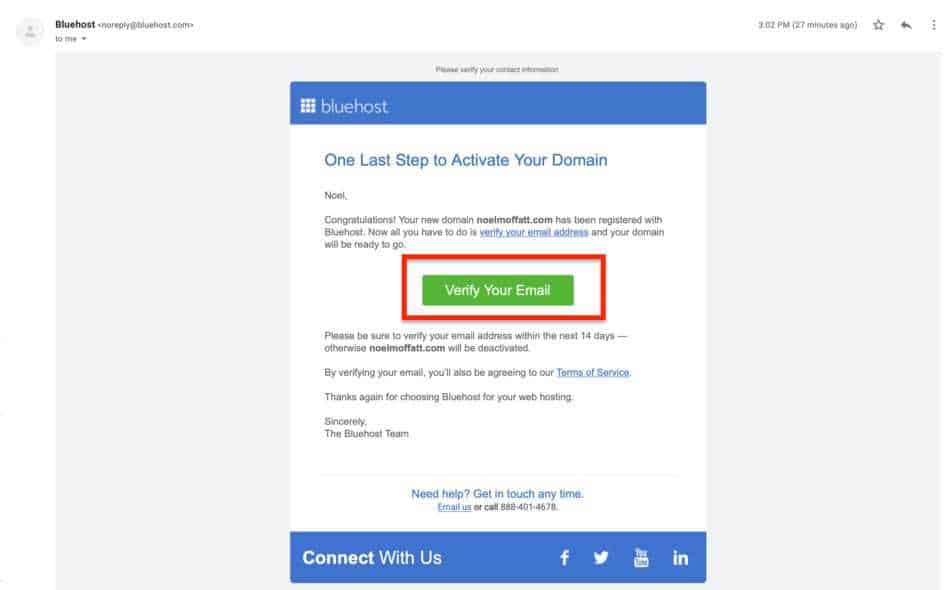 Important Note: Just because you launched your site it doesn't mean your website will be live right away. It can take up to 72 hours for your domain to start working so just be patient. In my experience it usually takes less than a day.
Step 3 – Install and Activate a Theme for Your Blog
Okay so now the last thing you need to do is install and activate a theme for your new blog.
So first go to Plugins on the left hand side of the backend of your website.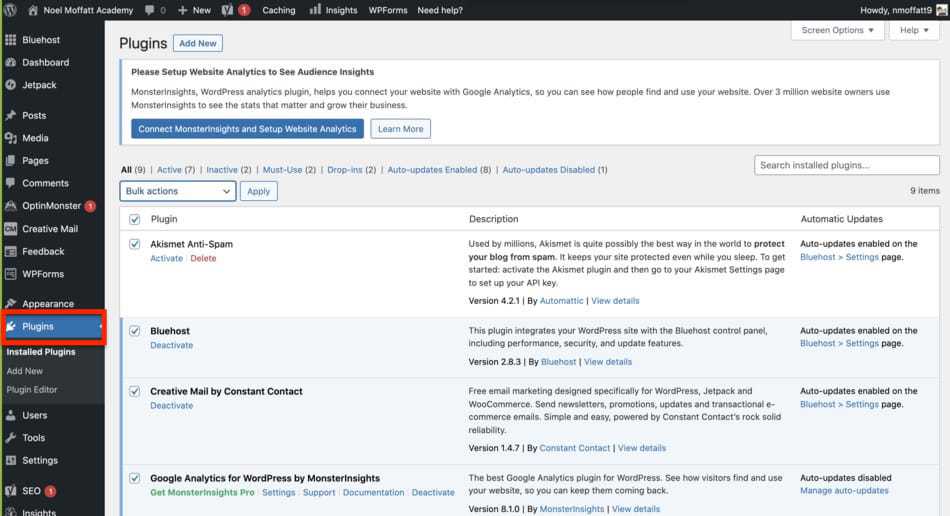 Now this part is totally up to you, but I personally like to keep things super simple on my website in terms of plugins. So you can actually delete all these pre populated plugins. Trust me, nothing will happen and from my experience, you actually don't need any of these.
You can keep the Bluehost plugin if you want, but you actually don't have to. Later on I will recommend a few of the plugins I do use if you wish to install them later.
But for now, go to "Add New" at the top of the plugins page and then search for "Astra" as shown here below.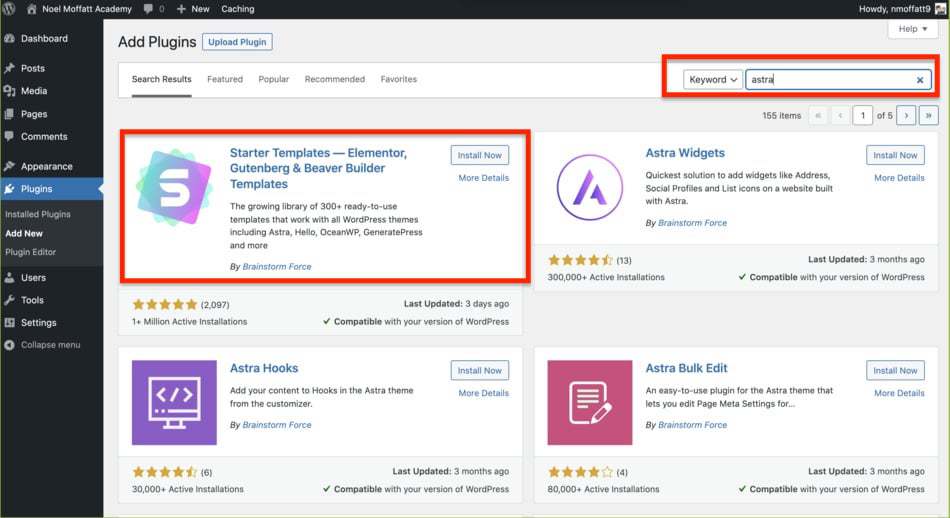 From there, you'll want to install the "Starter Templates" plugin I have highlighted above.
Now here is what my plugin section looks like. As I deleted all the other pre-installed plugins, I only have this Starter Templates plugin installed. So what you should do now is click "Activate".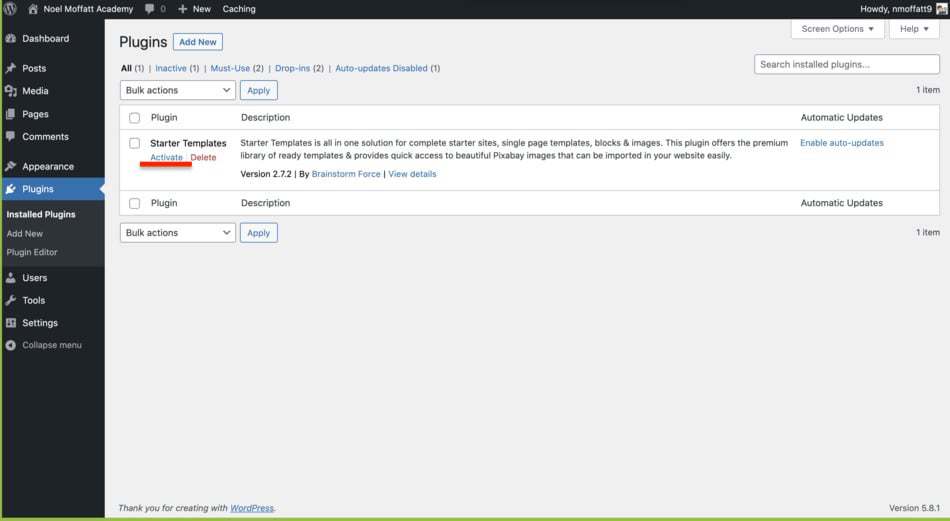 Once the plugin has been successfully activated click "See Library" .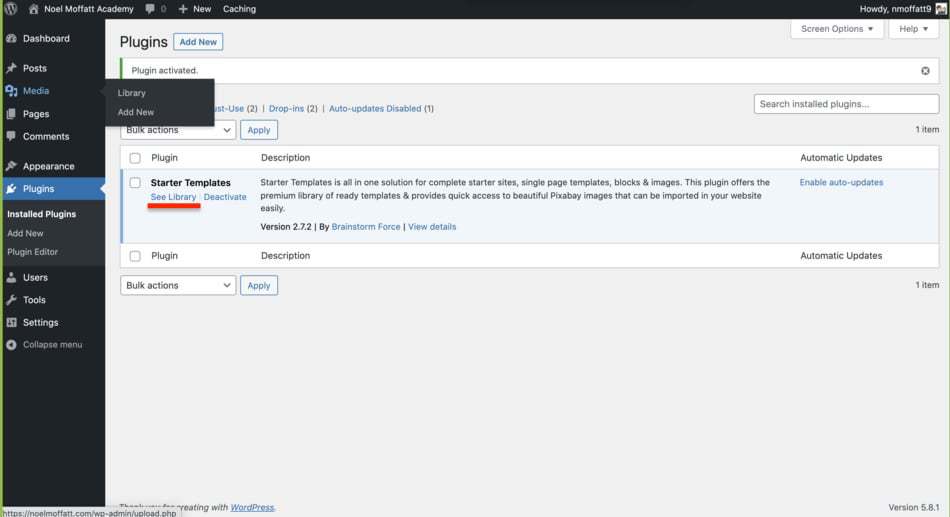 (Almost there I promise)
Now you'll be asked to select a page builder. Here you'll want to select "Gutenberg".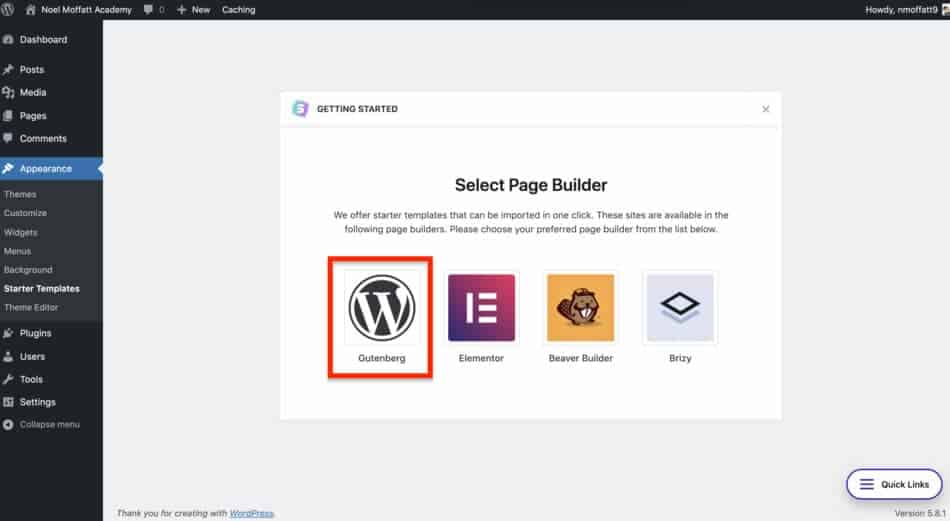 And then finally you'll be brought to this page here below with a whole range of free templates you can install for your blog.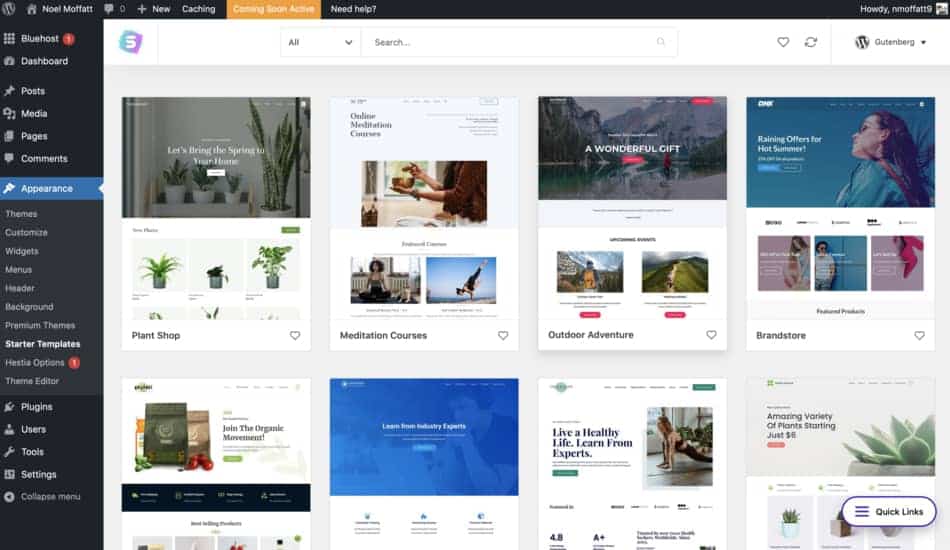 Once you click on a template that you think you may like, you'll be brought to this page shown below.
At this point you can preview your website to see how it looks, import the entire template onto your website or just import certain parts of the template.
Once you settle on a template and click import you'll be asked a few quick questions and then it'll prompt you to "Submit and Start Importing".
Once you click "Submit and Start Importing" it'll take a few moments for everything to import but once it successfully does you'll be prompted with this screen here below.
And that's it! But remember, it can take up to 72 hours for your domain to become active so just be a little patient.
But other than that, congrats! Now start writing some content you can officially call yourself a "blogger.
Of course there are some things you'll need to do, like get a logo, update some settings, choose your brand colours, and so on. But from my experience, focusing more on content at the beginning is the most important thing and I'll talk more about that in the next section.
---
Tasks You Can Do While Waiting for Your Domain to Go Live.
1. Familiarize yourself with the back end of your website.
Just start playing around with the back end of your site. Learn how to start a blog post and how to add images. That way when your domain is officially live you can hit the ground running.
2. Connect Google Analytics to your website.
This way you'll be able to see who is coming to your blog, what are your most visited blog posts, how long are readers staying on your blog for, how many pages are they visiting per visit and so on. Long story short, you need Google Analytics on your website!
3. Create a Privacy Policy page
I would highly recommend creating a privacy policy page for your blog right off the bat. Not only does it make your blog look more legit, but it also helps protect you from any user privacy issues.
What's even better is that WordPress has a templated version of a perfect privacy page you can use. All you have to do is go in and populate your information.
If you go to "Pages" in the backend of your blog, you'll be brought to the screen here below.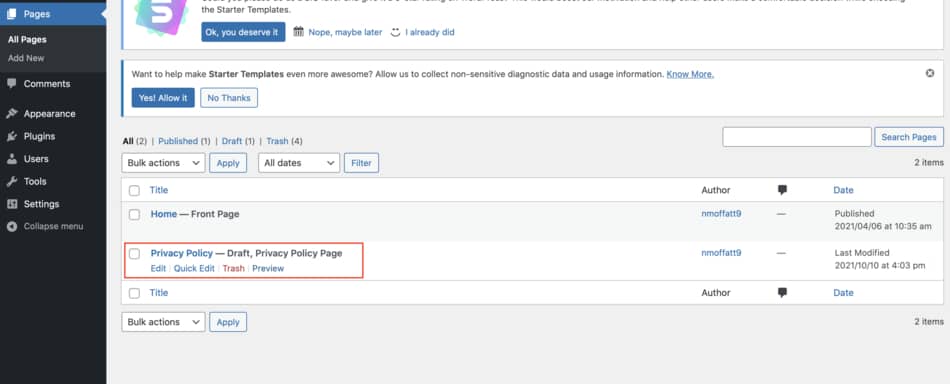 From there, quickly read through the policy, put in any information relevant to you and your blog and then click publish.
A privacy policy page on your website, in my opinion, is a must have,
4. Update the General Settings on your Website
Another quick thing you can do for your website to help make it more personalized to you is update the general settings. As you can see below, here is the section where you can update your blog name, tagline, timezones, site language, date formatting and much more.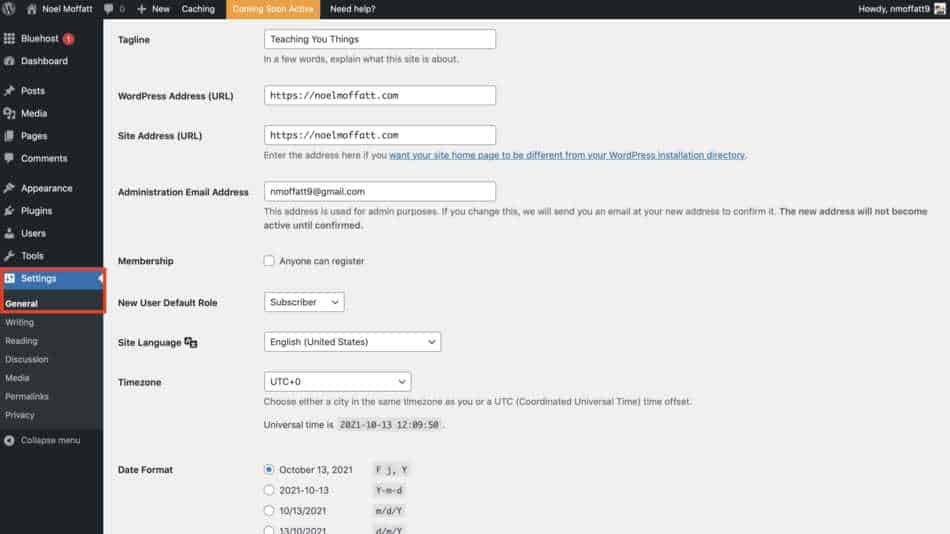 5. Install some Plugins
And lastly, I know earlier I recommended you delete all your plugins, so if you did that then great.
The main point I want to get across here is that you want to minimize the amount of plugins you use. These plugins, while great, can sometimes mess up other aspects of your site if you aren't careful.
So keep is super simple. Only use must have plugins.
Some plugins I recommend you having include:
Really Simple SSL
ShortPixel Image Optimizer
Resize Image After Upload
Contact Fom 7
You also might want to consider a plugin that will backup your website in case of a disaster (Bluehost will also do that for you). But having more than one backup is never a bad idea. I'd recommend ManageWP.
Once you've completed some of these extra tasks and you are now just waiting for your domain to go live, consider getting started on your first blog post!
---
Final Notes
Here are a few other things you should know before moving forward with your blog:
Domain and Hosting Fees Renew Annually
While Bluehost waives the cost of your domain name for the first year, it'll charge you a year from now. But they usually only cost around $15 per year.
Your Bluehost hosting fee will also renew next year, so just be prepared for that. As you can already tell it's not expensive.
Bluehost has Great Customer Support
Bluehost has one of the most top notch customer service and support teams I've ever dealt with. I've used them dozens of times and I'd strongly recommend you takign advantage of them when you find yourself in a pickle.
Not only are they helpful, but they are very responsive. It usually only takes a matter of seconds for you to talk to live agent.
Content is King
While I wouldn't say I'm an expert at blogging, one things I do know is that content is truly king. If you want to create a great blog, you need to create great content.
Don't worry about fancy logos, designs, colors, and all these things that may make you feel good, but don't actually do much for your readers.
Now I'm not saying you shouldn't make your blog look aesthetically pleasing, of course you should. But at the beginning, focus all your efforts on content!
The more time you focus on things other than content, the less content you'll produce and the less readers you'll have.
Look at this Financial Geek blog for example, nothing fancy going on here. A logo I got for free with a black and white theme throughout the entire website.
But what do I have? Hundreds of helpful articles which attracts readers.
I'm sure eventually I'll make The Financial Geek into a more "cool looking" website, but for now (almost 2 years in), it's all about the content.
So remember, focus 99% of your time of content.
So that's it! By now you should be well on your way, if not finished, setting up your blog.
Thanks for reading folks. I wish you nothing but the very best with your new blog. I can say from personal experience that having a blog is a very rewarding adventure. So don't take short cuts with it, create great content, be patient and worry about the money later.
If you have any questions about this entire process, please feel free to email me at noel@thefinancialgeek.com.
Thank you and goodnight!
Geek, out.
Looking To Start Your Own Website or Blog?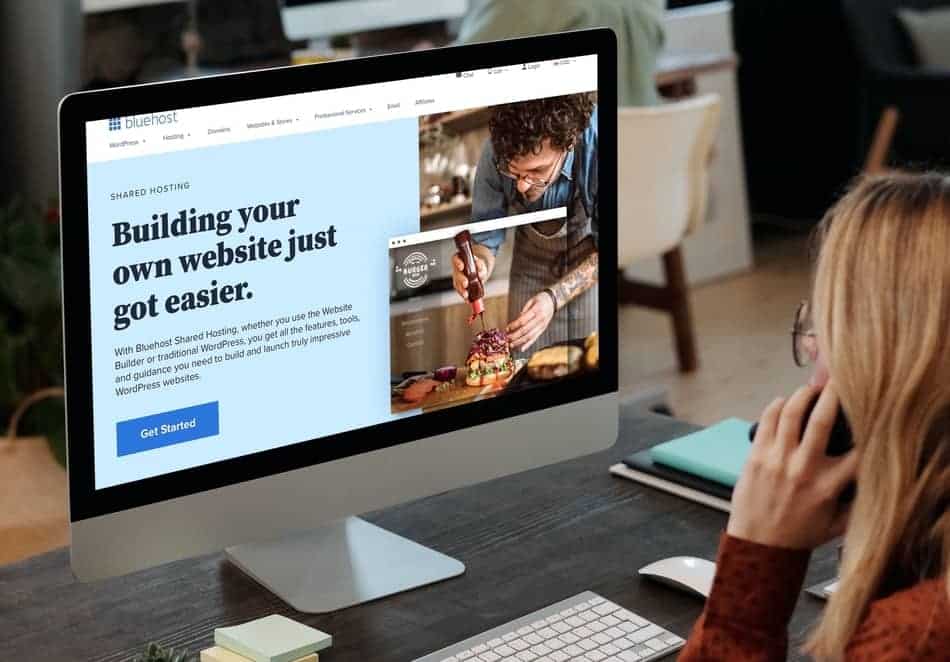 Try Bluehost Today (Less than 5$/Month)
70% Off with Sign up Through the Financial Geek
1-Click WordPress Install
Free Domain Name with Sign Up
300+ Design Templates
24/7 Expert Support