Have you ever needed to send money to someone or pay for a specific service directly to a business?
Chances are one of the most common ways to do this is to use what is called a money order. Money orders are like cheques, but are considered an official and guaranteed payment since it is already prepaid. 
Can you buy a money order with a debit card? We have the answer for you below!
If you're wondering how to buy a money order, it is usually tied directly to your bank account. For this reason, money orders can only be paid with cash or by debit card at any financial institution or any retail outlet that offers money order services. 
It makes the most sense if you really think about it: not many services allow you to prepay things with a credit card. If you are purchasing a money order directly from your bank then using cash from your account is the easiest way to do this.
But if you are at a retailer like Walmart or Western Union, then you can pull out your debit card and purchase your money order just as easily.
Can You Buy a Money Order with a Debit Card?
Absolutely! In fact, for most places where you can buy money orders, the debit card is probably the preferred way to do this. Most places will have a maximum limit of $1,000 for a money order, but they would still rather you use a debit card than bring in all that cash. Besides, if you need a money order for more than $1,000, you might need to make multiple payments. 
You might be wondering: if I can use my debit card to buy a money order, why can't I use my credit card? The answer to this is that credit cards are rarely accepted as a form of prepayment for things like this. It is far too easy to use a fake or fraudulent credit card to purchase a money order, which is seen as the equivalent of cash. 
Debit cards are the safest way to buy money orders since they withdraw funds that are directly in your bank account that is associated with that card. In the eyes of any business, a debit card is just as good as paying with cold hard cash. Of course, there are stolen debit cards that can be used, but there is far less fraudulent activity with debit cards compared to credit cards. 
What Exactly is a Money Order?
A money order is essentially a piece of paper that is issued by a bank or participating retailer that certifies the amount it is for. These are safer than cheques because they cannot bounce since it has already been prepaid, and the payer can specify who the payee is. This is ideal because if the money order is somehow stolen, only the payee can cash it. 
The money order will have your own personal information on it like your name and home address, but it does not contain your bank account information. This is another advantage it has over a personal cheque. Although your name and address may be included, nobody will have access to your banking info. 
Keep in mind that although you are prepaying the money order from your bank account, most institutions will charge you an additional fee. In the US the fees will vary but a standard fee at one of the larger banks is about $5.00 USD. Meanwhile in Canada, if you purchase a money order at a Canada Post outlet, the fee is about $7.50 CAD.  
Where Can I Buy a Money Order?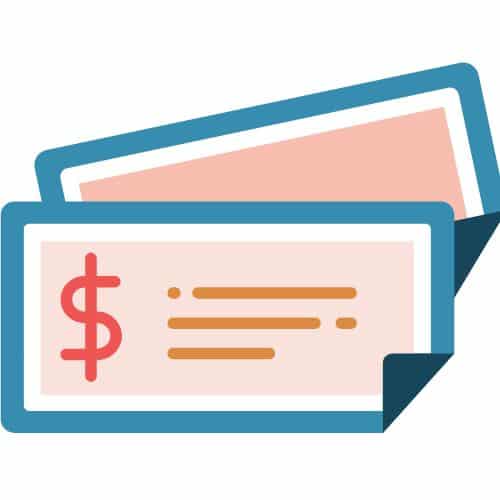 Any major financial institution or bank will offer a money order, especially if you have a savings account with them. You can also get them at participating retailers like Walmart, other financial institutions like credit unions or cash advance outlets, and even at your local post office. In certain cases, you can even find places like convenience stores or supermarkets as well.
There isn't much of a case to be made in terms of which place is the best to buy a money order. Each location will have different fees, although for convenience and legitimacy your bank might be the safest place to buy them. Shop around and find the lowest fees to get the best bang for your buck, because as we know, banks typically have the highest fees around!  
Keep in mind that there are differences in domestic and international money orders as well. While a place like WalMart might offer lower fees, it will likely charge more for an international money order than a domestic one. You might also be able to find locations that offer a higher limit than the $1,000. 
Money Orders vs Bank Drafts
At this point, you might be thinking that a money order sounds similar to a bank draft. You're absolutely correct except for a few crucial differences. The first one is obvious: a bank draft is only issued by a bank! 
Other differences include there is no limit to the transaction amount for a bank draft, as long as the payer has the sufficient funds. If you need a larger amount than $1,000, then a bank draft is probably a better way to go than a money order. 
Finally, a bank draft will typically have higher fees than a money order. Of course, depending on your banking status with the bank, they might also waive the fees for you if you are a loyal customer. 
Conclusion: Can You Buy a Money Order with a Debit Card?
You sure can! Since a money order has to be prepaid before it is sent to the intended payee, cash or debit cards are typically the only ways you can pay for one.
The funds for the money order come directly from the payer and are accepted by the issuer before the money order is even created. So if you're looking to buy a money order, paying with your debit card is your safest bet!
Thanks for reading folks!
Geek, out.