Some links in this post are from our partners. If a purchase or signup is made through our partners, we receive compensation for the referral. 
This post is all about Wealthsimple and why I recommend them to anybody looking to get started with investing.
First off, Wealthsimple is referred to and considered as a Robo Advisor.  
Robo investing is a type of investment plan that is managed primarily by highly technical software algorithms.
In other words, if you decide to invest with a robo advisor, you won't have a fund manager who makes investment decisions for you, software will take care of that for you.
While this might sound confusing and overwhelming, it's really not. You don't have to do anything really!
While Wealthsimple has expanded their service offerings over the last few years, their core business is still offering robo-investing services to clients.
By the way, I have been using Wealthsimple since 2017. I'm not just recommending this service blindly. I've seen the growth and expansion they've made over the last number of years and fully believe in them as a company.
Open a Wealthsimple Invest Account and Get a $25 Cash Bonus
How Does Wealthsimple Robo-Advising Work?
It's pretty straight forward. Wealthsimple, and most robo-advisors, invest in ETFs on our behalf. 
ETFs are similar to mutual funds where you can invest in a broad range of securities within one investment.
So when you open an investment account with Wealthsimple, you first set your risk level that you wish to invest at – this ranges from 1-10.
You then deposit money into your account and let Wealthsimple take care of the rest. 
They will make investments for you (commission free) and they will continually re-balance your portfolio to ensure your risk level stays the same. 
This is the beauty of Wealthsimple's robo advising platform.
Related Article: How to Open a Wealthsimple Invest Account | Step-by-Step Guide.
You can truly take your hands off the investment wheel and know your money is in good hands and is being managed properly at an affordable price – will talk about the cost shortly.
For example, for my TFSA  that I opened in my Wealthsimple account, I set my risk level to 7/10. This means that Wealthsimple will invest my money a little more aggressively with a 70%/30% equity to fixed income split.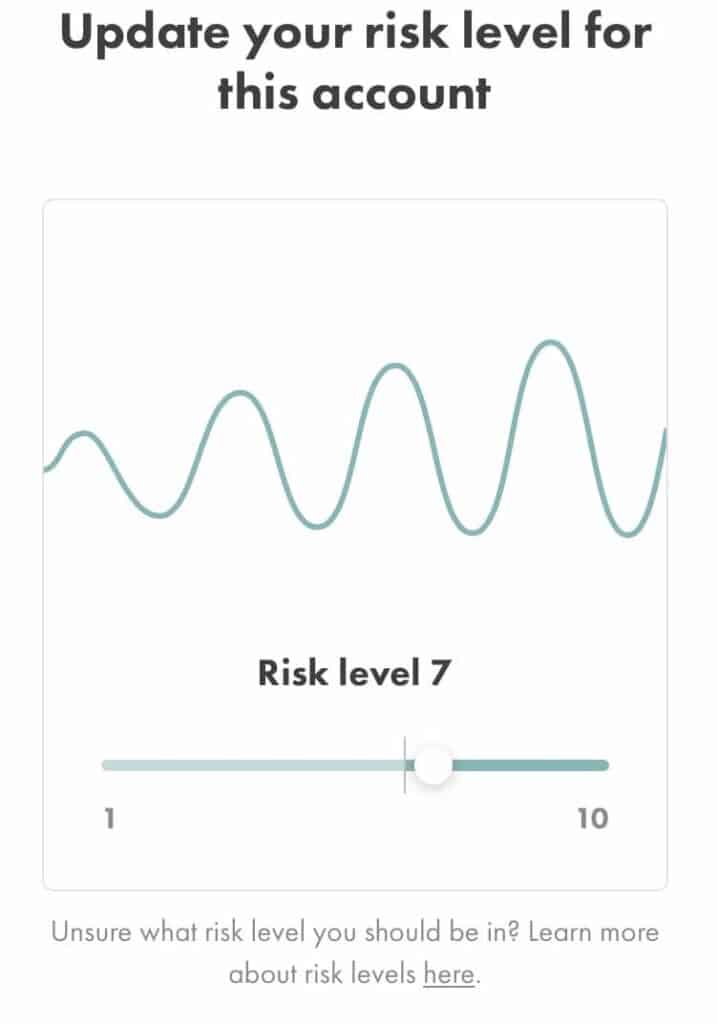 Furthermore, you can click into "View Holdings" and see exactly what investments Wealthsimple is making for you and at what allocations they are being held at.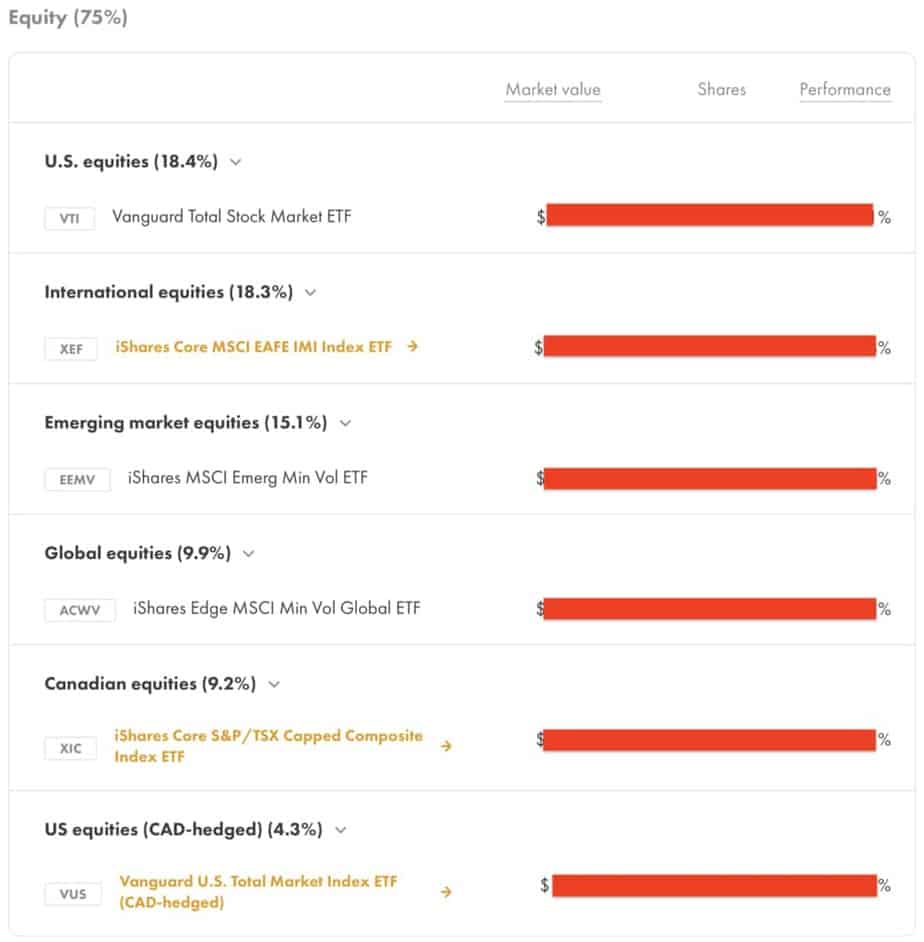 I love this transparency.
And navigating through the platform is SO EASY and straightforward, not to mention it's smooth, modern layout.
Below I have included a few more images of what the desktop user interface looks like.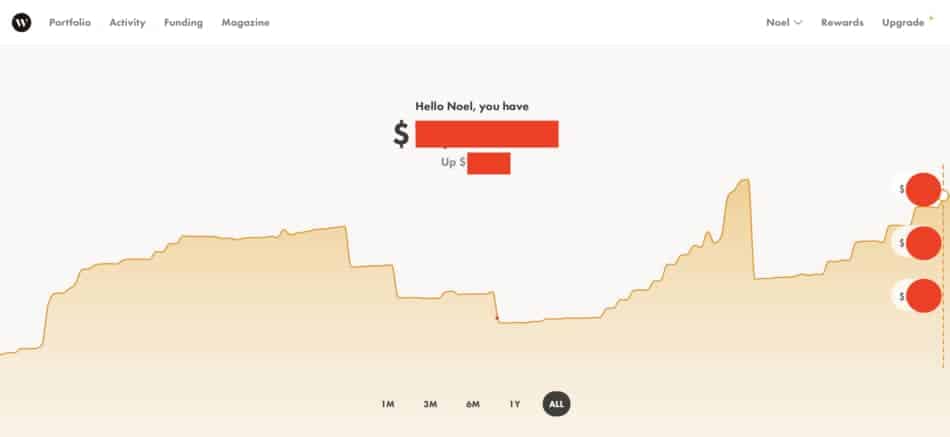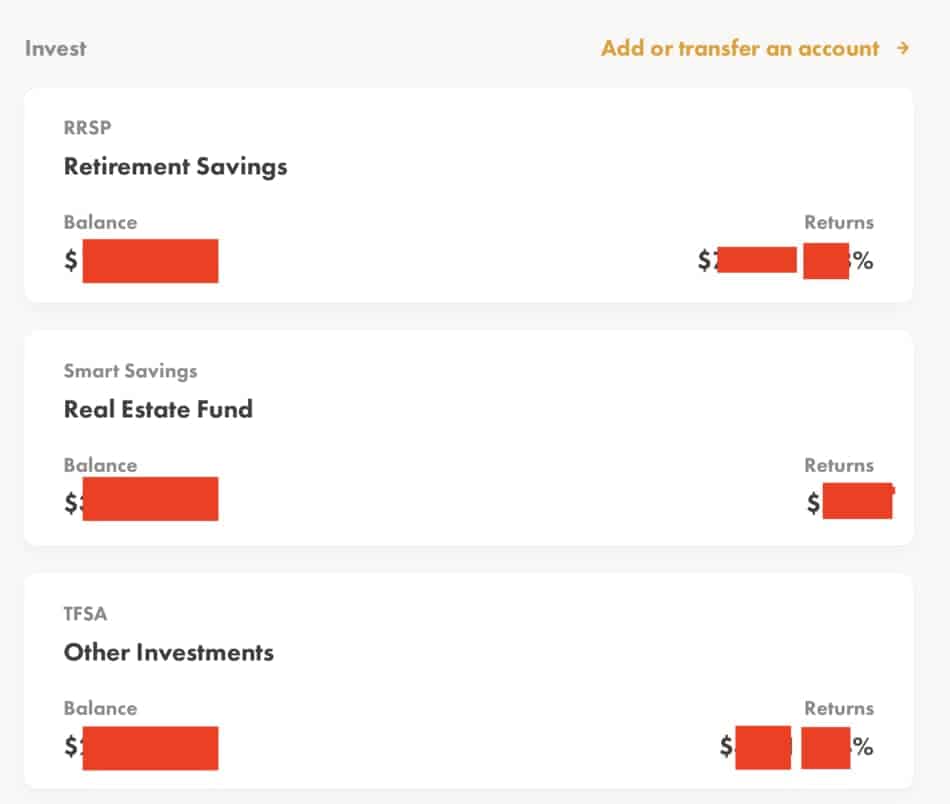 As you can see, your investment returns are right there on the main homepage.
You don't have to bring out a search team to find out how you're performing, it's all right there for you, good or bad. – no secrets.
Sign-up for Wealthsimple Invest Today ($25)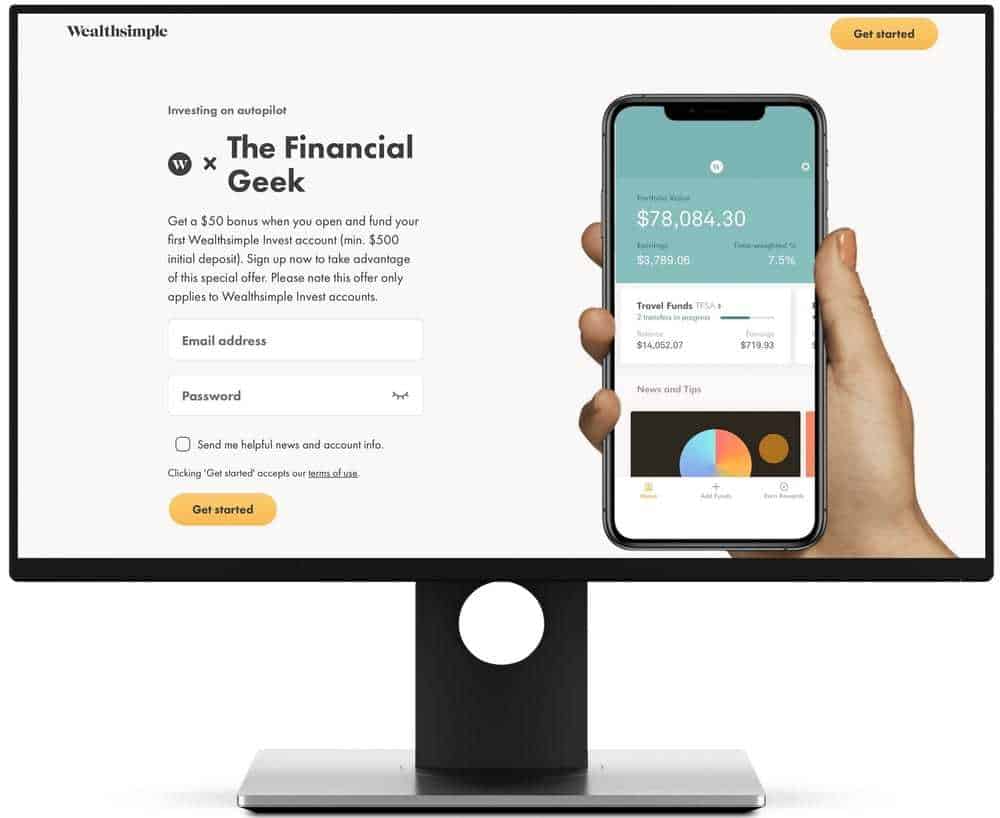 Earn a $25 Bonus with Your Sign Up
Designed for beginner investors
15 Minute Sign-Up Process
100% Free to Sign-Up
No minimum deposit required
 Great mobile experience
6 Reasons Why I Recommend Wealthsimple
1. Low Fees
One of my favourite things about the Wealthsimple robo advisor is the low fees I pay to have my money managed.
Robo advisors typically have low fees in general, and Wealthsimple is no different.
For the first 100k you have invested with Wealthsimple, you'll pay .5% per year in fees.
Most fund managers charge anywhere from 2%-3% in management fees, so this .5% is considerably less expensive.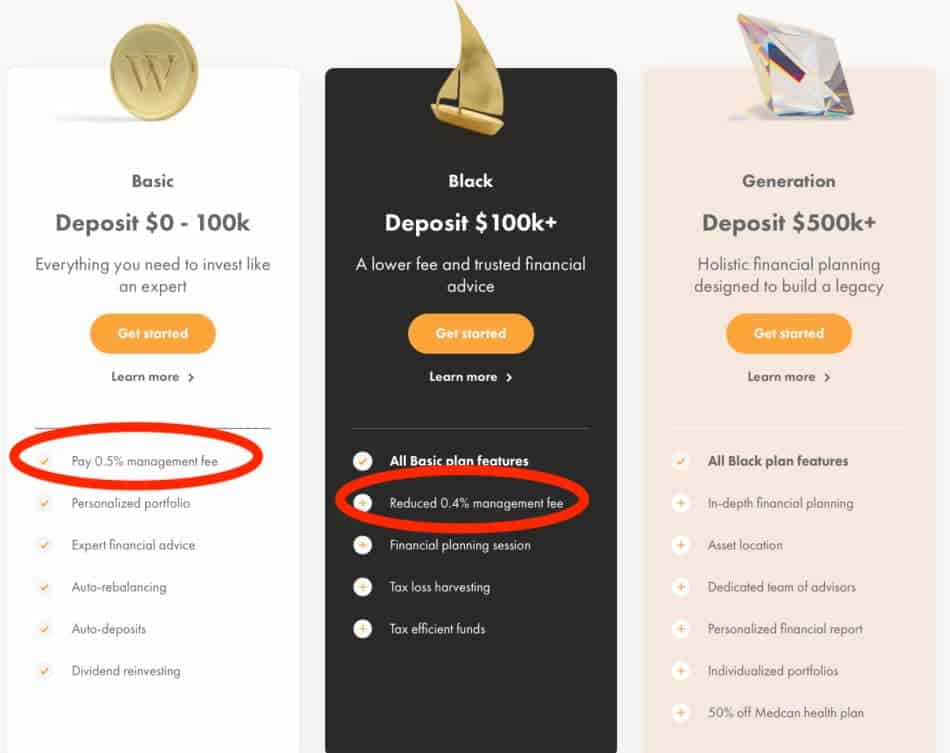 2. No Account Minimum 
This $0 account minimum is key and is one of the main reasons I started investing my money with Wealthsimple.
A lot of robo advisors and online brokerages require investors to invest a minimum amount when starting out – but not Wealthsimple.
If you only have $10 per month to invest, no problem Wealthsimple will gladly take this money and invest it exactly how you told them to (risk level).
3. No Deposit or Withdrawal Fees
Depositing and withdrawing money from your Wealthsimple account is completely free. As far as I can see, there isn't even a limit to how often you can do this.
So rest assure, if you withdraw $100 from your Wealthsimple account – you'll receive $100 in your bank account – no hidden fees.
If you deposit $100 into your account – $100 will be deposited into your account to be invested – no hidden fees.
4. Mobile Experience
The mobile experience with Wealthsimple is amazing.
I would say 98% of the time I spend on Wealthsimple is on the mobile app.
It's secure, fast loading, easy to navigate and like the rest of Wealthsimple, just an overall great experience.
You can literally manage your entire investment portfolio from your smartphone, how crazy is that.
5. Modern Design/Ease of Use
I mentioned it before and I'll mention it again, Wealthsimple's modern looking user interface is amazing.
Not only does it look sexy, but it's so easy to navigate and find what you're looking for. 
Good news or bad, Wealthsimple never tries hide anything from its users.
6. Great Customer Support
Even though Wealthsimple's investments are managed by computers, the company itself is managed by real people.
I've personally reached out to Wealthsimple multiple times on different platforms ( Email, Phone, Instagram DM, Facebook chat,) and they've got back to me quickly and with a direct answer to my enquiry. 
Unlike a lot of large tech companies, Wealthsimple actually has a 1-800 support number that you can call for customer support. I've called a few times and the wait is very minimal, if any wait at all.
How Do You Sign Up for Wealthsimple Robo Advising?
The first thing you need to do if you want to start investing with the Wealthsimple robo-advising platform is create an account. 
Quick Note #1 – Wealthsimple services are only available in Canada, USA and UK.
Go to Wealthsimple's website and click" Get Started".
You'll have to fill out a bit of online paperwork at first, but it's really not that bad. Pretty standard requirements for stuff like this, name, age, SIN, address, banking information – just all the normal stuff that is required to get you to set up any type of investment platform.
The signup process will also include investment questions in regards to your income, your risk tolerance, your retirement goals, savings rate etc.
All this to say, the sign up process is very seamless, it might take anywhere from 20-30 minutes to do, but it's kind of fun actually!
For a more in-depth step-by-step guide on how to open a Wealthsimple account, check out my article Open a Wealthsimple Invest Account. This article goes through each of the 4 stages step by step and includes screenshots of each step.
Once you are signed up, then all you need to do is open up some investment accounts, select your risk level, deposit a bit of money and you're off to the races.
That's the great thing about Wealthsimple – it's all done online!
You can make withdrawals, deposit money, alter your risk level all from your computer or smartphone.
No need to worry about going into branches, calling investment advisors or making appointments- software doesn't sleep!
You can complete this entire process from the comfort of a bubble bath!
Conclusion
For the reasons listed above, if you plan on investing with a robo-advisor, I recommend going with Wealthsimple.
In fact, I'd recommend Wealthsimple to anyone who wants to start investing. Robo advisors such as Wealthsimple offer low cost, easy to manage investment services.
Wouldn't you rather spend time doing the things you love as opposed to looking at investment opportunities and rebalancing portfolios? 
So there you have it,  Wealthsimple for win!
Geek, out.
Sign-up for Wealthsimple Invest Today ($25)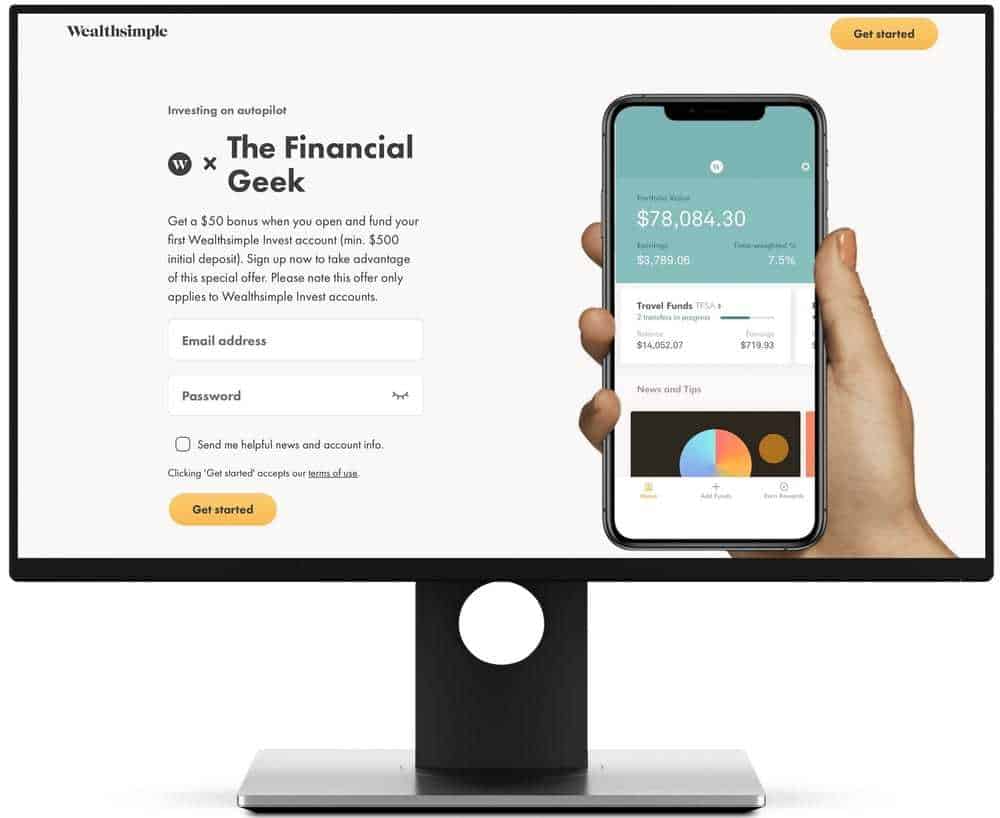 Earn a $25 Bonus with Your Sign Up
Designed for beginner investors
15 Minute Sign-Up Process
100% Free to Sign-Up
No minimum deposit required
 Great mobile experience