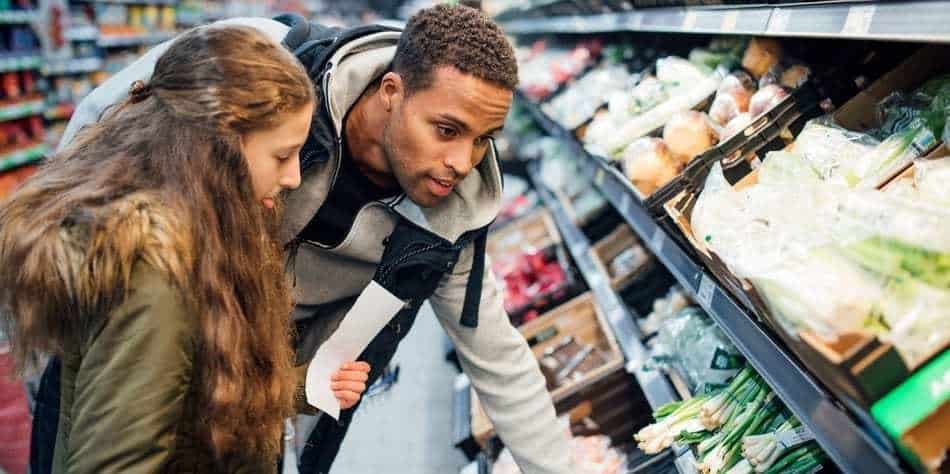 Affordable housing can be expensive and for this reason, you may already live with or choose to move in with: a family member, friend, or even an acquaintance.
But to maintain a home, various necessities are essential, and living with another requires teamwork and a mutual understanding. To make life easier, you may want to do your grocery shopping with your roommate or roommates.
Furthermore, you may want to consider these 6 clever tips regarding the budgeting, planning, and preparation of enjoyable meals.
6 Super Clever Tips for Grocery Shopping with Roommates
1. Use Budgeting and Bill-Splitting Apps
2. Create a Spreadsheet for Monthly Budgeting
3. Shop Together Online and Have Food Delivered
4. Assign Tasks and Take Turns
5. Create Lists of Your Favorite Foods
6. Preplan Meals for the Week According to Sales
1. Use Budgeting and Bill-Splitting Apps
Whether groceries are purchased online or in-person, and whether you are shopping with one or multiple roommates, using budgeting and bill-splitting apps can be extremely helpful when managing your finances. When used, you will not pay more than you spend on your groceries (or that you agree to contribute towards others' groceries).
According to StudentLoanHero, convenient and effective budgeting and bill-splitting apps include:
Budgeting apps: IOU, OurGroceries, Splittr, and Splitwise
Bill-splitting apps: Cash App, PayPal, Venmo and Wealthsimple Cash
Budgeting apps like Splitwise and IOU will tally the cash that your roommates owe you over an extended period while bill-splitting apps like PayPal and Venmo can be used to freely exchange money between friends and family members.
2. Create a Spreadsheet for Monthly Budgeting
According to the real estate search website, RoomiApp, you should create spreadsheets for monthly budgeting so that you and your roommates will have a better grasp of your weekly grocery needs.
To help you stay on track and meet your goals, I suggest creating spreadsheets in popular programs like:
Google Sheets
Apple Numbers
Microsoft Excel
By creating spreadsheets, you can easily decide how much you would like to spend on groceries compared to other food-related expenses like carry-out, dining in, or dieting delivery services.
Even when using budgeting apps like OurGroceries and Splittr, the most organized planning often comes when you can make customizations and modifications on your own.
3. Shop Together Online and Have Food Delivered
When shopping from local supermarkets online, roommates can order together and review grocery lists at their leisure. As long as tabs are open and orders are saved within your account, grocery lists will not be lost throughout the day.
Having groceries delivered may be convenient when roommates are home. However, if groceries are picked up after having been ordered, even more money will be saved. When a roommate pays the bill within a grocery store or online, costs can easily and immediately be split by exchanging money through the various bill-splitting apps mentioned above.
What's more?! Well ordering online is not only convenient but it'll also reduce the risk of contracting COVID-19 (for those who may be immunocompromised or who wish to stay indoors).
4. Assign Tasks and Take Turns
As student-writer, Sarah Millard, mentions in this CollegeXpress.com article, it's best to form a routine and establish tasks. After having become more familiar with your neighbourhood and local grocery stores, turns may be taken so that no single roommate becomes overwhelmed with grocery store runs!
Weekly tasks can be discussed and assigned, which include:
Budgeting app management (Mint is what I use)
Coupon clipping responsibilities
Grocery-carrying responsibilities
Online ordering and up-front payment responsibilities
Rewards program management
Because some tasks will require creating an account or signing up for a card, having a system will benefit you and can make trips to the grocery store much quicker and even less complicated. For instance, grocery shopping days and grocery-carrying responsibilities may be assigned upon first moving in with roommates and based on availability.
5. Create Lists of Your Favorite Foods
When first moving in with another, or even after having lived with someone for quite some time, you may ask yourself if your roommate has any favorite foods that you're not aware of. Before grocery shopping with roommates, a great tip is to create a list of your favorite foods (or even foods that you currently plan on eating most frequently)
Shopping lists, in general, can be applied to any month of the year, and their benefits include:
Increased familiarity with roommates' favorite foods: When shopping separately, you and your roommate will have a better understanding of which items to pick up for one another.
Ability to purchase the desired ingredients: You and your roommates will know what types of foods and ingredients to use when making meals for one another.
Unlike regular shopping lists, when your roommates discuss their favorite or desired foods with you in advance, opportunities will arise for you to surprise or impress them (either with a prepared meal or while out shopping).
Recommended Financial Geek Article: 7 Money Saving Tips for Grad Students
6. Preplan Meals for the Week According to Sales
Whether you live with family, friends, in a dorm room, or with other roommates, food will go to waste if precautions aren't taken in advance. Once you and your roommates have created lists of your favorite foods, you may then preplan meals at the start of every week (or before each grocery trip) so that you might best utilize the other tools and tips discussed in this article!
Buying a surplus of food to freeze long before being eaten can save time and money if you have the space at home to store it. Acquiring coupons in advance through rewards programs and supermarket apps, such as Instacart or the Stop and Shop app, can also help you (and your roommates) shop and preplan meals.
By preplanning meals, you will give yourself something to look forward to, and the following benefits will be obtained:
You will be prepared and have more cooking options
You will get more for your money
You will save money
Furthermore, preplanning will allow you to make proper use of the lists and spreadsheets you have created, and the apps you have downloaded!
Conclusion
Grocery shopping with roommates has many advantages. For example, buying food with another creates a fun shopping experience, expands your menu options, and it can even cut your expenses in half.
We all must eat to live and while food is one of our greatest expenses, it can be more easily budgeted than the cost of other necessities, like housing and transportation – so take advantage of this!
And remember, eat fresh!
Geek, out.