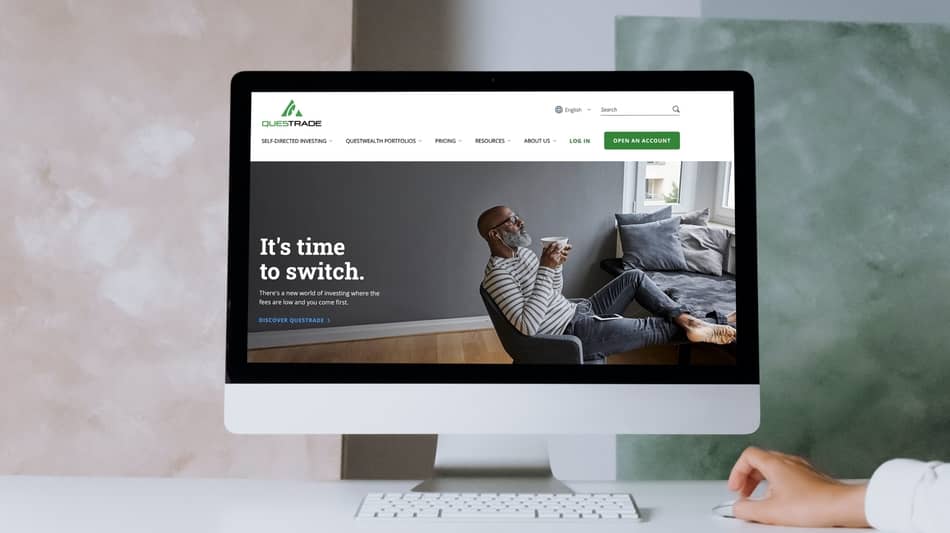 Investing saved cash is one of the most important actions a person can take on the path to financial freedom.
However, if you are a beginner in the investment game, getting started as an investor can be a confusing and intimidating process—a fact that has been compounded by the non-stop marketing of various investment products and platforms.
Thats where Questrade comes in. 
In Canada alone, there are dozens of online brokerages from which novice investors can quickly set up an account. When sifting through all of the options, Questrade is a name that consistently appears at the top of Canadian top brokerage rankings.
With that said, the following breakdown looks at nine reasons why Questrade is a good choice for beginning investors. 
9 Reasons Why Questrade is Good for Beginners
1. Questrade Offers Lower Fees for Basic Trades
2. Intuitive Website and Mobile App
3. Elite Passive Investment Features
4. No Annual or Inactivity Fees
5. Outstanding Customer Support
6. There Are Multiple Ways to Make Deposits
7. Easy to Withdraw Funds from the Platform
8. It is Simple to Buy, Sell, and Watch Stocks
9. No Fees when Buying ETFs
Before going into each of these reasons in more detail, I want to make a point of stating that I am speaking from experience here. I have been a Questrade user for many years now and started investing with them as a beginner myself.
Sign up with Questrade and get $50 in commission free trades.
1. Questrade Offers Lower Fees for Basic Trades
When starting your investment journey, it is likely that you may not have a ton of money to offer to the market. And even if you do, you may want to get your feet wet with some small trades until you get comfortable with letting your money work for you.
And this is all completely normal.
The problem with trading small is that brokerage fees can make the cost of doing business prohibitive. When trading online, a brokerage fee is the cost of executing a transaction and it is one of the ways that platforms make money.
Usually, brokerage fees are flat and will be the same whether your trade involves 1 share or 1,000,000 shares. If a share of stock costs $10 and the brokerage fee is $9.99, buying only one share will result in you paying essentially 100% of the trade cost in brokerage fees. Experts often advise only buying in orders of at least 100 shares to lessen the burden of brokerage fees. 
Questrade offers some of the lowest brokerage fees for stock trades in the Canadian market. The fee starts at $4.95, with one cent per share added up to a maximum of $9.95. This is better than its competitors, which offer the following rates:
TD Direct Investing – $9.99
Qtrade Direct Investing – $8.75
BMO InvestorLine – $9.99
While you still do need to be careful and not make trades haphazardly, the $4.95 starting commission makes it more possible for beginning investors looking to start off making small trades. 
With that said, if you do end up signing up with Questrade, you'll get $50 in free trades thanks to The Financial Geek and Questrade partnership.
2. Intuitive Website and Mobile App
Any online business must have a top-notch mobile app to succeed in this day and age, with the investment industry being no exception.
A February 2021 study found that 20% of all retail trades (trades made by individuals with no commercial bank affiliation) were made from mobile devices, with that figure set to double in the coming years.
Modern investors want to be able to make transactions on the go, making Questrade an elite option for beginners.
Both its website and mobile app are highly intuitive for users from a wide range of technological backgrounds, so even if you are a beginner investor, the platform is easy to understand and navigate. 
An additional layer of convenience is that the website and mobile app have a similar layout.
Therefore, if an account holder has been using one medium more than the other but needs to switch formats for some reason, they will be able to quickly navigate the alternate medium without spending a lot of time getting oriented to the layout. 
3. Elite Passive Investment Features
Passive investment involves making regular contributions to an account without logging in and making the trade yourself. This has become popular on many platforms through robo investing capabilities.
It can allow you to make automatic investments on a set timeframe or automatically buy and sell when the price of an asset reaches a certain level.
Passive investment is advisable for beginners because it takes the thinking out of the investment game. Even the most experienced investors have difficulty timing the stock market, so beginners can get in real trouble trying to do it themselves. (trust me, I've tried and failed miserably)
Questrade uses a tool known as Passiv to help investors passively manage their accounts. Among the ways that Passiv can help beginners manage their Questrade account include:
Building your own personalized indexes – this allows you to build your portfolio based on the stocks and sectors you value most with a commensurate level of risk tolerance.
Rebalance with a click of a button – when certain assets in your portfolio perform well (or vice versa), your asset allocation can get out of whack. Passiv quickly rebalances your portfolio, automatically buying and selling assets to get your account realigned to meet your risk tolerance.
Cash management – Passiv can help you attain greater control over your account by implementing rules to assist in dollar-cost averaging which is the process of obtaining shares of stock for the lowest average price possible.
4. No Annual or Inactivity Fees
Brokerage fees are not the only way that investment platforms can eat into your profits. Many may also have an annual fee, an inactivity fee, or sometimes even both.
An annual fee is simply a fee that is charged once a year to all account holders. Regardless of how you use your account, an annual fee will remain the same.
An inactivity fee is a fee that is assessed to customers who do not make a specified number of transactions in a given period, usually a set number of trades required each year.
Questrade issues neither an annual fee nor an inactivity fee. This helps keep the cost of having an account super low for its users. It is a particularly attractive feature for beginners who may not pay as close attention to their accounts as more seasoned stock traders, would which may trigger fees on other platforms.
For example, National Bank Direct Brokerage requires 5 trades per year, while Qtrade Direct Investing requires a $50 per month deposit for young investors. 
5. Outstanding Customer Support

Beginning investors are sure to have many questions on everything from making a deposit to how to protect their account amid a possible security breach. As a result, the best investment platforms must have a robust mix of online resources for account holders to perform DIY searches and then live chat to help answer any hard-to-find issues.
Questrade shines in this regard, with some of the best customer support in the Canadian brokerage industry. Users can contact Questrade via phone, live chat, or email, with customers reporting very short wait times to get in contact with a support representative. 
Speaking from experience myself, I have only had to contact them twice since I started using Questrade many years ago and have had very short waits both times (under 3 minutes).
Once in contact with a support representative, customers (including myself) are impressed with how polite and knowledgeable the service team is and how they can find satisfactory answers to their specific questions. 
I also talk about Questrade's customer support in my article 6 Reasons Why I Recommend Questrade.
6. There Are Multiple Ways to Make Deposits
Many online brokerages have only one avenue for depositing funds—a transfer from a bank account. However, Questrade offers added convenience for users by accepting deposits through three different channels, which can be a helpful feature for beginners who may not be comfortable linking their bank information with their brokerage account.
Once you have signed into your Questrade account, you can deposit funds for trading through any of the following avenues:
Bank Transfer (Wire Transfer) – this is the standard way that most brokerages accept deposits. You will need to add your bank account number to the brokerage's deposit interface. From there, you will receive a reference number to identify the transfer.
Credit or Debit Card – just like a regular card purchase, you will be required to enter the pertinent card information. This is usually the most convenient way of depositing funds for most users. 
Online Wallets – this would be using a platform such as PayPal, Skrill, or Neteller to make a deposit. Just like any other type of transaction using these platforms, you will be required to enter your login credentials into the deposit interface to initiate a transaction. 
Sign up with Questrade and get $50 in commission free trades.
7. Easy to Withdraw Funds from the Platform
Another confusing aspect of some investment platforms is how to withdraw funds. However, like most other features of Questrade, the platform makes withdrawing funds highly intuitive and easy to do for beginners.
You can withdraw funds using the following process:
Login to your Questrade Account.
Navigate to REQUESTS and hover over it to reveal the menu options.
Click on "Withdraw Funds" to open the withdrawal page.
Select the account you wish to withdraw from using the dropdown.
Specify the withdrawal currency (CAD or USD).
Enter the withdrawal amount.
Choose one of the available withdrawal methods.
Provide your banking details.
Click continue to review and confirm the withdrawal.
Go to the "Request History" tab close to the top of the page to track the progress of your withdrawal.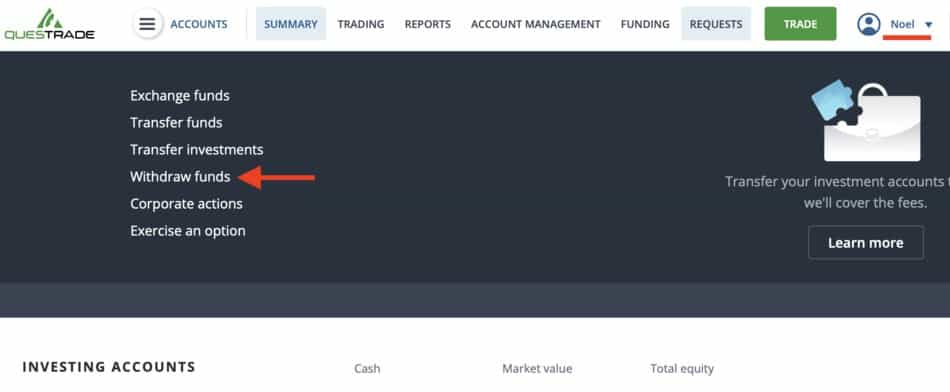 Questrade offers withdrawals via one of three methods:
Electronic funds transfer
Wire transfer
International wire transfer.
There are also no withdrawal fees for electronic funds transfers in Canadian dollars up to $50,000 or U.S. dollars up to $25,000. However, there are some withdrawal fees for the other withdrawal methods.
8. It is Simple to Buy, Sell, and Watch Stocks
There is a lot of mystery in investing for beginners. Young investors often won't have a lot of confidence if they are doing the right thing, with confusion heightened if it is difficult to place orders.
However, Questrade makes it easy to buy, sell, and watch stocks.
Investors can simply use the search bar to locate the stock ticker in which they are interested. Once they click on the order option bar, they will be given easily discernible fields for what kind of trade they would like to make and how many shares they would like to trade.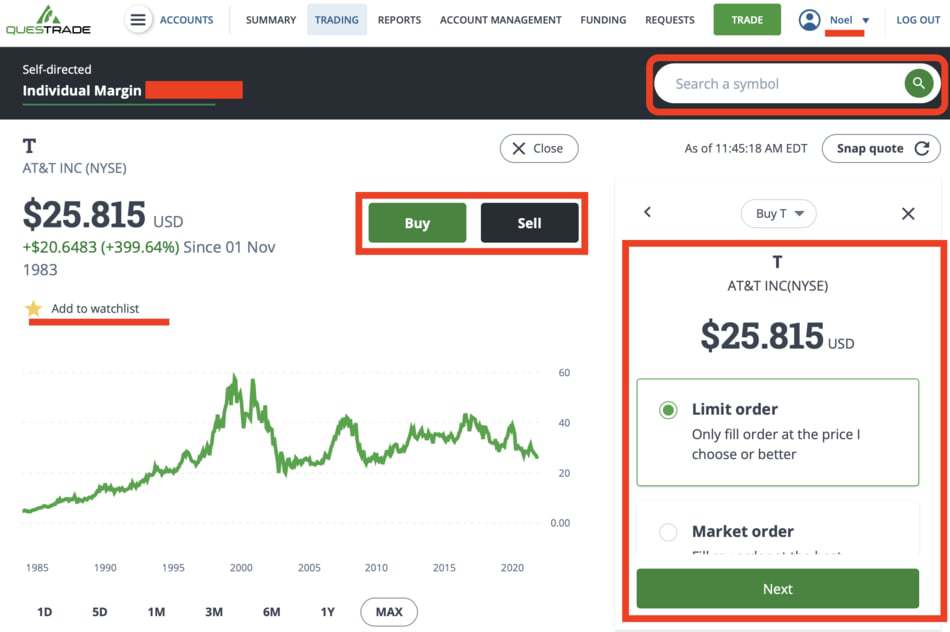 The platform also uses a confirm window to make sure that no orders are placed inadvertently.
9. No Fees when Buying ETFs
Sticking with the theme of low fees being especially important for new investors, Questrade takes no commission fees from investors when buying ETFs.
But what is an ETF exactly? And why are they relevant for beginning investors?
ETF (Exchange Traded Fund) – this is a type of investment instrument that allows you to buy a large basket of stocks or bonds in one purchase. It tracks the performance of the larger market and eliminates much of the risk associated with individual stock picking.
By allowing fee-free purchasing of ETFs, Questrade is really speaking to novice investors who want to get their feet wet in the investment game by diversifying and mitigating risk.
ETFs are among the most highly recommended forms of investments in Canada for young investors who want to consistently build wealth over time.
I myself am heavily invested in ETFs and love that they cost me no money to buy and they come with so much diversity.
Final Thoughts
There are many choices of investment platforms from which beginning investors can choose from.
However, one of the truly elite options is Questrade.
From low fees to intuitive interfaces and outstanding customer support to easy stock tracking, the nine reasons mentioned above make it clear why Questrade is the right choice for beginning investors. 
I have been investing with Questrade for years now and have personally loved the platform for the reasons I discuss above.

If you did have more questions about Questrade and weren't quite ready to sign up yet, feel free to contact me at noel@thefinancialgeek.com
If you are wanting to get started today, as I mentioned earlier, Questrade is a partner of the Financial Geek and will give you $50 in free trades if you sign up here.
If you have no interest in getting started yet but were just curious about some of the benefits Questrade has to offer for beginner investors, then thats great too! I hope you learned a thing or two from this article!
Thanks for reading folks, as always – I hope you enjoyed.
Geek, out.