If you're involved in online commerce in any way, then it is highly likely that you've stumbled across the name Shopify before.
As of 2021, there are over 600,000 businesses that host their online stores through Shopify, with the company's surge in growth making many shareholders wealthy in recent years.
But despite this popularity, is Shopify actually a safe platform to use?
Yes, Shopify is a safe and secure platform that adheres to Level 1 PCI DSS standards, guaranteeing the highest level of security for all stores utilizing the platform. In addition, Shopify prioritizes safeguarding its customers' sensitive information and has made substantial investments over the years to meet and exceed industry-standard compliance regulations.
With that said, any time personal and financial information is exchanged over the Internet, there will always be at least a small element of risk that you need to account for. Therefore, the following breakdown looks at the safety features of Shopify from both a buyer and seller standpoint and offers advice on how to further secure your overall Shopify experience. 
Is Shopify Safe and Secure?
Shopify is one of the safest cloud-based website-building platforms on the market today.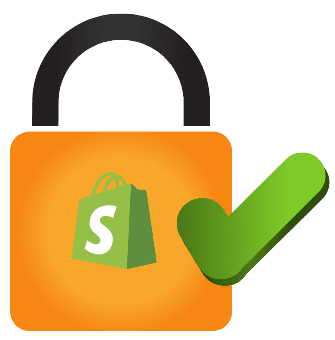 Shopify uses Transport Layer Security (TSL) to protect the information of both of its store owners AND shoppers. (This protection comes with all Shopify subscription plans.)
As a merchant, when you log into your Shopify account, you'll notice a little padlock in the corner of your browser, this indicates that your store is protected by TSL protocols. This is a good thing!
TSL is actually a newer protocol that replaces the widely-used Secure Sockets Layer (SSL) for protecting sensitive information. Using TSL, all Shopify transactions are safe and securely protected against threats from harmful external scripts that could potentially compromise user information.
In addition to these TSL protocols, Shopify has numerous other layers of protection to ensure that admin and user information remains safe and secure, including:
Two-factor authentication for admins trying to make changes to the store or revise financial information.
Account locking if Shopify detects that your store may be compromised by any public data leaks.
Account locking due to unusual or suspicious login attempts.
Identify confirmation for accounts that have been inactive for more than three months.
How Do I Secure My Shopify Website?
While TSL protocols and robust surveillance by Shopify helps keep your Shopify store safe, you can really never be too careful in today's world of online commerce.
With that said, the following ideas will help you reduce the risk of cyberattack moving forward:
Frequently change your passwords – it is always best practice to frequently update login credentials and avoid repetitive passwords for any type of online account. However, as your Shopify store could employ any number of people with access to this information, regularly resetting this information will help protect against employee breaches.
Schedule regular backups – in the event that your account is compromised, you will likely want to revert your store back to the way it was before a breach occurred. Shopify makes it easy to schedule automated backups that reestablish products, inventory, customers, blog posts, and more. 
Lock restricted content – there may be situations in which you need to protect certain sections of your Shopify store from general visitors. To help in this regard, Shopify offers a tool known as Locksmith that sets the rules for who can and cannot access certain sections of your store. 
Is My Information Safe on Shopify?
Your information is just as safe – and probably more safe – on Shopify then it is on any other type of online account. Therefore, whether you're a customer or a business owner, you should use this e-commerce platform with complete confidence that your information is secure. 
The following features of the Shopify software should help you feel even more secure about giving your sensitive data to Shopify stores: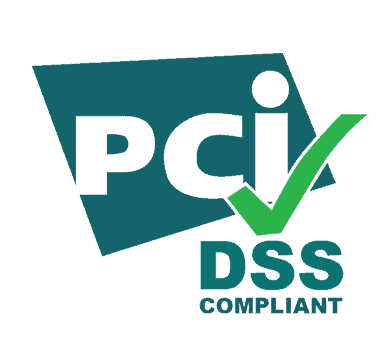 Credit Card Information – Payment Card Industry (PCI) level 1 compliance, verification that Shopify stores are adhering to the world's highest level of server security for protecting user's payment information.
Data Protection – Shopify Integration helps store and collect customer information and upload it safely and securely, with advanced measures in place to ensure that this information is not leaked to suspicious or unwanted third parties.
Fraud Prevention – Shopify has powerful safeguards in place to flag any suspicious orders. This gives store owner's the opportunity to go back and manually review purchases or block activities that could be seen as fraudulent.
Can You Get Scammed on Shopify?
While Shopify is an extremely safe platform, there are still a number of ways to get scammed if you're not careful.
Although the system will detect and weed out most of these scammers, it's always helpful to be on the lookout for some of the following scam attempts directed at Shopify stores:
Triangulation – arguably the type of scam most likely to be attempted, a fraudster will create a Shopify store, buy raw materials from online suppliers and reject the transaction. They will then recoup the money from a chargeback on Shopify and keep the materials, essentially stealing the goods from the supplier. 
Direct client – a scammer communicates with you that it would benefit both parties to move the buyer/seller relationship off of Shopify to avoid paying platform subscriptions and fees. Once outside of the Shopify's secure portal, the scammer takes your payment information and abuses it. 
Switching – a common scam in the e-commerce world, a shopper will make a purchase on your Shopify store and requests an invoice to be sent to their PayPal account, to be filled on receipt of the product. You send the product, but the payment never arrives. 
Duplicator – scammers open phony stores that mimic the offerings of your legitimate business. While this scam may not impact your store directly, it can cause customers to get frustrated by their shopping experience which could then lead to them avoiding your store in the future.
The Bottom Line: Is Shopify Safe and Legit?
Shopify, the world's leading e-commerce platform software, is a very safe and legitimate platform to use. While every attack into the world of e-commerce can never be 100% secure against the most sophisticated cybercriminals, Shopify is as safe as any platform on the market.
With TSL protocols being included as part of all subscription types, advanced safeguards against suspicious logins, the highest level of PCI compliance, and robust features to prevent customer data leaks, both store owners and customers should feel safe and secure doing business on Shopify. 
I've personally used Shopify since 2015 and I've had a great experience with them. I've never had any security issues and I've always felt that securing my personal data has been a top priority for them.
On an unrelated note, they also have amazing customer service if your thinking about starting up a store of your own.
And the cherry on top (for me anyway), they're a Canadian company! I even own stock in Shopify for gosh sakes. Can you tell I'm a Shopify fan?
And that's it folks! Thanks for reading, I hope you found this information useful.
Geek, out.