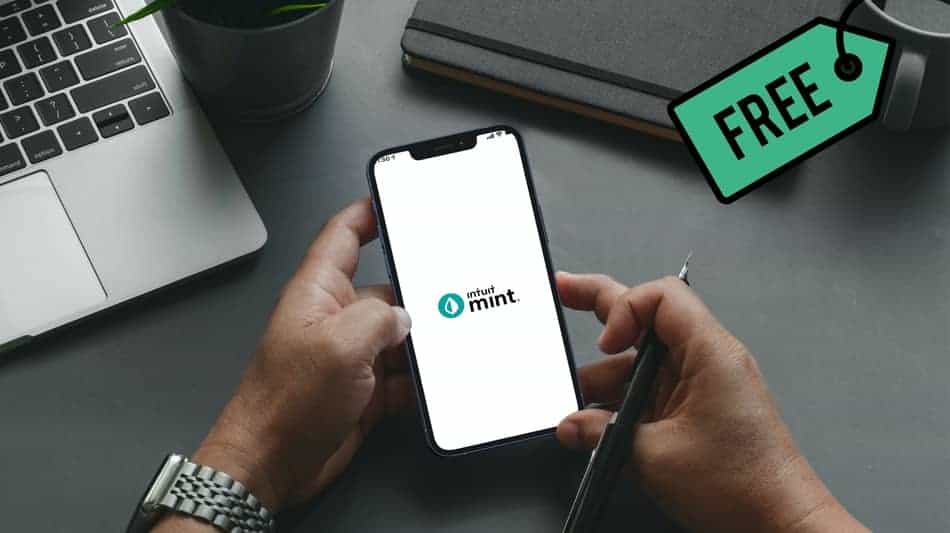 If you are wondering if and how the popular Mint budgeting app is really free, then you have come to the right place.
By now you probably already know that it provides exceptional features compared to its competitors, and it seems almost impossible for an app of this stature to be offered for free.
But here's the thing.
The Mint budgeting app is completely free for its users. While they do have a premium version coming out in the future, it has not yet been released and will be available to the public in 2022. Mint makes its money through advertisements, partnerships and affiliates that are displayed within the app.
To learn more about why I use Mint, check out my article Top 7 Reasons Why You Should be Using the Mint Budgeting App.
Otherwise, keep on reading to discover more about Mint and what it has to offer.
Does The Mint App Cost Money to Use?
As mentioned, the Mint budgeting app is completely free to use.
I actually reached out to Mint personally through Facebook Messenger and asked them this question, and believe it or not, I got a response within a few hours.
Below is a copy of my exchange with them.
---
Me – Hello! I had a couple questions about your app. I was just wondering if it costs money to use it? And if you have any premium services? Because I heard it is free to use? So I was curious to know how it made money? Do you sell my data?
Mint Response – Hello Noel, Thanks for reaching out to us! The Mint app does not sell the data of it's users. The app is free to use, and while we do have a premium version coming out in the future it has not been released yet. There are advertisements from various partners and affiliates displayed inside of the app itself.
---
So I don't think it gets any more clear than that. The Mint budgeting app is completely free to use. Bottom line.
In fact, it doesn't even have any premium version yet, so even if you wanted to do any sort of upgrade, you wouldn't be able too!
But that does then beg the question, how the heck does Mint make its money?
How Does Mint Make Money?
If Mint doesn't charge its users, you might wonder how it generates revenue to operate? And that's a very valid question and one that I reached out directly to Mint to clarify.
My initial thought was that Mint sold our data to third parties, and if that was the case, I don't think I would of been okay with that, but after reaching out and asking, I realized Mint didn't even do that.
In short, the Mint budgeting app makes money through advertisement partnerships and affiliates that are displayed within the app itself. And despite what many people think, Mint does not sell its user's data.
For example, below here is a screenshot in my account (on desktop version) and you can see Rocket Mortgage is one of Mint's Home Loan partners. This is likely an affiliate partnership where Mint gets paid anytime someone does something like fill out a form or applies for a loan.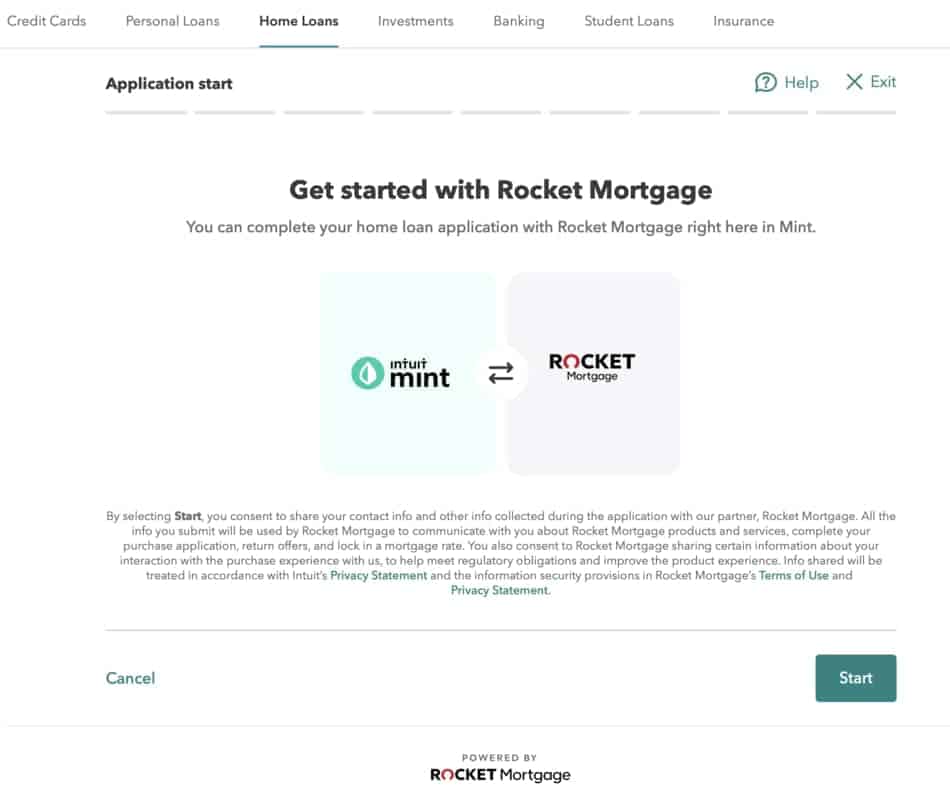 With that said, a lot of free services like Mint offer premium versions without ads and affiliates, however, as Mint doesn't offer any paid plans, users don't have a way of getting rid of these ads and affiliate links that they may prefer not to see.
Many free apps use this as a way to generate an income, but many also offer to get rid of the ads for a subscription to a higher plan. Mint, however, does not currently have a way to get rid of these ads or affiliate links.
In saying all of that, there has been some chat among Mint users that they wish Mint had an option where they could remove the ads, so who knows, maybe that is something Mint is planning on offering for their upcoming premium version which is currently in testing and is planning on being released in 2022.
I should also point out that Mint is a very safe app to use. In my article, Is Mint Safe to Use? Here's What You Need to Know I talk about what Mint has in place from a security perspective to ensure all of its user's data is protected secure.
7 Benefits of Using Mint
Okay, so we now know that Mint is in fact 100% free.
We also know that they make their money from advertising and affiliate marketing, and NOT through selling it's user data, which is great to hear.
But what makes Mint such a great app for budgeting?
7 Benefits of Using Mint
1. Tracks Your Spending
2. Budget Tracking
3. Bill Reminder Notifications
4. Consolidated Transaction History
5. Fee Finder and Low Balance Notifications
6. Net Worth Calculated in Real Time
7. Goal Setting Feature
Top 7 Reasons You Should Use the Mint Budgeting App
I also talk about all of these benefits more in detail in my article 7 Reasons You Should Use the Mint Budgeting App.
My Three Favourite Things About the Mint Budgeting App
1. It Tracks and Consolidates My Spending
If you are someone like me who has a few different bank accounts going, this is a great feature of Mint. Basically Mint connects to your accounts and then tracks all your transactions in one place.
This helps you avoid having to look at all your different banking statements separately. Not only that, but Mint also allows you to set monthly budgets for spending categories like "Food and Dining" or "Shopping".
It then tracks your spending in these categories and shows you if you are over spending in certain areas or staying on budget.
Clearly I need to chill out on the online shopping!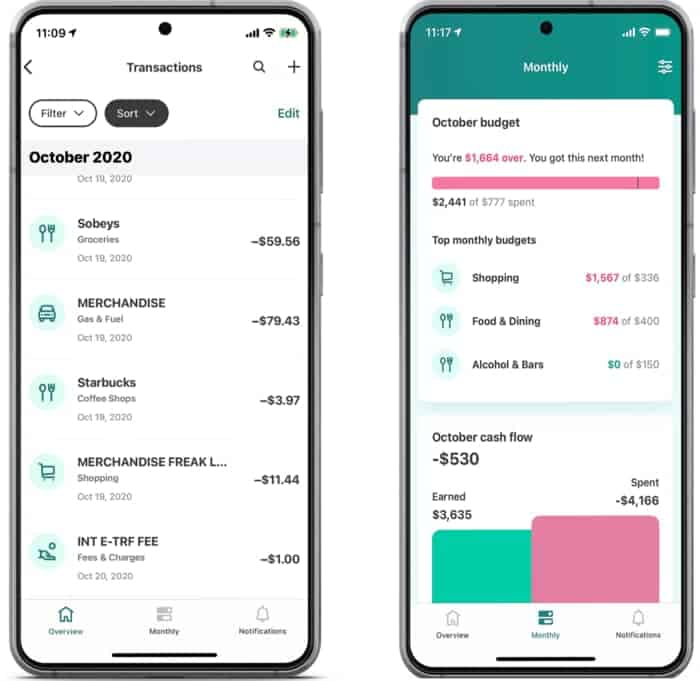 2. The Fee Finder and Low Balance Notifications
My next favourite thing about Mint is that it notifies me when I get an unexpected fee charged to one of my bank accounts.
Now most of the time these fees are legit, I review them and move on. But if it is something I was not aware of or maybe something a little fishy, then I dig into them a little more.
Additionally, if any one of my bank accounts is starting to run dry or I am creeping up on spending over budget on a spending category, then I get notified about this from Mint.
So again, it really just helps me stay on top of my financial situation and budget a lot better so that things don't get out of control.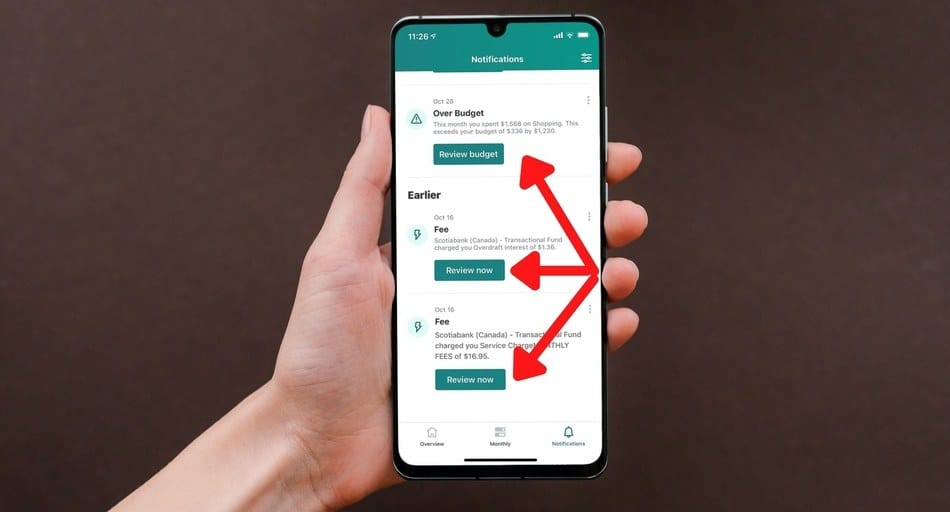 3. It Tracks and Calculates My Net Worth in Real Time
And last but not least, while this probably doesn't provide me with much value, I have to say, I do love how Mint tracks my Net Worth in real time.
I'm not actually sure why I love it, but I guess net worth just seems like a cool word and I like knowing what I'm worth (it's not much!!).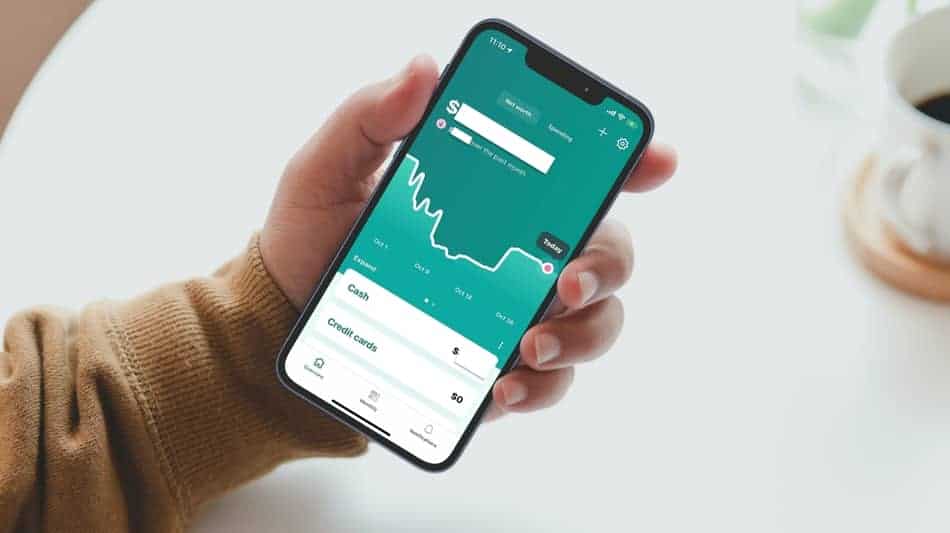 And while I love knowing what my net worth is, I'm not sure I feel comfortable sharing it with you guys! Hence why I have it covered up in the image above.
The goal here is to make sure this number keeps getting bigger and bigger every month. If this is happening then you know you are doing something right!
Related Financial Geek Article: 8 Really Smart Budgeting Tips
Final Thoughts
Mint is free to use. Those are my final thoughts.
I have literally nothing else to say.
It's just free.
Geek, out.