Some links in this post are from our partners. If a purchase or signup is made through our partners, we receive compensation for the referral. 
If you know anything about Wealthsimple, you know they offer great financial services at incredibly low, sometimes free, costs.
As a Wealthsimple client since 2016, I have been a beneficiary of a number of Wealthsimple's products and their inexpensive fees for over 5 years, and I'll be the first to tell you, I often wondered how Wealthsimple made their money.
And if you're anything like me, you've also wondered, well how the heck does Wealthsimple make any money?
After receiving a couple emails about this exact same question, I figured it was finally time to write an article about it. So what I did was reach out to Wealthsimple directly to ask them. I figured why not go straight to the source.
This article will now explain how four out of the five Wealthsimple products make money for the company. If you don't plan on sticking around for long, no hard feelings, I'll include a table below that gives a quick explanation on how each product makes money.
Then if you want to learn more about each method, I'll go into more detail throughout the rest of the article.
So how does Wealthsimple make money?
Wealthsimple makes money through management fees on their Wealthsimple Invest product as well as conversion fees on the Wealthsimple Trade Product. Wealthsimple also makes money by charging an operations fee on their crypto product and through a pay-what-you-want revenue model with their Wealthsimple Tax product.
| Wealthsimple Products | How It Makes Money |
| --- | --- |
| 1. Invest | Charges a 0.4% – 0.5% Management Fee |
| 2. Trade | Charges a 1.5% Fee on the USD Conversion Rate |
| 3. Crypto | Charges a 1.5% – 2% Operations Fee Per Transaction |
| 4. Tax | Pay-What-You-Want Revenue Model |
| 5. Cash | Does Not Generate Revenue |
So that's that! Now you at least have a high level overview on how each of Wealthsimple's products make money.
I've been using Wealthsimple since 2016 and I highly recommend it, if you were interested in opening up a Wealthsimple account you can do so here!
Start a Wealthsimple Account Today. Earn $25 Cash with Sign Up
For a more in-depth explanation on how each of these products generate revenue for Wealthsimple, keep reading as we go into each method more in detail.
How Do Wealthsimple's Products Make Money?
1. Wealthsimple Invest

Wealthsimple Invest is a great way to invest your money without having to continually think about it. Wealthsimple Invest allows you to invest on "autopilot" as they famously claim.
This type of investing is called Robo advising, they basically just invest in index funds which are similar to mutual funds (diversified) but without the crazy expensive management fees.
It's all done through algorithms, you just sent what risk level you want and they do everything else. Not bad hey?
To learn more about why Wealthsimple is great for beginners, check out my article here.
But how does Wealthsimple Invest make money?
Simply put, Wealthsimple Invest generates revenue for the company by charging clients a management fee for investing with them. Clients who have between $0-$99,999 are charged 0.5% and clients with over $100,000 invested are only charged 0.4%.
Sign-up for Wealthsimple Invest Today ($25)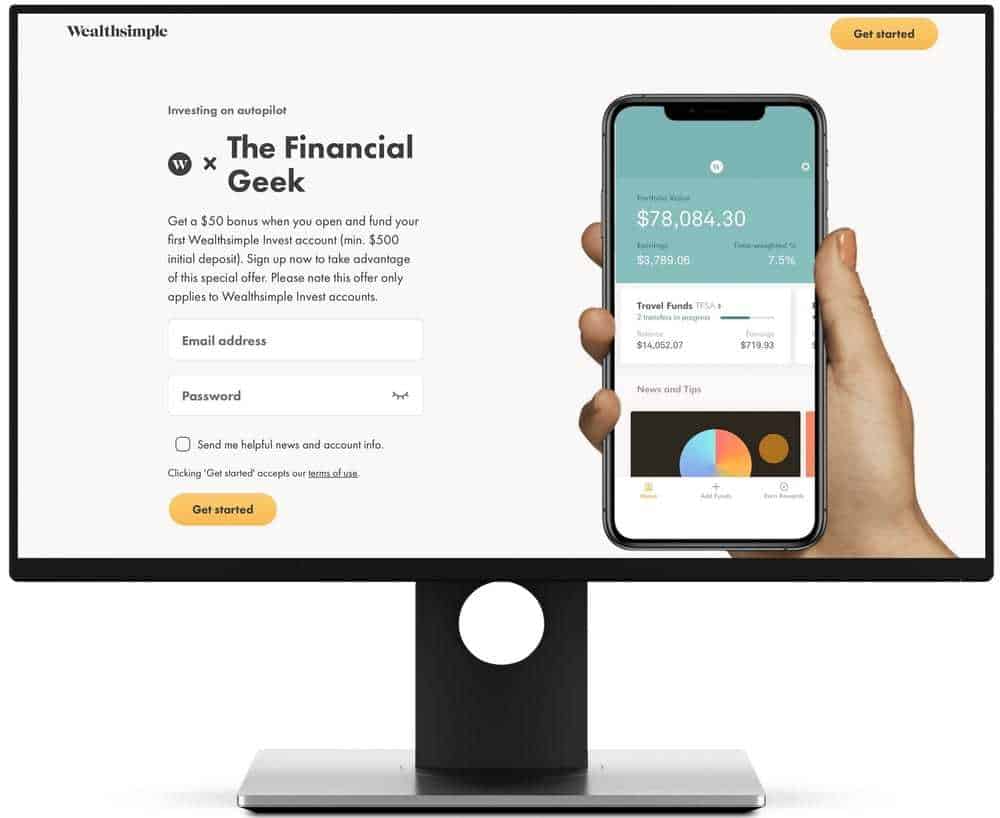 Earn a $25 Bonus with Your Sign Up
Designed for beginner investors
15 Minute Sign-Up Process
100% Free to Sign-Up
No minimum deposit required
 Great mobile experience
Now these fees are annual fees that are charged monthly. So if you have $10,000 invested over the course of a year, you would be charged $50 a year. But as stated, this $50 would be charged monthly so you would really only charged $4.17 a month.
So this is one way Wealthsimple makes it's money! They take small monthly fees from their clients portfolios each month. And while these fees are quite small for the every day investor like you and me, you can imagine how these fees add up to substantial revenue for Wealthsimple with billions of dollars under assets.
If you already have a Wealthsimple account and want to see where you can track your fees. Go to your account and go to "Activity" and then you'll see a "Fees and Reimbursements" row on the left hand side as shown in the image below.
If you don't yet have a Wealthsimple Invest account but want to open one, go here and get a $25 bonus when you sign-up.
2. Wealthsimple Trade
Next we have Wealthsimple Trade. Behind Wealthsimple Invest, Wealthsimple Trade is Wealthsimple's second most popular product.
Wealthsimple Trade is Wealthsimple's self directed investment platform where clients can buy and sell thousands of stocks and ETFs on major North Americans stock exchanges.
But what's unique about Wealthsimple Trade is that they actually don't charge any commission fees for buying or selling securities on their platform.
And because of this, it begs the question, well how does Wealthsimple Trade make money?
Wealthsimple Trade generates revenue by charging clients a 1.5% currency conversion fee on USD to CDN conversions when trading US-listed securities. It's important to note that Wealthsimple doesn't make money when you purchase Canadian shares or ETFs as it won't cost you, the investor, any money as there is no conversion to be made.
How to Calculate Wealthsimple Trade's Currency Conversion Fee
Step #1 – Determine the total price of your investment in USD.
Step #2 – Google the Current USD to CDN exchange rate.
Step #3 – Multiply the current exchange rate by 1.5%.
Step #4 – Multiply the number you get in Step #3 by the total price of your investment in USD (from Step #1).
Step #5 – Multiply the current USD to CDN exchange rate by your total price of investment in USD (from Step #1).
Step #6 – Subtract the number your get in Step #5 from the number you get in Step #4.
Step #7 – This is the conversion fee you will pay. It will automatically be included in your total cost of order.
Let's break down these steps in an example.
Let's say Bryant decided to purchase $1,000 worth of Apple stock. Because Apple is an American company, this would be $1,000 USD. And for simplicity sake, let's assume the current exchange rate is 1.3 when converting from USD to CDN.
So all you would do now is multiply 1.3 by 1.5% (1.3*1.015) which would equate to 1.3195.
Then you'd take this 1.3195 and multiply it by your purchase amount which is $1,000 USD. So the total cost to you would equal $1,319.50 CDN.
Then to figure out how much you are paying in conversion fees, multiply 1.3 by $1,000 which would equal $1,300. Then subtract this $1,300 CDN from your total cost of $1,319.50 CDN and you'll get $19.50 CDN.
So in this example here, Bryant's total purchase price for buying $1,000 USD of Apple stock is equal to $1,319.50 CDN and his total cost (conversion fee) for doing this is $19.50 CDN.
So hopefully this example here helps show how Wealthsimple Trade generates revenue for the company. While they don't charge commissions on buying and selling stocks, they do charge these "conversion currency fees" which can certainly add up.
Start Trading Stocks with Wealthsimple Trade Today ($25)
Earn a $25 Bonus with Sign – Up
No Commission Fees
 Investors Can Buy Fractional Shares
 No Minimum Balance Requirements
Beginner Friendly App and Desktop Platform
Access to the Crypto Markets
3. Wealthsimple Crypto

Next we have Wealthsimple Crypto. This is Wealthsimple's crypto currency product and it is actually Canada's first ever regulated crypto platform. Pretty neat if you ask me, and yes I use it too!
Wealthsimple Crypto is setup to work along side Wealthsimple Trade in the same platform.
So let's talk about how Wealthsimple Crypto makes money.
In short, Wealthsimple Crypto makes money by charging an operation fee of 1.5% -2% per transaction. So if you buy $10 worth of Bitcoin, Wealthsimple will take a $0.15 cut and you will only actually be purchasing $9.85 worth of Bitcoin. These fees help to cover Wealthsimple's operational, trading, storage and liquidity costs.
I've included a screenshot here below to show exactly how this works when buying crypto currency on Wealthsimple.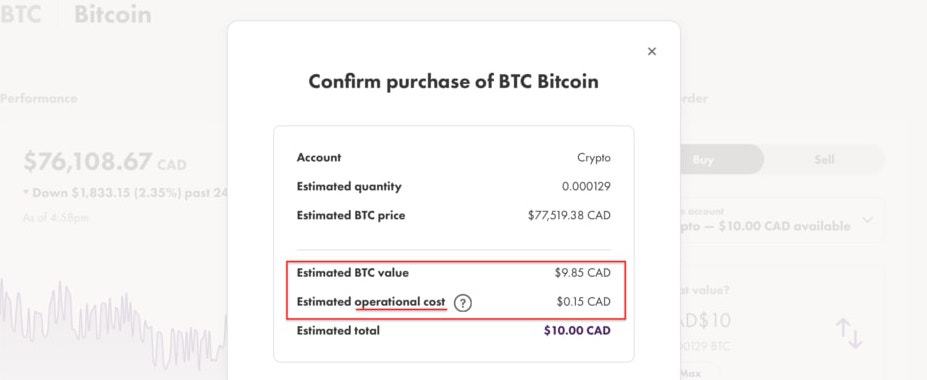 In Case You Were Interested: Wealthsimple works with Gemini Trust Company LLC for the storage and liquidity of your coins. Gemini is a regulated crypto custodian with $200M in insurance storage coverage.
Start Trading Crypto with Wealthsimple Crypto Today ($25)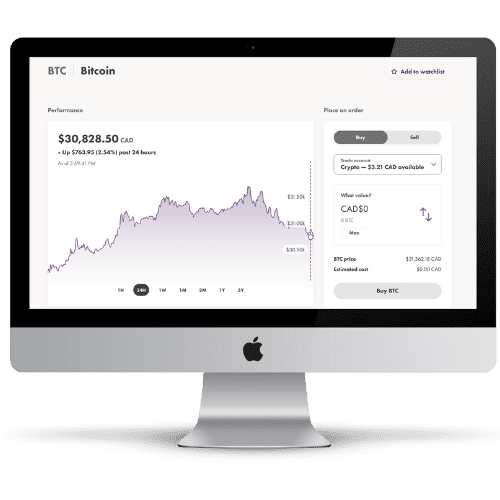 Earn a $25 Bonus with Sign – Up
Canada's first regulated crypto trading platform.
Trade Bitcoin, Ethereum, Dogecoin and 50+ coins
Send and receive crypto to external wallets
Get up to $5,000 instantly
All-in-one pricing
4. Wealthsimple Tax
Next we have Wealthsimple Tax.

Wealthsimple Tax is one of Wealthsimple's relatively new products and it was actually formally known as SimpleTax. So if you go on simpletax.ca now you'll see they've changed their name to Wealthsimple Tax.
Wealthsimple Tax is a tax filing software that makes it super easy for Canadians to file their taxes. Instead of going to a company like H&R block, Wealthsimple Tax allows you to do it all from the comfort of your own home. You don't have to go anywhere or speak to anyone.
Okay, so how does Wealthsimple Tax make money for Wealthsimple?
Wealthsimple Tax makes money by using a pay-what-you-want revenue model where the customer decides how much they wish to pay. In other words, after you file your taxes with Wealthsimple Tax, you can choose to pay however much you want for the services just provided to you. You can even pay as little as $0 if you wish.
I actually reached out to Wealthsimple personally about this one because I wanted to be sure this is the only way Wealthsimple Tax generated revenue.
Here is what Victoria, the support agent said to me:
With Wealthsimple Tax, you pay a pay-what-you-want fee . What is more important for us is to provide financial freedom to as many Canadians as possible. Making our services free/low in cost allows us to work towards this goal.

Victoria – Wealthsimple Agent
And while this may sound too good to be true, it's the truth! I've used Wealthsimple Tax for the last 2 years and can personally attest to this. I usually pay $15 myself as I like supporting a software that I really like using, and the amount is taken right from my refund, so I don't even feel the pain of paying for something.
But hey, if you use Wealthsimple Tax and pay $0, I'm not judging!
5. Wealthsimple Cash
And last but not least, we have Wealthsimple Cash. Wealthsimple Cash is one of my favourite Wealthsimple products and one I actually use on a daily basis.
While it's not a bank account, it comes with a Visa Debit type card and a mobile app that you can upload money on and use for buying goods and services or sending money to friends and family.
But many users wonder, because it's free to use, with no monthly fees or transaction charges (not even with ATM withdrawals), how does Wealthsimple Cash make money?
Wealthsimple Cash actually doesn't generate any revenue for Wealthsimple. Wealthsimple Cash is offered to clients completely free of charge with the hope these clients will also use Wealthsimple's revenue generating products like Wealthsimple Invest or Wealthsimple Trade.
But don't take my word for it. I reached out directly to Wealthsimple for this answer. I spoke with one of their customer support agents named Amaar and asked if Wealthsimple Cash generated revenue in any way shape or form.
Here is what he had to say:
It does not. We offer Cash as a simple financial product for clients, and a way for more people to try our other products that do generate revenue, such as WS Invest or Trade

Amaar – Wealthsimple Agent
So think of Wealthsimple Cash as kind of like a lead generation product for Wealthsimple to attract customers over to their more lucrative products. Smart idea really!
And to repeat myself, I've been using Wealthsimple Cash since 2020 and I really like it. I use the Cash Card for all my day-to-day transactions.
Conclusion
To conclude,
Wealthsimple Invest makes money by charging clients a 0.4% – 0.5% management fee.
Wealthsimple Trade makes money by charging investors a 1.5% fee on the USD conversion rate.
Wealthsimple's Crypto product earns money by charging a 1.5% – 2% operation fee on each transaction.
Wealthsimple Tax earns money through a pay-what-you want revenue model where customers pay an amount based on their filing experience and what they can afford.
Wealthsimple Cash does not generate revenue for Wealthsimple.

And that's that! I hope this article provided you with the information you were looking for.
If you are looking to invest with Wealthsimple Invest, check out my review article here on why I recommend and invest with them myself. If you'd rather just jump right in and start investing, then get started here and earn $25 for doing so!
As always, thanks for reading!
Geek, out.