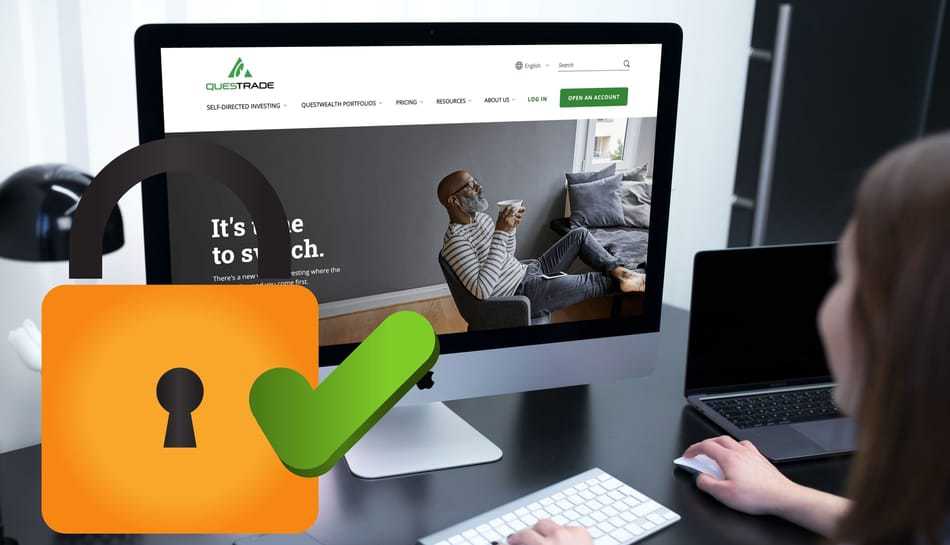 Founded in 1999, Questrade is one of the most well-established names in the Canadian brokerage industry. With more than 50,000 Questrade accounts opened annually, you may feel like you are missing out on building wealth by not having an account of your own.
However, the popularity may feel a bit too good to be true, and you may be asking yourself: Is Questrade safe?
In short, Questrade is a very safe platform to invest your money in. Questrade is regulated by the Investment Industry Regulatory Organization of Canada (IIROC) and is insured by the Canadian Investor Protection Fund (CIPF), making Questrade just as secure as the big banks.
While investors can feel safe providing their personal information and investing their money with Questrade, online security can never be completely guaranteed without some common sense measures taken by the account holder.
As a result, the following breakdown looks at how Questrade protects your funds and personal data and what they recommend for enhancing security. 
Is Questrade Safe?
Questrade is a safe platform on which you can transfer your money into in order to trade stocks and securities. 
Some people are skeptical of Questrade because it does not have any physical branches and operates entirely online, but it has all of the account protection features of the big banks. 
For example, Questrade is protected by both the IIROC and CIPF, which is required for Canadian banks to receive accreditation. Through a combination of the CIPF and private insurance agencies, Questrade actually offers up to $11 million per client in the event of bankruptcy.
In addition to this, 100% of all unauthorized transactions are reimbursed to the account holder in the event of fraud.
Is Questrade as Safe as a Bank?
Questrade is as safe as the big banks. Questrade is regulated by the IIROC and is a member of the CIPF, both of which are required for Canadian banks to meet regulatory requirements. 
The two organizations serve the following functions: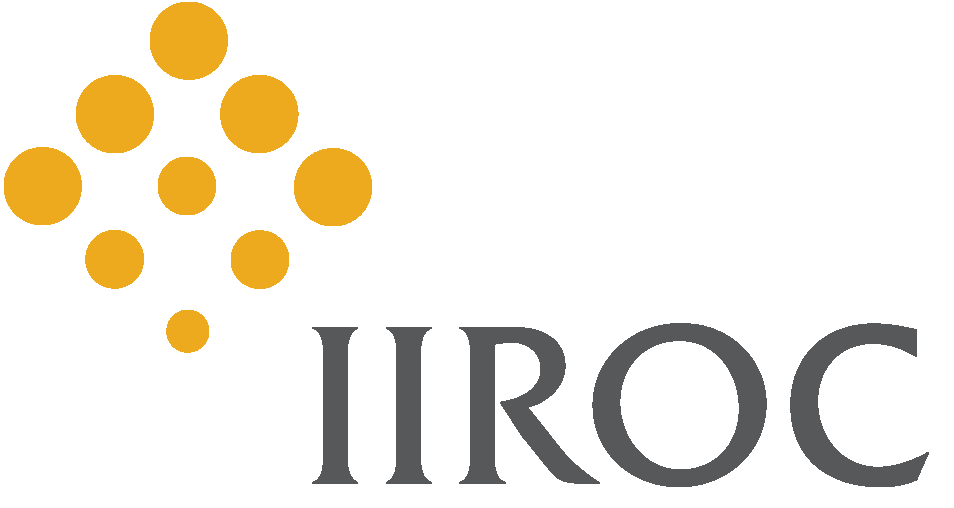 IIROC – The Canadian self-regulatory organization that oversees all investment dealers and trading activity on debt and equity marketplaces to protect investors
CIPF – Protects investor assets in the event of a Questrade bankruptcy
In addition, as Questrade has over $25 billion in investor funds under its administration and opens over 50,000 new user accounts each year, investors can feel very safe about opening an account with Questrade.
Is It Safe to Give My SIN to Questrade?
It is safe to give your SIN to Questrade. In fact, it is required by law for Questrade to collect your SIN for income tax reporting purposes. In other situations where separate account holders have the same first and last name, Questrade may need to use your SIN as a unique identifier. 
Whenever Questrade uses or stores your personal information, any and all data is kept strictly confidential. 
In addition, any time that Questrade is required by law to share your SIN with a third party, the receiving party is likewise contractually obligated to keep all information confidential under the threat of criminal penalties. 
Related Financial Geek Article: 9 Reasons Why Questrade is Good for Beginners
Is Questrade Legit?
Questrade is a legit platform to invest your funds in stocks, bonds, options, ETFs, and mutual funds. It has the same regulatory backing and insurance as the big banks, protecting account holders in the unlikely event that the company becomes insolvent.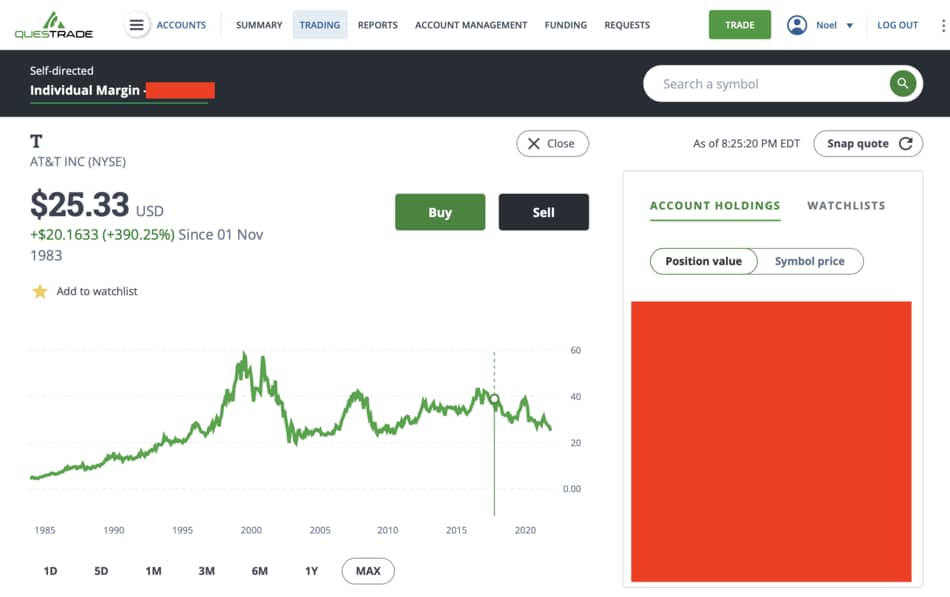 In addition, Questrade goes to great lengths to protect its users from fraud, offering 100% reimbursement for transactions that the account holder does not expressly authorize.
However, while Questrade is a perfectly legit company from a business standpoint, it does not mean that your funds are guaranteed to grow on the platform. 
As with any form of investment, there is an element of risk involved in exchange for the possibility of growth, and it is possible that investors can lose money if they do not know what they are doing or engage in reckless investing behavior. 
Related Financial Geek Article: Is Investing in Stocks Gambling?
How to Enhance the Security of Your Questrade Account
Questrade makes protecting the personal and financial information of its users a top priority. With appointed privacy officers to ensure that Questrade is compliant with all relevant Canadian privacy legislation, Questrade uses a multi-layered approach to safeguard user personal information and ensure that accounts are convenient, safe, and secure. 
However, even though Questrade is a safe company that offers many forms of user protection, any time business is conducted online, there is always a chance of a data breach at the hands of cybercriminals. Therefore, the company recommends that users take the following steps to further enhance the security of their accounts:
Update your computer – Set up your computer with the best anti-virus, anti-malware, and anti-spyware software. Set the firewalls so that unauthorized attackers cannot access information on your computer. Use the latest versions of trusted web browsers, such as Chrome or Edge. Make sure your wireless network is password protected. 
Use safe online practices – Make a unique username and password for your Questrade account and update the password every 180 days. Set up 2-factor authentication, preferably using a mobile authenticator. Do not access your Questrade account from public computers or on public Wi-Fi networks. Always log out of your account after each session.
Carefully review your account – Regularly check account documents to ensure that any transactions reflected were initiated by you. If you print any account information, do not leave it lying around in an unsecured location. Keep all personal information, such as mailing address, up-to-date. Do not leave any other information that can be linked to your Questrade account, such as your SIN or bank account, unsecured.
Final Thoughts
And that's it folks! The bottom line is that Questrade is a safe, legitimate brokerage platform to trade stocks, bonds, options, ETFs, and mutual funds.
Despite not having any physical locations, the company administers more than $25 billion in user funds, with investors opening more than 50,000 new Questrade accounts each year.
I think it would be hard for a company to grow like that with that much money under assets if they didn't offer a safe, reliable and legitimate platform. 
Not only that, but because Questrade is regulated by the IIROC and insured through a combination of the CIPF and private insurance, it offers every bit the same level of protection as big Canadian banks.
So to be crystal clear, Questrade is a safe and legit company to invest with. I have personally been using the platform for years, and along with the other hundreds of thousands of Questrade users, I have never had a security issue.

Thanks for reading!
Geek, out.