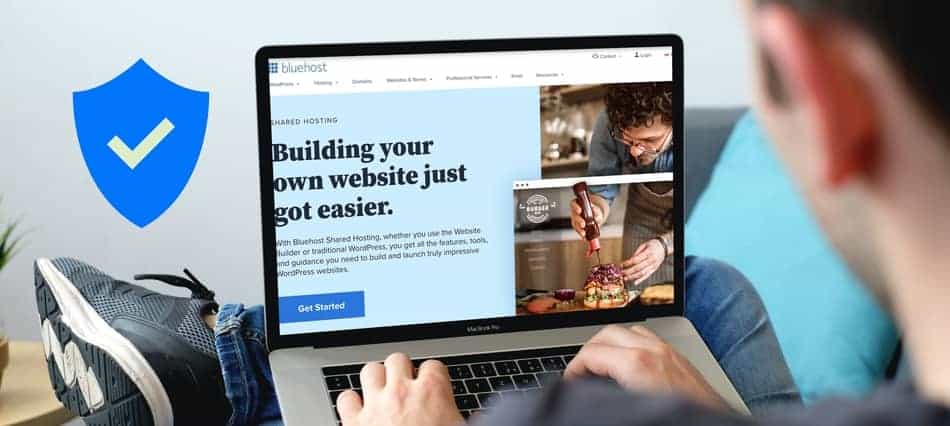 If you're planning on starting a new blog or website, the first thing you'll need is a reliable, high-quality, and secure website hosting provider.
Typically, if you do a quick Google search for something like "best web hosting companies," Bluehost is almost certain to come up as one of the first options. 
But what exactly is the big deal with Bluehost? And more importantly, is Bluehost safe, legit and secure?
Bluehost is a very safe and legit platform to host a website on. Bluehost applies SSL certificates and encrypted connections to help protect all of its users' private information, e-commerce transactions and any other potential sensitive user data and information.
As someone who has been hosting blogs on Bluehost for well over two years, I can honestly say that I have never had any sort of security issue or threat on the platform.
If you are looking to start your own website or blog with Bluehost, check out my article Start a Blog in 3 Easy Steps | Step by Step Guide (2022) This article will give you a detailed, step by step guide on how to go about getting a blog setup. It's the exact same method I use for setting up the current blog you are reading, and again – it's really inexpensive.
But if you're just looking to learn more about the security measures that Bluehost has in place, then read on.
Start a blog with Bluehost Today
Looking To Start Your Own Website or Blog?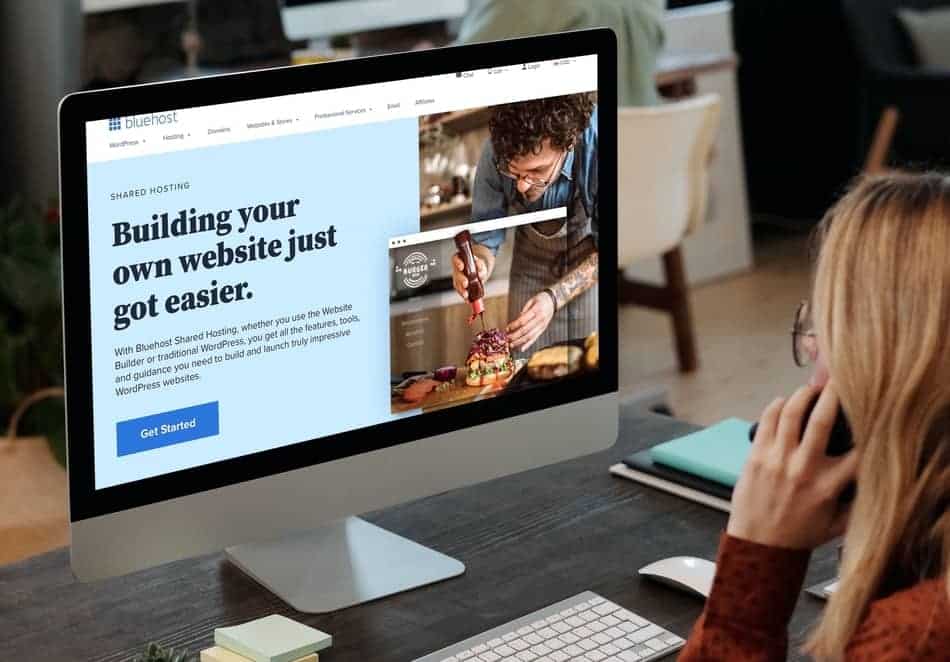 Try Bluehost Today (Less than 5$/Month)
70% Off with Sign up Through the Financial Geek
1-Click WordPress Install
Free Domain Name with Sign Up
300+ Design Templates
24/7 Expert Support
Is Bluehost Safe and Legit?
So as just mentioned, Bluehost is a safe, legit and secure hosting platform for anyone looking to start their own website.
With over 2 million active domains and having been in existence since 2003, Bluehost is one of the top web hosting platforms in the world. Bottom line.
If you are wondering where we are getting our information from, we went straight to the source and asked Bluehost ourselves.
Here is part of the conversation we had.
Me: Is Bluehost a safe platform to host a website on? And what security measures do they put in place to keep its users website secure?
Swathi – (Bluehost Support Employee): Yes, we do applies SSL certificates and encrypted connections to protect users' private information, e-commerce transactions, and other sensitive data. Specifically, when you choose a Shared hosting plan, your site's performance remains safe and sound. Bluehost uses CPU and memory to monitor server resources, also if you need additional service you can also enable site lock service
So as you can see from Swathi's response here, between SSL certificates, encrypted connections, CPU memory and site lock service, Bluehost does a lot to keep its user's data safe and secure.
On top of all of this, Bluehost's most basic plan offers's 1GB of storage capacity, monitoring, and daily backup.
And to crown it all, Bluehost now actually has one-click integration with Cloudflare, which adds even more security protections and speeds up your website! Cloudflare is especially effective at preventing DDOS assaults. 
Recommended Reading: Make Money on a Website Without Selling Anything | 7 Simple Ways
Can I Trust Bluehost? 
Bluehost is a very trustworthy web hosting provider that provides excellent value for what it costs. So if you are looking to start your own blog or website and are wondering about if you can trust Bluehost or not, I am here to tell you without hesitation that you certainly can.
Not only does it offer a good entry-level shared hosting service for as little as $2.75 per month, but you'll also get a free domain name for a year, free SSL certification, and plenty of customer support.
With that said, making a decision like this based only on one piece of information is never a smart idea, so make sure that you do some shopping and be sure to choose a hosting platform that fits your needs.
Here are some of Bluehost's biggest competitors – Hostinger, A2 Hosting, GreenGeeks, iPage, HostGator, Dreamhost.  
Is Bluehost Encrypted?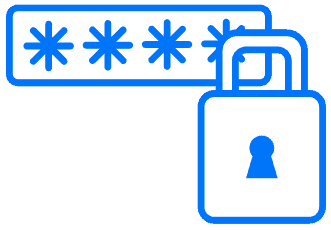 Bluehost encrypts all of it's user's data.
As mentioned earlier, when I asked Bluehost directly about this, they said "Yes, we apply SSL certificates and encrypted connections to protect users' private information, e-commerce transactions, and other sensitive data."
Basically, by Bluehost offering SSL certificates to all of it's users, it provides a very high level of security for all online communications. So when a another web browser contacts your website, this SSL certificate will make sure the connection is encrypted.
When I asked the Bluehost Customer Support agent Swathi to help simplify all of this to me, he actually did a great job and said "it's kind of like sealing a letter in an envelope before sending it through the mail".
And I know what you are thinking, this is all extremely riveting stuff. How could you not read on! (Sarcasm)
What Does Bluehost Offer? 
The most popular hosting plan at Bluehost is shared hosting, which allows you to get your foot in the door and get your site setup and running.
When Bluehost's shared hosting is compared to other hosting providers, the free SSL certificate and domain name bundle stand out as the most crucial features. However, it does its work by hosting your website on a server where it will share space with other websites similar to yours.
Bluehost has a 30-day money-back warranty on its plans. That means you'll get a full refund if you cancel within the first 30 days. However, you will not receive a prorated refund for the portion of your hosting term that you have not used if you cancel after that.
Quick Note: Domain registration costs are non-refundable.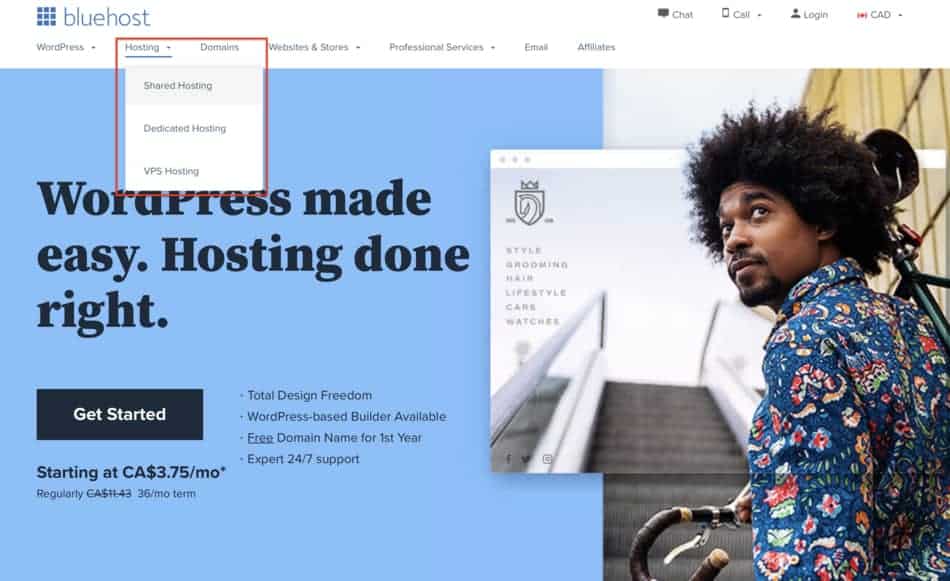 In addition to hosting services, Bluehost can assist your company with design and marketing tactics, permitting you to use more time on revenue-generating activities and operating your business. Bluehost provides the following key services in this area: 
Search engine optimization (SEO) services to optimize your website and target keywords.
Content assistance, marketing and design.
Pay Per Click services to help with pay-per-click campaigns and best practices for attracting new clients.
Who is Bluehost Best Suited For?
Bluehost is ideal for beginners building their first or second website. If you're a novice blogger, Bluehost makes it simple to get started without having to worry about technical details.
Also, Bluehost makes sure your learning curve is as quick as possible, and that your site is publicly visible to the world with high uptime.
So if you're looking for a professional and trusted web hosting platform, then search no further than Bluehost.  Bluehost is a well-known brand with a long, successful track record.
Bluehost is equally a great ideal for owners of small and large businesses, and it's a wonderful alternative if you're on a limited budget and merely require general-purpose shared hosting. 
As mentioned earlier, I personally use Bluehost for this blog and I have to say, I have had an absolutely amazing experience with them so far.
Their customer service is top notch, it's very, very inexpensive and it's really simple to use and navigate, which for beginners, is all we really want.
Start a Blog with Bluehost Today
Conclusion
With Bluehost, you won't find a more safe, reliable, secure, beginner-friendly, dependable, inexpensive, effective web host on the market, and for this reason, Bluehost has definitely earned our recommendation.
Whether you decide to go with Bluehost or not, I hope this article helped clarify some things for you, now it's time for you to make a decision that best suits your needs!
Recommended Reading: Make Money Online as a Beginner | 17 Proven Ways
As always, thanks for reading!
Geek, out.