Along with Bitcoin, Ethereum is seen as one of only two blue-chip cryptocurrencies that will likely be able to survive any market crashes. Ethereum is the primary utility network in the crypto industry and is the most widely used blockchain for things like DeFi and NFTs.
This makes the Ethereum token, or ETH, extremely valuable for both crypto investors and users of the blockchain. 
But how valuable is Ethereum? Can this blue-chip crypto ever reach the dizzying heights of $100,000?
Despite the current state of the crypto markets, there are a surprising number of experts who believe that Ethereum can absolutely hit $100,000 at some point in the future. 
Obviously this isn't a reality in the near future given the fact that we might just be entering our next crypto winter.
And by the way, while I have you – THIS IS NOT FINANCIAL ADVICE AND I AM NOT AN EXPERT!  Is Ethereum a good investment, I have absolutely no idea, but yes, I invest in it because I do think it it will rise in price during the next bull market, but I very likely could be wrong, so please do your own research before making any decisions on this.
Can Ethereum Reach a Value of $100,000?
We've all heard about the price targets for Bitcoin to hit $100,000, but can Ethereum really follow in its footsteps? Given Ethereum's importance to the crypto industry, I believe that ETH has the potential to eventually reach prices as high as $100,000 within the next few decades. 
But will it? This is another question altogether. It seems as though Bitcoin will first have to make the climb to six figures, especially given how much larger its market cap is. Unless a strong bull market returns for NFTs and DeFi, it might be a while before we realistically see Ethereum anywhere near a target of $100,000.
But again, this is long term thinking here, and it's not financial advice. I am purely speculating.
The merger to Ethereum 2.0 is also a major catalyst. A switch from Proof of Work to full Proof of Stake allows for more ETH to be burned and a lot more transactions per second via a process called sharding.
It also allows Ethereum investors to stake their tokens to improve security and verify transactions on the blockchain. Staking Ethereum provides investors with more ETH as a reward, so the incentive is there to solidify the network.
How High Can Ethereum Go Realistically?
As one of the two primary blue-chip cryptos, the sky could be the limit for Ethereum in the future.
As Bitcoin and Ethereum go, so too do the crypto markets right now. If you search for this, you'll find some pretty wild and outlandish price targets, ranging anywhere from $50,000 to $150,000 per ETH over the next decade. 
But is this a reasonable price target? I have no idea, but most people didn't bake in the sudden emergence of a crypto winter when making these bold predictions.
How much further has this crypto market crash delayed Ethereum's potential rise to $100,000? Consider that Ethereum fell from its all–time high price of $4,865 to its current price of just over $1,300 in less than a year. (As of September 2022)
When you look at it this way, Ethereum is probably not anywhere near reaching $100,000 in the next few years. Given the severity of this crypto winter, it might be a few years until we see Ethereum back to its all-time high prices.
From there, it would need one heck of a crypto bull market to double to $10,000. So let's hit some of these milestones before we realistically talk about Ethereum to $100,000.
What Experts Think about Ethereum Reaching $100k
Crypto experts were certainly singing a different tune before all of this mayhem hit the crypto markets. It was quite common to see bullish price targets that coincided with the Ethereum merge. The important thing is to always take any price target with a grain of salt. This year is a perfect example of how unpredictable the crypto markets really are.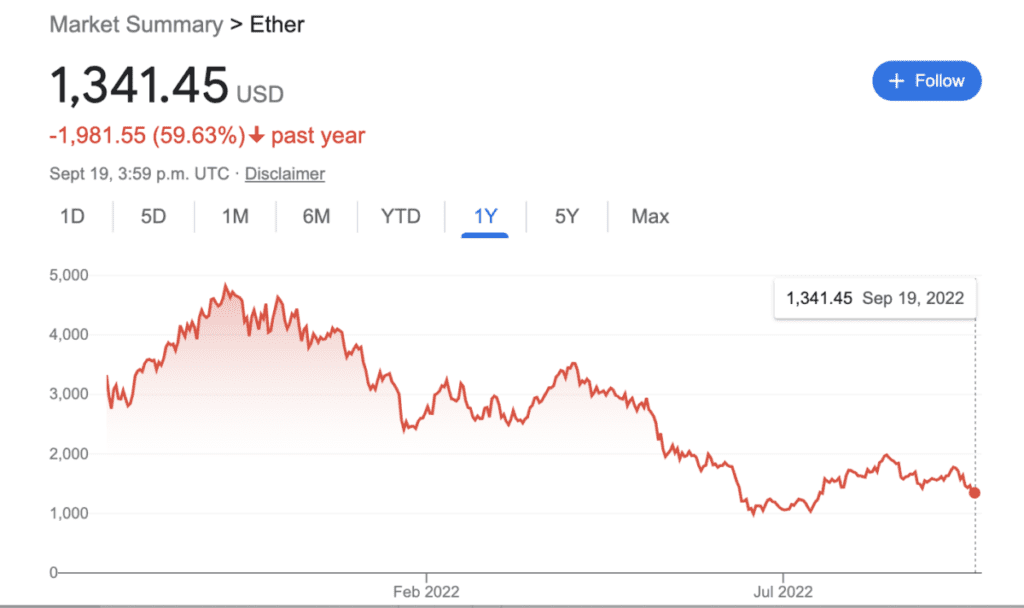 While most experts wouldn't predict Ethereum reaching $100,000 right now, that doesn't mean you can't find legitimate analysis on its potential price in the future. Ethereum has a number of bullish catalysts including being the primary utility blockchain for DeFi, staking, and NFTs. 
There are a variety of crypto price target algorithms on the market, and many of them have Ethereum's price in the $10,000 range by 2025. But even by 2030, it doesn't look like many believe that Ethereum will hit $100,000. Nobody is doubting that ETH can hit that milestone, it is more a matter of when it will hit that price target. This is a question that not even legitimate crypto experts can answer.
Is ETH (Ethereum) a Good Long Term Investment?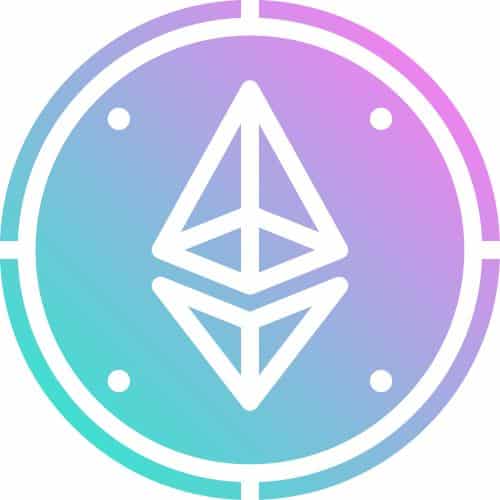 So are you ready to hold your Ethereum investment for decades? It seems like that is how long it is going to take for Ethereum to ever come close to $100,000. (in my opinion – not financial advice)
If you ask most Ethereum investors, they would probably just be happy to see it bounce back to the price levels it was trading at last year in 2021.
In my view – Ethereum is a great long-term investment.
The blockchain is so ingrained in the crypto universe that it would be hard to imagine the world without it now. Its co-founder Vitalik Buterin is fast becoming a household name, and investing in Ethereum has hit the mainstream with plenty of institutional buy-in.
But hey, the mantra of crypto investors is always to hold, or hodl, forever.
So remember, investing in cryptocurrencies should only be done with money you can afford to lose. While it seems unlikely that Ethereum would ever go to zero, there is certainly the potential for more market volatility in the future. 
Conclusion: Can Ethereum Reach $100,000?
The answer to this question is yes, although the caveat to the answer is when this will actually happen. Nobody doubts that Ethereum has the potential to reach $100,000 one day. But I think it will take a long, long time.
So if you are expecting ETH to reach $100,000 in the near term, you might be disappointed!
And I have to say one more time, everything stated in this article is based on my own, non expert opinions. This should not be seen and acted upon as financial advice. I am not an expert.
Geek, out.