For anyone under eighteen that's looking to make some quick money, there's always the traditional job route for those old enough. But what if you're too young and you need to get $500 as a kid?
Or what if you're a parent trying to help your kid make $500 fast?
This article lists how a kid can get $500 fast. The first several ideas include some tried and true ways for a kid to quickly set up a simple business to turn a profit. We'll then look at some other methods that, while requiring some up-front work, can lead to an opportunity to quickly create a $500 return.
1. House Sitting
For decades in the United States, kids and adults alike have made quick cash by spending days or weeks (sometimes even longer) taking care of the homes of those who are on vacation or on a sabbatical. Let your friends and family and neighbors know that you are available to house sit, provide a list of references, and you might be surprised, you may have immediate work.
The job is simple: Stay in the home, keep it clean, get the mail, water plants, and provide a presence in the home while the owners are away. Not only does this provide a constant presence in the home and keep things running smooth, it puts quick cash in your pocket.
2. Pet Sitting
Although this may fall into the same sphere as house sitting, the emphasis here would be on the pets.
Pet sitters could have a full-time job or a part-time job, as many people want their pets taken care of every day while they're at work. As with house sitting, put the word out that you wish to work with pet owners to provide a pet-sitting service.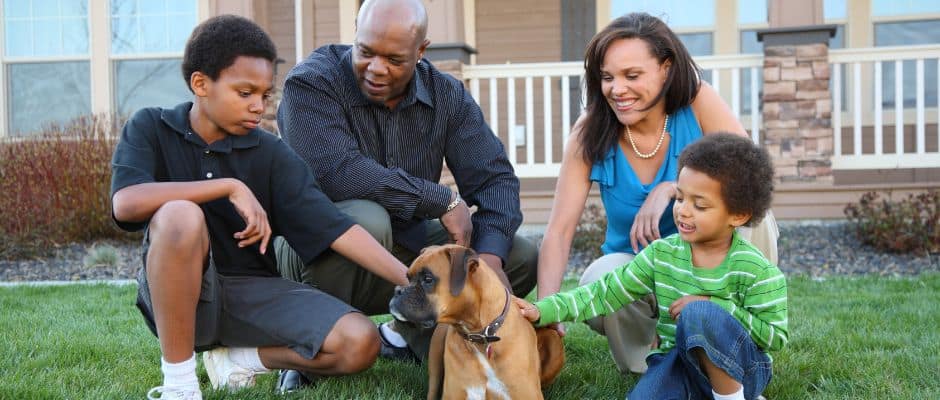 Pet sitting can be as simple as showing a few times to a day to provide animals with food and water, or it can include walking dogs, cleaning cat litter boxes, or providing hugs and snuggles with the owner's furry friends during the owner's time on vacation. Can you imagine getting paid for that!?
Related Financial Geek Article: 9 Legit Ways You Can Make $1,500 a Month From Home
3. Landscaping
While the big commercial landscapers may hold the market on major landscaping jobs, there are lots of opportunities for kids to mow lawns, water plants, pull weeds, or even just rake leaves. Look at each season's needs and use social media or flyers to let folks know that you're available to help out.
You can make $500 in a few days by raking leaves in the fall, pulling weeds in the spring, or mowing lawns when the grass is growing.
4. Personal Shopper
For those kids old enough to drive (or ride a bike or take public transportation in metropolitan areas) being a personal shopper is a great way to make $500 fast.
Before COVID and even more so in the time since, many people rely on personal shoppers. Not only for the convenience of not having to leave home or the office, but because many people are too busy to spend time buying groceries, household staples, or clothes.
There's no need to go work for a company that provides this service if you have the discipline and spirit to put yourself out there and advertise your services. You could build a clientele of regulars in your neighborhood or apartment complex that will pay you weekly to pick up their medications or groceries. A kid working as a personal shopper can make a quick $500.
5. Trash/Mail Service
Believe it or not, when some folks leave town, all they need is for someone to grab their mail or take out the trash during their absence. A few quick trips a week for several clients could result in $500 in cash and tips within weeks. There's virtually no overhead unless you have to drive a bit.
6. Resell Items
A short search online will show you that there are many folks reselling things like golf balls to make quick cash. One industrious person finds lost golf balls, cleans them, and resells the good ones to major chains including Wal-Mart.
In that sense, virtually any reusable item in good enough shape can be resold. Household items no longer in use can be sold to consignment stores or second-hand stores. Or, as with the golf balls, items collected (legally, of course) can be refurbished and resold.
7. Digitize Photos
As any adult can tell you, kids are amazing with technology. All it takes to digitize photos is a scanner and a computer, phone, or a tablet with the appropriate software. A kid can ask their relatives, friends, or neighbors if they have photos they want in a digital format.
You could put on your favorite movie or TV show and scan photos for customers needing this service. It's simple work for quick cash, and a kid could make a fast $500!
8. Set up Social Media Accounts
Like the digital photos, another way a kid can utilize technology for fast cash is by helping people set up their social media accounts. Although social media accounts like Facebook or Twitter or TikTok are quite easy to use, for certain members of society, setting one up could be difficult.
What better way to use your skills doing something you enjoy than to help someone create their social media account? You can do it right from the safety of your own home. All you need is your own device, and some basic information from the person who needs the account, as well as have them send you some photos they'd like to upload.
9. Investing in Stocks
Gone are the days of only adults trading stocks. These days a parent or guardian can obtain a custodial trading account for their child. Once the account is set up, the kid can take whatever cash they may already have and transfer it from their bank account right into their favorite trading app.
Apps such as Robinhood and E-Trade provide user friendly platforms that a kid could not only understand, but also can learn more about trading and how the markets work. Although this method might take some time to get up and running, once you've developed a healthy portfolio, it's definitely possible for a kid to make $500.
Starting to Invest?
Our Recommendation
Start Trading Today

Robinhood InvestOnly in USA

Start investing with just $1
Invest in stocks and ETFs
No commission fees
Access to the Crypto Markets

Start Trading Today
10.YouTube
If you like to make videos, even silly or simple videos at home, consider starting a YouTube channel. Although you need a certain number of followers and traffic to monetize it, over time you could build up to that level and start making an income.
In fact, some very successful (and wealthy) YouTubers started with one video and turned it into a lucrative business. Something meant as a small side-hustle turned into a full-time successful career.
Conclusion: How to Get $500 Fast as a Kid
That's our list of ten ways that a kid can quickly make $500! You can use one or more of these tips to start working now or maybe use a variation of one of them to get some fast cash.
Geek, out.