Some links in this post are from our partners. If a purchase or signup is made through our partners, we receive compensation for the referral. 
Have you decided that it's time to get your feet wet with investing?
If so, that's great. And I'm here to help.
For beginner investors located in Canada, Wealthsimple Trade is, in my opinion, the best platform to get started with. I've personally been using Wealthsimple Trade since 2019 and I really enjoy it.
Before I go through the step-by-step guide on how to create a account, I'll first outline some of the key features and benefits that Wealthsimple Trade has to offer.
9 Reasons Why Wealthsimple Trade is Good For Beginners
1. Free to Sign-up
2. No Commission Fees
3. No Deposit or Withdrawal Fees
4. No Minimum Balance Requirements
5. Investors Can Buy Fractional Shares
6. User Friendly App and Desktop Platform
7. Great Customer Support
8. TFSA and RRSP Account Offerings
Now I should preface all of this by saying, I am in fact a Wealthsimple Trade user – so I am speaking from first hand experience when I talk about this product. Wealthsimple Trade, like any other platform, is not perfect -but for investors wanting to dip their toes in the world of investing, Wealthsimple Trade is the perfect platform to do it on.
Start Trading Stocks with Wealthsimple Trade Today ($25)
Earn a $25 Bonus with Sign – Up
No Commission Fees
 Investors Can Buy Fractional Shares
 No Minimum Balance Requirements
Beginner Friendly App and Desktop Platform
Access to the Crypto Markets
Okay, so for those of you who want to get started with Wealthsimple Trade, let's start by taking you to Wealthsimple's sign-up page.
Because the Financial Geek is a partner of Wealthsimple, you'll get a $25 cash bonus just for signing up through our blog. Not bad, hey?
How to Open a Wealthsimple Trade Account
So first things first, if you haven't already, go here and you'll be brought to the page I have shown below.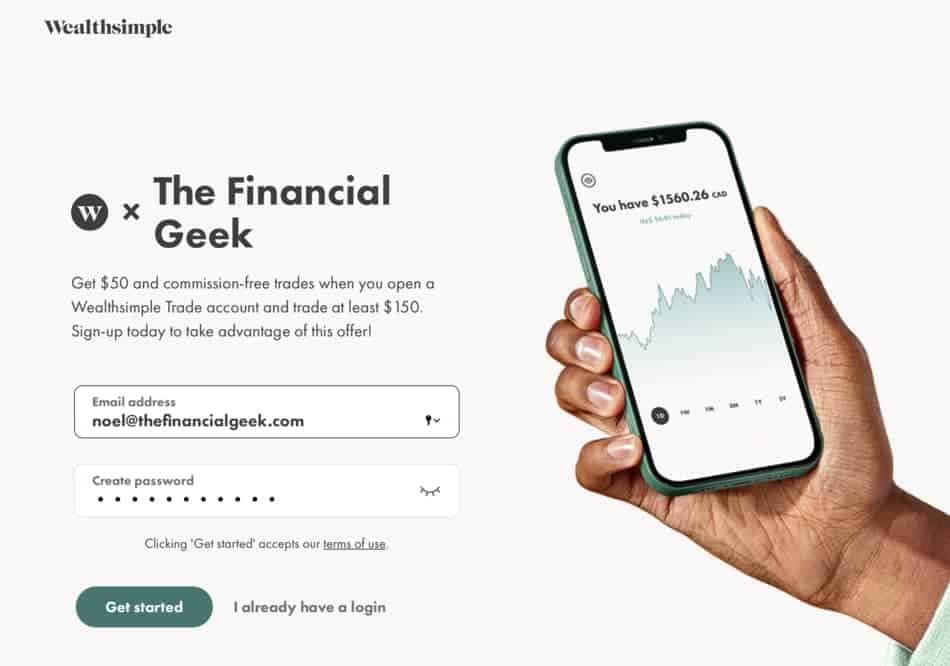 Now click "Get Started".
From there you'll be brought to the page seen below. Put in your phone number and then click "Get the app" .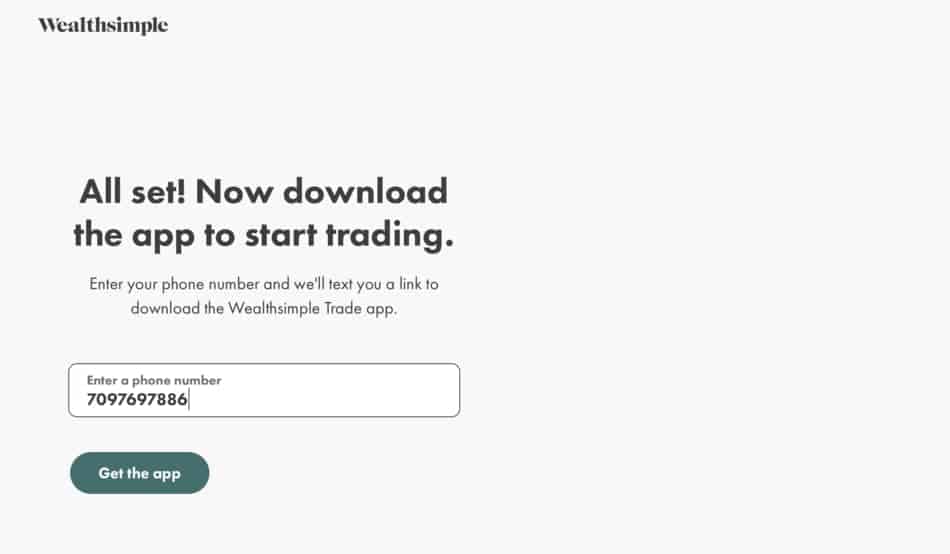 Once you do this, if you're not already on your phone, you'll need to switch over to it and finish the sign-up process from there. At this point you should be seeing a message on your phone like the one you see here below.
From here, click the link sent to your from Wealthsimple which will then bring you to the App Store where you'll need to download the Wealthsimple Trade app.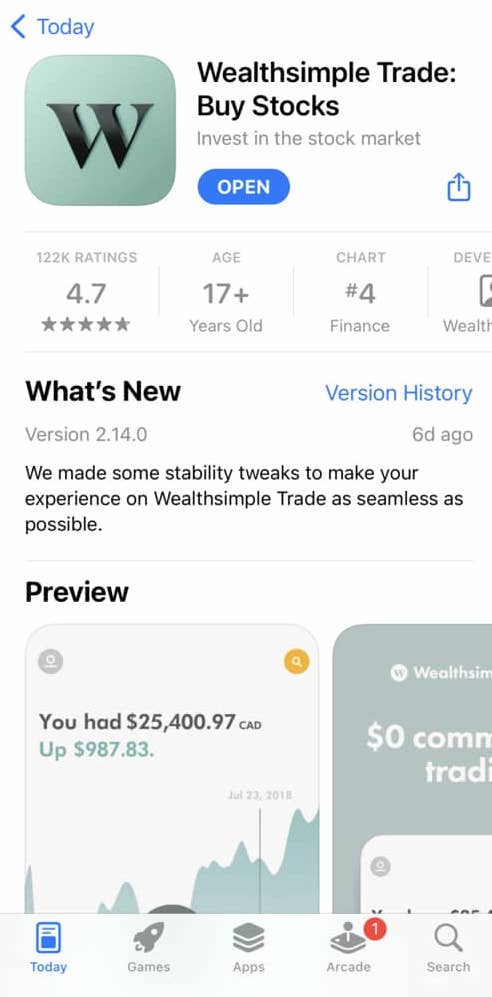 After you download the app, click "Open". You'll then be brought to a page on the app that asks you:
How Do You Want to Get Started?
Option 1 – Sign-up for Wealthsimple
Option 2 – I have a Wealthsimple login ✔
Here you'll want to select "I have a Wealthsimple login". While you don't yet have access to your account, you did create an account when you first put in your email address and a password at the start of this process.
So here you'll want to put in the same email and password you used at the start. Once you click login, you'll be brought into your account. There are still a few more steps to go, but you are almost there.
Okay, so once you click "Log in", you'll be brought to this page shown below.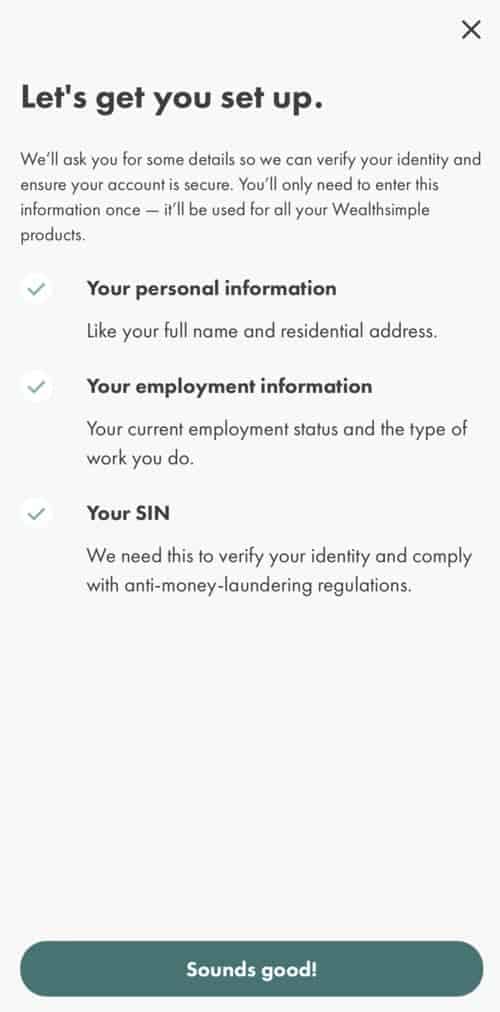 If all this information works for you, click "Sounds good!"
From there you'll be asked a series of 12 questions in regards to your personal information.
Personal Information
1. First name
2. Last name
3. Phone number
4. Date of Birth
5. Citizenship
6. Gender (Don't Have to Say)
7. Residential Address
8. Mailing Address
9. Employment Status
10. Employer
11. Job Title
12. Social Insurance Number
Quick Note: It's completely safe to give Wealthsimple this information. Here is an article I wrote about the safeness and legitimacy of Wealthsimple.
Once you enter your social insurance number, you'll be asked "Do any of these statements apply to you?"
It's unlikely that they will, but if so, select them at then click "Continue".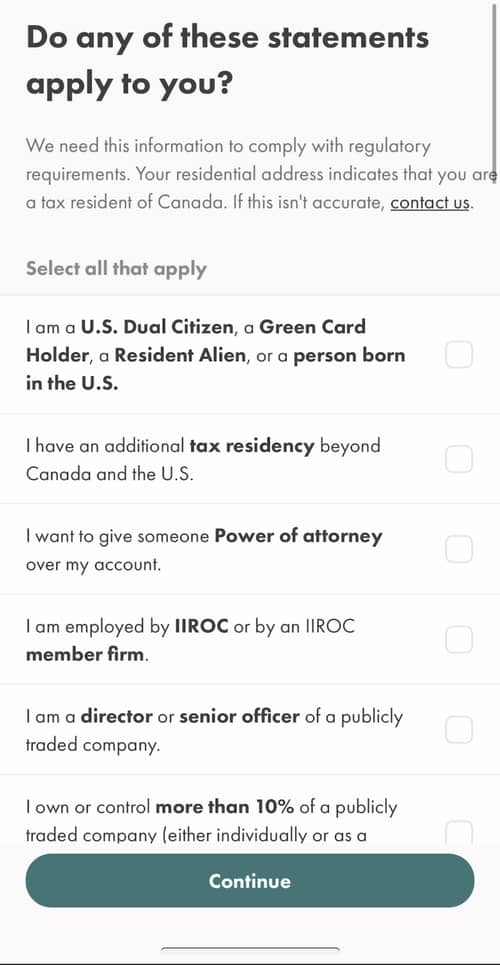 From there, all you do is confirm your details and then you'll see the screen I have shown here below.
Once you get here, click "Continue"
And yes, on top of getting a $25 cash bonus for signing up through our partnership, you'll also get a free stock!
After you click continue you'll get to choose what type of account you'd like to open. You'll be able to choose between:
Finally, once you click Continue you'll have to agree to some terms and conditions (which are safe to do) and then click "Confirm".
Once you click confirm you'll officially have created your Wealthsimple Trade account. Congrats!
Now it's time to add some funds to start investing with!
How to Fund Your Wealthsimple Trade Account
Funding your Wealthsimple Trade account is really simple.
Step 1 – Connect Your Bank Account
The first thing you'll want to do is connect your bank account to your new Wealthsimple Trade account.
In order to do that, select "Move funds" in the side bar menu.
From there, select "Manage bank accounts" and then "Add a bank account".
At this point it's pretty self explanatory, select your bank (as shown above), put in your card number and password and voila! Your account will be connected!
Step 2 – Add Funds
Finally, go back to the "Move funds" page and then click "Add Funds"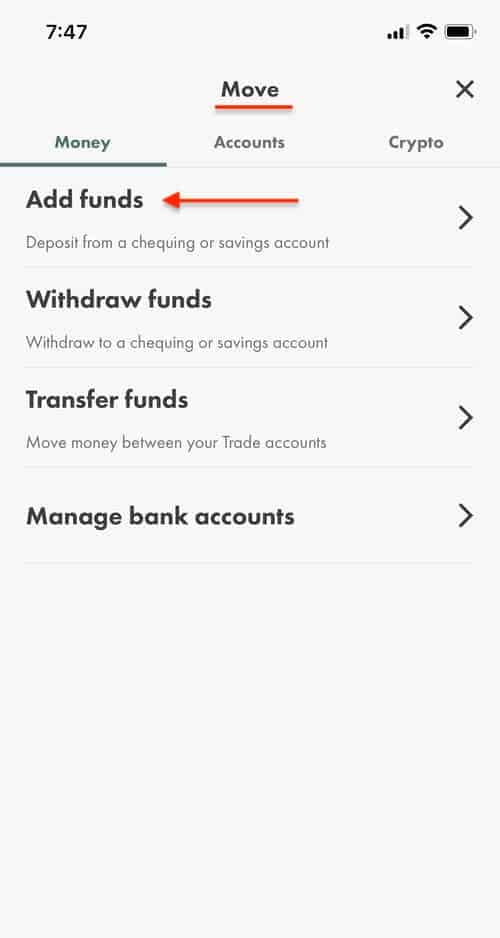 From there, you'll pick the account you want to deposit funds into, if you just opened up your account, you'll probably only have one account to choose from (Personal, TFSA, RRSP).
So select that account, enter the amount you'd like to deposit, and off you go!
The great thing about Wealthsimple Trade is that it's such a user friendly platform to use. While I think the screenshots provided in this article will help, my guess is you'll be able to navigate through the platform with ease.
With that said, here is Wealthsimple's Help Centre article that gives additional step-by-step instructions on how to make a deposit on Wealthsimple Trade.
Sign Up for a Wealthsimple Trade Account
Wealthsimple Trade is a great platform for Canadians who are looking to get started in investing. As I mentioned earlier, I've been using Wealthsimple Trade for a few years now and I love it.
Like with any platform, Wealthsimple Trade does have shortcomings, but pound for pound, it's the best online brokerage platform in Canada.
Of course, that's just one man's opinion. I also use Questrade and I find that to be very good as well. But for beginners, Wealthsimple Trade all the way.
Now for a quick plug: We have partnered with Wealthsimple to give new investors $50 in free cash when they sign-up through our referral. So if you haven't already, sign up here and earn free money for doing so!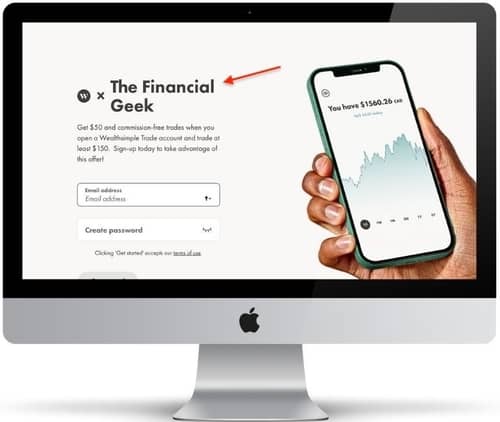 So I hope you found this article helpful folks, and as always – thanks for reading!
Geek, out.