The world of investing has been revolutionized over the past decade, with exciting technological changes allowing finance to be democratized like never before. With that said, there is no shortage of platforms on which you can begin building your wealth on. 
After trying out many of these "non-professional" trading platforms, it becomes clear that not all are created equal, with one name rising to the top of the list: Questrade.
Without further ado, the following breakdown looks at why Questrade is worth using and delves into the reasons why you should open a Questrade account today. 
Top 9 Reasons Why Questrade Is Worth Using
1. Questrade Allows You to Start Trading Today
2. Great for Investors of All Income Levels
3. Relatively Low Transaction Fees
4. No Annual or Inactivity Fees
5. Ability to Trade Both Canadian and U.S. Stocks
6. Outstanding Account Security
7. Intuitive Mobile and Web Interfaces
8. Access to a Wide Array of Financial Instruments
9. Top Notch Customer Service
1. Questrade Allows You to Start Trading Today
Historically, one of the most significant barriers to investing was actually just taking the time to set up an account. 
First, you had to find a broker and/or brokerage to trust. Next, you would have to schedule an appointment. Finally, you would have to gather all of your personal and financial information, attend your appointment, and decide if opening an account was right for you.
After all was said and done, many potential investors decided that the hassle was not worth it and chose to let their extra cash stagnate in their low-yield checking accounts.
Enter Questrade.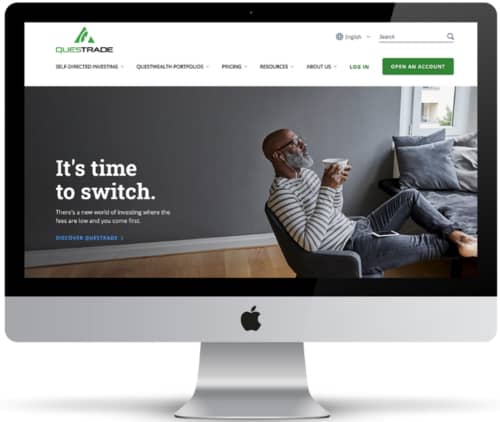 By visiting their website or downloading the app, you can sign-up for Questrade in a matter of minutes, from the comfort of your own couch. Questrade puts the power of investing in your hands, with no sleazy brokers trying to pressure you one way or the other.
Quick Note #1: While there is no minimum balance required for opening a Questrade account, the platform does require that your account balance reach $1,000 prior to trading. 
2. Great for Investors of All Income Levels
A common misconception among potential investors is that they do not have enough money to invest, but this could not be further from the truth.
Investing is like building a snowball. It starts small, gradually grows, and possibly sees a little melt away. However, if you keep rolling that snowball through the snow for long enough, it will be substantially bigger than when it started (thanks to compound interest).
By using Questrade, you can trade in lots as small as one share after your account balance reaches $1,000. This allows you to slowly build your portfolio over time, making Questrade worth it for investors of all financial means. 
3. Relatively Low Transaction Fees
Some may argue against Questrade being worth it on the basis of transaction fees. While there is some merit to this claim for day traders (people who buy and sell a position within the same business day), the transaction fees are very tenable when looked at in the correct context.
Related Financial Geek Article: Top 9 Reasons Why Day-Trading is Bad
Questrade charges a fee of $.01 per share per stock transactions, with a minimum fee of $4.95 and a maximum fee of $9.95. When compared to standard historical commissions, usually between 1-2% per share, these fees are actually extremely modest. 
What's Even Better: Questrade does not charge a fee for purchasing shares of ETFs. These exchange-traded funds are one of the best instruments for amateur investors, as they mirror the performance of the larger stock exchange. Therefore, Questrade investors can buy these extremely diversified ETF shares and watch their account grow, all without having to pay a commission. 
Not bad, hey?
4. No Annual or Inactivity Fees
Another major perk that makes Questrade worth it is the absence of annual and inactivity fees.
Some brokerages charge account holders an annual fee – regardless of account performance – just for maintaining an account with them. Sometimes, this fee is assessed as a flat fee, usually between $75 and $150 per year, or as a percentage of the account balance – which can often be an expensive proposition for those with significant funds invested.
Other brokerages will charge an inactivity fee, which is essentially a penalty for not making enough trades within a given time period. For example, an account holder may face a $10 charge if they do not make at least 25 trades in a 6-month period.
Questrade does not use either annual or inactivity fees, allowing investors to trade on their own terms, as affordably as possible. 
Questrade, Questrade, Questrade! (My chanting voice)
5. Ability to Trade Both Canadian and U.S. Stocks
Some online trading platforms only allow for trades in the market where the account is open. While Questrade does not offer access to an unlimited number of global markets, it does allow its Canadian account holders to trade U.S. listed stocks, giving them the ability to access household names such as Amazon, Google, and Microsoft.
In addition, the newly released Remitbee Currency Exchange is a fast and affordable way to convert your Canadian dollars into U.S. dollars, allowing Questrade account holders to trade U.S. stocks as affordably as possible.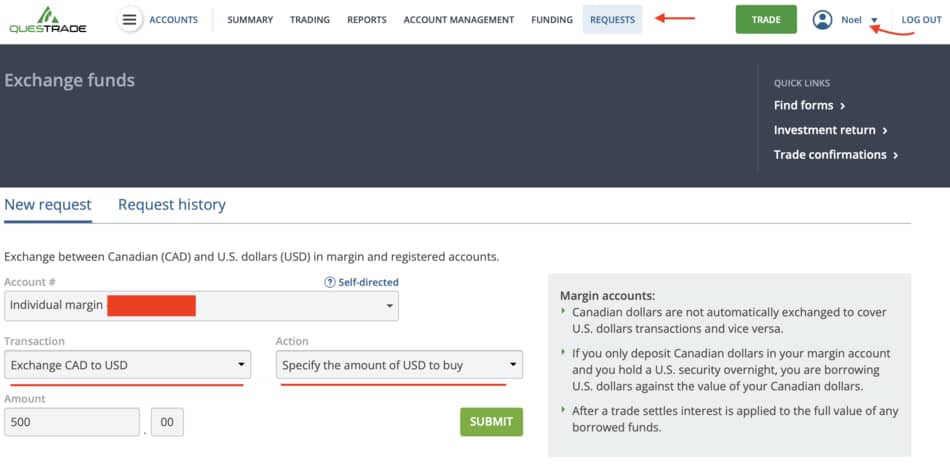 As a Questrade account holder myself, I actually went through this process recently and it was very quick and easy.
6. Outstanding Account Security
Anytime you are able to open a brokerage account directly from your computer or smartphone, it likely raises some questions about the legitimacy and security of the platform. Is the brokerage a scam? Are there enough safeguards in place to protect my sensitive, personal and financial information?
Rest Assured: Questrade is among the safest fintech platforms on which you can invest your money. In fact, I even wrote an entire article about Questrade's security features and legitimacy: Is Questrade Safe? Is Questrade Legit? (Here are The Facts)
While investment returns can never be guaranteed, regardless of the platform, Questrade is a member of both the IIROC and CIPF, guaranteeing investors bank-grade security for their accounts.
The IIROC, or Investment Industry Regulatory Organization of Canada, is a self-regulatory organization that determines if regulatory violations have occurred among member institutions, taking corrective action to sanction honest, credible investing practices. For example, if a member institution was not investing your dollars in the instruments it advertised, they would face corrective action as part of the IIROC.
The CIPF is the Canadian Investor Protection Fund. This is a non-profit organization designed to protect Canadian investor assets in the very unlikely event of institutional bankruptcy.
While it is clear that Questrade is backed by bank-grade institutional protection, you may also have some questions regarding general account security. Does Questrade leak your data? Is Questrade susceptible to hacks?
Among the features implemented by Questrade to help prevent hacks and data breaches include:
DigiCert – this company is a leader in PKI management. Upon creating your Questrade account, DigiCert will quickly analyze your SSL certificates and determine if there are any network entry points that may make your account vulnerable to fraud.
Last Login Notifications – users will get notified any time there is a login to their account, giving them the ability to quickly identify a malicious access attempt.
Touch/Face ID – leverages the latest user recognition technology to guarantee that you, and only you, are logging into your account.
PIN/Two-Factor Authentication – add an additional layer of security to your account by requiring a PIN during any type of account use attempt .
Although there is no guarantee that any of your data is always 100% safe online, if you combine Questrade's security protocols with your own personal best practices for protecting your online data, you should feel extremely safe that your information is secure and unassailable.
7. Intuitive Mobile and Web Interfaces
To compete in a cell phone possessed society, businesses of any variety must have a mobile app that is easy to navigate or they risk losing out to competitors. In fact, the investment giant TD Ameritrade estimates that roughly 40% of all trades take place from a mobile device. 
Fortunately, Questrade is well-positioned to capitalize on this mobile craze. Available in both the Apple and Google Play stores, some of the key features of the Questrade app include:
Symbol lookup – a conveniently placed search bar makes it easy to look up your favourite stocks for breaking news, historical information, and recent charting trends by symbol using its ticker symbol.
Alerts – mobile investors can get instant information pertaining to their followed stocks or current positions using customizable smart alerts.
Charting – build your position and compile lists of specific stocks with in-depth charts that fit perfectly on the mobile device without the need for any type scrolling or zooming to access information.
Of course, Questrade also has an elite desktop interface as well, allowing customers to access all of these features on their office or home computer.
Most importantly though, both the app and desktop platforms work concurrently, meaning that you do not need to make the choice between using one or the other. In fact, you could even be scrolling account information on your phone with your Questrade account pulled up on your computer in the background.
8. Access to a Wide Array of Financial Instruments
Questrade offers a wide array of financial instruments to appeal to investors of all skill levels and ability. 
For the most inexperienced traders, the platform has access to a robust listing of ETFs. These exchange-traded funds do not require the investor to have any background knowledge on any specific stock or position.
While ETFs are a great way to get started trading if you are unsure about where exactly to put your money, Questrade also offers a complete listing of individual stocks. If there is a specific company that you believe in and want to support with your investment dollars, you can buy as little as one share in that company.
Questrade also allows traders to purchase option contracts. A more advanced feature for experienced traders, options basically give the trader the ability to purchase a contract on a stock now, with the "option" to buy or sell at a later date. While options should generally be avoided by inexperienced traders, experienced investors who know how to analyze short-term metrics can make good money dealing in options.
Traders can also use Questrade to open a margin account. Margin basically gives the user the ability to borrow money to enter into trades. If you really know what you are doing, margin is a great way to make money off of somebody else's dime; but be aware that losses from margin trades are taken from your account balance, so only attempt margin trades if you know what you're doing and understand the repercussions.
Questrade also gives users the ability to trade in crypto. While you cannot purchase cryptocurrency directly on Questrade, you can buy crypto ETFs that will mirror the performance of select cryptocurrencies. Using this approach, while you will not have the digital keys to make crypto transactions, you will be able to experience the exciting performance of crypto assets for easy exchange into Canadian dollars.
Related Financial Geek Article: Can You Buy Crypto on Questrade? Here Are The Facts
9. Top Notch Customer Service
One of the most frustrating aspects of holding an account on most fintech platforms is the lack of customer service. Whenever people have an issue with their account, they are directed to a FAQ page which sometimes doesn't even have the answer to the specific question you are inquiring about.
This is not the customer service model used by Questrade.
While there is a robust FAQ page to help DIYers get a quick answer to their question, Questrade also invests in providing a more personal touch to customer service. Whenever users are not able to find answers through their video tutorials or the FAQ section, Questrade has a 24/7 team that is available for correspondence via chat, email, or support call.
I talk more about Questrade's superior customer service in my article 6 Reasons Why I Recommend Questrade.
The Bottom Line
There you have it: the top 9 reasons why Questrade is worth using.
I should also mention, I write this article with first hand experience with the platform, I've invested with Questrade since 2018 and I've had nothing but a first class experience.
From competitive fees to outstanding security, top-notch customer service to a healthy selection of financial instruments, Questrade is truly the gold standard in Canadian fintech. If you haven't done so already, visit their website and open a Questrade account today!
Thanks for reading folks! I hope this article provided you with some real value.
Geek, out.