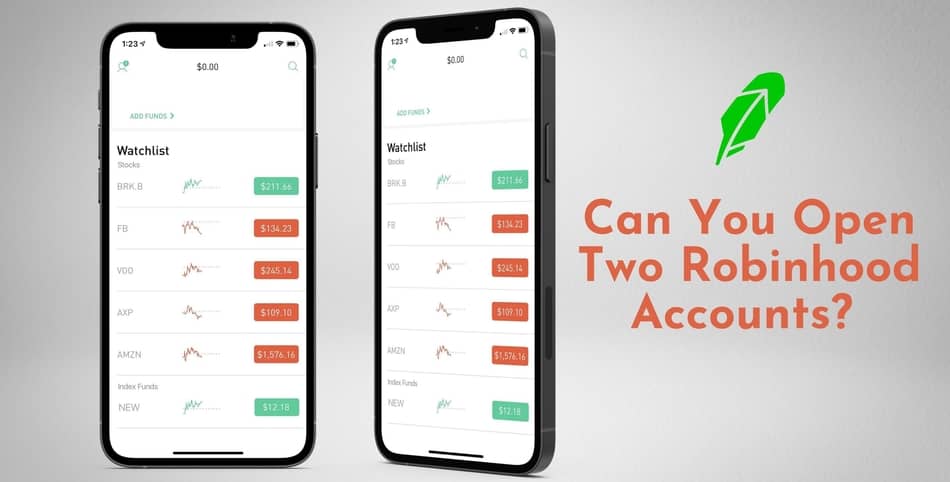 Robinhood is a leading name in the democratization-of-finance revolution, giving average citizens access to financial markets through their commission-free trading platform. With all of the benefits of opening a Robinhood account, you may be wondering if it is possible to open two Robinhood accounts, perhaps one for day trading and one for long-term investing? Is it allowed?
Robinhood does not allow users to have more than one account. Each account is tied to an individual's social security number. If a new application contains a social security number already linked to another account, the application will be denied.
While this may be disheartening news for users who enjoy the platform and want to leverage commission-free trading for different purposes, Robinhood ultimately has to limit each SSN to one account to protect the user and limit fraud and other money laundering cases. As a result, if opening multiple brokerage accounts is a priority for you, you'll need to look outside of Robinhood.
Starting to Invest?
Our Recommendation
Start Trading Today

Robinhood InvestOnly in USA

Start investing with just $1
Invest in stocks and ETFs
No commission fees
Access to the Crypto Markets

Start Trading Today
Can You Have Two Accounts on Robinhood?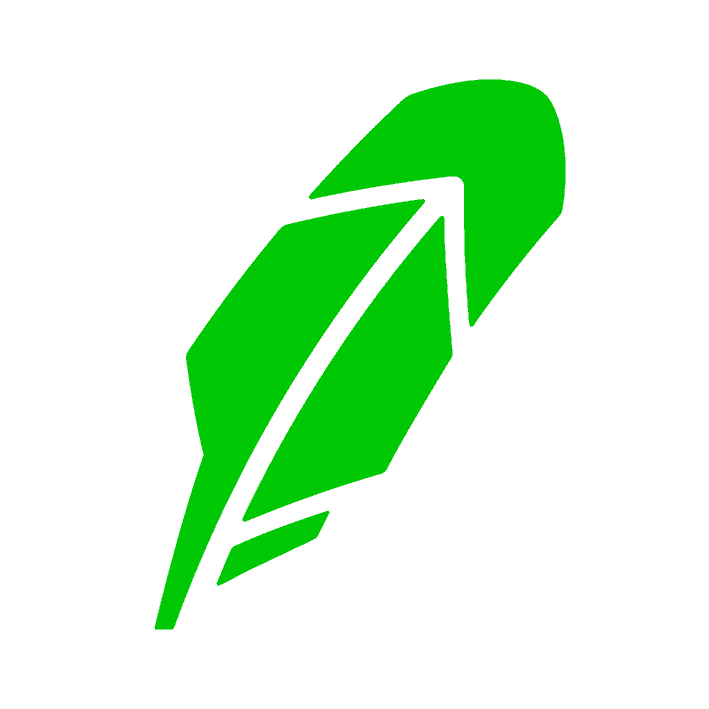 You cannot have two accounts on Robinhood. Each Robinhood account is tied to a unique social security number, and it is not possible to open a separate account under the same social security number. 
The reasons behind this are rooted in fraud prevention and user protection. In the early days of fintech, malicious users would create multiple brokerage accounts under a single SSN for money laundering and market manipulation purposes. As such, modern-day platforms limit brokerage accounts to one account per SSN.
Do Other Providers Allow More Than One Account?
It's a bit deceiving to say that you can open more than one account through other providers. While you technically can open multiple accounts through a platform such as, say, Fidelity, you can only actually open one brokerage account through each unique platform. The other types of accounts you may open on a given platform include:
Traditional IRA
Roth IRA
401K (individual or employer-sponsored)
Or as a Canadian for example, I can open up an RRSP, a TFSA, and a personal investment account all under my one Wealthsimple account. But see, I have different accounts within my ONE brokerage account. In other words, I only have one username in password for all 3 of these accounts.
So while this may seem like you are opening multiple accounts on the same platform, they each have subtle nuances, such as tax advantages or early withdrawal penalties, that differentiate them from a brokerage account. 
If I lost you here, I'm sorry. Maybe I'm not explaining this well – but picture it this way, accounts like an IRA, 401k, RRSP or TFSA are like objects. And a brokerage account with Robinhood is like a bucket. You can put many objects in your bucket, but you can only have one bucket.
Can You Open a New Robinhood Account if You're Locked Out?
Anybody who grew up in the smartphone era knows the feeling of getting locked out of an account. A common solution when you can't remember your password to a social media app, for example, is to just create a new account and start fresh.
This will not work for Robinhood though. Perhaps you started a Robinhood account several years ago, put $20 in it, and then, for whatever reason, deleted the app and took a detour from personal finance. 
If you circle back and decide the $20 in your old account isn't worth the hassle of trying to regain access, you will not be able to apply for another account using your SSN. You will instead have to go through the steps for retrieving a lost password and get back to your original account to begin investing again. 
Related Financial Geek Article: Can You Lose Money with Robinhood? (Full Details)
Can I Add My Wife to My Robinhood Account?
You may be able to add your spouse to your Robinhood account, depending on the circumstances. 
As mentioned, each Robinhood account is tied to a unique social security number. Therefore, you cannot open a dual Robinhood account in the same way you would a dual checking account. The account would have to be registered with either you or your wife, but not both.
Robinhood Doesn't Let You Add Beneficiaries
In addition to this, Robinhood does not currently support adding a beneficiary to your account. If the primary account holder were to perish, there is no way to automatically transfer the account to the designated next of kin, and the account would go into the appropriate estate process (will, probate, etc.).
Robinhood Does Let You Add Trusted Contacts
Despite this, Robinhood does allow you to designate a trusted contact person. A trusted contact person cannot trade in your account and nor do they have any right to your account upon your death. However, a trusted contact person is someone Robinhood may contact in the event of suspected fraud or if they have reason to believe you are no longer living or capable of accessing your account.
As long as your wife has access to your login credentials and the two-factor authentication source, then they will be able to use your account just like you do.
Perhaps you are funding your Robinhood account with a joint checking account shared in your marriage. You could both download the Robinhood app to your phones and actively make trades on the platform, essentially growing the account together.
While this seems like a great idea, just remember that the account is still registered under only one of your social security numbers. In the event of a divorce or criminal proceeding, the courts would be extremely unlikely to view the account as joint property, cheating one party out of their equal share of the profits or bypassing their share of the liability. 
Can I Have More Than One Brokerage Account?
Although you can only have one brokerage account through Robinhood, you can absolutely open separate brokerage accounts with different providers. 
While there is no shortage of other options (Fidelity, e-trade, TD Ameritrade, to name a few), each has its unique advantages that may be appealing for a secondary brokerage account to your Robinhood account. 
Some motives behind opening a separate brokerage account through a different provider include:
Access to a greater selection of foreign stocks
More favorable data and insights
Better interface for desktop trading
Final Thoughts
Opening two Robinhood accounts is not allowed. Each account is tied to the user's social security number, with subsequent applications using the same SSN to be declined. As a result, if you want to open a second brokerage account, it will have to be through a different provider. 
For example, as a financial blogger, I like to keep a pulse on the different Canadian brokerage platforms, so I have an account with both Questrade and Wealthsimple, but I don't have more than one account open with either one of those platforms.
And that's that! If you had any other questions about this topic, feel free to contact me here.
Thanks for reading!
Geek, out.
Starting to Invest?
Our Recommendation
Start Trading Today

Robinhood InvestOnly in USA

Start investing with just $1
Invest in stocks and ETFs
No commission fees
Access to the Crypto Markets

Start Trading Today