Living in the smartphone era, it can sometimes feel like most of our free time is consumed with downloading apps, creating user profiles, and coming up with unique passwords. While this process has become second nature at this point, any app that asks us to provide our SSN is likely to make us hesitate.
So why does Robinhood, one of the world's most popular retail stock trading apps, require your SSN?
Robinhood needs your SSN for identification and fraud prevention. All account holders must be legal U.S. citizens, permanent residents, or visa holders. In addition, the platform is required to provide all relevant tax information to the IRS. 
While it can be scary handing over your SSN to an app that you may be unsure of, take solace. All brokerage firms require the SSN of their account holders, so it's okay to give Robinhood your SSN. Read on to find out more about Robinhood's SSN requirement and how the company takes steps to protect this sensitive piece of information.
Starting to Invest?
Our Recommendation
Start Trading Today

Robinhood InvestOnly in USA

Start investing with just $1
Invest in stocks and ETFs
No commission fees
Access to the Crypto Markets

Start Trading Today
Why Does Robinhood Need My SSN?
There are a couple of reasons why Robinhood needs your SSN. 
First, your SSN is used for identification purposes. All account holders are required to be U.S. citizens, permanent residents, or visa holders. As such, a SSN is the quickest, safest, and most accurate way to verify this status.
Second, the government requires that all brokerage firms know who their customers are in order to prevent tax evasion and fraudulent schemes. As social security numbers are unique to each individual, the government can match the records provided by Robinhood to each individual's tax returns to ensure that gains and losses are being reported appropriately. 
On a related note, many terrorist organizations use brokerage accounts as a front for laundering money to fund their activities. As a result, the SSN can be used to verify that funds are being invested by known persons with no ties to criminal activity. 
Related Financial Geek Article: Will Investing with Robinhood Impact my Credit Score?
Is It Safe to Give Robinhood My SSN?
Yes, it is safe to give Robinhood your SSN. 
To begin with, even though Robinhood is a completely online brokerage, it is registered with the Securities and Exchange Commission (SEC) and a member of the Security Investor Protection Corporation (SIPC), two organizations that are very important for establishing the authenticity of a brokerage. 
As far as the platform's specific measures for protecting user information, the company provides numerous layers of protection to guarantee that your information never falls into the wrong hands.
Some of the ways that the platform is designed to protect your SSN include:
Trusted device recognition – any time that the system detects a login attempt from an unknown device, an additional verification code will be required for account access.
Elite encryption – each user password is encrypted with the industry-leading BCrypt hashing algorithm, with no passwords ever stored in plain text. In addition, your SSN is encrypted before it is stored on the platform.
Transport Layer Security (TLS) protocols – all mobile and web applications communicate with the Robinhood servers using the latest and most up-to-date ciphers and configurations.
Based on Robinhood's elite protection of your sensitive information, it would be extremely unlikely that your SSN would ever be compromised. However, you can help the platform make its defences even stronger by taking some of these preventative actions of your own:
Enable 2FA – as with any online account, it is a good idea to use two-factor authentication with Robinhood, even for your trusted devices, as an additional layer of security
Consider a password manager – in the age of information overload, it can be nearly impossible for users to come up with strong, unique passwords that they will be able to remember. Therefore, it is a good idea to consider a password manager to come up with a powerful password for your Robinhood account and store it securely
Regularly monitor logins – Robinhood has an outstan

ding

device monitoring

feature t

hat stores every login to your account for your review. Be sure to check this with regularity and take the necessary steps if something looks awry.
When all of this is considered, rest assured that it is completely safe to enter your social security number into Robinhood. 
Starting to Invest?
Our Recommendation
Start Trading Today

Robinhood InvestOnly in USA

Start investing with just $1
Invest in stocks and ETFs
No commission fees
Access to the Crypto Markets

Start Trading Today
Is It Normal for Stock Apps to Ask for SSN?
It is completely normal for stock apps – and any other type of brokerage, whether web-based or in-person – to ask for your SSN.
In fact, if you stumble across a platform that allows you to open an account, deposit funds, and begin making trades without providing an SSN, take caution. You are likely dealing with a fraudulent platform that is not regulated by the SEC.
Can You Get Scammed on Robinhood?
You will not get scammed while using Robinhood after a secure login. For example, you will never pay money to buy a stock and then never receive your shares. And as I talk about in my article, Does Robinhood Steal Your Money? (No They Don't), I talk more about the overall safeness and legitimacy of the platform.
However, as with any online service, there will be pirates swarming, constantly coming up with ways to try and gain proprietary access to your account or contribute funds to something that looks like Robinhood but is not.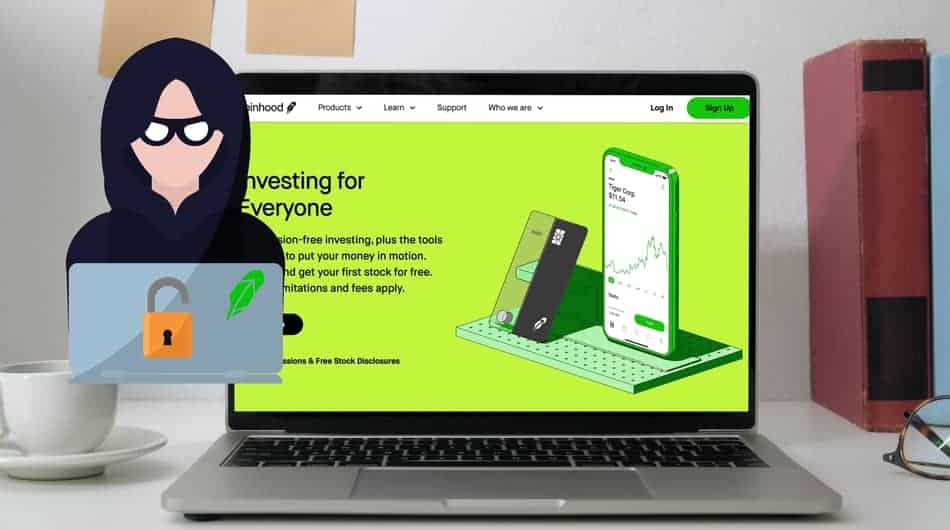 Be aware of the following common scam attempts that try to lure in Robinhood customers:
Sending links via text message saying that your Robinhood account needs attention. Promptly delete these messages and block the number, as Robinhood will never send text message links
Funding requests from messengers such as Facebook, WhatsApp, or CashApp
Email or text links requesting that you click to change a password
Requests to download software for accessing your account on remote devices
The Facts: Why Robinhood Needs Your SSN
Robinhood needs your SSN for purposes of identification and record keeping. The platform must ensure that all account holders meet citizenship requirements and are furnishing the correct information to the IRS, and the SSN is the best way to ensure compliance on both fronts.
While this may be a bit unnerving, take heart: all brokerages are required to obtain the SSN of their account holders. Once Robinhood gets your SSN, it uses multiple layers of protection to guarantee that your identity never falls into the wrong hands, so you can complete your Robinhood account with 100% confidence!
And that's that! I hope this article helped by giving you piece of mind that Robinhood is in fact a very safe platform to give your SSN to and invest with.
As always, thanks so much for reading, I hope you found some value in this article.
Geek, out.
Starting to Invest?
Our Recommendation
Start Trading Today

Robinhood InvestOnly in USA

Start investing with just $1
Invest in stocks and ETFs
No commission fees
Access to the Crypto Markets

Start Trading Today