Wealthsimple recently unveiled its own platform for buying, selling and trading crypto. The question now is: which coins are currently available on Wealthsimple and which new ones will be available in the future.
On the sections below, you'll learn whether Bitcoin (BTC) is available on Wealthsimple.
Bitcoin is available for purchase on Wealthsimple. In fact, there are more than 30 different types of coins available on Wealthsimple.
In the sections below, you'll learn how to buy, sell, withdraw and deposit Bitcoin in Wealthsimple. Is the app any good? Is it safe? These questions will also be answered in full detail.
Buy Bitcoin with Wealthsimple Crypto Today ($25)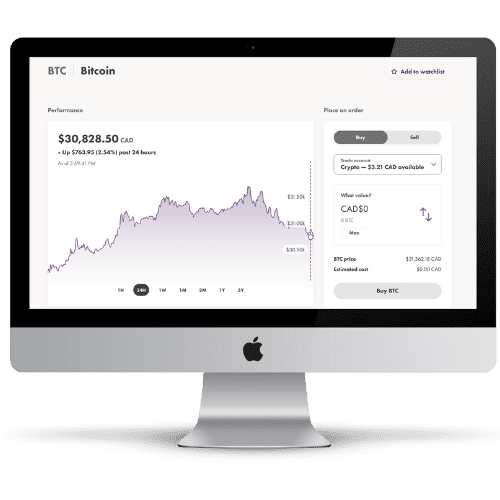 Earn a $25 Bonus with Sign – Up
Canada's first regulated crypto trading platform.
Trade Bitcoin, Ethereum, Dogecoin and 50+ coins
Send and receive crypto to external wallets
Get up to $5,000 instantly
All-in-one pricing
How To Buy Bitcoin on Wealthsimple
Wealthsimple is Canada's first ever regulated crypto platform. This means that Wealthsimple follows consumer protection standards designed to protect investors. Crypto-assets are not protected by the Canadian Investor Protection Fund, but coins are held by Gemini Trust Company LLC.
How To Start A Crypto Account On Wealthsimple
Don't worry about not having enough savings to get started. Keep in mind that most financial experts recommend that you limit crypto to 2-5% of your total portfolio. You only need $1 to get started with an account on Wealthsimple Crypto.
With a low barrier to entry, Wealthsimple does indeed make it simple. Here's how to start a crypto account:
Go to the homepage here.
Follow the instructions to set-up a Trade & Crypto Profile.
Once you sign in to your account, select "Add an Account" from the center of the main account page.
Select Crypto from the account and follow the on-screen instructions. 
Buying Bitcoin On Wealthsimple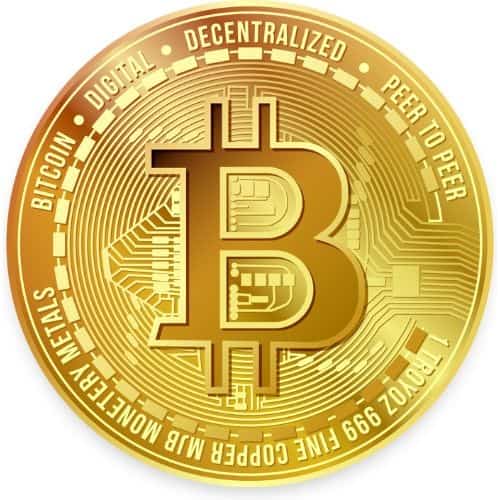 It's important to note that the company does not charge fees for deposits or withdrawals. All you see is an all-in-one price spread. Here's what's included in this spread: a cost to Gemini, payment to the liquidity providers and overhead costs. 
Please be advised that the actual price of Bitcoin can vary depending on market fluctuations. Wealthsimple does offer a user interface for viewing historical pricing info, performance graphs and trading data.
Which Cryptocurrencies Can You Buy On Wealthsimple?
You can buy Bitcoin on Wealthsimple. Ethereum, SHIB, DOGE, and 30+ other coins are also  available for purchase. So if you want to diversify your portfolio, you will certainly be able to do so.
Full List of Coins Available on Wealthsimple
Set Price Points For Auto Purchases & Sales
Wealthsimple offers its users a service called Limit Orders. This allows you to set price points that you're willing to buy and sell Bitcoin and other cryptos at. Wealthsimple will execute the order for you when the coin reaches the price point.
Can You Sell Bitcoin On Wealthsimple?
You can also sell Bitcoin and other held cryptocurrencies on Wealthsimple. When you sell, you can type either a specific value of currency or a number of BTC. 
Here's how to sell Bitcoin on Wealthsimple:
Log into your account and navigate to your Trade & Crypto profile.
Choose Bitcoin from the cryptocurrency options.
Go to Place An Order and toggle to Sell.
You can enter the value of the crypto you wish to sell.
Can I Transfer Bitcoin In & Out With Wealthsimple?
You can withdraw either Bitcoin or Ethereum from your Wealthsimple Crypto account to an external account.
Here's how simple it is to withdraw Bitcoin to an external wallet on Wealthsimple:
Start with a small amount, since transfers are irreversible. Ensure that your destination address is capable of receiving deposits from Bitcoin's native network.
Once you have reached the Crypto tab of the Wealthsimple app, select Withdraw Crypto.
Choose Bitcoin and enter the amount you'd like to transfer.
Paste your wallet address onto the screen.
You can use this screen to both Deposit and Withdraw Bitcoin from Wealthsimple.
You can double-check your purchase by selecting "Preview Transfer". This is a good step to take since you won't be able to reverse the transaction after the fact.
Related Financial Geek Article: Can Metamask Hold Bitcoin? (Answer for Beginners)
Is Wealthsimple Crypto A Good App For Buying Bitcoin?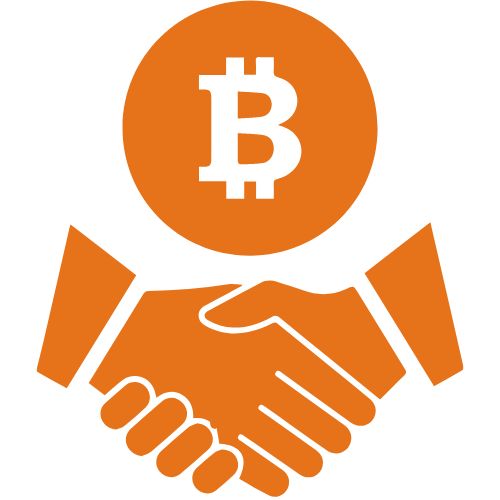 Is Wealthsimple a safe platform for buying and selling Bitcoin? Is it any good? These questions and more are answered in the section below.
Support For External Wallets
Many crypto platforms operate under a closed-loop system, but not Wealthsimple. A closed-loop system is one in which you cannot buy or sell anything with the crypto you hold. 
The recent transition of Wealthsimple to the external wallet model means that users now have more direct control over their digital assets.
Security: Coins Held By Gemini
The coins you buy on Wealthsimple Crypto are held by regulated crypto-custodian Gemini Trust Company LLC. The company has $200M in cold storage insurance coverage. 
This provides coverage for the loss of digital assets from both internal and external theft. It also includes coverage for the damage or destruction of private keys.
No Withdrawal/Deposit Fees: Do Other Apps Charge Fees?
It is a common practice for crypto exchange platforms to charge fees for withdrawals and deposits. The Motley Fool identifies these as among the 3 types of fees to watch out for if you are a crypto investor.
Wealthsimple does not charge additional deposit or withdrawal fees.  So how does the company make money? 
Instead the company applies an all-in-one price spread, as described in further detail in sections above. This takes care of these fees in one shot, so that you don't have to worry about surprise fees creeping up on you.
Beginner-Friendly
Best of all, the user interface of the Wealthsimple App is designed to be easy to use. You can view your entire portfolio, including Crypto, ETFs and more, all in one app. 
It's also easy to navigate to historical pricing data for each coin held, and auto-set buy and sell commands for selected price points.
Final Thoughts
Bitcoin is one of more than 30 cryptocurrencies available for purchase on Wealthsimple. Not only that, but as a Wealthsimple Crypto user myself, I can vouch for it being a great app and user experience for beginners looking to get their feet wet in the crypto space.
Thanks for reading folks!
Geek, out.