Saving money is essential to having a healthy budget, but knowing how much to save can sometimes be unclear. A popular money management tool is the 50-30-20 rule, which dictates that you should save at least 20 percent of your income.
But does that rule also apply to weekly earnings? 
You should save as much money per week as you realistically can. To calculate your ideal weekly savings amount, break down your weekly income and set aside roughly 20% of that for your savings. 
This article will discuss how much money you should be saving each week, whether it's better to save weekly or monthly, and some of the best ways to save your hard-earned dollars. 
How Much Money Should I Save a Week?
Suppose you can only save 5% to 10% of your weekly income, well to be honest, that's completely okay and still more than a lot of other people do – which is to decide not to save anything because they can only save a little, this is the wrong approach!
If you can save just a little each week, then save just a little. Because at the end of the day, anything you can save at all makes a huge difference in the long run, especially when you consider the power of compound interest. 
At the very least, try and save $50 a week. $50 a week saved over your working life (40 years) with a conservative return of 5% a year will equate to roughly $330,000 after 40 years.
But if you can't save $50 a week, even start with $10 worth of weekly savings. This small $10 in weekly savings can amount to over $5,000 (5% annual ROI) after ten years per the Get Smart About Money Compound Interest Calculator.
Now that we've settled the question of how much to save, the next thing you want to know is how often you should save. 
Time to Start Saving?
Our Recommendations
Start Saving Today

Wealthsimple Invest ($25 Bonus)Only in Canada

Designed for beginner investors
15 Minute Sign-Up Process
100% Free to Sign-Up
No minimum deposit required
 Great mobile experience

Sign Up HereRead our Review

BettermentOnly in USA

Get started with as little as $10 
Low, annual fee of 0.25%.
Socially Responsible Investing
Manage finances all in one place
FDIC-insured up to $250K 

Sign up Here
Is It Better To Save Weekly or Monthly?
Let's say you earn a hypothetical monthly income of $400. Based on the 50-30-20 rule, which allots 50% of income for needs, 30% for wants and 20% for savings; your ideal savings rate is $20 per week or roughly $80 per month.
Since you'll save the same amount either way, does the frequency of your savings matter? 
It's better to save money weekly rather than monthly. The more often you save, the more likely you'll remember to do it, and the higher the likelihood it'll become a habit. It's also easier to track your progress towards your savings goals when you save weekly rather than monthly.  
Not only that, but as I learned the hard way, if you have money sitting in your bank account for too long that is allotted for savings, then you'll be way too tempted to spend it. And then what happens when it comes time to deposit that money into a savings or investment account? It's no longer there – Oops!
It's great to know how much and how often to save money, but how do you get started on a weekly savings goal? I'll tackle that in the next section. 
What Is the Best Way To Save Money Every Week?
Saving money doesn't have to bundle up stressful feelings that are sometimes associated with "penny-pinching." If done responsibly, you can enjoy your life today and not worry too much about the state of your finances decades from now. 
Here are the best ways to save money every week: 
Eliminate or reduce unnecessary expenses. 
Save before you spend. 
Automate your weekly savings. 
Separate your savings from your expense account. 
I wrote an article called 18 (Uncomplicated) Smart Money Moves For Your 20s and I have to say it has some really good hacks on how people can be smart with saving and investing there money, while at the same time not feeling like they are "Nickle and Diming" there way through life.
Ready to make your weekly savings dream a reality? Great, read on. 
1. Eliminate or Reduce Unnecessary Expenses
If you're like 51% of Americans, you probably use contactless payment methods like credit cards and mobile wallets. That means you can download your statement online and check how much you're spending and on what. Look at your most significant expense account first. 
For example, if most of your cash goes to "Food," see which line item costs the most. Is it your daily Starbucks habit? If you don't want to eliminate your caffeine fix, are there cheaper alternatives that give you the same (or even better) coffee experience? 
Funny enough, if you do have a bad habit of spending too much money at coffee shops, I actually wrote an article about 6 tips to help you avoid coffee shops.
Likewise, you may have subscriptions you no longer use. In that case, try using an app like Truebill. Truebill goes through your subscriptions, determines which ones you don't need anymore, and automatically cancels them for you. 
2. Save Before You Spend
Some folks phrase it as "pay yourself first." As soon as your paycheck comes, put a designated amount into your savings account before you spend anything else. 
When you save before you spend, you force yourself to create an upper limit for your expenses. You're less likely to give in to the temptation to chip into your savings because you want that brand new shirt your favorite influencer wore in their latest Instagram post. 
It's crucial to calculate how much you should save each week. You can adjust your weekly savings goals according to your needs (e.g., you suddenly had an emergency) but you should always make it a priority to save something, no matter how big or how small.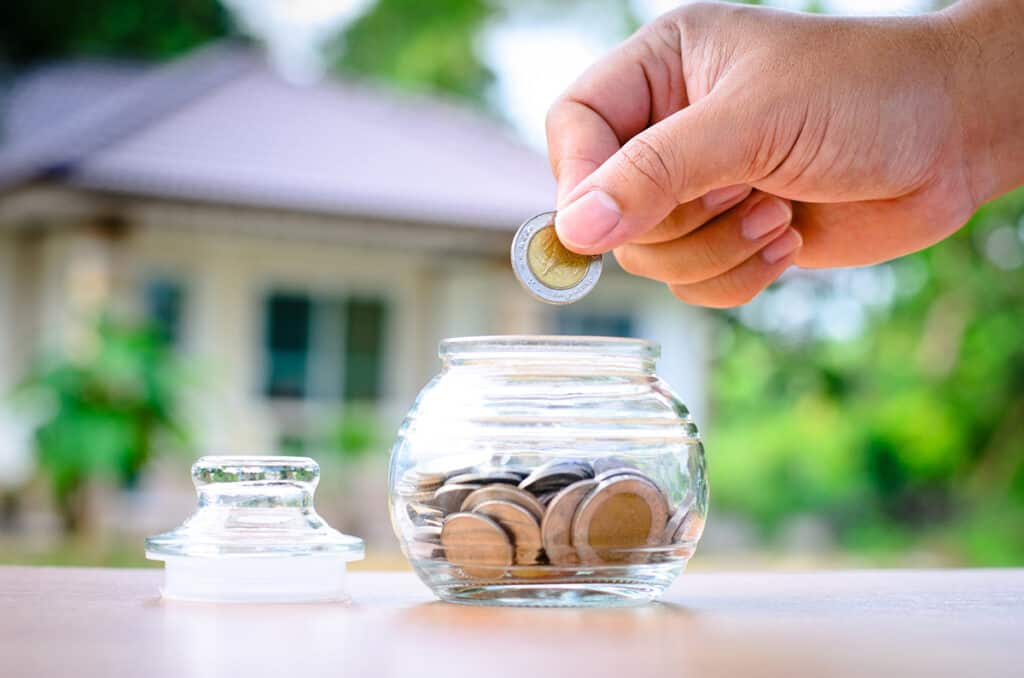 3. Automate Your Weekly Savings
You're an adult with a ton of responsibilities. It's not always at the forefront of our minds to remember to set aside savings.
Luckily though, you don't have to save your cash every week manually. Most saving accounts and online brokerages today will allow you to set a weekly, monthly, quarterly or even annual automatic deposit. I personally love this feature (I invest with Wealthsimple) because it just makes things s streamlined.
I don't have to worry about making the deposits myself and I set the deposits to be on the same day I get paid so that I won't end up spending money that is meant for savings. The money is automatically taken out of my account and deposited into my investment/savings account.
Nifty Finance Tools:
Qapital: The app lets you choose between different rules depending on your needs and goals. For instance, if you want to maintain your coffee habit and still save money, the "Guilty Pleasure" rule will let you do just that. 
Acorns: The Acorns app isn't just a savings tool. It will also put your extra cash into the investment account of your choice. 
Mint: If you want a comprehensive money management tool, Mint is the way to go. You can, among other things, link your bank accounts to the app, track your spending and get user-friendly visuals on your financial health. 
Recommend Reading: Is The Mint Budgeting App Really Free? (We Asked Mint Directly)
4. Separate Your Savings From Your Expense Account
If you can't help but dip into your emergency fund now and then, it might be a good idea to open a separate account exclusively for savings. This is exactly what I did. I have no self restraint, shameful, I know.
One excellent place to put your savings is into a retirement account. A retirement account grows your money (and prevents inflation from eating into it) by investing in assets like stocks and bonds. These accounts also penalize you for withdrawing your cash before you turn a certain age, preventing you from spending your savings unnecessarily. 
Alternatively, you can set up two different savings accounts: one for emergencies and another for your other savings goals (e.g., "I want to buy this car for $$$ by [insert date here]"). To manage both, set up your bank transfers to put a certain amount into each after every payday. 
Key Takeaways
When calculating how much you should save every week, consider your savings goals carefully. Are they realistic given your current level of income and expenses, and what are you willing to forgo to achieve your goals?
It's all up to you.
Geek, out.
Time to Start Saving?
Our Recommendations
Start Saving Today

Wealthsimple Invest ($25 Bonus)Only in Canada

Designed for beginner investors
15 Minute Sign-Up Process
100% Free to Sign-Up
No minimum deposit required
 Great mobile experience

Sign Up HereRead our Review

BettermentOnly in USA

Get started with as little as $10 
Low, annual fee of 0.25%.
Socially Responsible Investing
Manage finances all in one place
FDIC-insured up to $250K 

Sign up Here