Did you know that inflation reduces the worth of a dollar over time?
As such, you could buy more things with a million dollars back in 2010 than you can do today, and you'll be able to buy even less in the coming years.
So this brings us to the question – is a million dollars a lot of money? 
A million dollars is definitely considered a lot of money, but it isn't as much as it used to be due to inflation. In 2022, having a $1 million net worth won't classify you as extremely wealthy. With that said though, it's still very possible to retire with $1 million depending on your lifestyle and retirement age.
In this article, I've put together an in-depth look at whether $1 million is a lot of money – enough to classify you as "wealthy." I've also looked into the practicality of retiring on 1 million dollars, the amount of interest you can earn from it, and how its value is decreasing because of inflation.
Ready to Invest?
Our Recommendations
Start Investing Today

Wealthsimple Invest ($25 Bonus)Only in Canada

Designed for beginner investors
15 Minute Sign-Up Process
100% Free to Sign-Up
No minimum deposit required
 Great mobile experience

Start Investing TodayRead our Review

BettermentOnly in USA

Get started with as little as $10 
Low, annual fee of 0.25%.
Socially Responsible Investing
Manage finances all in one place
FDIC-insured up to $250K 

Start Investing Today
Is a Million Dollars a Lot of Money?
A million dollars is a lot of money, enough for you to buy things like decent house, a fancy new car, maybe a small boat, and much more. However, if you are not careful, $1 million can quickly deplete if you plan to live a luxurious lifestyle.
But at the end of the day, whether or not a million dollars is a lot of money will depend on how you plan to use it, and that's the bottom line.
You can buy many inexpensive yet useful things with a million dollars and still have money saved up for rainy days. Whereas, if your eyes are set on that big mansion or a fancy yacht, then your pile of cash will vanish before you know it. 
Is $1 Million Enough To Be Considered Wealthy?
$1 million is not enough to be considered wealthy. While it is a lot of money, most people don't feel wealthy if their net worth is just $1 million. In 2022, the general consensus is that you need close to $2 million to qualify as a wealthy individual. 
But of course, "wealthy" is a very subjective term, so don't forget about that when you're asking yourself that question.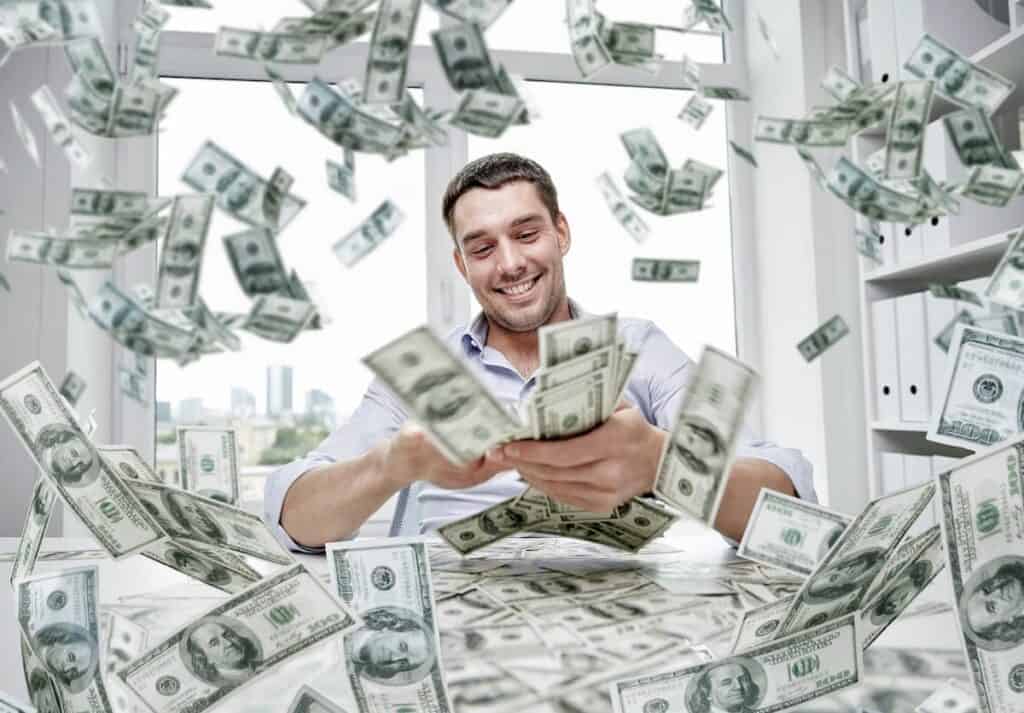 Someone making minimum wage in countries like Canada and the US are extremely wealthy compared to other people in some parts of the world.
So make sure you remember that the perception of a million dollars will vary depending on where you live, your community, background, and even your profession.
For example, you're quite wealthy with a million dollars if you live in a place where a sumptuous dinner costs $5, and everyone around you has a net worth of >$50,000 to their name. 
But according to Schwab's 2021 Modern Wealth Survey, most people in the US don't think $1 million is enough to qualify themselves as wealthy. Here's a quick look at how much money different people coming from different generations think is necessary to claim the "wealthy" status:
People between the ages of 24-39 (millennials) say $1.4 million.
People between the ages of 40-55 (Gen X) say $1.9 million.
People between the ages of 56-74 (baby boomers) say $2.5 million.
As such, the minimum average net worth you need to be considered wealthy in the US is around $2 million.
For my Canadian readers, if you are like me and want to retire early, check out my recent article Retire Early as a Canadian | 15 Tips and Tricks
Can You Live Off $1 Million?
You can live off $1 million in 2022, but again, you'll need to exercise financial discipline and proper planning and budgeting. The idea is to invest the $1 million and spend only the return you earn from it while at the same time reinvest some of your return to fight off the effects of inflation.
The average cost of living in America is around $60,000 per year. Now, considering that you will spend this much money per year, you'll eat through your $1 million within 16 years, actually faster when you factor in inflation. 
Because of this, it's crucial that you invest your money.
You can expect an average return of 11-12% if you invest your money into mutual funds. This means your $1 million will fetch you around $100,000 to $120,000 per year. 
Of course, your returns each year won't be the exact same – in some years it'll be higher and other years it'll be lower, and because of this, you need to be extra careful with your spending and keep up the habit of saving.
Furthermore, because of inflation, prices of things will gradually increase. Even though the returns might seem good today, it won't be enough 10 or 20 years down the line. This brings up the importance of reinvesting some of your returns
But to be completely honest, your best bet is to speak with a financial planner or advisor at this point. Everyone's situation is different and will require a personalized plan, I can't ethically sit here and give you a cooker cutter retirement plan that will work for everyone.
But! What I can do is point you to a great article by Investopedia that talks about how retirees live on $1 million. And as much as I hate sending a reader away from my website an onto another, it's actually a really good article.
Recommended Financial Geek Article: Is $1.5 Million Enough To Comfortably Retire Off? (Analysis)
What Is the Effect of Inflation on 1 Million Dollars?
Inflation has decreased the value of 1 million dollars over the years, and it will continue to do so. For the past 100 years, the dollar lost its value by 2.88% per annum because of inflation. As such, you'll need $15.6 million in 2022 to buy the things you could buy with just $1 million in 1923.
Isn't that insane?
The effects of inflation are visible if you look at how much things cost around you. The price of food, gas, health care, rent, the kitchen sink – everything is going up. As such, the thing (or things) you can buy today with $1 million, you won't be able to in the next 10 years. 
You can check out this inflation calculator by SmartAsset to determine how much $1 million will lose its value in the next X years.
This is why it's super important that you strategically invest your money to protect yourself from inflation. 
If you really wanted to learn more about inflation and how the US currency is losing value every year, I'd highly recommend checking out the PBD Podcast with Michael Saylor.
I watched it the other day, holy crap is it ever informative, and extremely scary.
Conclusion
A million dollars is a lot of money, but it's not as much as it used to be. The value of $1 million has drastically decreased because of inflation, and you can't buy as many things with it as you could, even 20 years ago.
That said, it's still possible to retire off $1 million in 2020 with proper planning, budgeting and simple financial discipline.
As always, thanks for reading folks.
Geek, out.
Ready to Invest?
Our Recommendations
Start Investing Today

Wealthsimple Invest ($25 Bonus)Only in Canada

Designed for beginner investors
15 Minute Sign-Up Process
100% Free to Sign-Up
No minimum deposit required
 Great mobile experience

Start Investing TodayRead our Review

BettermentOnly in USA

Get started with as little as $10 
Low, annual fee of 0.25%.
Socially Responsible Investing
Manage finances all in one place
FDIC-insured up to $250K 

Start Investing Today