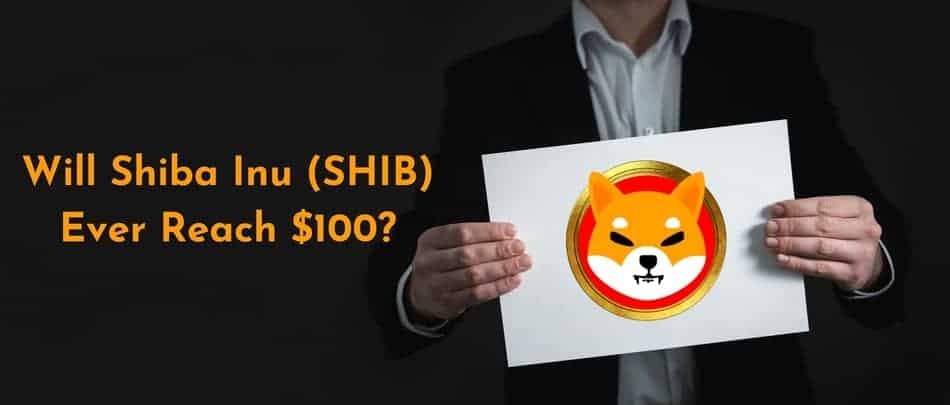 In August of 2020, Shiba Inu tokens began trading at an initial price of $0.00000000051 per coin. The rest, as we know, is history.
Shiba Inu or SHIB as it is also affectionately known, surged in popularity and is currently the 15th largest cryptocurrency by market cap in the world. Many have wondered just how high Shiba Inu can climb.
One of the most popular questions surrounding SHIB is people wondering if the coin could ever reach $100.
The Shiba Inu token will never reach $100 per coin. In fact, there's very little chance the coin will ever even reach $1.00, let alone $100. Shiba Inu tokens do not have the same utility as cryptos like Ethereum, nor does it have the same brand name of Bitcoin.
Want to Start Trading Crypto? Try Coinbase Today ($5)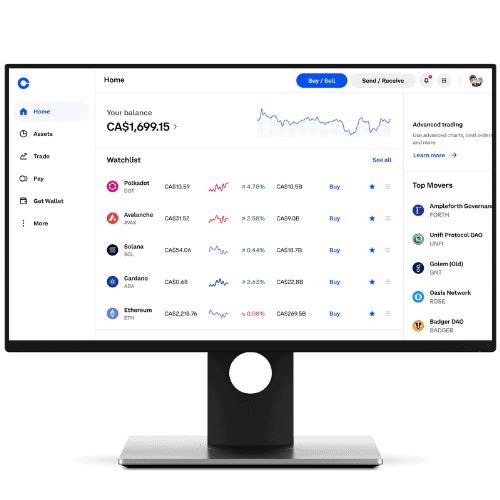 Earn a $5 in Bitcoin with Your Sign-up
Coinbase is the easiest place to buy and sell cryptocurrency. 
Schedule buys daily, weekly, or monthly.
Send and receive crypto to external wallets
Great Mobile experience
Protected by insurance
Tokens like SHIB and its older sibling, DogeCoin, are called meme coins for a reason!
But let me tell you, If SHIB ever did reach $100 per token, I can promise you this would be the last article I ever write as I am a proud of close to one million of them.
Will Shiba Inu (SHIB) Coin Reach $100?
Unfortunately for many SHIB investors, the beloved token will never reach a price of $100.
In terms of basic economics, with the current SHIB token supply, the market cap would be worth more than the entire global economy put together, including stocks, cryptos, and any other assets. 
So it's just not going to happen.
There is currently a circulating supply of 549,063,278,876,302 SHIB tokens. The Shiba Inu team is constantly burning tokens, which is the act of sending tokens to unusable wallets. This acts as a deflationary measure as the total supply slowly falls.
But even still, with this many outstanding tokens, it will take a lot of burning to get down to a reasonable supply. 
So why did Shiba Inu jump so high in the first place?
In a totally unexpected move, Ethereum co-founder Vitalik Buterin burned 90% of the Shiba Inu tokens that were gifted to him. This created a lot of attention around SHIB and with such a massive burn, the demand shot up causing the price of it to surge.
Why Won't Shiba Inu Reach $100?
If it came anywhere close to even $1.00, Shiba Inu would be the largest cryptocurrency by market cap and be worth more than Bitcoin and Ethereum combined. As much as Shib investors would love for that to happen, myself included, it is nearly impossible for it to ever reach those levels. 
Recommended Financial Geek Article: Why the Heck is Bitcoin so Popular?
So you might be saying that DogeCoin surged and is currently trading at $0.12 per token. DogeCoin has a much lower circulating supply than SHIB, and also has Tesla CEO Elon Musk as a huge fan, which definitely doesn't hurt.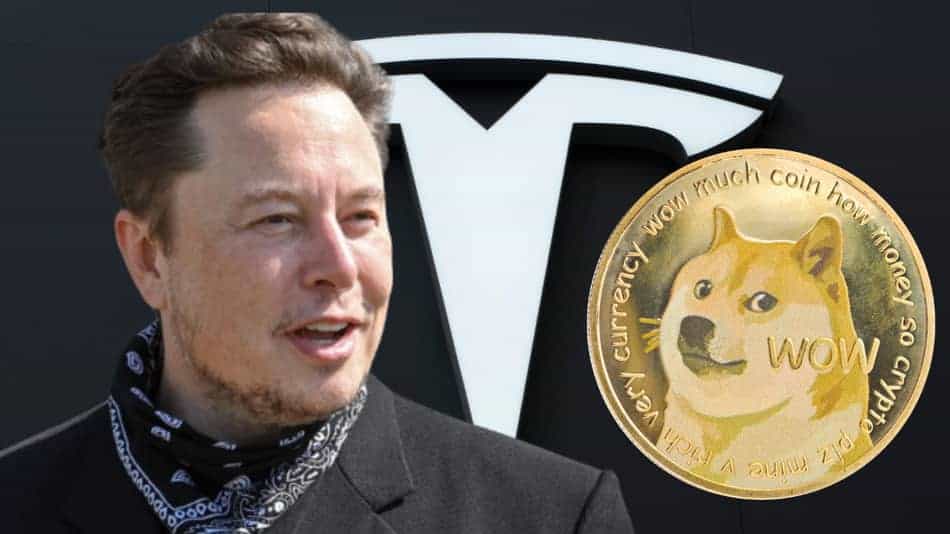 While both are considered meme coins, neither will likely ever reach $1.00 per token. 
Is Shiba Inu a Good Investment for the Long Term?
The peak of its popularity very well may be over at this point so my guess is no, but never say never. All that needs to happen is someone like Musk mentioning it in a tweet for the price of SHIB to potentially go parabolic again. 
And the fact that SHIB is deflationary is definitely a net positive for the future. As the supply continues to fall, theoretically the demand for SHIB should rise. 
The big problem for SHIB is utility.
Companies like AMC have started to accept it in exchange for movie tickets, but SHIB use as a currency isn't exactly perfect. The co-founder, Ryoshi, did confirm that SHIB is building a Metaverse called Oshiverse, but not many details have been released as of yet. 
But at the end of the day, I really wouldn't put much money into Shiba Inu. Not only does know one, and I mean know one, know what will happen to it's price, but it's just really risky and there are other less risky investments that you can make that provide lots of solid upside as well.
If you wanted to play around with a small amount of money, I don't really see a problem with that, that's what I did, and I have fun tracking it. But would I ever invest a lot of money into it? Absolutely not.
If this coin disappeared tomorrow, not only would I not really care, but it would have a very very very small impact on my overall net worth.
Where Can I Buy Shiba Inu?
Shiba Inu trades on all of the major crypto exchanges including Wealthsimple Crypto (for Canadians), Coinbase, Binance, and Crypto.com. To buy SHIB, all you need to do is sign up for a free account and fund it with fiat currency or other cryptocurrencies.
Want to Start Trading Crypto? Try Wealthsimple Crypto ($25)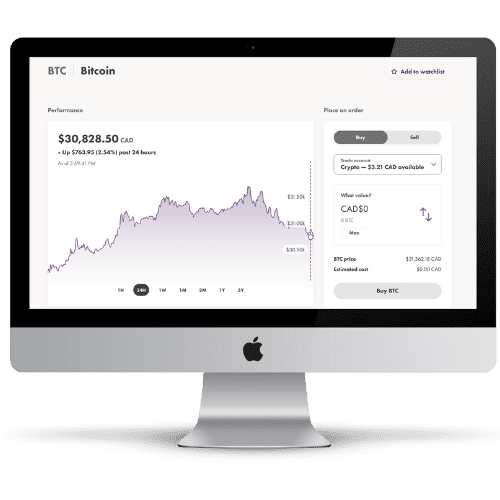 Earn a $25 Bonus with Sign – Up
Canada's first regulated crypto trading platform.
Trade Bitcoin, Ethereum, Dogecoin and 50+ coins
Send and receive crypto to external wallets
Get up to $5,000 instantly
All-in-one pricing
Shiba Inu is an ERC-20 token which means it is built upon the Ethereum network, but this does not mean that it is the same as Ethereum, it just means that it uses the network and software, and that Shiba Inu transactions are made on the Ethereum blockchain.
This does mean that SHIB transactions use Ethereum for gas fees which means they could be a little bit more expensive than you might expect. 
One good thing about being built on Ethereum is that Shiba Inu can utilize smart contracts which could potentially open up its utility in the future, just as other Ethereum projects are now.
Quick Plug: If you are a Canadian and wanted to invest in SHIB with Wealthsimple Crypto, you can get started here and you'll get a free $50 to do it with! Think about all the SHIB coins you can get with that!
What is Shiba Inu Coin Used for?
As I already mentioned, the Shiba Inu team is working on the Oshiverse for the future. Some companies are also starting to adopt SHIB as a form of payment, but it really remains unclear if this can be a long-term solution.
Currently, you can stake SHIB on platforms like Binance Earn. This will provide you with a return on your SHIB investment similar to interest payments. If you plan on holding SHIB for the long-term, then staking might be a great way to earn more SHIB as the price consolidates for the time being. 
For now though, it seems like SHIB has made enough of an impact on crypto and mainstream culture to remain relevant for the future. As long as retail investors continue to load up on SHIB, it will likely remain a token with one of the largest market caps in the industry. 
Conclusion: Will Shiba Inu Ever Reach $100?
Sorry to burst your bubble, but the answer is still no. It takes a lot for any cryptocurrency to reach $100. It took Bitcoin and Ethereum years to do this and their use cases are much more vast than Shiba Inu's will likely ever be. 
While Shiba Inu still has the potential to give you a nice return, the days of it making overnight Shib-millionaires are likely over, barring an unexpected event or catalyst! 
Thanks for reading folks, SHIB ya later!
Geek, out.