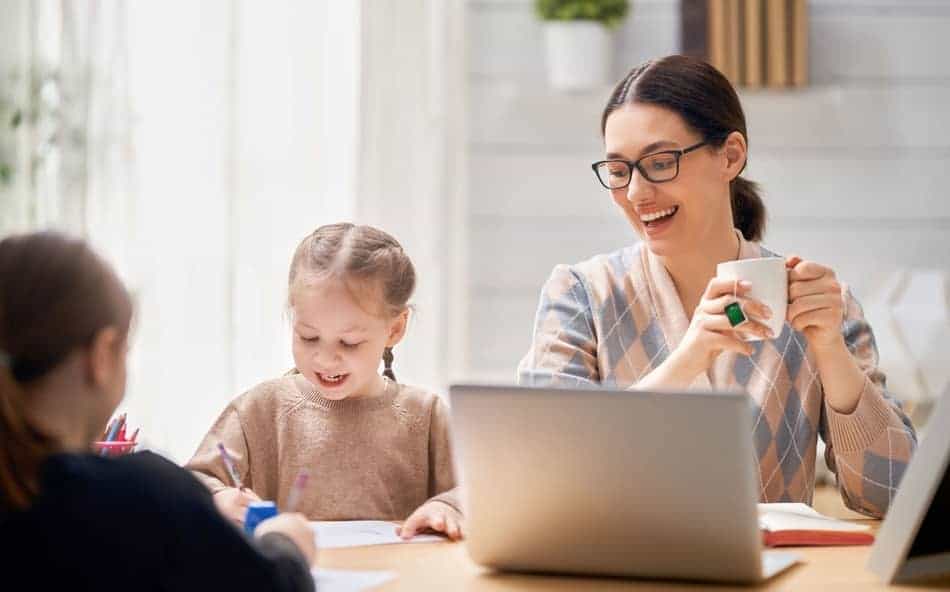 Some links in this post are from our partners. If a purchase or signup is made through our partners, we receive compensation for the referral. 
Being a stay-at-home mom is a hard enough job itself, but making money as one? Even harder.
However, many stay-at-home-moms in Canada have managed to fulfill their full-time duties as a stay-at-home mom while at the same time making a few extra dollars on the side.
If you're a stay-at-home mom yourself, or one to be, and you're looking for some ideas on how you can make extra money, this article has you covered.
Within this article, I'll give you 18 different ways stay-at-home moms in Canada can make money.
All of these ideas have been carefully considered based around the roles and responsibilities of a stay-at-home mom.
So let's jump right in.
Here are 18 ways to make money as a stay-at-home mom in Canada.
1. Start a Blog
One great way Canadian stay-at-home moms can make extra money is by starting a blog.
Starting a blog is so simple and the start up costs are very minimal. I mean very minimal.
What you blog about is up to you, but allow me to give you some tips.
Try and make your content evergreen. In other words, write content that will be relevant for a long time. New sites take a long time to rank in Google, so you want to make sure your content is still relevant by the time you generate organic traffic.
Learn about SEO. SEO stands for search engine optimization, it basically means writing articles in a way that will show in search engines like Google and Bing. While you will be able to generate traffic through your own social media channels, writing SEO friendly content is the best way to scale your content and get thousands of readers a month.
Now for the fun part, once you generate content and you start generating some traffic to your blogs, you'll be able to monetize it.
Looking To Start Your Own Website or Blog?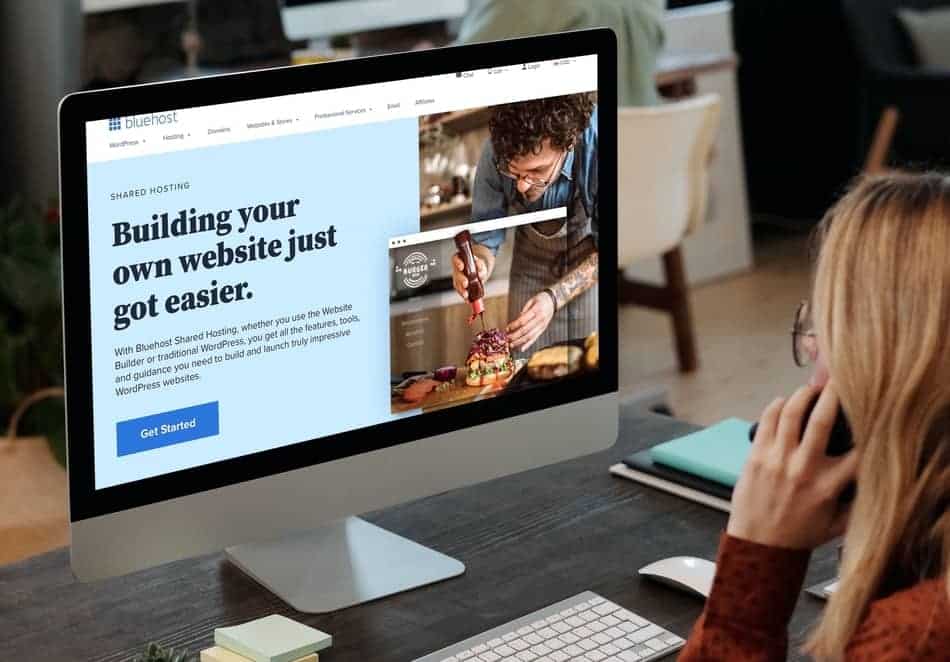 Try Bluehost Today (Less than 5$/Month)
70% Off with Sign up Through the Financial Geek
1-Click WordPress Install
Free Domain Name with Sign Up
300+ Design Templates
24/7 Expert Support
Common Ways People Monetize Blogs.
Affiliate Marketing (Amazon Affiliates) 
Online Courses
Selling E-books
Selling Your Own Products
My personal favourite method for monetizing blogs is through Ezoic's ad network. In fact the ads you see on the screen right now are being served by Ezoic and make running a blog so much worth while. They set up everything for me and collect a check every month for basically doing nothing other then publishing more content.
For more options on how to monetize a blog, here are 7 ways you can monetize your website without actually selling anything.
Starting a blog, whether you're a stay-at-home mom or not, will take hard work. It's not something you'll make money at really quickly, but it is something you can build overtime and feel good about.
Plus, while there is a lot of upfront work required to create your initial batch of content, your overall earnings potential as a blogger is very high.
So pick a niche and start writing some content.
For a step by step guide on how to start a blog, check out my article Start a Blog in 3 Easy Steps | Step by Step Guide (2022) This article will give you a detailed, step by step guide on how to about getting a blog setup. It's the exact same method I use for setting up the current blog you are reading, and again – it's really inexpensive. The web-hosting platform I recommend is less than $5 per month.
2. Start a Dropshipping Website on Shopify
Starting a dropshipping website on Shopify is a great way for stay-at-home moms living in Canada to make extra money.
If you are unfamiliar with dropshipping, it is basically just where you set up an online store with Shopify and then sell products online.
But here's the thing, with dropshipping, you don't ever own any of the physical products yourself, you never worry about inventory, refunds, shipping, logistics or any of that gross stuff.
All you worry about is marketing your products and getting sales. Everything else is basically done for you thanks to Shopify and Oberlo.
As a stay-at-home mom, you don't want your house cluttered with inventory, and you might not have the money to spend on products up front, so this is why dropshipping could be a great for you.
Let's say you wanted to sell coffee mugs, you'd put the mugs (from Aliexpress) you'd want to sell onto your Shopify store (using Oberlo). The cost of the mug to you is $3, but you'll sell it on your website for $20. 
When someone purchases that mug, you'll buy it for $3 (from Aliexpress)  and then get it shipped to the buyer's house and profit the $17.
As mentioned above, apps like Oberlo make this process SO easy, so if you do decide to open up a dropshipping website, I'd recommend Shopify as your website platform, and then Oberlo which is the dropshipping app you'll install in your store.
A real life example of this is a website called Go Fisherman Beanies. As you can see on there website, they sell there fisherman style beanies for anywhere from $27.99 to $34.99.
How much do they cost? Well check out there prices here on Ali Express, anywhere from $2-$5. So do the math on that! These folks are making anywhere from $22-$30 per order. Not bad!
I'll leave a video here below from Oberlo that talks more about dropshipping.
3. Take Online Surveys
A Second EASY way to make money as a stay-at-home mom in Canada is to do surveys online.
Yes, you read that right. Companies are willing to pay for feedback and they outsource their feedback efforts through paid survey sites.
How it works is pretty easy, you first set up an account with a paid survey site like Swagbucks, Survey Junkie Canada or Daily Rewards Canada.
From there you can earn cash rewards from doing surveys, referring friends or even watching videos or playing games. These companies will usually pay you out via Paypal.
Crazy concept, right?
And while this can be a great option, I will be upfront and say the earnings aren't great, you won't get rich from taking these online surveys, but hey, every dollar counts.
So while you might not get rich from taking surveys online, the setup process is very simple and the barrier to entry is basically zero.
4. Sell Old Stuff on Second Hand Marketplaces
Another great way you can make money as a stay-at-home mom is to sell old things around the house on second hand marketplaces like Kijiji and Facebook Marketplace.
Whether it's old baby clothes or toys, or just random stuff you have laying around like unused kitchen appliances, worn out furniture, old gaming systems, whatever it is, it doesn't really matter, one person's trash is another person's treasure.
Take a few days to round up all the things in your house you no longer have use for and then post them on online second hand marketplaces.
You'll be surprised at how quickly you can sell your things. While I can't say for sure, I'm willing to bet you can make over $1,000 in a single month from doing this.
We all, including myself, have so much old stuff lying around the house that we don't ever use or need – so why not put that stuff to use and make some money from it.
Quick Tips for Selling Things on Second-Hand Marketplaces
Take good pictures (iPhone camera is perfect)
Write a quality description of the product 
Post on Kijiji and Facebook Marketplace
Be willing to negotiate 
5. Invest Your Money
Another way to make money as a stay-at-home mom is to invest your money.
Now I'm not saying you should start day-trading or anything, but instead, just start taking control of your finances and start preparing for your future life.
Do you have an RRSP setup yet? What about a TFSA? What about an RESP for your child's education?
If you answered no to any or all of these questions, I'd suggest starting with an RRSP.
In short, an RRSP is a special type of investment account that is registered by the Canadian Government. It allows your investments to grow in a tax-free manner and your contributions are tax deductible.
So if you don't have an RRSP yet, you should get one setup today. 
I set up my RRSP with a financial institution called Wealthsimple (for these reasons) and I've never looked back.
Try a Wealthsimple RRSP Today and earn a $25 Sign up Bonus.
No minimum amount required, free to set up, sleek user interface and just an overall great user experience. 
If you're still not convinced, here's an article I wrote about 9 reasons why you should invest in your RRSP.
If you're looking for a way to invest for the shorter term, then get setup with a TFSA. That way you can withdraw your investment returns as you wish. An RRSP is more so meant for longer term retirement investments.
Check out my article How to Open a TFSA with Wealthsimple for more information on the TFSA and how to set one up.
While investing like this won't put money in your pocket every week like a job will, it'll increase your net worth and set you up nicely for your financial future.
Open up a RRSP with Wealthsimple Invest Today ($25)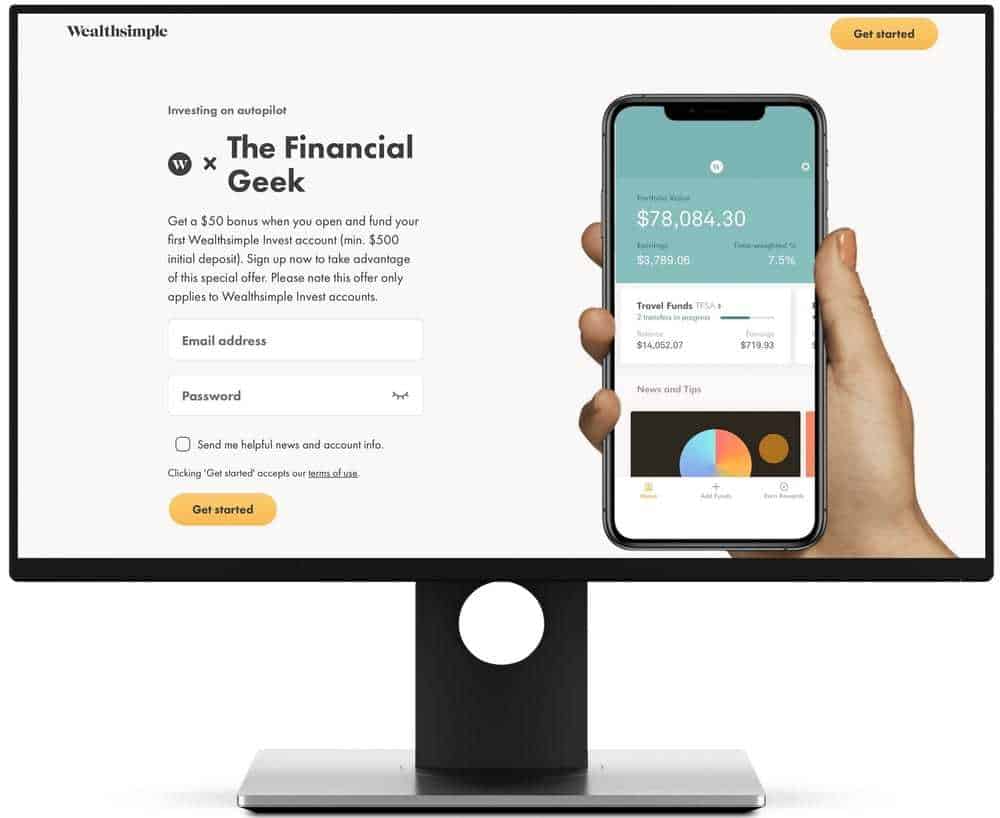 Earn a $25 Bonus with Sign – Up
RRSP contributions are tax deductible
Very simple sign-up process
No account minimum
Account creation is 100% free
Modern user interface
6. Do Freelance Work
Many stay-at-home moms in Canada don't have the time to commit to a full-time job, but they still have very marketable skills that they can offer on a freelance basis.
Common Types of Freelance Jobs:
Copywriting
Graphic designer
Logo creator
Photographer
Data entry assistant 
Copy Editor
These are just a few examples, if you don't have any of these skills, that's okay, I can almost guarantee you have some skill that can be turned into money.
But where can you find people looking for this type of work you might ask?
Common freelance marketplaces are websites like Fiverr and Freelancer.
The great thing about being a freelancer is that while you are "working for someone else", there is no 9am-5pm aspect to the job, which is great for stay-at-home moms. 
You are assigned work to do and you are given a deadline, whether you do this work morning, noon or night, it doesn't matter. You just need to get it done.
7. Make How-To Videos and Post them to Youtube
Making how-to-videos on Youtube can be a fun way to make extra money as a stay-at-home mom in Canada.
Similar to starting a blog, this method of making money will take some time. It won't happen overnight but it can be a very rewarding journey. 
I say make "how-to" videos because I believe that starting out, this is the best way to start getting views to your video.
Now I'm not a Youtube expert by any means, so I'll try not to overstep here, but if you start out by making pure entertainment based videos, it's unlikely anyone is going to see them.
But if you make a video titled " how to feed a new-born safely", then this is a video that might actually get searched for and your result will show up.
As your Youtube audience grows and you start generating more views and subscribers, then you can experiment with more purely entertainment based videos such as  "Watch how my baby does this!!", but starting out, I'd recommend sticking with "how-to" videos.
And I'm just using baby examples here as video topics, but obviously your channel can be about whatever you want it to be. 
In terms of monetization, there are many ways to make money from a youtube channel, obviously ads are one way, but other ways include sponsored posts and affiliate marketing.
I'll leave an article link here that talks about (in detail) how to make money on Youtube without having a huge audience. 
8. Tutor Online
Another way you can make money as a stay-at-home mom in Canada is to tutor students online.
If you are particularly strong at some subjects like Math or English, put your brains to work and become an online tutor.
Online tutors can make great money and it doesn't require you to sit at a desk for 8 hours a day.
Some common websites where you can market your tutoring services include Preply and Club Z 
Additionally, freelance marketplaces like Fiverr are also great places to market tutoring services. 
I'd also recommend trying to find clients yourself through social media marketing and referrals. That way you can cut out the middleman and generate 100% of the revenue for yourself. 
Quick Tip #1 – Use Zoom as your video communication tool. The basic version is free, it's a reliable software and it has screen sharing capabilities
9. Get a Part-Time Remote Job
Finding a remote, part time job is another great way to make money as a stay-at-home mom here in Canada.
Living in the great country of Canada has its perks as remote work is becoming more and more popular.
Now obviously your hours need to be flexible, so I wouldn't recommend something like a customer service rep where you'll be required to "work the phones" for an exact period of time.
You need to find something that, as bad as it sounds, you can cancel on at the last minute in case baby duties come calling.
This could include things like administrative work at a university in your area or maybe working in a business development role for a local tech company. 
I'd suggest going to popular job board sites like Indeed and Job Bank and setting your filters to "remote" and "part time".
Once you find a few open positions that suit your flexible needs, send out some applications and see what happens!
The great thing about being employed over being a freelancer is that you'll receive a steady paycheck every two weeks. In other words, you won't have to actively look for more work after you finish a job.
10. Run Social Media Channels for Small Businesses
Are you naturally good with social media? If so, use these skills in an entrepreneurial way and start a little social media marketing side gig.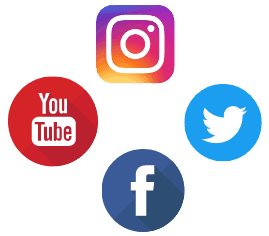 You'd be shocked at how many small businesses in your area still don't have social media channels to promote their business.
Here's what you do, think of at least 50 small businesses in your area.
Now make a spreadsheet and make a list of all these businesses that don't have active social media channels.
If they have channels but they aren't actively posting on them then include them on the list as well.
Now find the contact information for all these businesses and start reaching out!
You'll want to do a little bit of upfront preparation for your outreach efforts and I'd recommend having a little "elevator pitch" ready.
Easier said than done, but don't be afraid of rejection! If you call a business owner and they say "no", which will happen, you're in the exact same position as you were before, so what is there to lose? 
With that said, out of your original list of 50, you might be able to find 3-4 businesses that are willing to outsource their social media to you.
You can charge anywhere from $200- $400 a month based on the services you provide to them.
And voila! You've got yourself a nice little side business.
11. Buy and Sell Instagram Pages
Now, this is one of my favorite ways to make money online. If you've read any of my blog posts before on making money, you'll have read about this method before.
Basically all you do is search on Instagram for accounts that have a following of over 10k but haven't posted anything in over a month.
If they haven't posted in over a month, it's very possible the owner is not that interested in maintaining the account anymore. So you reach out to them via DM and ask them if they'd be interested in selling the account.
Now this is a numbers game, find at least ten accounts like this and ask each one of them. You might get two or three people who are actually interested in selling.
Once you find a seller, you buy the account via Paypal. The average cost of an Instagram account is $10 per 1000 followers, but remember, this account is not wanted by the owner anymore, so you should  be able to get it for cheaper. 
Aim to get an account for $6-$8 per thousand followers.
From there, you re-engage the followers by posting two to three times a week over the course of four to five weeks.
Once the followers are re-engaged and the account is active and alive again, you turn around and flip it for a profit.
And then rinse and repeat. You won't become a millionaire from doing this as it's not really a scalable business model, but you can make thousands of dollars and in a fairly quick period of time, I've done it myself.
Quick Tip #2 – To find a buyer for your account, post in the account's story feature "Selling account, DM for details" –  your inbox will get flooded with interested buyers.
For more detail on each of these steps, check out my article How to Make Money on Instagram without Followers. (Pictures included) 
12. Rent out Your Car
Have you ever considered renting out your car as a stay-at-home mom?
If you're like some moms, this won't work for you as you'll need and want access to a vehicle 24 hours a day. But if you're not in this situation, consider renting out your car for a little extra cash. 
There is a car rental business service in Canada called Turo. Turo is currently the world's largest car sharing platform.
In essence, Turo is very similar to Airbnb where you list your car on their marketplace and they find you someone who is looking to rent it out – and then you obviously get paid for this rental.
To register your car, go to turo.com and click "list your car" as shown in the image below.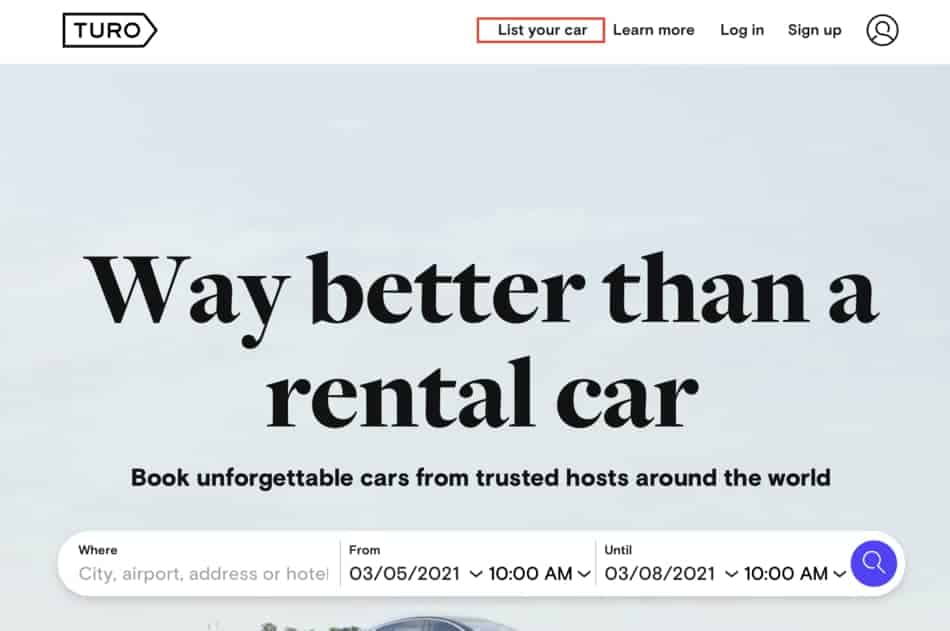 It's completely free to make a listing and just like with Airbnb, you set your own pricing. You make 70% of the rental cost and payments are made through Paypal.
This is a great way to make passive income as a stay-at-home mom in Canada, if you don't need your car 24 hours of the day, I'd highly recommend you consider this option! 
PS. I've personally used Turo in the past as a renter and it's a great experience. 
13. Flip Stuff on Online Marketplaces
Earlier in this article we talked about selling your old stuff on marketplaces like Kijiji and Facebook Marketplace. While this is a great way to make a little extra money, it does have a ceiling as everyone only has a limited amount of stuff.
So if you've already sold all your unwanted things, consider "flipping" other peoples stuff.
Scour these online marketplaces and try to find some really good deals, buy whatever it is you find and then go sell it on another marketplace for a profit.
I used to do this with iPhones when I was in university. I'd buy one anywhere from $70-$100 on Kijiji, and then immediately upload it to places like Facebook marketplace for $140-$180. 
It's actually kind of fun! Set a goal for yourself and try and make a certain amount of money every month from doing this.
Increase your goal every month!
14. Start an at-home Laundry Service Business
What about starting a little at-home laundry service business? 
You'd actually be shocked at how much money you can make doing other people's laundry. 
Whether it be friends and family, or complete strangers, doing laundry for other people can be a great way to make extra money as a stay-at-home mom. 
As I talk about in my article about making money as a student-athlete, I know two people who actually did this and made a ton of money.
Just do the math on it. Imagine if you could get ten people to pay you $40 a week to do your laundry for them. That's $400 a week and nearly $2,000 a month. 
And let's be honest, doing laundry takes time but it isn't stressful work. Throw on your favorite Netflix show and get your laundry on!
15. Become an Instagram Influencer
Another interesting way stay-at-home moms in Canada can earn extra money is through Instagram.
Quick Note #1 – Instagram is arguably the most used social media platform in the world today with over 500 million daily active users. 
There are a lot of stay-at-home moms today who embrace this lifestyle and share their experiences on Instagram.
For example, have a look at Ginger Parrish's Instagram page here. She has nearly 250,000 followers, and if you look at some of her posts she promotes products and likely earns money through affiliate marketing.
By creating great content, influencers end up attracting a massive amount of followers. And once you have followers you have an audience, and once you have an audience you can monetize their attention.
Related Financial Geek Article – How to Make Money on Instagram as a Teenager. (A lot of the methods included in this article can be applied to stay-at-home moms)
16. Start a Podcast about Being a Stay-at-Home Mom
Podcasts are becoming really popular lately as people want to be able to take in content in a passive manner. 
So do you have the "gift of gab?"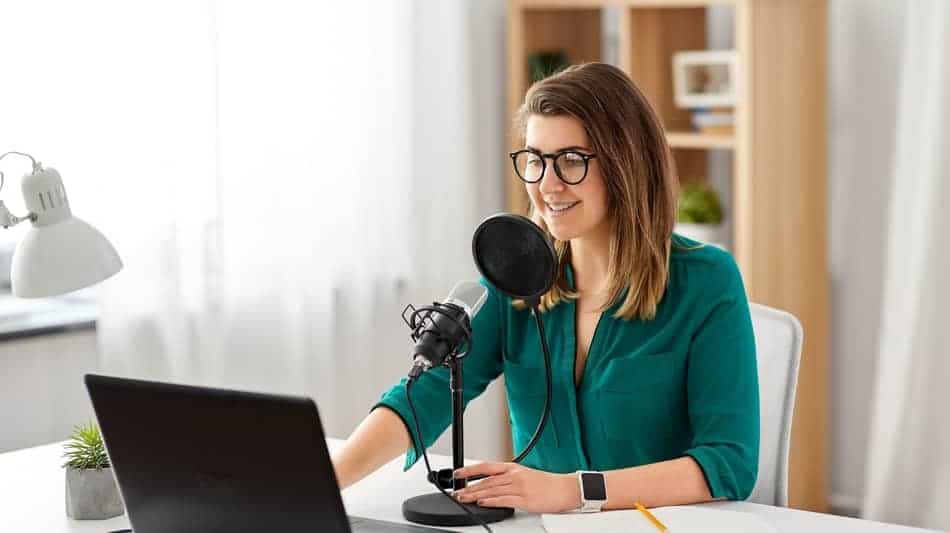 If so, consider starting a podcast that is centered around the life of a stay-at-home mom. Bring on other stay-at-home moms and talk about your experiences.
Not only will this provide you with an endless amount of content, but it'll make for a very monetizable audience.
And believe it or not, you actually don't need that many listeners to monetize a podcast. 
In fact, as I state in my Make Money Online as a Beginner article, you only need around 3000-5000 listeners per episode to start making some decent money (The Podcast Host).
With that said, generating this level of audience will still take time, but the point is –  you don't need to start the next Joe Rogan podcast to make money.
A small, but loyal and engaged audience will do the trick.
17. Sell Advertisements on Your Car
A different, but very passive way a stay-at-home mom could earn extra money is by placing advertisements on her car. 
While there are a few different ways you can do this, the simplest way to do is by signing up with a marketplace like Carvertise. That way you just have to sign up to be a driver and they essentially sort out the rest for you (once you get accepted).
Below is a screenshot from Cavertise's website, as you can see, once you submit an application and get accepted, your job is basically done.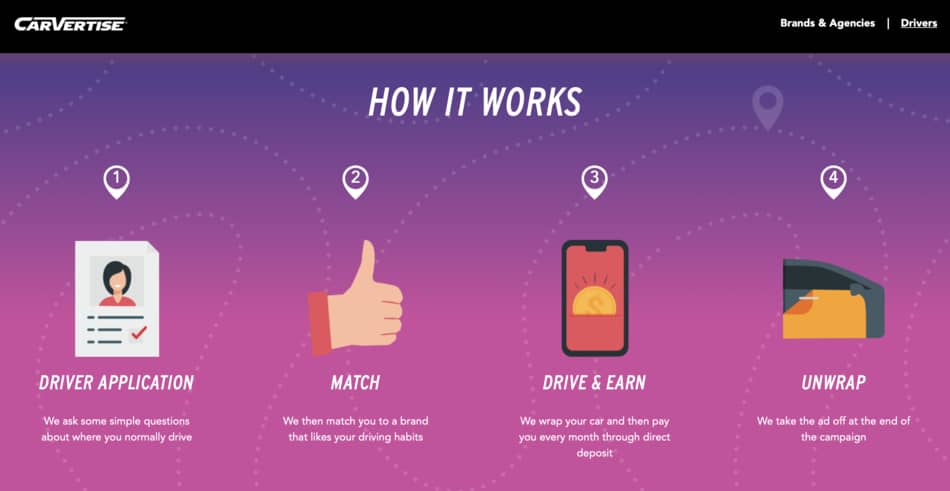 Quick Note #2 – The official term for placing advertisements on your car is "wrap your car".
I know, a weird concept, but hey there's a market for it. Carvertise states on their website that their drivers make roughly $300 a month.
And what's great about this method is that it's so passive, you really don't have to do much after the initial setup. 
Just drive and earn money! 
18. Promote Your "Odd Job Services" on Social Media
And lastly, a great way for stay-at-home moms in Canada to make extra money is just by offering odd-job services on social media.
The job will obviously need to be something that is flexible around the job of being a mom, but you'll be surprised at what you can find. 
Plus, your social media friends and followers will likely already know you're a stay-at-home mom and will only offer you work that accommodates your schedule.
Maybe someone needs a few errands run for them during the day, or maybe someone needs their dog walked everyday, maybe a family needs meal prep done?  Whatever it is, you'll never know until you let people know you're willing to do odd jobs for cash. 
So whether it's making a Facebook post or an Instagram story, just get your message out there and start making a little extra cash!
Conclusion
And there you have it, 18 ways to make money as a stay-at-home mom in Canada.
I hope some (or at least one) of these ideas resonates with you, but even more so, I hope you decide to move forward and execute on one of these money making methods.
Geek, out.