Coinbase is one of the most popular crypto exchanges and the largest American crypto exchange by trading volume. If you are looking to invest in cryptocurrencies, most people tend to start with the top dog in the industry: Bitcoin. But if you buy Bitcoin to trade on Coinbase, do you actually own it?
This might come as a surprise to you, but just because you buy Bitcoin with your own fiat money and hold it in your own Coinbase wallet, it doesn't mean you own it. Ownership of Bitcoin is a polarizing topic, and while you do own the value of Bitcoin in your wallet, you don't necessarily own the actual token. 
Buy Bitcoin on Coinbase Today ($5)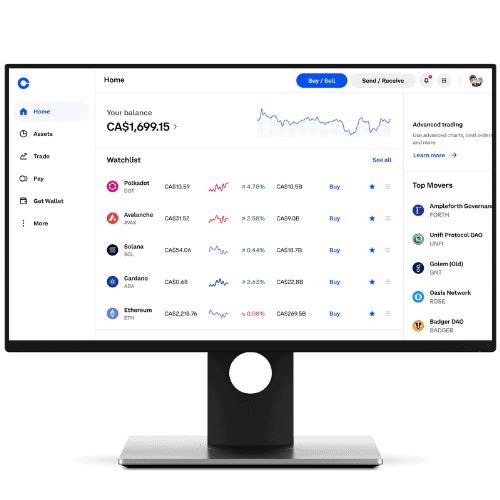 Earn a $5 in Bitcoin with Your Sign-up
Coinbase is the easiest place to buy and sell cryptocurrency. 
Schedule buys daily, weekly, or monthly.
Send and receive crypto to external wallets
Great Mobile experience
Protected by insurance
Are you confused yet?
Bitcoin itself is a digital currency and store of value. Owning technology is always a difficult concept to qualify, and it is no different when we talk about ownership of cryptocurrencies. But don't worry! There is in fact a way to actually own the Bitcoin you buy on Coinbase or any other crypto exchange!
Do You Actually Own Bitcoin on Coinbase?
This is something that every new crypto trader needs to learn: just because you trade fiat for cryptos, it doesn't mean you own them. Even if they are sitting in your Coinbase account and you can liquidate them at any time, you still don't own them. So what do you actually own?
When you buy Bitcoin on Coinbase, you are actually buying a small percentage of the Bitcoin that the company owns in cold storage. They hold it for you, like a bank holds your fiat money, but technically speaking you cannot claim ownership of it. The only way you can do this, is if you actually plug in your own cold storage wallet and send it from Coinbase to your cold storage address.
Coinbase uses a program called Coinbase Vault. This is the company's own high-security, cold storage system that keeps cryptos owned by you and all other Coinbase users, safe and protected. Coinbase provides you with a private key that you can use to access your cryptos.
The only way you can own it is with your own cold storage wallet and your own personal keys. 
Related Financial Geek Article: Can Metamask Hold Bitcoin? (Answer for Beginners)
What Does it Mean to "Own Your Bitcoin"?
It really depends on what your definition of 'owning' is. If you think you own the money in your bank account, then technically you can say you do own your Bitcoin in your Coinbase account. You have access to it, you can liquidate it, or you can trade it. 
If you ask traditionalists and Bitcoin maximialists, the only way to truly own your Bitcoin is to take it offline and store it. Even though Coinbase claims it has never been hacked, your own cold storage is still the best way to hold your Bitcoin. 
If you really don't want to go through getting a cold storage hardware wallet like a Ledger Nano or Trezor, then the Coinbase Vault is a fine way to hold your Bitcoin. 
Can I Take my Bitcoin out of Coinbase?
Of course! This is probably where people get confused about the definition of ownership when it comes to Bitcoin and other cryptos. Like at a traditional bank, you can take your Bitcoin out of Coinbase or any crypto exchange any time you want. You can actually transfer your Bitcoin to any other Bitcoin wallet you want.
In fact, if you want to store your Bitcoin in a cold storage wallet, you have to take your Bitcoin out of Coinbase and send it directly to your wallet address. If you are thinking  of sending your Bitcoin to another exchange, you might want to make sure that its security is as high as Coinbase.
If it is an exchange that has been prone to hacks in the past, you might be better off holding your Bitcoin in the Coinbase Vault. 
When you go to transfer your Bitcoin out of Coinbase, you are actually releasing it from Coinbase's cold storage. It will transfer the amount to your Coinbase account, and then you can move it to any other Bitcoin address.
Is it Safe to Keep Bitcoin on Coinbase?
Absolutely! Coinbase has some of the top security measures in the crypto industry, so unless you plan on holding it in your own cold storage, Coinbase Vault is probably the next safest place to store your Bitcoin. 
What about other cryptos like Ethereum, Solana, or Shiba Inu tokens? Coinbase stores 98% of its cryptocurrencies in offline cold storage vaults that are monitored 24/7. That's why I say that if you don't hold your crypto investments in your own cold storage, then holding it on Coinbase is the next best thing! 
Conclusion: Do You Actually Own Bitcoin on Coinbase?
I hope this cleared up any questions about whether or not you actually own your Bitcoin investment on Coinbase. The best answer is that you don't own your Bitcoin unless you hold it directly in your own private cold storage.
If you let Coinbase hold it for you in its Coinbase Vaults, it's pretty well protected. In fact, for most people this will be enough of a security measure. I know a lot of investors don't want to deal with the hassle of having a hardware wallet, so they are fine letting Coinbase hold it in their vaults.
Thanks for reading folks!
Geek, out.