If you are a beginning investor, one of the most difficult questions you will face is "How do I get started?" To this effect, Robinhood, an industry leader in commission-free retail trading, is a name that is likely to have crossed your radar.
With over 22 million active users, Robinhood is one of the world's most popular fintech platforms, receiving significant media attention and public scrutiny. 
To help guide you through this commotion, the following breakdown looks at 10 reasons why Robinhood is good for beginners.
10 Reasons Why Robinhood Is Good for Beginners
1. Commission-Free Trading
2. Fractional Trading
3. Clean User Interface
4. Wide Array of Asset Types
5. No Fees or Minimum Balances
6. Robust Data and Analysis
7. Outstanding Account Protection
8. Excellent Passive Investment Features
9. Strong Referral Program
10. Enticing Cash Management Options
1. Commission-Free Trading
The number one reason Robinhood is good for beginners is the reason it has helped revolutionize the retail investment landscape: commission-free trading.
It can be very difficult for beginning investors to take the plunge and begin putting their money to work for them, with a multitude of factors causing them to get cold feet. 
I don't know what I'm doing. 
I don't have enough money to invest. 
Isn't investing just like gambling?
Starting to Invest?
Our Recommendation
Start Trading Today

Robinhood InvestOnly in USA

Start investing with just $1
Invest in stocks and ETFs
No commission fees
Access to the Crypto Markets

Start Trading Today
When commissions are a factor, it only magnifies these concerns, becoming the barrier that prevents beginning investors from ever starting their path to financial freedom. 
And for good reason.
Say that an investor only has $100 to start investing with. A $4.95 transaction/commission fee on a trade (a relatively standard amount for providers that charge commissions) represents roughly 5% of the total investment. 
As most financial advisors maintain that it is reasonable to expect 7% annual gains on invested funds, the commission fee alone eats up most of the expected returns, with the paltry remaining yield making the volatility of the stock market not worth the risk.
It is because of these commission fees that it traditionally only made sense for those with the means of purchasing in large denominations to invest. They needed to trade in high enough volumes that the commissions were a small percent of the investment.
Through its zero-commission platform, Robinhood is truly a leader in the democratization-of-finance revolution. 
Beginning investors are guaranteed that 100% of their investment goes toward purchasing assets – no matter how modest the investment amount. 
This ensures that they can create a steady march toward their financial goals without having to take two steps forward and one step back due to commissions.
2. Fractional Trading
A close second to commission-free trading is the ability to trade in fractional shares on Robinhood. 
Simply put, some of the most desirable stocks on the American exchange are priced well out of the range of most beginning investors. For example, a single share of Amazon costs nearly $3,400 at the time of this writing – more than many people's monthly pay!
Clearly, on platforms that require users to purchase in whole shares, stocks such as Amazon would be out of reach for the average user. 
Not with Robinhood though.
Robinhood allows the purchase of fractional shares, giving users the ability to buy in dollar amounts as little as $1 to purchase commensurate shares of their favorite stocks.
As an example, if a certain stock costs $1,000 per share and a beginning investor only has $100 to invest, they can use that $100 to purchase .1 shares of the stock.
If the stock appreciates to $1,100 per share, the user's position in the company would grow to $110 ($1,100 X .1). If the stock depreciates to $900 per share, the user's position would likewise shrink to $90 ($900 X .1).
The fractional trading capabilities even apply to dividends. Say that the same company pays a quarterly dividend of $1 per share. If you held that .1 share of the company, you would receive a $.10 dividend, which you could reinvest to start leveraging the benefits of compound growth. 
My article Do Fractional Shares Pay Dividends? (How and When) goes into more detail on how dividends work with fractional shares.
3. Clean User Interface
Robinhood is often decried by traditional institutional investors for its videogame-like interface that makes trading "too easy" for inexperienced investors. 
In my opinion, this is mostly sour grapes by people who do not like the thought of average people having access to their sacred financial markets.
Can reckless investors get in trouble by using Robinhood? Sure. However, inexperienced investors can also get in trouble by listening to sketchy advice from a bigwig broker. Making bad financial decisions is not limited to just Robinhood. 
When beginning investors have a goal for what they want to accomplish with their money and a plan for how to execute it, Robinhood's clean interface is nothing but an asset.
There are no ponderous forms to fill out, no endless string of disclaimers that you must read through prior to purchasing your asset.
You simply find the asset you want to buy or sell, designate the amount you want to trade, confirm your intentions, and boom, the trade is executed. 
It's that simple. 
4. Wide Array of Asset Types
One piece of advice beginning investors have likely heard is the importance of diversifying their portfolio. 
There is so much truth to this statement.
By diversifying over a wide range of assets and asset classes, investors can help protect their portfolio from painful bear markets that hit a particular sector. When one sector is struggling, others can help make up for the poor performance, mitigating losses and keeping the portfolio on track for long-term growth.
Robinhood has nearly every type of asset imaginable to allow investors to maximize their diversification. Some of the tradable instruments on Robinhood include:
Stocks of all sizes, including small, medium, and large cap companies
ETFs and index funds
Real estate investment trusts (REITs)
Bond indexes
Precious metal indexes
Select cryptocurrencies
By properly balancing their funds among their favourite assets in each of these categories, beginning investors can achieve the type of portfolio balance most likely for long-term success. 
Related Financial Geek Article: 5 Reasons Why Robinhood Is Good for Long Term Investing
5. No Fees or Minimum Balances
Traditional brokerage firms find ways to profit from their account holders above and beyond commissions. Some examples of common fees that you may encounter with other providers include:
Annual fee – this is a yearly fee assessed to account holders. Typically ranging between $50 and $150, some brokerages may assess this as a percentage of total account value.
Service fee – this is typically assessed as a monthly "platform" fee for using their service, usually ranging between $10 and $30 per month.
Inactivity fee – some brokerages will penalize account holders who don't make a trade over a given time period, usually around 6 months, in the form of a one-time fee, usually between $30 and $50.
Fortunately, by choosing Robinhood, you do not have to worry about any of these insidious fees from undermining your account balance.
In addition, Robinhood has no minimum balance requirements. Some providers that advertise no minimum balance allow you to open an account, but restrict you from making trades until your account passes a certain threshold. 
With Robinhood, you can deposit as little as $1 and start buying fractional shares of your favourite assets, which poses no barriers to entry for beginning investors of modest means.
Starting to Invest?
Our Recommendation
Start Trading Today

Robinhood InvestOnly in USA

Start investing with just $1
Invest in stocks and ETFs
No commission fees
Access to the Crypto Markets

Start Trading Today
6. Robust Data and Analysis
As mentioned, many beginning investors are scared off by the notion that they don't know what they are doing.
To help alleviate these concerns, Robinhood offers a comprehensive selection of data and analysis that can help beginning investors make the most informed decisions possible prior to their asset purchases.
Some of these features include:
Article compilation – Robinhood scours all of the news pertaining to the assets listed on its platform, giving users the most recent articles from such sources as WSJ, MarketWatch, SeekingAlpha, and The Motley Fool, to name a few.
Historical data – Robinhood furnishes important financial metrics to its users in an easy-to-read table, including market cap, price-to-earning (P/E) ration, and dividend yield.
Analyst ratings – Robinhood gives statistics on how many analysts rate a certain asset as a buy, sell, or hold. They also provide brief snippets as to what bulls and bears are saying about the asset.
Charts – Robinhood gives both line and candlestick price charts for an asset on a daily, weekly, monthly, annual, and five-year basis.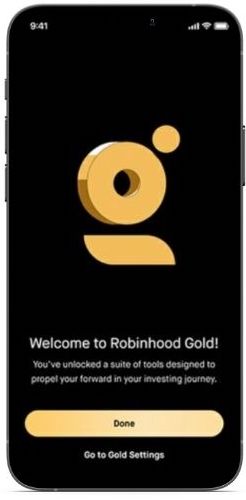 The platform even offers an upgrade to a Robinhood Gold account for even more in-depth data and analysis features.
While Robinhood makes it clear that its data and analysis is not a recommendation, financial advice, or counselling, the features are nonetheless extremely valuable to beginning investors who want to gather as much information as possible prior to making any investments.  
7. Outstanding Account Protection
There are a number of reasons that beginning investors should feel safe and secure starting their investment journey with Robinhood. 
As a member of the Securities Investor Protection Corporation (SIPC), user securities are protected up to $500,000, while cash is protected up to $200,000.
In addition, as a brokerage firm, all of Robinhood's activities are regulated by the Securities and Exchange Commission (SEC).
Robinhood also makes it easy to set up two-factor authentication when it detects you trying to log in from an unknown device, protecting account holders from hackers. The platform also allows you to add a trusted contact person to your account, who is a person that Robinhood can contact in the event of suspicious activity should they be unable to contact you directly.
My article Why Does Robinhood Need My SSN? (Here Are the Facts) goes into more detail about Robinhood"s robust security features – but the bottom line is that your personal data is in good hands with Robinhood.
8. Excellent Passive Investment Features
One concern of beginning investors is not having the time to commit to staying on top of their investments. They want to be able to make smart investment choices but simply do not have the time to manage their account on a daily basis.
Robinhood helps in this regard through a number of innovative features, including:
Automated bank transfers – eliminate the hassle of having to transfer funds into your Robinhood account. Set up automated drafts so that the platform can take a predetermined amount from your bank account on a consistent basis.
Recurring investments – users can designate a specific amount to be contributed to a specific asset on a given interval. You can set up your account to invest $3 in Amazon on a daily basis, or $25 in Bitcoin on a monthly basis to help achieve dollar-cost averaging.
Limit orders – set your trades so that you can automatically buy or sell a position when an asset reaches a certain price point. This eliminates the requirement of having to actively monitor your account to execute desirable trades.
9. Strong Referral Program
One of the exciting aspects of the fintech revolution is the social aspect of trading, getting your friends and family members in on the action and collaborating en route to your financial goals.
Robinhood gives users actual cash for referrals, giving users immediate access to funds for purchasing stocks whenever one of their referred contacts opens an account (the referral gets free investment cash, too).
While most rewards are between $5 and $10 per successful referral, they can be as much as $500. The more referrals a beginning investor makes, the more cash he or she will get, and the greater likelihood of receiving a major reward to put their investment journey into overdrive. 
10. Enticing Cash Management Options
Finally, Robinhood offers some enticing cash management features that could be very appealing to beginning investors. 
By leaving uninvested cash in their Robinhood account, investors will receive .3% interest on their money. While this may not seem like a lot compared to expected stock market returns, it actually dwarfs the national average savings account return of .05%.
In addition, users can apply for a Robinhood debit card and use their uninvested cash to make everyday purchases.
This is a particularly appealing feature because after a successful sale of an asset, it can sometimes take up to three business days before a transfer back to your bank is complete. By using a Robinhood debit card, you can immediately start using investment funds following an asset sale. 
Top 10 Reasons Robinhood Is Good for Beginners
Many beginning investors that are unsure of how to get started on their path to their financial goals have likely come across the name Robinhood.
With over 22 million users, Robinhood is one of the most popular and talked-about fintech platforms in the world. 
By considering the 10 reasons listed above, beginners can clearly see why Robinhood is a great option for beginning their investment journey.
So that's it folks. I really hope this article provided you with some valuable insight into Robinhood and will help you make an informed decision one way or the other.
And as always, thanks for reading.
Geek, out.
Starting to Invest?
Our Recommendation
Start Trading Today

Robinhood InvestOnly in USA

Start investing with just $1
Invest in stocks and ETFs
No commission fees
Access to the Crypto Markets

Start Trading Today