Given how popular crypto investing has become, it's not surprising that the Canadian crypto industry has seen a major influx in trading platforms. Even with the presence of major global exchanges like Binance and Coinbase, there is a long list of Canadian platforms that are gaining a loyal following across the country. In this review article, I'll dive deep into two fixtures in the Canadian crypto market: Bitbuy vs Newton.
When I review trading platforms, I'm looking at a specific list of criteria that I personally follow: 
What is the selection of cryptocurrencies supported for trading?
Low trading or commission fees and which system they use
A wide range of deposit and withdrawal options
Does the site have customer support if something goes wrong?
A dedication to the security of my investments and personal data
If a crypto platform checks off these boxes and answers all of my questions, then I'll consider using it as a part of my crypto trading strategy. Now that you know exactly what I am looking for when reviewing crypto platforms, let's get on with the article! 
What is Bitbuy?
Bitbuy is a Toronto-based company that was established back in 2016. Bitbuy is what most would refer to as a traditional crypto trading platform. Bitbuy is like a smaller-scale version of larger exchanges like Coinbase or Kraken. This means that Bitbuy offers trading pairs that you can use to directly trade cryptos for other cryptos. This system is a contrast to Newton's which I will get into shortly.
As of March 2022, Bitbuy was acquired by WonderFi Technologies, a blockchain and crypto-based company that is backed by Kevin O'Leary. It also owns another popular crypto trading app in Canada called Coinberry. With well over 400,000 Canadian users, Bitbuy is one of the leading crypto exchanges in the country. 
What is Newton?
Newton is a relative newcomer to the Canadian crypto market. It was established in 2018 in Toronto, Ontario, and has quickly amassed a strong following in Canada,  with several hundred thousand users already in its ecosystem. 
Newton differs from Bitbuy in that it is a simple fiat-to-crypto exchange. There are no trading pairs or conversions available, and no additional features like staking or earning. Newton is treated more as an on-ramp to crypto, from which traders can transfer this crypto to other wallets. 
Bitbuy vs Newton: a Detailed Breakdown
Alright, now that we know the basic history of both Bitbuy and Newton, it's time to get into the details of each platform. We already know that the two apps operate in slightly different markets. We'll see a little more of this when we get to the detailed comparisons. Here are the five topics I'll be looking at in detail for this article:
Cryptocurrency Selection
Trading Fees
Deposits and Withdrawals
Customer Support
Site Security 
So what are we waiting for? Let's get to it!
1. Cryptocurrency Selection
One of the most important factors when choosing a new crypto exchange: which cryptocurrencies can I even trade? Whether you are a Bitcoin maximalist or an altcoin degen, it's always good to know which cryptos are supported for trading. 
Bitbuy
Crypto selection is good at Bitbuy, but it doesn't quite have the same variety as a Binance or Coinbase. In fact, Bitbuy only supports 36 different cryptocurrencies which pale even in comparison to Newton. It's not for a lack of quality though, Bitbuy supports trading for all of the major tokens like Bitcoin, Ethereum, Solana, and Cardano. 
If you're looking to trade at a bit more of a serious volume, Bitbuy offers several tiers of trading accounts. Moving up to a Bitbuy Pro account provides real-time trading tools and charting from TradingView. At the highest level, Bitbuy offers the Bitbuy Private Wealth account which trades on the OTC markets. 
Newton
Newton offers more than 70 different cryptocurrencies for trading, although keep in mind that you can only trade fiat for cryptos and then cryptos back to fiat. As long as this works for you, Newton is an excellent place to buy cryptocurrencies although I wouldn't recommend holding it on the platform as there are plenty of places to earn interest through earning or staking systems. 
Those who were early to Newton know just how fast this platform has evolved. In 2018, and for the next two years after, Newton only offered crypto investors Bitcoin and Ethereum to trade. Since then, the supported coins have exploded alongside the user base for Newton's app. 
2. Trading Fees
Trading fees are always important in any kind of trading. For crypto trading, high fees can eat into your long-term gains, especially when you combine this with network gas fees when you try to withdraw your profits. How do Bitbuy and Newton measure up when it comes to trading fees? Let's take a look!
Bitbuy
Bitbuy's fee system is more in line with traditional exchanges like Coinbase. It offers a Maker/Taker system which charges a different percentage based on the type of transaction you are making. This amount also increases or decreases depending on your own personal trading volume. In essence, the more you trade, the lower your transaction fees will be. 
This is most evident in the higher tiers of accounts. On Bitbuy, the standard fee for the Express and Pro Trade accounts is 0%-1.5%. The 0% fees are for those who trade $5 million or more, and the 1.5% are for those who trade $250,000 or less. These calculations are made over the trailing 90-day periods. 
Source: Bitbuy.com 
Newton
Newton prides itself on being a platform that does not have traditional trading fees. Instead, Newton uses a system called the Bid-Ask Spread which allows it to have control over the price at which you buy cryptos and the price you sell them for. The difference in this spread is where Newton collects the bulk of their revenues. 
While zero trading fees are definitely something that attracts new users to a platform, experienced traders might be able to spot the problem here. Fixed fees are transparent, whereas a Bid-Ask Spread system can actually cause you to end up paying more than a set fee schedule. 
3. Deposits and Withdrawals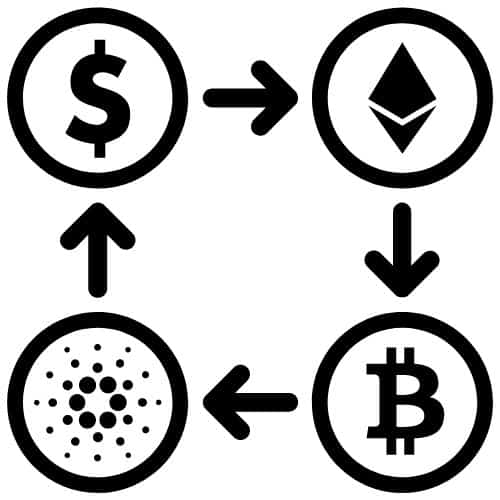 A key feature for any brokerage but especially in the crypto industry. The truth is, depositing fiat currency and converting it to cryptocurrencies is still the most common method of acquiring cryptos. Ideally, we'd find a platform that supports a variety of deposit and withdrawal methods with minimal fees.  
Bitbuy
Bitbuy is one of many crypto exchanges that do not charge for deposits no matter which method you use. It makes sense when you think about it: it is in the best interest of these exchanges to allow you to deposit as much capital as possible to trade with. Note you can use your credit card to buy some cryptos on Bitbuy, but keep in mind that a majority of Canadian credit cards do not allow crypto purchases. 
Bitbuy offers most of the popular options for Canadians including bank wire transfers, Interac e Transfers, and direct crypto transfers. Note that network gas fees are still applicable if you are transferring in cryptos. Bitbuy does charge for withdrawals though. These usually include a 1.5% transaction fee for withdrawing fiat currencies, with Interac eTransfers being the fastest way to deposit and withdraw on Bitbuy. 
Source: Bitbuy.com 
Newton
Newton also offers these popular payment methods for Canadians. Bank wire transfers, Interac eTransfer and crypto transfers are all applicable. Newton even offers the ability to do pre-authorized bank transfers through the third-party fintech platform, Plaid. 
There are no additional fees for depositing or withdrawing with Newton, aside from the usual warning about network gas fees for crypto transfers. One awesome thing about Newton is that it will cover your gas fees for you up to a value of about $5.00 CAD. This helps when you're using a network that has high gas fees like Ethereum. 
4. Customer Support
Another critical component in choosing the right crypto exchange: is customer support. When you're first getting started, crypto trading can be confusing and it can have a steep learning curve. Choosing a platform with professional and courteous customer support is certainly an added bonus. 
Bitbuy
In my opinion, Bitbuy is a little lacking when it comes to customer support. It's not that it provides bad support, it just doesn't have the same accessibility as other crypto exchanges. Bitbuy does not offer a live chat function, rather it just has an email address you submit a help request to. 
With no phone and no live chat, it's hard to really feel like you're getting personal support from Bitbuy. I understand that not every site will have dedicated live customer support, but for an exchange the size of Bitbuy I would have thought they would have it. The site does have a fairly extensive 'How Can We Help' page, but in an emergency, I'd like to know if I can get a hold of a real live person. 
Newton
Newton takes things one step further than Bitbuy with a live chat function. Unfortunately, it's just a bot and if it reaches a point where it can't help you anymore, it asks you to submit a ticket to customer support.  Given that Newton does not have a direct phone line either, it's another platform where getting hold of support can be a bit troublesome. 
Thankfully Newton is fairly active on social media, even outside of business hours. You can reach out to the community on social media platforms like Twitter, Reddit, and Discord. Sometimes customer support can even be reached on social media, but I wouldn't rely on this method. 
5. Site Security
Perhaps the most important factor in choosing a crypto exchange: is whether the site is safe and secure. Plenty of crypto exchanges have been hacked which puts your hard-earned money at risk. How does the site store crypto assets? Is it regulated? These are the types of questions you need to have answered before settling on a Canadian crypto exchange.
Bitbuy
Now while its customer support might be lacking, its site security is top-notch. Bitbuy takes the security of its site and users very seriously as it holds more than 95% of its crypto assets offline in cold storage. All of the site's Bitcoin assets are also insured by a policy from BitGo. 
In terms of regulations and compliance, Bitbuy's cloud servers are completely compliant with ISO, SOC, and FIPS, and even undergo regular audits. Bitbuy was Canada's first fully registered crypto-asset marketplace and is fully FINTRAC compliant as well. 
Newton
Newton takes great care in its security and also holds a majority of its crypto assets in offline cold storage. The company runs daily offsite updates on this storage and is also PIPEDA-compliant and a fully FINTRAC-registered MSB that keeps all of its user data safely stored in data centers within Canada. 
As for Newton's users' accounts, the site recommends using security features like MFA logins and biometrics for your smartphone or device. Finally, Newton has also worked to integrate directly with Canada's big banks in order to reduce the amount of fraud that takes place on its platform.
Bitbuy Pros and Cons
Pros
Offers support for 36 of the largest cryptocurrencies on the market
No deposit fees with plenty of options for Canadian investors
Bitbuy offers several tiers of accounts including Express, Pro, and Private Wealth
Great security with cold storage for assets and regulatory compliant with FINTRAC
Cons
The customer support options are somewhat limited for a big exchange
Withdrawal fees of 1.5% can add up when withdrawing fiat currencies
I hope Bitbuy will increase the number of cryptos you can trade in the future
Newton Pros and Cons
Pros
A very intuitive app for both desktop and mobile makes it easy to use
Free deposits and withdrawals as well as no trading fees
A great selection of cryptocurrencies with up to 70 available for trading
Awesome site security with daily backups and FINTRAC compliant
Cons
The customer support could certainly be better on Newton
Bid-Ask Spread can sometimes result in higher fees than with a set fee schedule
No ability to trade crypto pairs means Newton is not a full exchange
Conclusion: Bitbuy vs. Newton
So where have we landed on this comparison article? Both platforms provide Canadian crypto investors with great options for trading and have limited fees and awesome site security. Both platforms could also certainly improve on their customer support, while the fee system is really up to a personal preference for each trader.
Bitbuy has an advantage over Newton in that it is a fully functional crypto exchange. Newton is still a great place for Canadians to buy crypto, before sending it to a larger exchange. The winner of this review depends on your crypto trading strategy. If you are an active trader and always looking to invest in different tokens, then Bitbuy might be better. If you are a buy-and-hold investor and transfer most of your cryptos to staking sites, then Newton could be cheaper and cover some of your gas fees as well. 
Ultimately this decision is up to you, but there is a world where both platforms can serve a purpose in your crypto portfolio!
Thanks for giving this a read today!
Geek, out.